Maple Syrup Fudge is loaded with the flavor of maple, plus it's creamy and filled with toasted walnuts. If you love maple, add this maple syrup fudge recipe to your maple collection!
It is no joke that I love maple so making this maple syrup fudge recipe was something I just had to do.
Zoe says to call this Buddy the Elf fudge because Buddy loved syrup on everything!
Truthfully, I think Buddy and I might have something in common!
You get that, right? Fudge is so perfectly Christmas-y, so decadent in a holiday way, and perfect for eating while watching Zoe's favorite Christmas movie!
But in all fairness, nothing could hold me back from trying out the new candy thermometer that Manservant gave me last year!
I'm not really a gadget person so attempting something like old-fashioned fudge really scared me.
With no condensed milk or brown sugar, this fudge relies mainly on pure maple syrup.
Manservant loved it, but commented on why the maple walnut fudge was so thin. With all due respect, the recipe called for an 8″ square pan.
When I make this again I will use a loaf pan lined with parchment paper to get the thick maple fudge squares I desire. And probably you, too!
You know? The ones like those slices that line the tourist fudge shops!
If you are worried about the whole candy thermometer thing like I was, I have to say it turned out well for me.
It wasn't my first time, but making candy is not a usual thing for me.
It took me a long time to conquer my fear, but this creamy fudge turned out so good.
Yes, it is sweet. Very sweet. But if you love maple you will find yourself reaching for another piece.
This was a fairly easy fudge recipe to make. The important thing is to make sure you have an accurate thermometer that keeps the right temperature and pay attention when to stir and when not to stir!
How to Make this Maple Syrup Fudge Recipe:
Begin by testing your thermometer in a pot of boiling water. If you are at sea level it should read 212 degrees.
Here in Denver, it reads at 202 degrees. So all temperature adjustments should be lowered by 10 degrees.
Now get your preferred pan ready. I would use a loaf pan, grease it and then line it with parchment paper leaving an overhang on the long side of the pan.
But if you want a thinner piece of fudge by all means use an 8″ square pan.
Using a heavy pot, place 2 cups of sugar, 1/2 c of heavy cream, half and half or table cream, 1 c of real maple syrup and 2 tablespoons of butter in the large saucepan.
Bring to a boil while stirring over medium heat . Stir. Stir. But really it doesn't take that long-about 5 minutes-before it begins boiling.
It's a good idea to NOT go to the bathroom or talk to your daughter while you are supposed to be stirring. It will surely boil over in this time if you do!
Now insert your candy thermometer and cook, stirring occasionally until the mixture reaches 238 degrees (or 228 degrees in Denver).
This could take 10 – 15 minutes, but it may be sooner.
Now take the fudge off the heat and decide where you want it to cool.
I decided to pour it into the mixing bowl of my electric mixer, but if you want to use a hand mixer and beat it in the pot, that's OK, too.
Whatever you do be sure to take it off the heat and wash the sugar crystals off the thermometer before placing back into the pot or bowl.
Now let the fudge cool before you beat the heck out of it.
Word has it that fudge should cool to 110 degrees without stirring or disturbing the fudge in any way. (Boy, I wish that happened to me when I decide to nap!)
Let it cool to about 150 degrees and then add vanilla extract, maple extract and a pinch of salt before beating it with the paddle attachment on medium-low speed.
If you left it in the pot you can beat it with a wooden spoon.
This could take from 5 to 15 minutes but pay attention. The fudge should start to lose its glossy look as it begins to set.
At this point stir in the toasted, cooled walnuts and scrape the fudge mixture into the prepared pan. Spread it and smooth it well.
What should I do if I overbeat the fudge?
if you missed the magic point and overbeat it, stir in a spoonful of hot water to loosen it up.
Let it set for about an hour at room temperature.
Take the fudge mixture out of the loaf pan by lifting the overhang of parchment paper and the using a sharp knife slice the loaf into 1″ slices. Slice the slices into squares and then store in an airtight container.
I've made marshmallow fudge in the past, like when I was a kid, and love making microwave chocolate fudge, but this creamy maple fudge loaded with toasted walnuts and lots of maple flavor is a good traditional fudge recipe to start with.
Make sure you use real maple syrup, NOT pancake syrup and you will have really delicious homemade fudge.
Use the best maple syrup you can find. It doesn't matter whether it is dark or light-buy what you prefer.
This delicious fudge is perfect for gift giving. Make it a combo and give some maple glazed pecans too!
And now, one last thing… make sure to add this to your maple syrup recipe collection.
Because your friends will be asking for it!
Need a Few More?
Condensed Milk Chocolate Fudge Cookies
I'd Love it if You'd Follow Me and Pin and Share: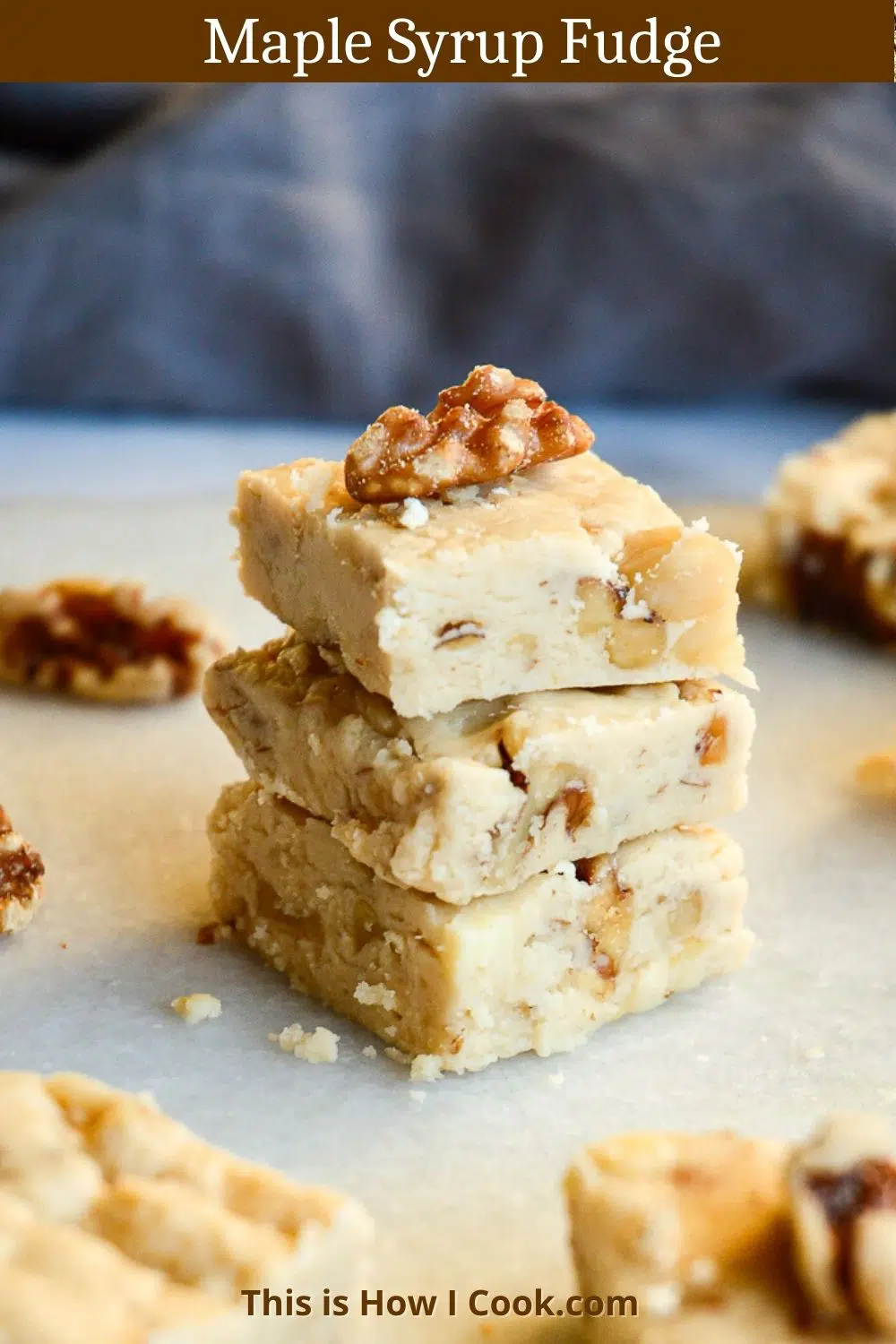 Print
Maple Syrup Fudge Recipe with Toasted Walnuts
Author:

Abbe Odenwalder

Prep Time:

10 Minutes

Cook Time:

20 Minutes*

Total Time:

30 Minutes

Yield:

1

9 x 5 loaf pan

1

x

Category:

Candy

Method:

Stove Top

Cuisine:

American
---
Description
This very easy maple fudge recipe, made with a candy thermometer, is creamy and luscious, totally sweet, and loadde with toasted walnuts!
---
2 c sugar
1 c pure maple syrup
1/2 c cream-half and half, heavy cream or light cream
2 T unsalted butter
1/2 t salt
1/2 vanilla extract
1/2 t maple extract (optional)
1/2 c toasted walnuts-cooled
---
Instructions
Grease an 8″ square pan or I prefer using a loaf pan. Line with parchment paper with the long sides overhanging so the fudge can be lifted out after setting.
In a large pot combine sugar, maple syrup, cream and butter. On medium-high heat, cook stirring constantly, until mixture boils.
Now insert the candy thermometer and cook stirring occasionally until mixture reaches 238 degrees or 228 degrees at high altitude. This may take 10 to 15 minutes.
Remove pot from heat and remove candy thermometer and rinse the sugar crystals off of it. Dry. At this point I poured the fudge mixture into the bowl of my standing mixer, but if you prefer to beat it with a wooden spoon in the pot, that's OK, too.
Reinsert the candy thermometer and let the mixture sit, without stirring, until it has cooled to 110 degrees. Full disclosure: I only let mine cool to about 145 and it was fine! This could take up to an hour and don't speed up the process by chilling!
Once the mixture has cooled add the extracts and the salt and beat it on low speed with the mixer or if you are using a wooden spoon, beat until the mixture loses its gloss. It will get thicker and start to set. DO NOT overbeat! Before it gets too thick stir in the toasted walnuts and then spread the mixture into the prepared pan.
If your mixture should get too thick, beat in a spoonful of hot water. You may need a couple, until mixture gets soft again.
Let cool completely at room temperature before cutting into squares.
Store in an airtight container.
---
Notes
I strongly recommend a candy thermometer.
Definitely use real maple syrup.
Read directions closely.
*Does not include cooling down time.
Keywords: maple fudge, maple walnut fudge recipe, maple syrup fudge, maple fudge recipe, maple walnut fudge, maple syrup fudge recipe