Should be famous cocoa microwave fudge may very well be famous, but I hadn't heard of it until now. This simple, made in the microwave, cocoa and powdered sugar fudge is truly incredible!
Microwave fudge, anyone? Who would have thought?
This simply amazing cocoa and powdered sugar fudge recipe is a huge favorite of mine.
Let it be said that though I do love chocolate truffles and champagne, I adore chocolate cocoa microwave fudge.
And after finding this recipe, I'm afraid I might begin to adore this easy homemade fudge a little bit too much.
My love affair began during the Christmas holidays, which is the time I'm looking for gifts for the neighbors.
As a child I recall making marshmallow fluff fudge to give away.
Standing at the stove, while constantly stirring, remains in my head. It was so worth it.
But somehow I never had amazing success with that recipe in Colorado.
I'm guessing it has to do with the fact that our boiling point is lower here, which throws the whole 5 minute fudge thing out of whack.
I briefly tried a recipe called perfect fudge when I decided I'd master the candy thermometer. It was perfect…when it turned out!
And then I started trying a variety of condensed milk recipes for fudge, but they never seemed to have the taste that I recalled.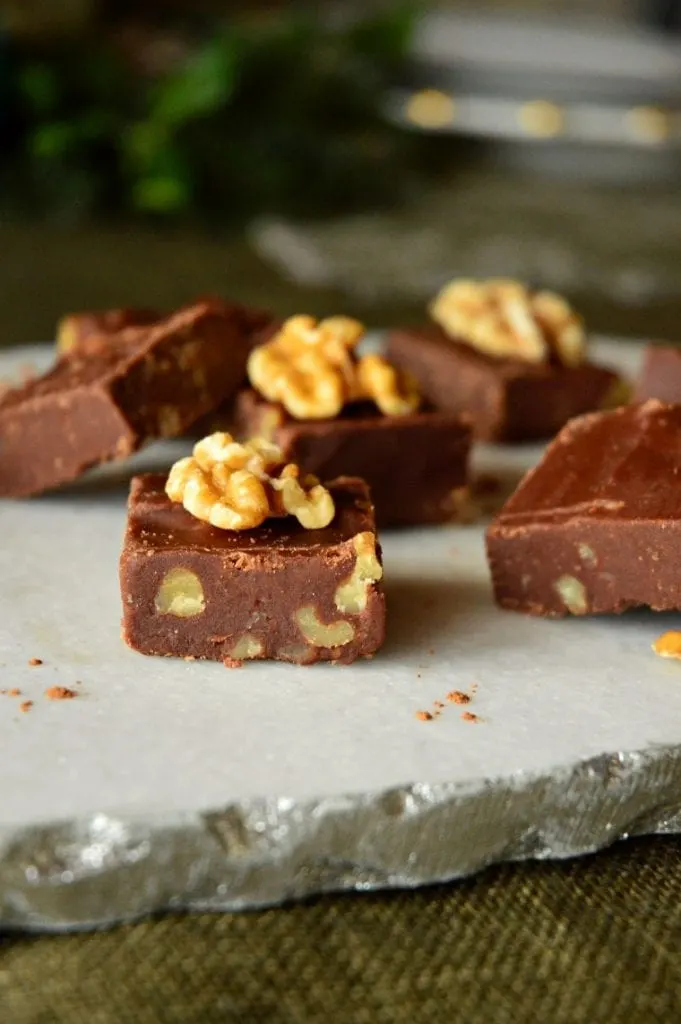 I've eaten a bit of fudge in my day.
Christmas might seem like the fudgely time but vacations always found us scoring fudge too. Think about it. Every boardwalk and mountain town always has a store that makes fudge.
Just thinking of those glass cabinet fronts lined with every possible variety of fudge always makes me drool.
And the aroma that comes out of those usually wood framed doors with big brass door knobs is pure heaven, if you are a chocolate lover like me.
So whether fudge is to Christmas or to vacations, I don't really care.
The point is that this microwave fudge is for anytime and this year I am choosing Valentine's Day to be that time.
I just couldn't hold back. I've had these photos since Christmas and this easy fudge recipe.
In fact, this recipe has probably been out there for at least as long as microwaves have been commonplace in one's kitchen. But somehow I didn't get the memo.
This is fudge to be reckoned with and it is so damn simple to make that it deserves your attention. I hope I got it!
This cocoa fudge could be called Hershey's cocoa fudge, or it could be called easy fudge, but honestly?
I just call this "should be famous cocoa fudge"…because really it should be!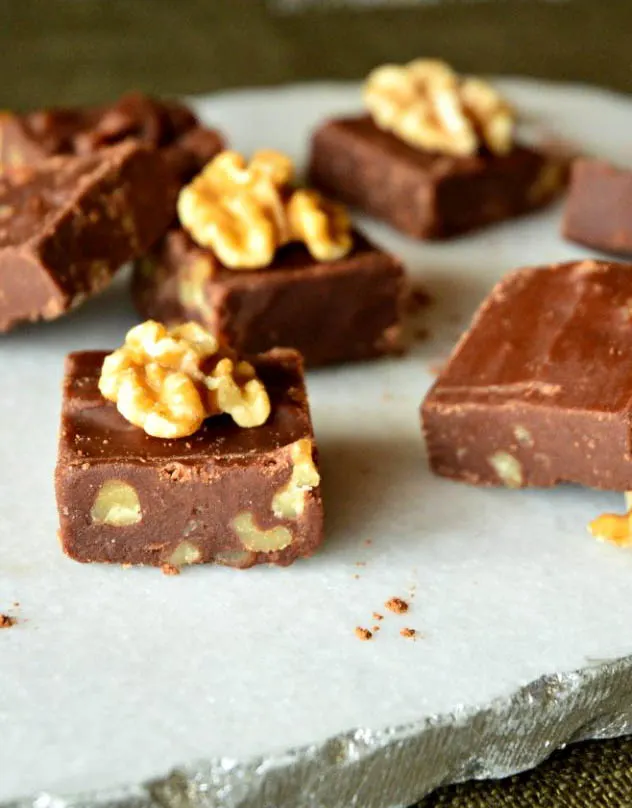 How to Make Cocoa Microwave Fudge:
Line a 13 x 9″ pan or a 15 x 10″ pan with aluminum foil.
Get out a sifter or micromesh strainer because you don't want your cocoa or powdered sugar to be lumpy.
If you have a sifter use it or press the cocoa and powdered sugar directly into a large microwaveable bowl.
Stir well.
Pour milk in a circle directly over the cocoa and sugar. DO NOT STIR.
Cut butter into small cubes and place all over on top of the powdered sugar cocoa milk mixture.
Cover the bowl with plastic wrap and heat in microwave on high for about 3 – 4 minutes. You want to totally melt the butter.
If it is not quite melted, add another 30 seconds or so each time until it is.
Once the butter is melted, using a wooden spoon, stir this fudgerecipe with cocoa powder, until the mixture is shiny.
Now add the toasted walnuts if using and the vanilla extract.
Stir again and pour into your choice of pan. Spread evenly and chill until firm.
However, I always serve this cocoa fudge at room temperature.
It tastes so much better that way.
Why this cocoa microwave fudge recipe?
Perhaps it was the ingredients that caught my attention. I'd never heard of powdered sugar in fudge.
And regular milk? Nope. Usually fudge calls for condensed milk or evaporated milk, but thanks to this recipe all of the ingredients were on hand in my pantry when I spontaneously decided I needed more gifts.
Plus, I was able to double the recipe easily, which made an enormous pan of chocolate cocoa fudge.
Yes, I must admit that if the cocoa microwave fudge didn't turn out, I knew I'd have to throw a lot away, but I'm a bit courageous in the kitchen when trying something new.
So Valentine's Day easy homemade fudge anyone?
Much easier than making truffles, no special trips to the grocery required, and if you are like me you have a leftover unopened bottle of champagne from New Year's that should be drunk.
I'm totally down with this.
Champagne and this soon to be famous cocoa microwave fudge?
I think I'll leave the recipe out for Manservant to find!
Happy Valentine's Day to all. And to all a Good Night!
Need more fudge?
White Chocolate Funfetti Fudge
This post contains affiliate links from which I may or may not be paid a small commission at no cost to you!
Print
(Should be Famous) Cocoa Fudge
Author:

Abbe Odenwalder

Prep Time:

10 Minutes

Cook Time:

10 Minutes

Total Time:

20 - 25 Minutes

Yield:

1

15 x 10 pan or

1

13 x 9

1

x

Category:

Candy

Method:

Microwave

Cuisine:

American
---
Description
Should be famous cocoa fudge is simple to make in the microwave. Cocoa, powdered sugar and butter makes this fudge taste like old fashioned fudge!
---
32 oz bag of powdered sugar
1 c cocoa
2 sticks of salted butter or 16 T at room temperature
1/2 c milk
1 1/2 c chopped toasted walnuts
2 T vanilla
---
Instructions
Line a 15 x 10 baking sheet or a 13 x 9″ if you want thicker fudge, with foil, leaving enough hanging off the edges so you can remove the fudge easily from the pan.
In a large microwaveable bowl combine powdered sugar and cocoa. Stir until all major lumps dissolve or to be on the safe side you could sift this. SInce I do not own a sifter, I use a mesh strainer which does the job! If you have found you still have lumps after removal from the microwave, I have found that an immersion blender works really well to break them up. Therefore sifting is the best thing if you want to avoid lumps.
Pour milk over sugar mixture but DO NOT STIR!
Cut the butter into cubes by slicing the butter in half lengthwise. Turn it on its side and slice again. Now slice the butter as you normally would and you should end up with 4 cubes to a slice. Place the butter cubes on top of the milk.
Now microwave on high for three to five minutes or until the butter has melted entirely. Make sure to lightly cover your bowl with plastic wrap or a paper towel in case you have a splattering accident! Check at three minutes for melting and then add a minute. Check again. Add another 30 seconds to a minute. Just get that butter melted.
Now stir well and incorporate all that sugar with all that butter. Mixture should become shiny. Now add vanilla and nuts and stir again. Spread in pan and chill until cool.
Damn! How easy is that?
---
Notes
If you prefer thicker fudge use a 13 x 9 pan.
Keywords: microwave fudge with cocoa powder, microwave fudge, fudge recipe with cocoa powder, powdered sugar fudge,, easy homemade fudge, cocoa fudge, cocoa fudge recipe