This rich, no churn chocolate ice cream filled with everyone's favorite cookie-well, I'm assuming that is an Oreo-requires no ice cream machine and only 5 ingredients. This ought to get you through summer!
No churn ice cream appears to have been invented by Nigella Lawson.
If you've never had no churn ice cream, well, welcome to the club. It took me awhile to discover this easy homemade ice cream. But I'm sure glad I did.
No ice cream maker is required for this simple 5 ingredient recipe. And if chocolate isn't your thing, I guarantee there are a million more no churn ice cream recipes available.
It turns out that whipping the cream incorporates air just as an ice cream machine does while churning.
This gives an ice cream texture that most anyone can appreciate. You do like ice cream, don't you?
With a recipe like this, I really should be making ice cream more often, but well, I just can't have ice cream around too often-if you catch my drift.
Ice cream is Manservant's danger zone and even if it's just a few spoonfuls a night, it might effect his manly figure!
But you must know that when my children are home I try to feed them well. So yes, you must have already figured out that this chocolate ice cream is one of the foods I fed Alex Odie San China Boy.
It's not like there are a lack of Oreos in China. There aren't. Nor is there a lack of Snicker's bars, Pringles and M and M's. But there is a lack of ice cream in China. It's there; but mostly in fruit flavors or bar form.
We Odenwalder's, prefer ours in chocolate. Form, that is. Of course it was possible to get soft serve at all the McDonald's, which did happen the night that Zoe could have been kidnapped-and that my friends is for an upcoming story! If I ever finish the China diaries…
This no churn ice cream though is something that must be shared; especially before National Ice Cream month is over which I hear ends at the end of July. Not that eating ice cream beyond July would be a national crisis, but one never knows.
And this is what happens when one drinks too much wine on national tequila day in national ice cream month. I apologize if I hit your Instagram with a strange comment and for sure misspellings, but it is one of those days where wine happened to taste very good.
And one bottle of wine between two people is a lot to consume in a short time, but we did. Consume that is.
But back to ice cream, which we all know Thomas Jefferson ate a lot of. Though he preferred vanilla-I have it on the best authority, because I read two books about him this year, even if one was read by accident.
In my case this chocolate ice cream filled with Oreos was quickly consumed by both of the men in my family.
The weird thing is that I'm not much of an ice cream eater. Every now and then though I really get the urge but on a circle graph I am found in the cookie and cake spectrum, with a glass of milk. (Which I couldn't find tonight. The cookie and cake that is… I can always find milk and it is lactose free.)
But tonight I found wine – which I drank and it was good. A 2012 Barbera from DaVero wines with a rooster on the label. (I've always wanted to have chickens!) Hard to find, but one of the owners gave it to Manservant awhile ago, though I would have preferred he gave him a job!
And now I want MORE! More!!! I'm sorry Alex you missed this bottle. It would have been one you enjoyed. With me. But you aren't here. And I know you liked this ice cream. So here it is. I do believe that you could even make it in China.
Easy peasy. No churn ice cream means no machine. Just a loaf pan and a bowl. And condensed milk and cocoa. And heavy cream whipped. How simple is that?
And Oreos. We all need Oreos. In fact, maybe the reason I love this ice cream recipe is because I make sure I have some leftover Oreo's. To eat with my ice cream, of course!
P.S. We had this wine with an excellent chicken parmigiano. It was great. It was excellent. I know because I made it. You will love it. So tune in next time for a new take on this fantastico dish which we ate with our wine.
But now you should make this no churn chocolate oreo ice cream. Because. Well. Ice cream. And Oreo's!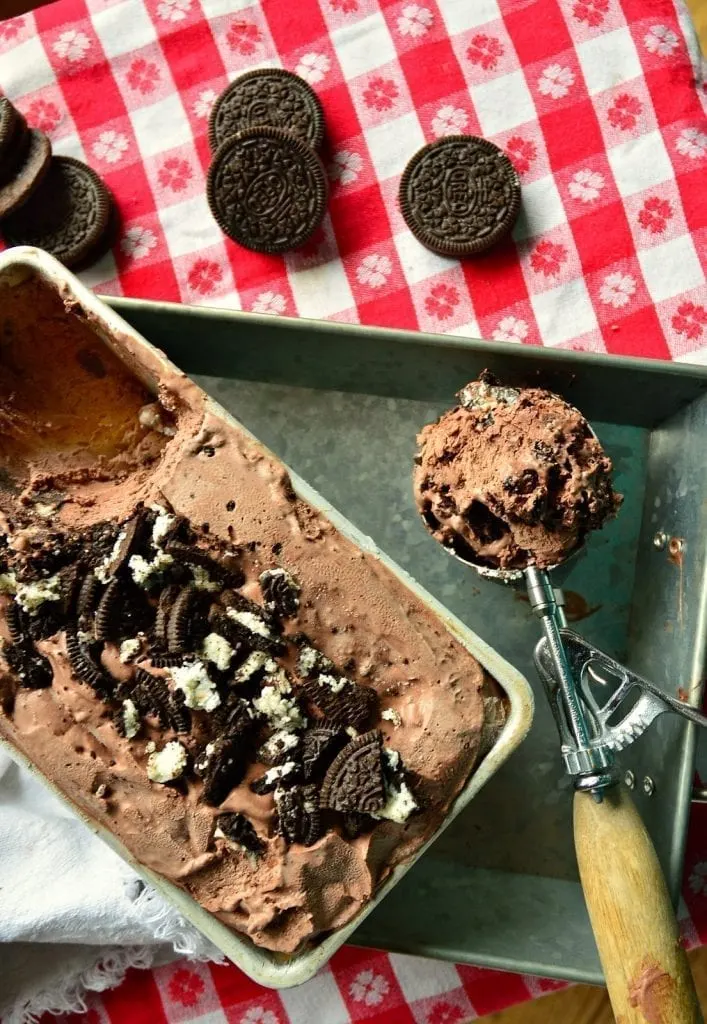 A Few More:
I'd love it if You'd Follow Me and Pin and Share!
This is an updated post from July, 2017.
Print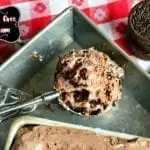 Chocolate Oreo Ice Cream (No Churn)
Author:

Abbe Odenwalder

Prep Time:

15 Minutes

Total Time:

15 Minutes Plus Freeze Time

Yield:

Makes

1

8 x 4 loaf pan

1

x

Category:

Dessert

Method:

Freezer

Cuisine:

American
---
Description
This rich chocolate ice cream filled with everyone's favorite cookie-well I'm assuming that is an Oreo-requires no ice cream machine and just 5 ingredients. This ought to get you through summer!
---
2 c heavy cream whipped until stiff peaks form

1 can condensed milk

1/2 c unsweetened cocoa

1 t vanilla

12 oreos crushed plus more for on top!
---
Instructions
Whip the cream until stiff peaks form.
In a large bowl combine condensed milk, cocoa and vanilla. Stir well.
Fold in whipped cream.
Stir in 12 crushed Oreo's.
Spoon into an 8 x 4″ loaf pan. Top with more crushed Oreo's. Chill until frozen. This will take about 4-8 hours but if you want soft serve, I would lean to the lower side!
---
Notes
Feel free to use your favorite cookie. It just happens I love Oreo's!
Keywords: breyers oreo ice cream, oreo ice cream, chocolate oreo ice cream, no churn ice cream, no churn chocolate oreo ice cream