"This no bake banana split pie has a cookie crumb crust, a layer of vanilla cream and a chocolate layer laden with maraschino cherries and bananas. There's no ice cream in this, but it is frozen and tastes divine! Top it off with your favorite sundae toppings for a perfect Sunday supper! Or even better make it the last hurrah of summer!"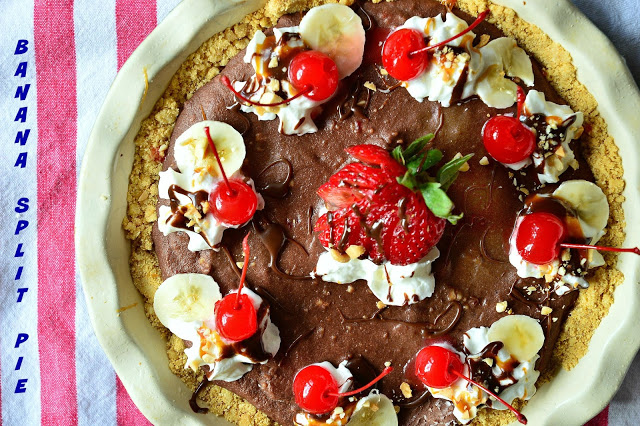 It just can't be that Labor Day is next week. My folly that I introduced to you last Mother's Day, is still not complete! OK-it is 90% finished and Manservant worked hard all summer, but I think he is too detail oriented. Yes, it has lots of bells and whistles but I thought I was just getting something basic! I plan on doing some painting this week and then I'll show you the almost final product. Even so, I'm still enjoying summer nights in it and can't wait to get a bit more settled before cooler weather sets in.
In the meantime he is off to Chile-for work-will be back for Labor Day and then I think off to Sweden. He has an old friend visiting next weekend, so summer will officially end with a bang! The end of summer always has me trying to squeeze in the summer foods I still haven't gotten to and hence the need for a banana split. After all one must have a banana split at least once during the summer-right? Forget Dairy Queen, (or Fairy Queen which is what Alex called it ever since he learned to talk…we thought it was so cute, we never corrected him) whose hot fudge sundaes I grew up on; I adore this pie.
Give me a cookie crumb crust any day filled with a vanilla cream layer and then topped with a chocolate filled maraschino banana layer and then one must of course add whipped cream and hot fudge sauce and caramel sauce and don't forget more bananas and peanuts! Yes, I'll let you add strawberry sauce, but strawberries always gave me hives as a kid, so I stick with fudge! And if you are having a picnic watch out for unwanted guests!
In case you need ideas for Labor Day, the Sunday Supper group has come up with LOTS of ideas. And make sure to get in zucchini, corn, peaches and tomatoes because they may not be around to much longer. On the other hand, banana split pie is good year round! Thanks so much to Em Beitel of Life Tastes Good for hosting this end of summer event!
Note: This recipe does contain raw eggs. If you are worried, make sure to buy pasteurized eggs.
A Few More Labor Day Favorites:
Please Pin and Share:
Yield: 1 9″ PieAuthor: Abbe OdenwalderPrint Recipe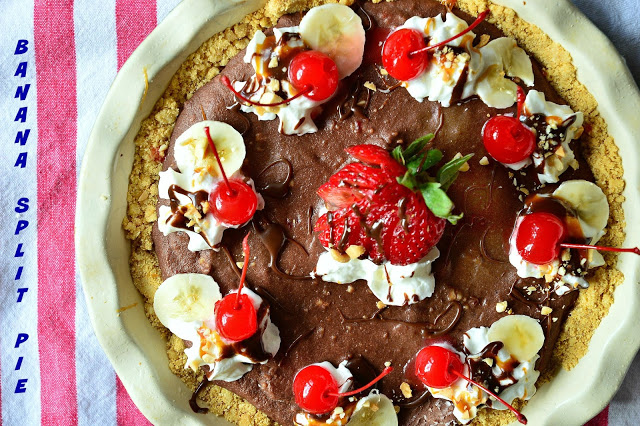 Banana Split Pie (No Bake)
This no bake banana split pie has a cookie crumb crust, a layer of vanilla cream and a chocolate layer laden with maraschino cherries and bananas. There's no ice cream in this, but it is frozen and tastes divine!
prep time: 25 MINScook time: 5 hourtotal time: 5 hours and 25 mins
INGREDIENTS:
1 c graham cracker or chocolate cookie crumbs
1/4 c chopped peanuts, pecans, or walnuts
3 T melted butter
3 T sugar
Pie Filling
1/2 c softened butter
1 1/2 c powdered sugar
2 eggs
1 t vanilla
1/2 c chopped peanuts, pecans or walnuts
1/4 c chopped maraschino cherries
1 c heavy cream, whipped
2 T cocoa
1/2 c powdered sugar
2 small ripe bananas
Hot Fudge Sauce, Caramel Sauce, Whipped Cream, Bananas, Strawberries, Chopped Nuts (Optional)
INSTRUCTIONS
Combine crust ingredients and pat into pie pan. Chill while making filling.
With a mixer or in a food processor, cream the butter and sugar. Add the eggs and vanilla and beat well. Spread the mixture in the pie shell and place in freezer while making chocolate filling.
Whip the cream and add cocoa and sugar halfway through and whip until stiff peaks form. Stir in the nuts and cherries. Puree bananas and fold those into the chocolate mixture. Fold together gently.Top vanilla mixture with the chocolate mixture and place in freezer for about 5 hours and up to 24.
Serve with sundae toppings of your choice! Use a hot knife to slice or let sit for a few minutes before cutting.
Labor Day Menu Ideas
Scrumptious Labor Day Sides and Starters
Delicious Labor Day Entrees
Luscious Labor Day Desserts
Join the #SundaySupper conversation on twitter on Sunday! We tweet throughout the day and share recipes from all over the world. Our weekly chat starts at 7:00 pm ET. Follow the #SundaySupper hashtag and remember to include it in your tweets to join in the chat. To get more great Sunday Supper Recipes, visit our website or check out our Pinterest board. Would you like to join the Sunday Supper Movement? It's easy. You can sign up by clicking here: Sunday Supper Movement.