A classic Mardi Gras king cake with cream cheese filling is the best way I know to celebrate Mardi Gras. Decorated with sparkly sugar, this is so fun!
I've got New Orleans on my mind. Way back in the 80's we were able to visit several times. Twice for a conference, once just for fun, one with sadness attached.
I love New Orleans. I love the energy that it gives me.
N'awlins makes me feel like I'm in another world and I could use that feeling right now.
When I think of the Big Easy I think of my husband's relations who treated me like family from the get go.
Gentle, honest, just nice people they are. And loving, definitely loving.
I also think of the salty, wet dampness in the air and the lingering smells of liquor and perhaps mold.
But hey, that's what it smells like to me; unless you are in front of the bakery or local candy shop.
And then the smell of butter and sugar drifts out and oh so politely draws you in.
Well, that might have been the guy handing out samples.
And oh, the candy shops. I've never seen such decadent looking caramels and pralines and marshmallows.
I'm sure there is chocolate but here it plays a back seat to the brittle and such.
I happened to be their pre Mardi Gras when the bakeries were filling their windows with King Cake.
I had never seen, let alone tasted a King Cake but their gaudiness appealed to me.
What a happy food. What a fun food. And they come with a tiny plastic baby-and beads.
I love those beads. Purple and gold and green. This cake lets you be a kid for a day and who wouldn't love that?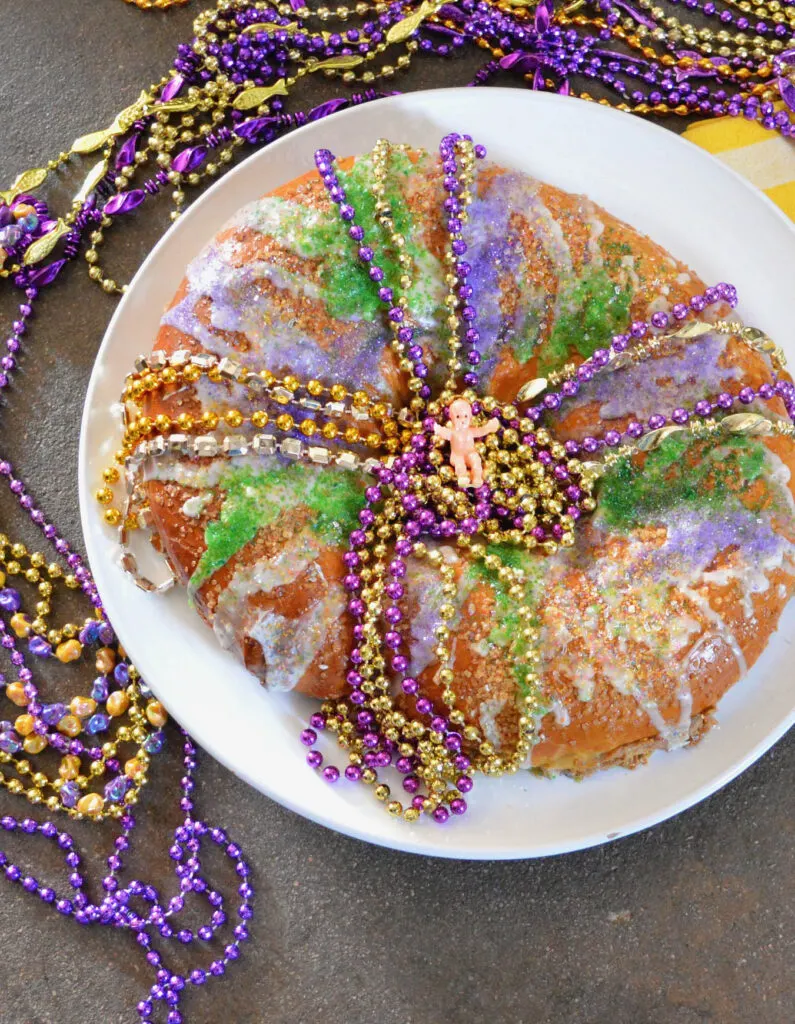 When you go I strongly recommend a tarot reading. The one I saw told me I would have twins and this was two years before I was pregnant.
Don't say no way. I have it on tape.
They gave it to me when I handed them my dollars. And make sure it is a happy reading. After all you are on vacay.
Peruse the voodoo shops. Take in the music. Stay in a quaint hotel.
One with black iron railings that serves chickory coffee each morning along with fresh, warm beignets.
One that closes the gates at night and makes you feel secure and secret and safe and all tucked away from the world.
And when you are lying in your big 4 poster bed listen for the sounds of the trumpet. You will hear it along with the magical trombone.
Go in the antique shops. Visit the cemeteries.
Talk to the people. They all have a story. Take the hurricane tour. (We were there prehurricane.)
Pretend you are Scarlett and Rhett will rescue you.
Run, don't walk to every restaurant in town.
Eat at Commander's Palace. Visit Emeril. And Paul Prudhomme. Go to Galatoire's, but men must have a jacket. And the myriad of others.
Have a Po'Boy. Have Bananas Foster and a Hurricane. Eat crawfish.
I must confess that when we left after four nights I'd never felt more full in my life. Full of life and full of food.
You can eat way to much down there and it is all rich and good until you have to get on that plane.
I don't think I ate for two days when I got home.
What is a King Cake?
King Cake isn't really a cake. To me it's more like a giant cheese Danish. Or some say a cinnamon roll.
Others just call it a coffee cake. In France it's made with puff pastry.
Here it is more of a brioche with eggs and butter.
I never tasted one from New Orleans. But it made me want to go home and bake one.
It wasn't what I thought it would be, but it has become somewhat of a tradition in our home.
When my kids were young they both fought over who would find that damn king cake baby in their slice.
I always prayed it was me, so the two of them wouldn't argue.
And what does that baby mean? Besides signifying baby Jesus, it usually means you buy the cake or host the party next year.
I'm not sure my kids thought of that.
It is also supposed to bring good luck to those who find it.
I understand they fill them with all kinds of things in N'Awlins but up here, I keep it simple.
It takes the place of a coffee cake and isn't overly sweet.
Like I said they may look a bit gaudy, but the glaze is what makes the cake, at least in my opinion.
I love the crunchiness of the sugar, but many just dye the glaze and skip the sugar.
When does king cake season begin?
According to Emeril, the history of the king cake began in 12th century France when the cake was baked on the eve of January 6th, the Feast of Ephipany or the twelfth night.
It was meant to celebrate the visit to the Christ child by the three wise men.
The small token or magi, in this case the small plastic baby, was hidden in the cake as a surprise for the finder.
In New Orleans the cake is still baked and parties are held during the carnival season to share the best king cake recipe.
Whoever gets the baby must hold the party the next weekend, bring the next king cake, and so on, until Fat Tuesday, the last day of Mardi Gras. (These are my kind of people!).
The next day is Ash Wednesday and Mardi Gras season officially ends.
What does a king cake represent?
The cake is circular to represent a crown and richly decorated with three colors.
Green symbolizes faith, gold stands for power and purple is justice.
And even though there are allusions to baby Jesus, I still think it is fun to make for Purim. Sacrilege, I know!
But Purim has a king and a queen and a bad guy.
And we get to go crazy on Purim so maybe this is my way of showing it. But I do bake hamentaschen, too!
This king cake recipe with cream cheese filling, was something I did not discover until I married Manservant.
Even then it was way after that and probably on our first trip to New Orleans when I perused the bakeries to discover these gaudy decorated cakes, which were a traditional king cake.
How to make this easy King Cake with Cream Cheese Filling:
Make the easy yeast dough.
Make the brown sugar cream cheese filling.
Make an egg wash.
Make the glaze and decorate.
If you plan this out it is pretty simple!
Begin by making the active dry yeast mixture in the bowl of a stand mixer.
Then add chilled butter cut into cubes, lukewarm milk, salt, vanilla and room temperature eggs. Mixture will look lumpy.
With the dough hook, slowly add in the flour in thirds until the king cake dough is smooth and elastic, adding more flour as needed.
Form the soft dough into a ball and place plastic wrap over the bowl.
Place in a warm place and allow to rise until doubled in volume.
While dough is rising-this could take several hours-make the cream cheese mixture.
Combine cream cheese, powdered sugar or brown sugar, vanilla and cinnamon until mixture is smooth and creamy.
After dough has risen, punch it down and place on a lightly floured surface.
Roll dough into a rectangle about 6″ x 18″ in size.
Spread on cream cheese filling leaving a 1-inch border around the sides.
Roll up, beginning on the long side and shape into a circle by pinching both ends together.
Line baking sheet with parchment paper and place the sweet brioche dough on it.
Let rise until doubled in size and then brush with an egg that has been whisked with vanilla.
Bake until dough is golden brown and sounds hollow when you thump it.
Combine the icing ingredients of powdered sugar, milk and vanilla and whisk until smooth.
When the homemade king cake has cooled, drizzle the cooled cake with glaze and sprinkle the top of the cake with colored sugars, preferably gold sugar, purple sugar and green!
If you aren't familiar with making a yeast dough, there is no time like the present.
This rich brioche dough is my favorite king cake.
Though they have started selling king cakes in my local grocery store, they are not even close to tasting like this.
Have your own Mardi Gras celebration and make sure it has a King Cake.
I love Cajun and Creole food and have a warm spot in my heart for New Orleans.
And give me a reason to celebrate anything, and I am ready!
I often love to celebrate with brunch and this king cake is perfect for serving with cafe au lait.
Or with shrimp and grits.
Honestly, this king cake with cream cheese filling is a good time whatever time of day you decide to serve it.
This is an updated recipe from 2013.
This post contains links from which I may or may not earn a small commission at no cost to you.
Want Some More?
Print
King Cake
Author:

Abbe Odenwalder

Prep Time:

50 Minutes*

Cook Time:

30 Minutes

Total Time:

0 hours

Yield:

8

-

12

Servings

1

x

Category:

Breakfast/Snacks

Cuisine:

American
---
1 package active dry yeast
1/4 c warm water at 115 degrees
3/4 stick unsalted butter chilled and cut into 1/4" cubes
1/2 t salt
1/4 c lukewarm milk
1/2 t vanilla extract
2 room temperature eggs
2 1/2 to 3 c unbleached all purpose flour
Filling:
8 ounces cream cheese at room temperature
1/2 c powdered sugar or brown sugar
1 t vanilla
1/2 t cinnamon (optional)
Egg Wash
1 egg
1 t vanilla
Glaze
1 1/2 T milk
1 t vanilla
1 1/2 c powdered sugar
Green, Gold and Purple Sugar for Decorating
---
Instructions
Combine yeast and warm water in the bowl of a standing mixer and let sit for 5 minutes until bubbly. If yeast doesn't bubble, it is probably dead. Always make sure to check the dates on the package!
Using the paddle attachment, add butter, salt, milk, vanilla and eggs and mix on low speed for 20 seconds. Mixture will be lumpy.
White beating slowly add the flour a third at a time until a soft dough forms. Switch out the paddle attachment to the dough hook or transfer the dough to a lightly floured board. Slowly add in the rest of the flour or until the dough is a beautiful smooth and glossy ball. Dough should not be sticky. You may need more flour or less, depending on how dry it is where you are.
Place dough into a well greased bowl and cover with plastic wrap or a clean towel and set in a warm place to rise. (I have a cold house so I sometimes preheat my oven to warm. After it is preheated, I turn it off and place the dough inside on the middle rack and leave the oven door OPEN. This allows the dough to rise a bit easier.) Rising may take up to 2 hours.
Make the cream cheese filling by creaming together the cream cheese, powdered sugar or brown sugar, vanilla and cinnamon if using. Mixture should be smooth.
Once the dough has doubled in size, remove from bowl and punch down. On a lightly floured surface, roll dough out into a 6 x 18″ rectangle. Smear on the cream cheese mixture, leaving a 1″ border. Place the baby somewher in the dough before rolling up! Roll up starting on the longest edge and pinch dough ends together to form a circle or oval.
Place dough ring on a parchment lined baking sheet and place in a warm place to rise, covered with a clean towel. This may take about 45 minutes to an hour.
Make the egg wash by whisking the egg and vanilla together.
Preheat the oven to 350 degrees and after dough has risen brush with the egg wash. Bake 25-30 minutes until the king cake is golden brown and sounds hollow when you thump it. Remove from oven and let cool.
Make the glaze by combining the powdered sugar, milk and vanilla extract. Whisk well until smooth. Drizzle icing over cooled cake and then sprinkle with colored sugar.
---
Notes
Adapted from Emeril's Every Day's a Party and The United Cakes of America
*Does not include rise times
Keywords: king cake with cream cheese filling, cream cheese king cake, what is a king cake, recipe for king cake with cream cheese filling, mardi gras food