"Cajun fish with a pecan browned butter sauce is truly a special meal. Make some pecan butter and a browned butter sauce. Then season your fish Cajun style and dust with flour to lightly fry. Oh my. It is that good!"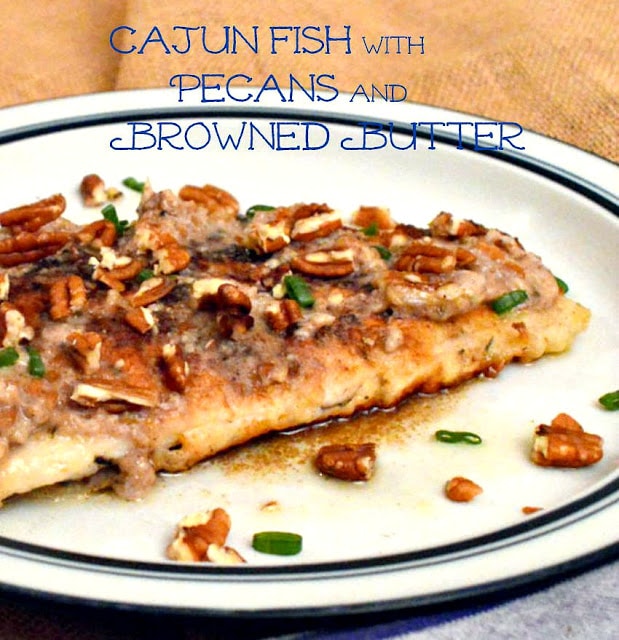 It has been a lot of years that this recipe has begged to be made. Something about it always sounded so enticing. So luscious. So nutty and rich. I never ate it in N'awlins. In fact, I've never eaten it before last Thursday. But I'm so glad I did make it, that is. And so is Manservant, for that matter. This dish was just a hunk a hunk of burnin' love! (Don't know where that came from!)
I always keep barramundi fillets from Costco in the freezer. They are thawed in no time and I even here of people using them frozen and just adding a little to the cooking time. Now I know that barramundi is not found in Louisiana but catfish is, and redfish and other fishes. All you need is a good firm fleshed fillet. Trout would work too. There are lots of fish in the sea, don't you know?
And pecans? We know those are from the South. In fact, the last time I was in Texas which was way too long ago, we gathered them in a park and schlepped them on the plane, only to bring them home and find out that most of them were dried out. What a bummer; though that probably saved me some time given that it would have taken a lot of crackin' to get at those pecans. But imagine a whole tree of nuts that no one picked up. Shame, shame, shame!
So now that I've talked a bit about nothing just take my word for it and make this fish. Perfect for company and perfect to let your family know that you love them. After all clogging your arteries with butter is a good thing now and then! I think in this case the healthiness of the nuts balances out the butter, don't you? And since I'm just ranting away, I do believe that Julia Child and Paul Prudhomme had two things in common. One was their height and the other is butter. Man, does this man like butter. And that's a damn good thing for this fish.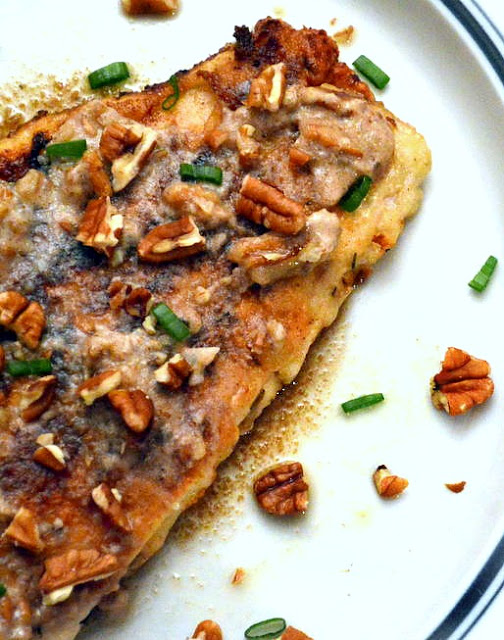 Cajun Fish with Pecan Butter and Browned Butter
Adapted From: Paul Prudhomme's Louisiana Kitchen
Servings: 4
Time: 30-45 minutes
Ingredients:
Seasoning:
1 T salt
1 t onion powder
1 t sweet paprika
3/4 t cayenne
1/2 t white pepper
1/2 t garlic powder
1/2 t pepper
1/4 t dry mustard
1/4 t oregano
1/4 t thyme leaves
1/2 c milk
1 beaten egg
1 c flour
4 fish fillets
Oil for pan frying
3 T toasted pecans rough chop for garnish
Directions:
Make Browned Butter sauce and the Pecan Butter. Set aside until needed.
Combine seasoning mix.
Combine milk and egg in a pan large enough to dip fish into. Beat until blended.
On a separate plate add 1 T of the seasoning mix to the flour. Mix well. Sprinkle some of the remaining seasoning mix on both sides of fish, patting it well with your hands. shake off excess.
Heat about 1/4 inch of oil in a large heavy skillet to about 350 degrees. Dip in the egg mixture, then dredge in flour again, shaking off excess. Fry in the hot oil about 2-3 minutes per side. Be careful to not burn your coating. Drain on paper towels and while still very hot, spread about 2 T of the pecan butter onto each fillet.
Serve by spooning some of the browned butter onto the bottom of a plate. Top with fish. Sprinkle with reserved pecans. (This can also be served over rice.)
Browned Butter Sauce
4 T butter
1 T Worcestershire
Melt 4 T of butter in small pan. Let cook and sizzle until brown on medium heat. Watch that this does not burn. Add 1 T of Worcestershire when butter is finished browning. Keep warm.
Pecan Butter
4 T unsalted butter, softened
1/2 c toasted chopped pecans
2 T chopped onion
1 t lemon juice
1/2 t Tabasco sauce
1/t t chopped garlic
Place above ingredients for in a blender or food processor and process until smooth, about 2-3 minutes, scraping sides as needed. Reserve to top fish with.
More fun food to try:
Shrimp and Grits
Crispy Chipotle Shrimp and Corn
Barbecued Shrimp Cajun Style
Spinach Salad with Za'atar, Dates and Almonds
Green Onion Garlic Chive Skillet Bread
King Cake
Cajun Potatoes
White Fish with Mushrooms and Browned Butter
Please Pin and Share!