A great Bay Scallop recipe is impressive, delicious and a simple way to start a meal. Or double the portion and make it dinner!
Love is in the air and isn't it fitting that I just arrived home from my cousin's wedding?
Love was certainly evident in Phoenix as we began the weekend meeting Zoe at the airport, and then devouring Mexican food at Filiberto's, a great place we found on Yelp.
After a few hours baking in the fabulous sunshine, we followed it with a family dinner at my parent's new abode.
It wasn't actually in their abode, but it was in the private dining room of their new retirement community. Zoe had a particularly good time!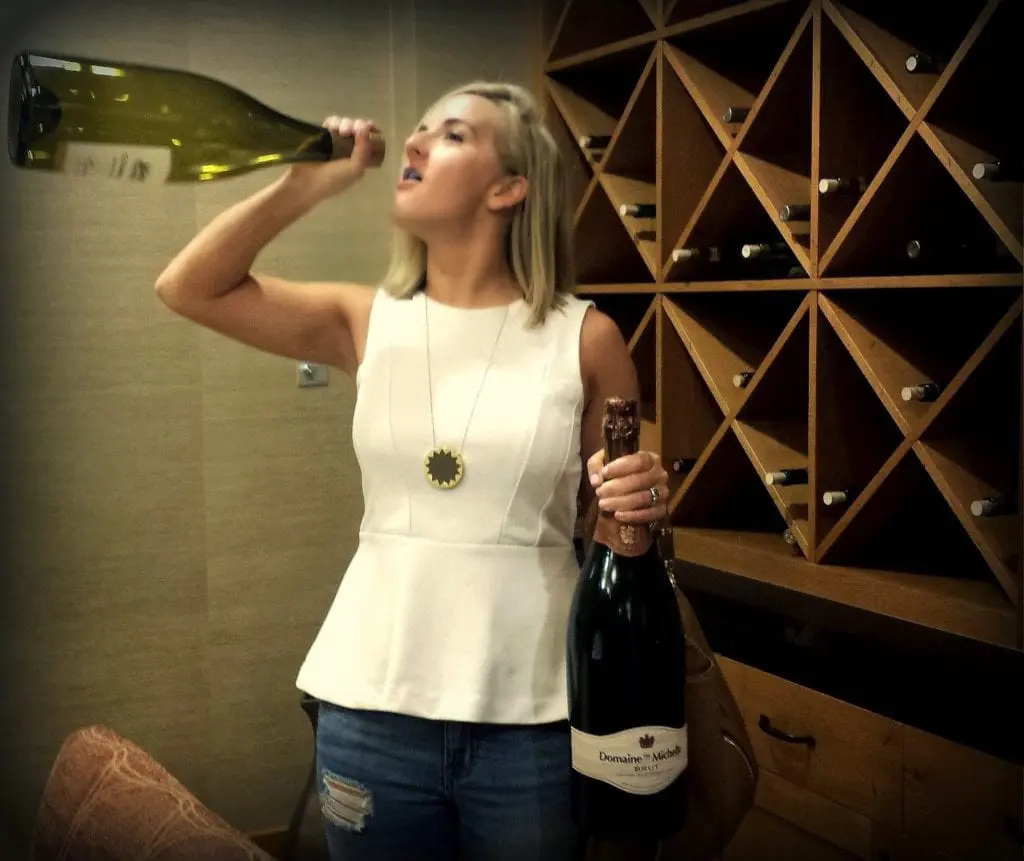 The next day found us having breakfast with family and my long lost cousin. Well, she feels like a long lost cousin, because we don't get to see her often enough.
For that matter we don't get to see any of our family often enough.
The one thing I've always wished is that we lived closer to our relatives.
Too many folks family can be a real challenge, and I'm not saying that mine is anywhere near perfect, but I've always loved getting together with my relatives.
There is something so comforting about being surrounded by those with the same roots.
Growing up I never saw my cousins that often. Two were in California and I had six in Illinois.
My family was never one to plan many family events so I relished the occasions when we did get together.
I still love the familiarity of sharing memories and one can only do that with people that knew them way back when.
It is true that you can't choose your family, and sometimes they aren't what you want, and don't give what you expect.
I believe though, that if one could ever figure out how to get along as a family, then maybe we just might have the key to solving world peace.
Phoenix was glorious and the trees were heavy with oranges.
The flowers were beginning to scent the air and the backdrop of Camelback Mountain made for a beautiful ceremony.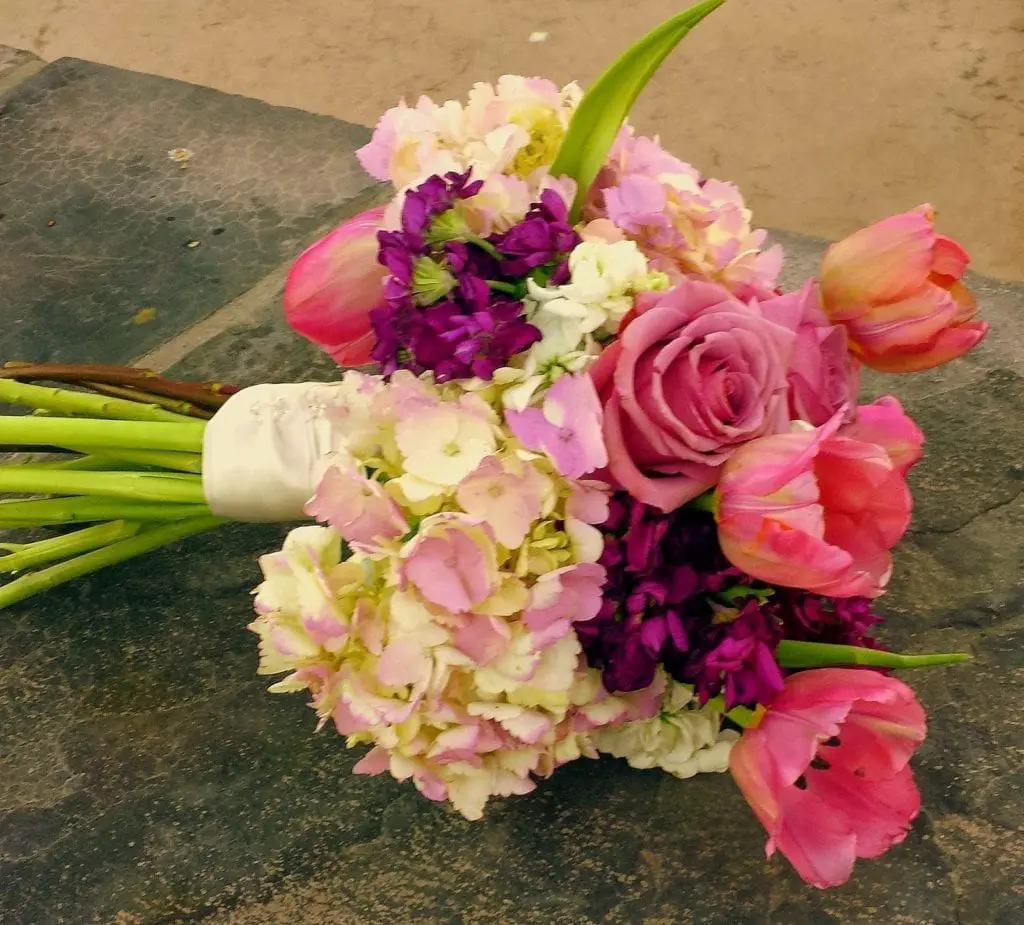 Though it is hard to find the time to chat when surrounded by 200 some people, it was small snippets and "snapchats" that made the evening.
I also got to show my dance moves on the dance floor, and luckily no one thought to shoot a video.
I am the type that doesn't care about who's watching, and hopefully no one was watching!
We finished the weekend with breakfast at Bagels and Bialys and loaded our suitcase with 1 1/2 dozen bialys to freeze upon arrival back in Denver.
Zoe managed to eat half of the latke fried egg stack with cheese sauce and bacon, and regretfully we weren't able to take a doggy bag.
So now we are approaching another weekend of love. Well, I can always use love.
This bay scallop recipe is one I adore! It is simple and quick and totally luxurious enough for a romantic Valentine's Day dinner.
Bay Scallop Recipe
Need Scallops Appetizer Recipes?
These little morsels of the sea make perfect appetizers.
I use this classic Marcella Hazan recipe with frozen bay scallops whenever I need an elegant, simple, great appetizer.
Thawed properly they work just fine, but I am sure this scallops recipe will also work with fresh scallops.
This recipe with garlic, capers, lemon juice and roasted red peppers is meant for special occasions.
Want to use this scallop recipe for a main course?
Be my guest. Just gussy it up and serve it over angel hair pasta or even rice.
If you do this you will probably want to leave out the bread crumbs so that you have more of a liquid sauce.
For a long time it was hard to find bay scallops, but suddenly they have turned up again in my local grocery store.
To make this simple bay scallop recipe start your broiler and get out a medium saute pan.
Dry scallops with a paper towel or you will end up with splatter everywhere.
Heat the olive oil and garlic over medium heat until the chopped garlic turns golden.
Do not let it burn!
Now turn the burner to medium-high heat and add the scallops, a pinch of salt and red pepper flakes, and cook until they are ALMOST cooked-about 5 minutes.
No red pepper flakes? Just give this a few grinds of black pepper at the end.
Remove from heat and add parsley, lemon zest, capers, roasted red peppers and 1 1/2 T of the bread crumbs.
This helps soak up the excess liquid from the scallops.
Now transfer to pretty baking scallop shells for a fancy presentation, or leave them in your oven-proof skillet and sprinkle with the rest of the bread crumbs.
Place under broiler for about 1 minute or until the surface has a somewhat golden brown crust.
Garnish with minced green onions and a bit more parsley, plus a few lemon wedges.
You have now made one impressive appetizer and all it took was about 10 minutes!
Serve with some good white wine because delicious recipes always require wine… and I promise this dish will make you think you are a professional chef!
Pro Tip: Do not overcook scallops or they become rubbery and dry. Tender scallops are what you want!
This is a great way to start dinner parties and I promise even home cooks like myself can make perfect scallops!
This is in my personal collection of great recipes as it is one of the best scallops recipe I know of.
Easy appetizer-you betcha! Easy family dinner? Just up the portions and this seafood recipe works fine. Special meal? Always!!
This delicious combination with few ingredients, is my favorite way to prepare scallops.
All I know is, the next time I make this Manservant said to make more!
Not only is it perfect for an appetizer, it also makes a great entree when served over pasta or rice.
If finding the way to a man's heart is through his stomach, then I guarantee this is one way to do it.
And vice versa. My Manservant could even make this if he wanted too!
This easy bay scallop recipe requires garlic. And lemon. And some chili flakes because love always needs a little spice, does it not?
Bay scallops are easy to cook as long as you don't overcook them.
Remember to remove them from the heat a bit before you think they are done. They will continue cooking for a moment or so.
Have the wine ready. This is ready in a jiffy!
Still Hungry?
Chocolate Lava Cake
Hot Fudge Cake
Salted Honey Rose Tart
Salted Butterscotch Chocolate Tart
Mussels in White Wine and Garlic
Brazilian Coconut Lime Shrimp Stew
Ziti Al Fresco
This is an updated post from 2015.
Print
Simple Scallops with Lemon Zest, Garlic and Capers
Author:

Abbe Odenwalder

Total Time:

15 Minutes

Yield:

2

-

4

Servings

1

x

Category:

Main Course/Appetizer

Cuisine:

Italian
---
Description
This simple scallop dish comes together in minutes. Lots of lemon and garlic and so, so good!
---
12 oz frozen bay scallops thawed according to package directions (Make sure these are really dry before putting in hot pan)
3 T olive oil
1 1/2 t garlic, chopped fine
sprinkle of salt
Sprinkle of red chili flakes
1 T parsley, chopped fine
1 1/2 T tiny capers, drained
3 T roasted red peppers, chopped
2 1/2 T fine, dry breadcrumbs (if I'm out of breadcrumbs I dry out a piece of toast and then grate it)
Lemon Zest from 1/2 a lemon
---
Instructions
Preheat broiler to high with rack on the top shelf.
Heat olive oil and garlic in a small saute pan over medium heat, until it turns pale gold. Add dried scallops, a pinch of salt and turn up the heat to medium high. Cook, stirring frequently, for no more than 5 minutes, or until scallops are almost cooked.
Remove from heat and add parsley, capers, roasted red peppers, lemon zest and 1 1/2 T bread crumbs. This helps soak up a bit of the liquid that the scallops release.
You can put these in pretty scallop shells or leave them in the pan. Sprinkle with the rest of the bread crumbs and place under a preheated broiler for about 1 minute, or until scallop mixture turns golden.
---
Keywords: bay scallop, bay scallop recipes, cooking bay scallops, scallops appetizers recipes, scallop appetizer