Roasted Carrots with a brown butter hazelnut topping will have everyone asking for seconds. Yes, carrots are a simple vegetable, but there is nothing simplistic about this delectable recipe.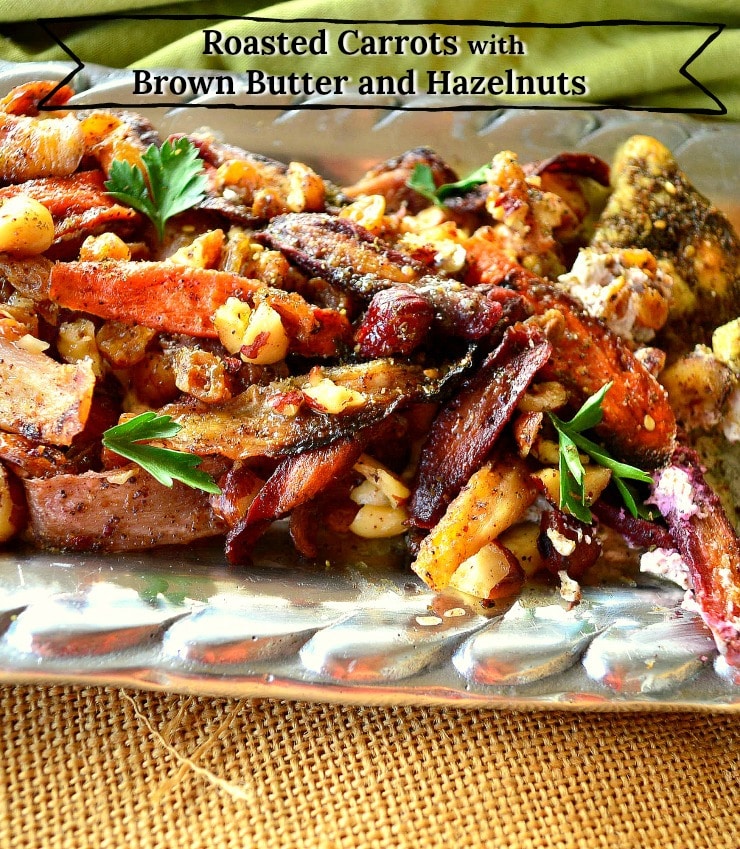 This is an updated post from 2015.
Roasted Carrots. Really? How can something so simple be so incredibly good? As I was going through my recipe index, I came across this carrot recipe. It came to me that these nuggets of sweetness would make a perfect starter to a heavy Thanksgiving meal.
Though this roasted carrot platter is intended as a side dish, there is no reason to keep them to the side…so to speak. I think they should be front and center. Yes, they are that good.
What happens when you roast carrots?
Roasting any vegetable concentrates their sweetness and gives them a golden brown caramelized surface. The interiors become tender but still retain some of their crispness. Extra virgin olive oil is a great way to get this recipe started.
While the carrots are roasting, is the perfect time to get the hazelnut brown butter topping started. Actually this isn't the only thing that makes these roasted carrots taste so amazing. There are some interesting seasonings that are used in this dish to give them a Middle eastern slant.
Some great seasonings for roasted carrots:
Sumac, is made from the pink berries of the sumac bush. The berries are ground up and mixed into everything from drinks and marinades and also mixed into seasoning blends. With a pleasant lemony taste, sumac isn't quite as sour as a lemon but it is tart and perfect in a salad dressing!
Coriander is also used in this seasoning mix. Cilantro and coriander are from the same plant. In fact the seeds used to grow cilantro are called coriander seeds. Even if you don't like cilantro you may find you like coriander.
They taste totally different. Coriander, which I buy ground, has a lemony taste so combined together with sumac and lemon zest, you can guess that this roasted carrot recipe is quite lemony in a complex way.
Add a touch of cumin and these roasted carrots become truly glorious.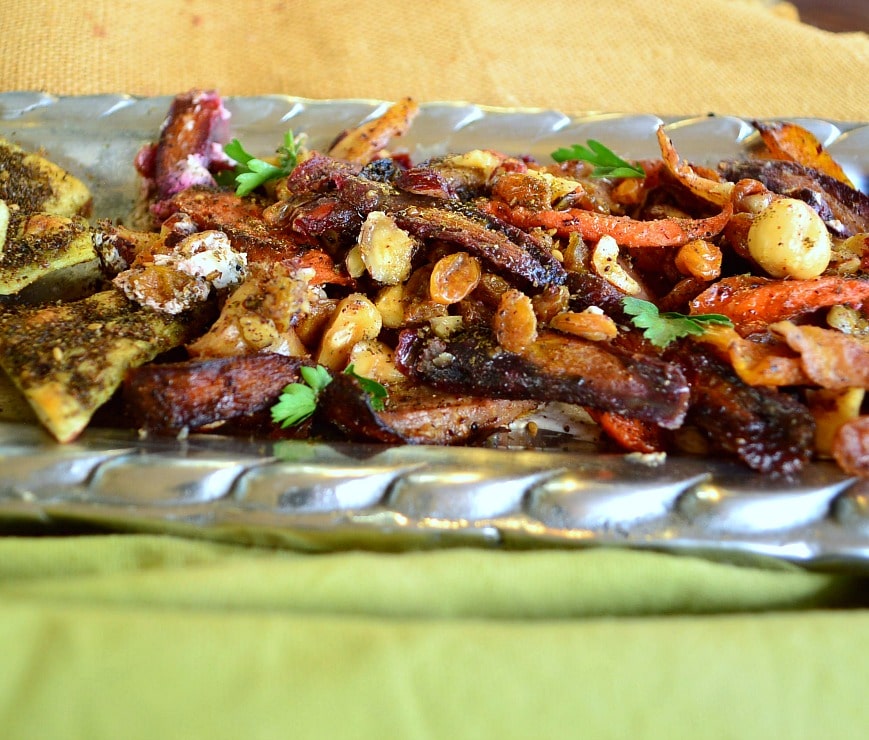 I love combining salty and sweet and that's what happens when raisins are added to the mix. Cook the raisins with the hazelnuts and some fresh thyme and this mixture is one you can use on more than just roasted carrots. Perfect as a topping for hummus or even as a topping for a green salad, this is one topping you won't want to ignore.
And speaking of hummus. These roasted carrots can be served on a bed of hummus, Greek yogurt or labneh. The sweetness of the carrots combines well with the richness of the yogurt and you will find that as the carrots disappear everyone scrambles to lap up the remnants on the plate.
As an appetizer serve this with pita chips or ma'aneesh-a Middle Eastern flatbread with a za'atar topping. Yes, I've made ma'aneesh because I do love it, but we have a great Middle Eastern bakery not too far from here where I buy it. Forks are needed for this starter course, and if you don't want to pile these carrots on a platter, place them around the yogurt or hummus and dip them.
I'm still not sure what I'll be making for the rest of Thanksgiving but you can bet, these roasted carrots will be what we start with…and I can't wait.
Now back to the old post:
Roasted carrot dip was the hit of the happy hour and the bagel bombs-well, they were the bomb. Last week I had a few ladies over for happy hour. That's what happens when Manservant is gone for a long time.
I get bored and need to channel my energy and so I decided to invite over a few bloggers that I've never met before, with one exception. Truthfully this could have been a disastrous experience, after all I've heard it said that bloggers can be competitive and petty. Well, I'm not in that group and either were these ladies! We had a great time and I hope we do it again soon.
I kind of went overboard with food. When Manservant is gone I don't cook very often, so lots of things sounded good to me. And knowing Manservant would be arriving the next day I knew he would be happy with any leftovers. Yes, Manservant was gone for three weeks, not counting the two night hiatus to change his clothes and get fresh ones; thanks to Mrs. How I Cook.
He ended up having a fun time with Alex OdieSan and took so many photos that I will never get to see. Yes, he lost his phone which didn't bode well for communicating. Seems the cab driver left a bit too quickly.
In any case he regaled me with stories about my boy and how proud he is of him and how well he seems to have settled in. His Chinese is great, (like he would know) and he is an expert on street food and of course, wine. His roommates are smart and good kids, and he has a red couch in his living room and a purple one in his bedroom in front of the 10 foot window, and he found the couch on Craig's List.
After walking up six flights of stairs he learned our son lives in the penthouse. But I already knew that. Everyone knows him wherever he goes and though I probably might not think that he lived in a great neighborhood, he assured me he does and that he actually has a very good address, though the water pressure isn't the best.
They had a great time getting their skin exfoliated and massaged and had a 16 course meal with Manservant's former business partner whom Alex was able to speak with just fine.
They each had lots of new shirts tailor-made, but especially Alex, who said all he needed was a white one. Manservant asked how many he had and he replied none, which led to about 12 additional shirts and the story about Manservant locating his past tailor in a giant building, that Alex thought he would be permanently lost in.
After getting off the elevator, the thought to be long lost tailor, spied my husband walking down the hall and recognized him after 7 years and then she finally got to meet the boy she had made a prom tux for so many years ago! So now you know what I know and maybe soon I will get some photos from Alex's camera.
Back to food with my new friends… I made a great cracked pepper, warm onion dip with semi homemade French onion potato chips and this roasted carrot dip. We also had wine. You did know that, right? And I baked bagel bombs and Earl Grey chocolate chip cookies. Karen brought smoked salmon that she smoked and Diane brought a wide assortment of home made jams. We all brought lots of conversation.
Carrots as an appetizer?
Carrots may sound strange as an appetizer, but they have been showing up on a lot of restaurant menus lately. Roasted carrots become sweet and earthy and very good. They are also perfect as a side dish and as leftovers make a great topping on sumac chicken. The hazelnut raisin topping is superb and lush.
Try this and impress your friends. Serve with ma'aneesh that I buy at a small restaurant called Amira. Order 4 at a time, cut them into pieces and freeze them, if you don't gobble them all up. I adore these, so if you live in Denver put this Lebanese place on your radar screen. Now go think like a rabbit. Eat some carrots!
Please Pin and Share: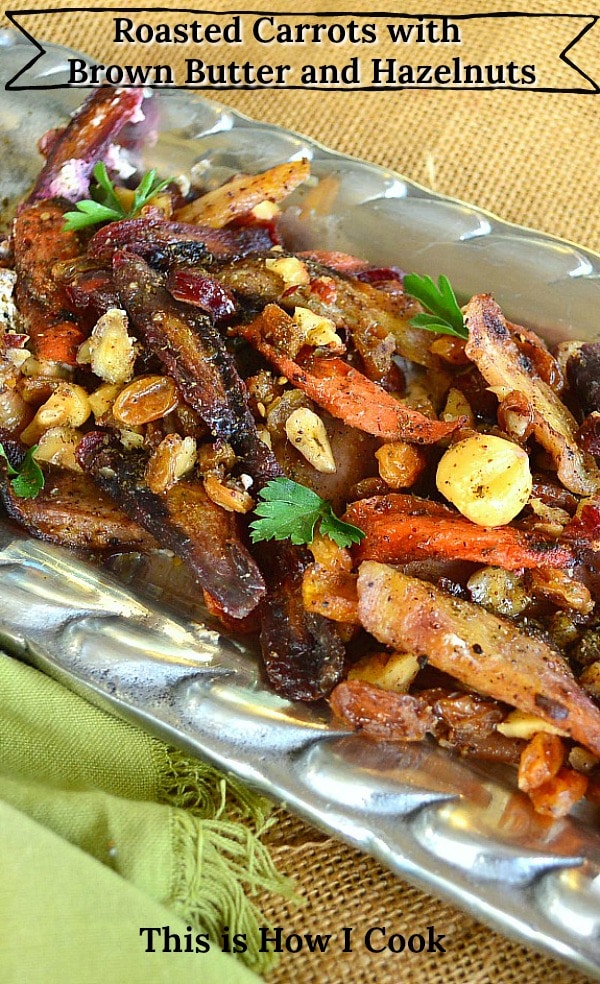 Print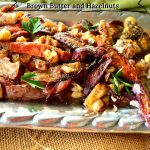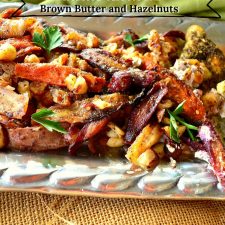 Roasted Carrots with Brown Butter and Hazelnuts
Author:

Prep Time:

10 Minutes

Cook Time:

20 Minutes

Total Time:

30 Minutes

Yield:

6

-

8

as an appetizer

1

x

Category:

Appetizer or Side Dish

Method:

Roasting

Cuisine:

American
---
Description
This roasted carrots recipe with brown butter, nuts, raisins and sumac are perfect as a side dish or an appetizer. You won't believe how amazing these are!
---
1 lb medium carrots (I used all colors) Peel and slice on the diagonal 1/4″ thick and 2-3″ long
1/2 t salt
1 1/2 t sumac
zest from 1/2 a lemon
1 t ground coriander
1/2 t ground cumin
2 T olive oil
2 T butter
1/4 c golden raisins
1/2 c coarsely chopped hazelnuts
1 t chopped fresh thyme, divided or dried za'atar
1 1/2 c plain whole milk Greek yogurt or labneh or even hummus
1 T chopped Italian parsley
Za'atar pitas for serving or toasted plain pitas-no worries here!
---
Instructions
Preheat oven to 450.
In a large bowl, combine, 1/2 t salt, 1 t sumac, lemon zest, coriander, cumin and oil. Add carrots and toss to coat. Spread evenly on a rimmed baking sheet. Roast carrots, stirring once, until browned at edges, about 15-18 minutes. I kept mine in a little longer because I like them really crisp. Let cool.
Cook butter in a medium frying pan over medium low heat, stirring occasionally until browned, about 5-8 minutes. It will sputter and then get quiet. This is how you kind of know it is about browned. Add raisins, nuts, 1/2 t thyme and 1/2 t sumac. Cook while stirring, until raisins puff, about 45-60 seconds. Let cool.
If using yogurt or labneh, combine in a small bowl with 1/4 t salt and remaining 1/2 t of thyme. I substituted za'atar to taste. This is up to you! Spread on a platter.
Now toss carrots and nuts and parsley together. Arrange over yogurt or hummus mixture. Serve with pita chips. Salt to taste.
---
Keywords: roasted carrots, roasted carrots recipe, recipe for roasted carrots, roasted carrots oven,
More to Try:
Roasted Carrot and Fig Tzimmes