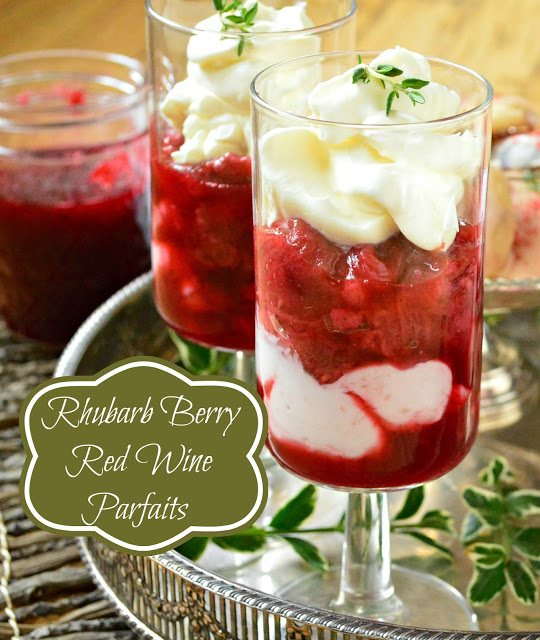 They say Spring has sprung and it is true that my tulips are up and my lilacs are blooming-but here in Colorado it is still snowing. March was terrific and now it is April and though there have been a few good weekends, I am ready to feel May. Thank goodness that Whole Foods has me featuring rhubarb. I had to laugh though. After looking at the recipes I've posted this month 4 out of 6 are pink or red. Maybe that is the color of spring?
Rhubarb is a vegetable, in case you were wondering, and one I first had a taste of a few years ago. Though my mother periodically stole our neighbor's rhubarb, I never remember eating it. She stewed it-that I know-and maybe the thought of stew turned me off. But as my mother might say, I've now become a grown up, and eating rhubarb is one of my more pleasant adult experiences. After all, I recently discovered borscht and that was pretty good too!
Rhubarb can be made into wine or drunk as a cordial and even made into pickles, but generally I've found rhubarb in pies mixed with strawberries. Rhubarb has a tart, but likeable taste, and pairs well with berries of all kinds. Last year I made some outstanding rhubarb bars, but this year after baking so much for Passover, I just wasn't in the mood for more. Hence I decided to stew my rhubarb-shocker of shockers!
Stew though really does send off the wrong connotation, because rhubarb cooks very fast. Don't leave it alone because by the time you've let the dogs out, your rhubarb could be stewed into mush. Just sayin'. I barely made it back in time. I decided to cook mine with a few other berries because I had some leftover from Passover and I also had some red wine that needed a home. Yes, red wine works quite nicely, but you could use orange juice or water or pomegranate juice. After the fruit was cooked I strained it and boiled the liquid down into a lovely rhubarb syrup. Manservant is already eyeing it for cocktails, which sounds pretty good to me.
Not knowing how Manservant would go for rhubarb compote plopped into a bowl, I decided to layer this into parfait glasses; because everything looks good in a parfait glass. Well, it does. And Manservant ate it quite heartily and was quite happy to have spied two more in the fridge. Truth is this makes a pretty healthy dessert and one that would work well for breakfast, too. Leave off the whipped cream if you must, but hey, one does put whipped cream on pancakes and waffles, do they not?
To gild the lily, I decided to buy some ready made shortbread cookies from the cookie box at Whole Foods. That cookie box spells danger in my book. At our Whole Foods they had some blueberry short breads and some lemon lavender. Yeah-you know I bought both. And then I gave them a little powdered sugar frosting mixed with some rhubarb bitters, that Manservant keeps on hand. What a nice little bite to have with a gorgeous parfait. Last but not least I used my favorite Noosa yogurt flavor of strawberry rhubarb, to layer these with. Frankly, Noosa yogurt could be dessert all by itself. Love this stuff!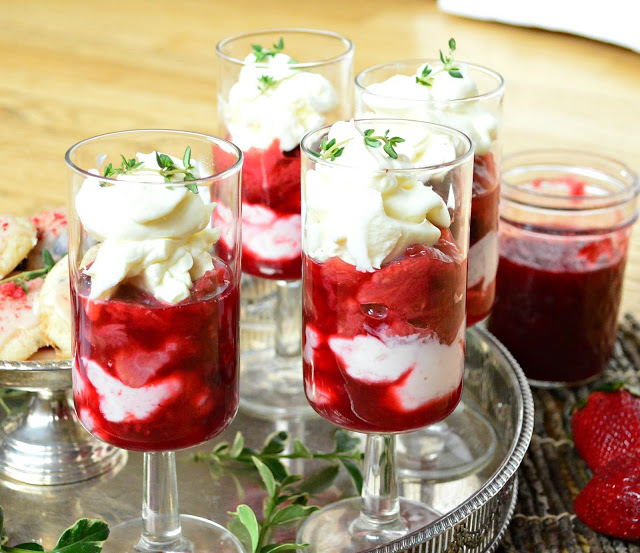 Yes, rhubarb tastes great. It also makes the house smell like spring which we sure could use a little more of around here!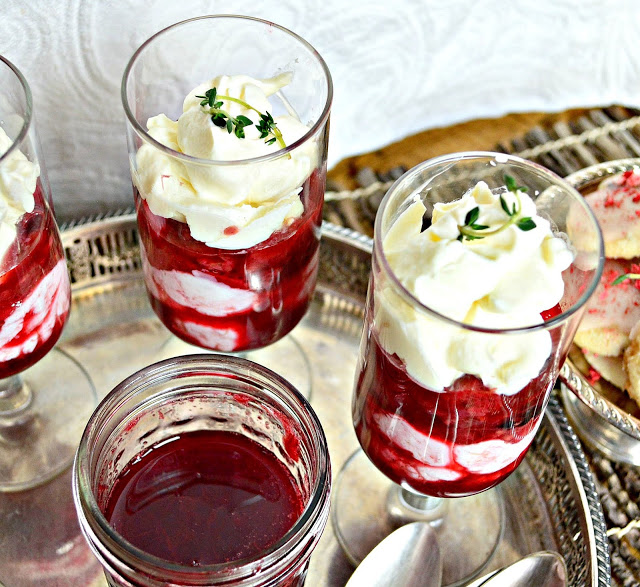 Rhubarb Berry Red Wine Parfaits
Makes 4
Time to Make: About 20 minutes
Ingredients:
2 lb rhubarb, trimmed and cut into 1″ pieces (Did you know that the color of the rhubarb does not affect the taste?)
1 lb strawberries, hulled and cut in half
6 oz raspberries
1/2 – 3/4 c sugar
1/2 c red wine
1/4 t cinnamon
1 star anise (optional)
1 container of Noosa yogurt (strawberry rhubarb or the honey would be great, too)
8 short bread cookies
1/2 c powdered sugar
8 drops of rhubarb bitters (optional)
2-3 T milk or pomegranate juice
Whipped Cream
Directions:
Heat rhubarb and berries with red wine, sugar, cinnamon and star anise and cook for about 10 minutes or until rhubarb is soft and berries have released their juices.
Separate fruit from juice and continue simmering juice until thickened and syrupy. I ended up with about a cup of syrup.
Combine powdered sugar, bitters and milk or juice and whisk until glaze has formed. Ice cookies. I sprinkled a some crushed dried strawberries on top, but you could use lavender or colorful sugar. Let dry on a rack.
To make parfaits:
Make sure all ingredients are at room temperature. Place about 1-2 T of rhubarb syrup in bottom of glass. Top with 2 T of yogurt. Top that with 2-3 T of fruit. (You will have some leftover to top your pancakes with the next morning!) Top that with whipped cream and garnish with a spring of thyme. Serve with cookies.
More to Try:
Rhubarb Black Pepper Shortbread Bars
Strawberry Spiral Biscuit Pie
Raspberry Crumble Tart
Whole Foods Rhubarb Recipes
Please Pin and Share: