Black Bottom Chocolate Bundt Cake with a luscious cream cheese /chocolate chip filling is a crowd pleaser. And it can also be made as cupcakes!
Sometimes I think spring break was invented just so I would want to go to college.
Of course, I didn't know that until I went to college, but I have to admit that upon graduating college, (yes, I did!), I really missed spring break.
It took about 10 more years in the workforce and then 5 more years before my kids were old enough, to start back down the spring break road.
And now I miss spring break again!
Though Alex is now out of college, he reminded me of the time Manservant and I went to Moab one spring break.
Now Alex wasn't on spring break, (yeah, I know you are getting tired of those two words), but ski season was over and work was slow so he decided to go with friends and raft part of the Green River.
Well, many moons ago, I think about 36, Manservant and I went backpacking in the Canyonlands area, and camped on the Green River.
After a dose of realizing I am now old, well, at least older than Alex, I took the time to remember my Edward Abbey moments and the fact that I was able to hike down and then back up, through steep red canyon walls and live to tell about it.
Canyonlands is special and if you haven't made it there or placed it on your bucket list of national parks to see, you should!
The solitude and peacefulness of this national park has never left my memory.
Well, that and still being able to marvel at the fact that I actually carried everything I needed for 3 or 4 nights in the wilderness.
Anyway… Alex came home for a few nights to see his sister who came home for Memorial Day.
(If you have been wondering why I haven't been commenting on your blogs it is because when Zoe is around, my time is truly consumed.)
And Alex's trip triggered my memory of my long ago adventure and this cake!
No, I did not pack this black bottom chocolate cake into my backpack way back when… But I did make this chocolate bundt cake as cupcakes for our road trip to Canyonlands.
And during those 3-4 nights camping by the Green River, those cupcakes were taking up space in my orange hatchback Rabbit left in the parking lot, waiting for us to return.
So while we were consuming our beans and our soup and our basic grub, these cake/ cupcakes were being dreamt about.
We envisioned them melting away into puddles of chocolate, with souring cream cheese in my little orange car.
But NO! We arrived to said Rabbit-(kind of funny, huh?) to a car that smelled like a chocolate cake bakery!
There in my bright orange car sitting in the hot sun, we discovered these black beauties all well and totally edible~
With sweat and dust dripping down our faces, we devoured them.
One by one. Two by two. Those cupcakes went to where all good cupcakes go!
And so it was, that Alex and Moab reminded me that it was time to resurrect this recipe.
With Zoe coming home a celebration cake was on the menu. After all, she hasn't been home since Thanksgiving!
Yes, these truly memorable black bottom cupcakes became a moist chocolate cake loaded with creamy cream cheese filling.
Topped with not just chocolate glaze, but a plain vanilla glaze, too!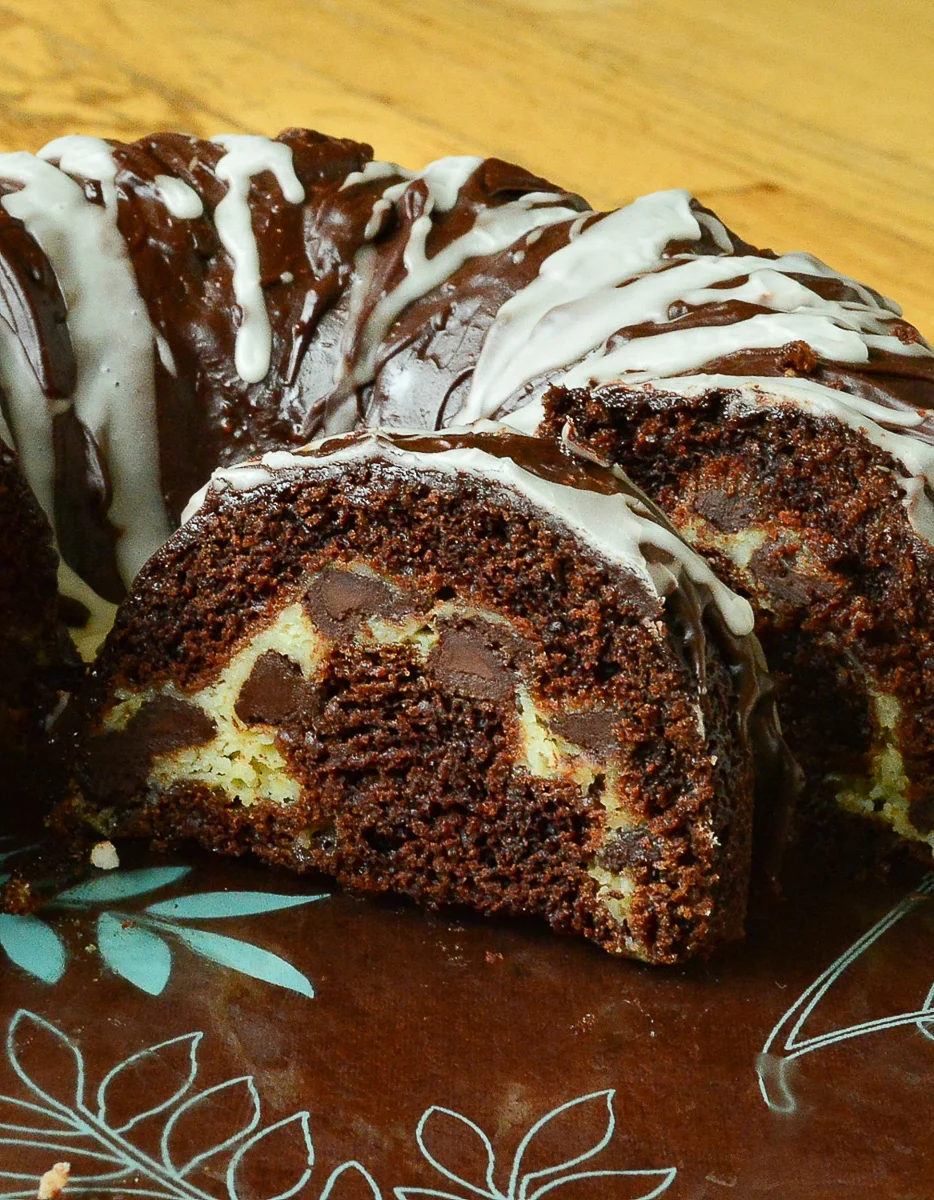 Because cake is special and makes the perfect dessert.
And we all deserve to celebrate memories with a delicious chocolate cake!
Okay. Maybe you can't get to Canyonlands, but you can bake this delicious dessert.
Then get out your favorite Edward Abbey book. Sit in the hot sun. With a slice of cake in your hand. And dream…
Of red canyons and muddy rivers and wide open spaces. It does the soul good.
Now on to this chocolate bundt cake recipe with chocolate glaze:
This very simple cake with a lucious cream cheese filling is totally divine.
Imagine if you will a moist crumb cake that contains no eggs, except in the filling,and is totally for chocolate lovers.
But if you love the tanginess of cream cheese and love cheesecake, this moist chocolate bundt cake is probably right up your alley, too!
How To Bake a Chocolate Black bottom Cake:
Begin by making your cream cheese filling with room temperature cream cheese, chocolate chips (I used regular, but mini chocolate chips work also and some might say better) a dash of vanilla extract and a pinch of salt.
Mix this together well and now you have a great cream cheese filling that also tastes great dolloped onto pancake batter. Just sayin'!
This chocolate cake recipe is straight from Grandma.
Made with vinegar and baking soda-which is straight from the Depression, Grandma found out that this makes a cake airy and moist.
To make the cake batter combine your dry ingredients (all-purpose flour, sugar, unsweetened cocoa powder, salt and baking soda) in a large bowl.
Combine the liquid ingredients (water or coffee, vegetable oil, white vinegar and vanilla) in a large mixing cup.
Make a well in the center of the flour mixture and pour in the wet ingredients. Stir well to combine.
Pour 1/2 of the mixture into your well greased and floured favorite bundt pan.
Spread the cream cheese mixture over the cake batter and the pour the remaining cake batter over the top.
(You may see the white cream cheese stripe after the cake has finished baking, but that's OK!)
Bake, let cake cool for 10 minutes before turning the best chocolate cake out of the pan and onto a wire rack to cool completely.
This dark chocolate bundt cake does not have to be glazed but it sure makes the best chocolate bundt cake ever with… or without!
A Few tips for Baking this Black Bottom Bundt Cake Recipe:
I use regular cocoa powder to "flour" my pan. It adds a bit of rich chocolate flavor to this great recipe.
Black coffee brings out the flavor of chocolate or cocoa. Your cake will not taste like coffee if you choose to use it!
And if using coffee, make sure it is at room temperature and not hot coffee, unless you plan on drinking it!
Milk can also be used in place of water or coffee.
I recommend using room temperature water, not hot water.
No vinegar? Lemon juice works also.
And if you want to make this cake with a fuller flavor, light brown sugar instead of white sugar, will also work.
The first time I made this years ago, I made cupcakes. This recipe makes about 24 cupcakes, if you so choose.
That's a lot of cupcakes and they are also perfect for special occasions.
Somehow this easy chocolate cake seems to disappear faster than 24 cupcakes, but you decide what works best for you.
Though this cake does not need chocolate frosting or glaze, I love the addition. Perhaps because I really do love frosting.
However if taking these to a picnic, this dark chocolate cake or cupcakes will easily keep covered with plastic wrap or in an airtight container.
They also are decadent enough with just the cream cheese filling.
Everyone I know loves this special cake.
In fact, if you want to make an occasion, then bake this cake.
It is worthy of its own celebration!
Need a Few More?
This is an updated post from 2014.
Print
Black Bottom Chocolate Cake/Cupcakes
Author:

Abbe Odenwalder

Prep Time:

15 Minutes

Cook Time:

25 - 40 Minutes

Total Time:

23 minute

Yield:

1 Bundt Cake or 24 Cupcakes

Category:

Dessert

Cuisine:

American
---
Filling:
8 oz softened cream cheese
1 egg
1/3 c sugar
1/8 t salt
1/2 t vanilla
1 c chocolate chips
Batter:
1 1/2 c flour
1 c sugar
1 t baking soda
1/4 c unsweetened cocoa (extra for dusting pan)
1/2 t salt
1 c water or coffee
1/3 c vegetable oil ( about 1-2 T extra for greasing pan)
1 T white vinegar
1 t vanilla
Glaze:
2 T cocoa
1 c powdered sugar
2 T milk
1/2 t vanilla
---
Instructions
Preheat oven to 350.
Grease and flour or cocoa a Bundt pan really well. I brush it well with oil and then sprinkle cocoa on the sides to dust the pan. Or use Baker's Spray. If making cupcakes fill standard muffin cups with cupcake liners.
Place cream cheese, egg, sugar, vanilla and salt in a bowl. Beat well until smooth and fluffy. Stir in chocolate chips and set aside. This makes a lot!
Cake:
In a large bowl, add flour, sugar, baking soda, cocoa and salt. Stir well.
In a large measuring cup, combine water or coffee, oil, vinegar and vanilla. Make a well in dry ingredients and stir in wet ingredients. Combine well.
If you are making cupcakes, fill cupcake liners 1/3 full. Top with a dollop of cream cheese mixture. While baking the cream cheese filling will rise and you should have cute cupcakes with a white topping!
If you are making cake, pour one half of the batter into the Bundt pan. (This doesn't make a tall cake as there isn't quite enough batter, but it does work!)
Now spread the cream cheese filling over the batter. Top with the other half of batter. Spread well, so that the cream cheese filling isn't showing. This takes practice but if you don't cover all your filling it still makes a delicious cake! And if you are glazing the cake it should cover the cream cheese filling.
Bake at 350 on the middle rack about 40 minutes for a cake, 25-30 minutes for cupcakes.
Chocolate Glaze:
Combine cocoa and powdered sugar. To avoid lumps I sift this through a mesh strainer. Add 2 T milk and the vanilla and whisk until well combined.
If this is too thin to pour stir in 1 T of powdered sugar at a time until desired consistency is achieved. If it is too thick, add 1 t of milk until it is pourable.
If you want it plain, just leave the cocoa out. I used plain and chocolate, just to make it decadent, but one or the other will do!
---
Notes
This family favorite is one moist and delicious chocolate cake!
Keywords: chocolate bundt cake with glaze, black bottom chocolate bundt cake, black bottom bundt cake recipe, chocolate bundt cake, black bottom chocolate cake, chocolate black cottom cake recipe, chocolate filled cake, cake with cream cheese filling,black cottom chocolate cake,