This Oreo cake recipe is filled with an Oreo buttercream. A family favorite, this chocolate sandwich cake is made for Oreo lovers! This chocolate cake which is a bit fudge like in texture, is filled with an Oreo cream frosting. Add crushed Oreos if you want to the filling but they tend to get soggy if you don't eat the cake right away.
I love the creamy filling just the way it is!
This may not be the prettiest chocolate oreo cream sandwich cake, but then pretty things don't always deliver.
So yeah, this may not be a pretty chocolate sandwich cake, but it is a happy cake made to remind us of Oreo's.
And who doesn't like a happy cake that makes us think of a giant Oreo sandwich?
This chocolate Oreo cake appeals to the kid in me.
It may appeal to the kid in you AND the kids. It sure did mine.
After all it is hard to resist a fudgey, brownie like cake, with a huge center of creamy, buttery, vanilla filling that resembles the insides of an Oreo.
This cake satisfies chocolate lovers, cookie lovers, cake lovers and those who have a strong affinity to frosting; even if it is really filling, because it is in the middle.
It is a cake that works both sides of the aisle, which is a skill that would be quite useful to many in today's world.
I found this recipe for Oreo cake on the back of a Williams Sonoma box that contained two cake pans embossed with the Oreo cookie stamp.
My parents gave it to me awhile back at the holidays. As a fond lover of Oreo cookies, they thought this would appeal to me.
They were not wrong. However, try as I might, I could never get the cakes to come out of the pan.
With all the crevices in the pan, I apparently couldn't get the grease into them to sufficiently release the cake after it was baked.
After trying this several times and loving the recipe, I did what any red blooded American would do.
I put the cake pans in my box for Goodwill and placed the box in the driveway.
I strongly apologize if you were the one to purchase these pans and tried to make a cake in them.
I did do one thing right. I kept the recipe and the recipe was worth the price of the pans.
But then I didn't buy the pan, so I'm not sure how much the recipe is really worth.
However I can assure you that I have made this cake countless times and it has made a lot of people happy.
Which makes this cake a happy cake. It is simple to prepare. The batter does not require a mixer, but you do need at least a hand held mixer for the Oreo buttercream.
If you want you can smash a lot of Oreos and mix them into the filling. Or not. I wish I had had some Oreos to mix in, but Oreos beckon me to eat them and I can never stop at one.
You could even put ice cream in the middle of the cake, but I'm a frosting girl. So I wouldn't do that. Just sayin'.
It seems the world could use a little happy.
So it goes without saying, (even though I'm saying it) that a happy chocolate sandwich cake that resembles a giant Oreo would make anyone smile. It's worth a try.
Other Great Chocolate Cakes:
Texas Chocolate Sheet Cake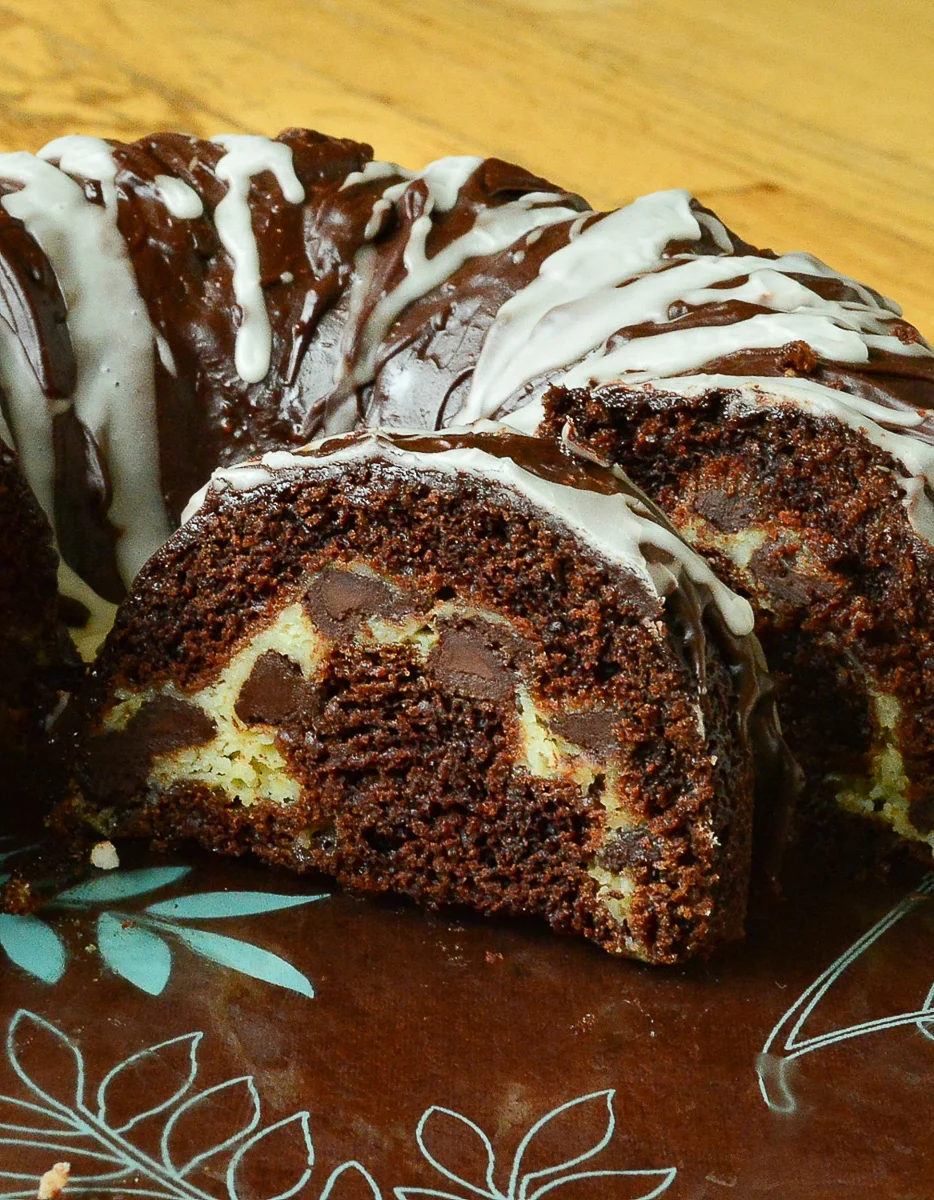 This is an updated post from 2016.
Print
Chocolate Sandwich Cake And Oreo Cream Filling
Author:

Abbe Odenwalder

Prep Time:

25 Minutes

Cook Time:

35 Minutes

Total Time:

60 Minutes

Yield:

10

-

12

Servings

1

x

Category:

Dessert

Cuisine:

American
---
Description
This chocolate fudge-like brownie cake filled with an Oreo-like center is so good. Perfect for Oreo lovers!
---
Cake:
1/2 c cocoa plus more for dusting cake pans
7 oz bittersweet chocolate/ chopped
14 T unsalted butter, at cut into cubes and at room temperature
1 c flour
1 t baking powder
3/4 t salt
1 3/4 c sugar
4 eggs
1 3/4 t vanilla
Filling:
4 1/2 c powdered sugar
12 T or 1 1/2 sticks unsalted butter
3 1/2 T milk, plus more if needed
1 1/2 t vanilla extract
Pinch of salt
Smashed Oreos (optional)
---
Instructions
Preheat oven to 350. Grease 2 9″ pans with cooking spray or butter, and dust well with cocoa. Tap out the excess.
Place chocolate and butter in a microwave safe bowl and heat until melted. I usually do this on power 7 for 1:20 and then stir and do it again as needed. Make sure you use a whisk to incorporate the butter into the chocolate. Let the mixture cool slightly.
Whisk flour, 1/2 c cocoa powder, baking powder and salt until combined.
In a large bowl, whisk the sugar, eggs and vanilla together until well combined. Add the chocolate mixture and whisk well. Now stir in the flour mixture and stir until combined.
Divide the batter into the two prepared pans. Gently tap the pans on the counter to release any air bubbles. Bake for 35 minutes or until the tops of the cakes are shiny and glossy and a toothpick inserted into the middle comes out with a few crumbs attached. Do not over bake.
Let cakes cool for 15 minutes in the pan, then invert onto a cutting board.
Buttercream Filling:
In a large bowl of an electric mixer fitted with the flat beater or using a hand held mixer, combine powdered sugar, softened butter, 3 1/2 T milk, vanilla and salt. Beat on low speed until combined, about 1 minute. (You may want to cover the bowl with a towel so you don't have white dust everywhere.)
Stop the mixer and scrape sides of bowl. Increase the speed to medium and beat until fluffy-about 3 minutes. If the frosting is dry, add more milk, but it should end up creamy and holding soft peaks. At this point, you could stir in a lot of smashed Oreos, or not.
Place one layer on a large serving plate and pile that filling on. Top with the second layer. You could dust this with powdered sugar or cocoa or Oreos, but I'd just hurry up and eat the damn thing.
---
Notes
From the back of a Williams Sonoma box
Keywords: chocolate sandwich cake, chocolate oreo cake, oreo buttercream, recipe for oreo cake