This satisfying, moist chocolate fudge cake is made in less than 20 minutes and only takes 25 minutes to bake. Topped with a rich chocolate ganache this one bowl, one layer cake will fit any occasion!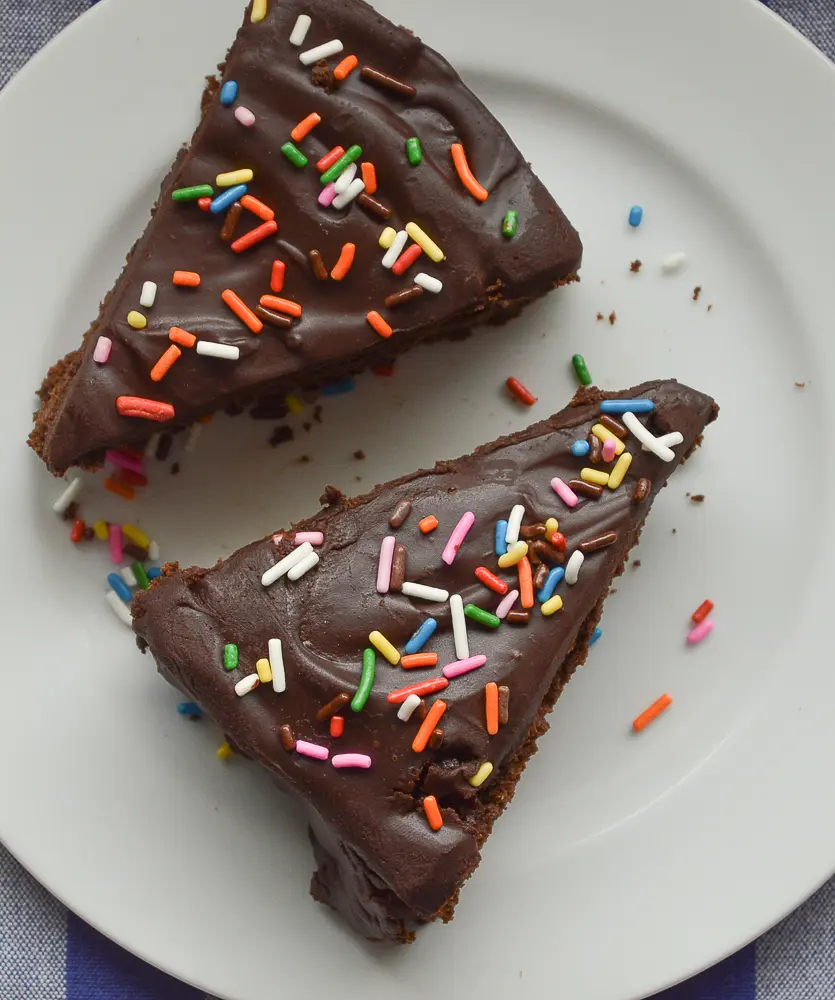 I decided to bake this chocolate fudge cake cake in Zoe's honor.
After all, it's not every day that someone runs a half marathon.
Zoe has always loved chocolate cake, so I decided even if she wasn't here to eat it, we could still celebrate her success without her!
Actually it was a double duty cake.
Confession. I really made it for a friend having a 60th birthday. That's a big one, just like running a half marathon, if you ask me.
This is Alice Medrich's recipe, of Cocolat fame, who came up with this easy chocolate cake recipe.
You know, the guru of chocolate, the First Lady of Chocolate, the designer of truffles, cookbook author and well, let's just let this cake speak for itself!
This chocolate fudge cake has a soft crumb, and a moist interior with a rich, decadent chocolate ganache frosting swirled lovingly on its surface.
It is perfect for small gatherings if you don't want many leftovers. Manservant was a bit disappointed by that thought, because when it comes to cake, he likes it to last a few days.
But never before have I seen such a perfect one layer, one bowl cake. No mixer necessary.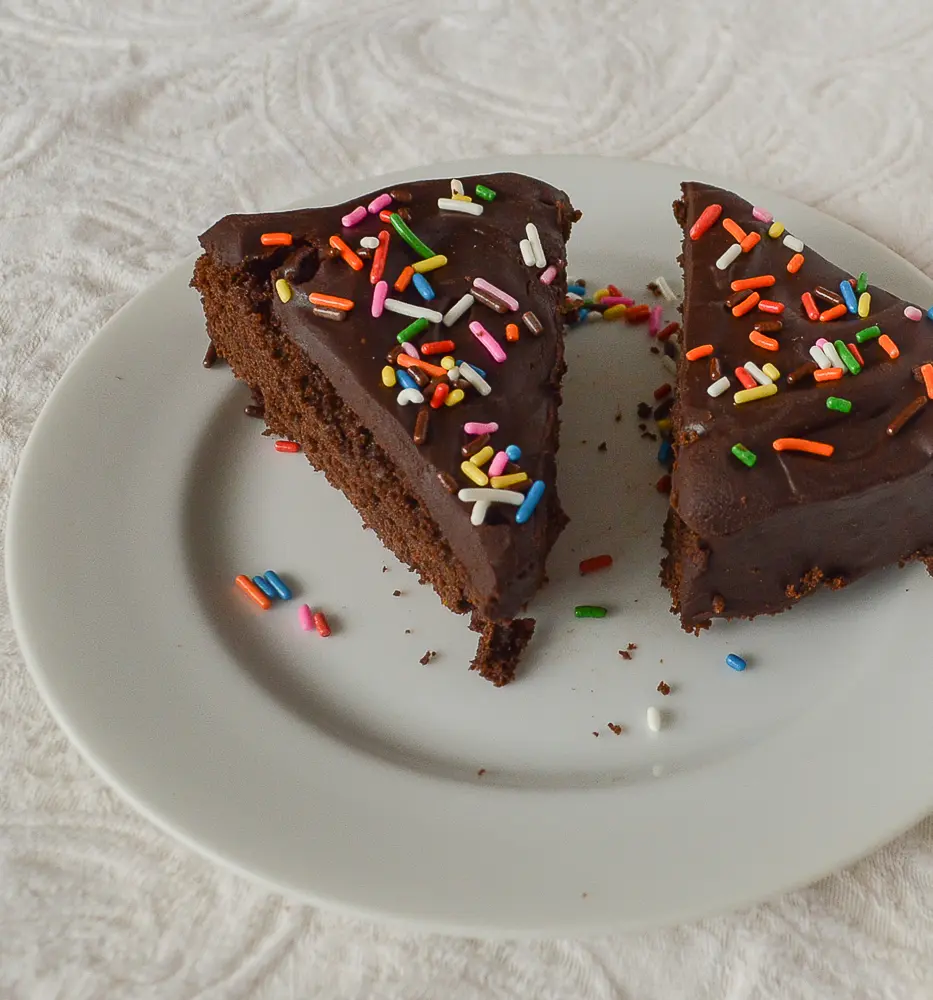 To me this means a lovely chocolate cake that can be made at the last minute, for whenever a dessert is needed.
And trust me, with this fabulous one pan cake recipe under your belt, you will invent opportunities when dessert is needed!
You could double this and split it into two cake pans, but if I'm making a real celebratory cake, I usually bake my triple layer fudge cake.
Just four simple steps are needed to make this chocolate fudge cake.
Begin by combining your dry ingredients. I do this in a 4 cup measuring cup. Much easier than a bowl!
Use cocoa that is not Dutch processed…it usually costs more anyway!
My favorite brand? Hersheys. I love it!
In a bowl combine the brown sugar with the melted butter. Don't you just love that this cake has brown sugar?
Then stir in the eggs, and vanilla. Now mix in your dry ingredients.
Add the coffee or water and Whammo! You are ready to spread this in your 9″ cake pan. I told you this was easy!
While your cake is baking, make the ganache by heating the cream in the microwave and then stirring in the chocolate.
It becomes smooth and glossy-just like my hair on a good day!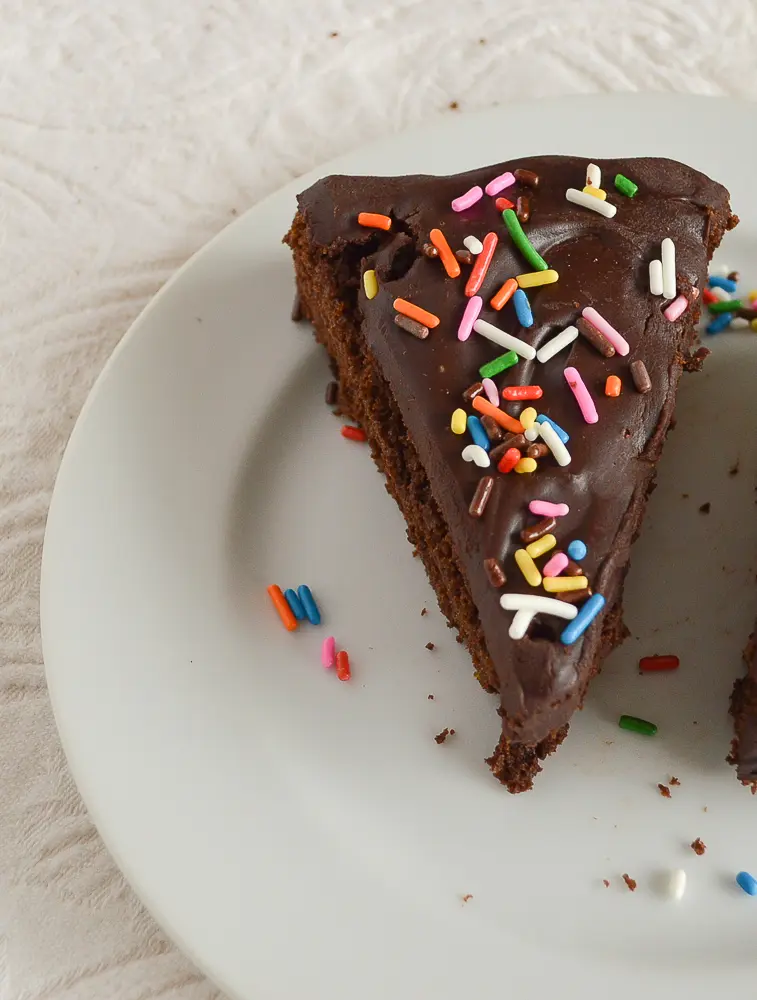 So that wraps up the cake portion of this segment. But if you want to read about Zoe running the Nike half marathon continue on or skip down to the recipe!
It appears that Zoe now has her sites set on running a marathon. Only 1% of the population has ever run a marathon and my daughter likes to be in the top! So, looks like I'll have to bake another cake!
(This post was originally published in May of 2013. Since then she has run a marathon!)
Race Day is now behind us and surely the next race is yet to come. It appears recovering from tendonitis needs to happen before she can think about San Francisco. My daughter, the runner. Who ever would have thought? Not me.
But competitive she is. Not only did she surpass the goal of raising $2500 per runner, she had her PBR or personal best record, as those in the know call it.
Good thing she told me because that just makes me think Pabst Blue Ribbon and I couldn't figure out what beer had to do with running.
Her race began in the dark. See the Capitol in the back? And purple is Team in Training's color.
15,000 women half marathoners raced around D. C.. 2500 of them ran for Team in Training.
They raised $6 million dollars for the cause of helping cure leukemia. I am again, so proud of her.
And I thank all of you for listening to me through this journey. She received so many contributions. Some big, some small. But all counted. All mattered.
All were so important. And to all of you I say thank you. Maybe her journey will inspire others. Maybe her contribution will help find a cure. I hope so.
But more important to me is what it did for her.
She had no clue how she was going to do this. At first I thought she bit off more than she could chew. (Well, this is a food blog.)
But she plugged away at raising money and increasing her time and finished in the top 10%. In her age group, just the top 15%. Just.
And that stupid tendon bit her around the 8th mile. She said her coaches were great. They lined the racecourse and jumped in to run if encouragement was needed.
She pushed through the pain but dropped from about an 08:10 mile through the first 10 miles to an 08:50 mile because of the pain. She said she even walked some of it.
But she didn't care. Quitting isn't her style. She finished with the respectable time of 1:56.
Before she knew it the race was over. After all that adrenalin I think she felt a bit of a let down.
Now she has to figure out what's next. In the meantime though, she will be able to gaze down at the Tiffany necklace with a dog tag that includes the date of the race, hanging around her neck.
(I'm told this is one reason why Nike races are so popular. Apparently everyone wants the little blue bag at the finish of the race!).
Her jersey matched her nails! And the shoes matched the jersey and the nails.
Many people have stopped her on the street asking where they can get those shoes!, but they were only available to racers and racers could only buy one pair. Somewhere, they have a date on them, too.
She had fun. She got to run and shop. Shop and run. She even could have had her hair done by Paul Mitchell, but I'm told that line was long.
This race made her feel part of something and I am happy. I didn't take the pictures. I think an Iphone did.
Mine wouldn't have been much better but hopefully you get the idea.
She ran hard. She ran quick. Just like this cake that comes together quick…both are worthy of celebrations!
Need a Few More?
What to Do with An Ugly Chocolate Cake
Print
Quick Chocolate Fudge Cake
Author:

Abbe Odenwalder

Prep Time:

15 Minutes

Cook Time:

25 Minutes approx

Total Time:

45 Minutes

Yield:

1

9" cake (single layer)

1

x

Category:

Dessert

Method:

Bake

Cuisine:

American
---
Description
This simple and quick rich and moist chocolate fudge cake with an amazing ganache takes just one bowl and no mixer required!
---
1 c all purpose flour

1/4 c plus 2T cocoa (Not Dutch processed)

1/2 t baking soda

1/4 t table salt

1 1/4 c light brown sugar

1/2 c warm melted butter (In microwave put in glass measuring cup or bowl and heat on power level 7 for about 1 minute to melt)

2 large eggs

1 t vanilla

1/2 c hot water or coffee

Chocolate Ganache Frosting

6 oz bitter or semisweet chocolate chopped fine

3/4 c heavy cream

A drop of vanilla
---
Instructions
Preheat oven to 350. Grease a 9″ cake pan or line with parchment.
Combine flour, cocoa, soda, and salt in large mixing cup. Mix well with fork to evenly distribute ingredients.
In large bowl combine melted butter and sugar. Blend well with wooden spoon and add eggs and vanilla. Stir well again.
Add dry ingredients and mix well.
Now stir in hot water or coffee and beat well one more time. Using a spatula spread the somewhat thick batter into your cake pan.
Bake for about 25 minutes. Do not over bake. Cake should be just starting to pull away from sides of pan. Let cool on wire rack. Then turn out onto serving plate. Frost.
To Make Frosting:
Pour cream into glass measuring cup and heat in microwave until just boiling. This took me about 1 minute 10 seconds. (I let my cream come to room temperature while I was preparing the cake.)
Add chocolate and whisk well until chocolate is melted. Stir in vanilla. Pour over cake and spread well. This is the fun part!
---
Notes
Thanks Alice Medrich!
This cake will keep a few days at room temperature when wrapped tightly. It will start to dry out after that.
Keywords: chocolate fudge cake, easy chocolate cake recipe, one pan cake, moist chocolate cake recipe