Whether making the classic Southern red beans and rice as a main course or a side dish, it's good to know what to serve with red beans and rice!
Cajun Red Beans and Rice is comfort food, to those in the know.
This New Orleans red beans and rice recipe is made Paul Prudhomme style which means spicy Cajun in my language.
Served over rice and accompanied with Andouille sausage, this meal is a healthy family favorite!
The first time I ate red beans and rice was while visiting my in-laws.
I don't think they were my in-laws yet, and little did they know they'd soon be welcoming a nice Jewish girl into the fold.
Now my MIL grew up outside of N'Awlins in Gulfport, Mississippi and she cooked Southern style.
Being the sweet girl that I am, I tried not to look to appalled at the heap of beans and rice piled upon my plate that first get-to-know-you visit.
This is a food blog, don't you know, and let's just say that heap didn't look too appetizing…to say the least.
I hesitate to describe in graphic terms what it reminded me of…but being the sweet girl that I was…and still am…I took a bite of cornbread and then a bite of red beans and discovered that despite what they looked like… red beans are quite good!
But now I know good red beans and rice and what to serve with red beans and rice and let's just say there is no going back!
Well, as they say first comes love and then comes marriage, and then I had to try my hand at my MIL's best red beans and rice recipe.
It is a soothing recipe made with Eckrich smoked sausage and that particular sausage was specified.
If I could find it in my extraordinary filing system on the 3×5 index card that it is written on, I would copy it here for you now.
But I spent 10 minutes looking for that perfectly hand written card, that I can see with my own eyes, but of course, I can't find it!
It so happens after a few years of this recipe well, Cajun, became a thing.
Paul Prudhomme became a thing and so did New Orleans…but when wasn't it?
I quickly latched on to Paul and his recipes, and Manservant and I discovered that we preferred his spicy, but still comforting version of Cajun red beans and rice.
With Mardi Gras around the corner I figured I'd give this to you…with love…because that's how my MIL always served it.
Well. With that and a big hunk of cornbread!
For the record, for some odd reason I remember when we last ate this at my MIL's house.
It was January 16, 2016 as we passed through Houston on our way home from Costa Rica.
Red beans and rice is great for a crowd.
My MIL, who is now in the throes of Alzheimer's, made it for the family that stopped in to wish us a quick hello.
Good memories. Good red beans and rice!
This Cajun red beans and rice recipe was found on my mother-in-law's table all year round.
However I often find myself serving this around Mardi Gras.
Traditionally it was served on a Monday-laundry day way back when.
It made use of the leftover ham bone from Sunday dinner and was able to cook all day, enabling everyone to get their wash done!
Well, I don't have a ham bone, but I do like to use a ham hock.
It adds a lot of flavor and richness to the red beans but with all the Cajun seasoning I use, if you don't want to add the ham hock, then don't.
This dish can be made in a slow cooker or an instant pot, but I always leave mine simmering in a large pot on the stove all day.
Just don't let them dry out!
Personally, I have a thing for not liking red kidney beans and those aren't what my mother-in-law used.
There really are dried red beans and I think they are necessary for this dish.
I've seen them canned-haven't tried them-as I always buy the dry beans.
You will need the holy trinity to season this dish.
In Cajun and Creole cuisine the holy trinity is made up of onions, green bell pepper and celery.
You will find them necessary in many, many dishes.
How to Make Cajun Red Beans and Rice:
Begin with red beans that have been soaked overnight.
Add them to a large pot along with the ham hock, the holy trinity, and your Cajun seasonings.
Apparently red beans and rice was a Creole dish, but the great seasonings make it Cajun.
I always add a bay leaf, thyme, black pepper, cayenne pepper, white pepper, garlic and oregano and a bit of Tabasco or other Louisiana hot sauce.
Cook about an hour until the ham hock is cooked.
Remove and cut through the thick skin and then shred the pork meat.
Set it aside to add back rich flavor to this classic dish.
Now add the drained, soaked beans to the pot and let them simmer for another hour or so,
They should start to break up and be smashable as I say.
Now it's time to add the sausage.
Peggy always used Eckrich smoked sausage.
I add in spicy Andouille sausage if I can find it.
Some varieties are spicier than others so taste test if you can.
Let that cook for about a half hour. At any time if the pot starts to dry out, always add more chicken broth or water.
You do not want the beans to scorch or stick to the bottom of the pot.
Tender red beans are what you are shooting for and try not to rush the cooking.
Low and slow is what makes this authentic red beans dish so good.
After the sausage has been warmed through, stir in the meat from the ham hock and cook about 10 minutes more.
What to Serve With Red Beans and Rice:
Obviously steamed white rice is essential. Whether you want a lot of broth to drench the rice is up to you and how soupy your red beans are.
I tend to make mine on the thick side, but this is personal preference.
Corn bread is a necessity in our house, as is honey butter.
Garnish with finley chopped onions and some green onions.
Many like collard greens on the side, but I love cole slaw.
In our home red beans and rice is served as a main dish on my dinner table.
This easy recipe though would also be a great side dish to many Southern staples.
Think barbeque, fried chicken, and even fried pork chops.
This great recipe is hearty and filling and leftover red beans are perfect the next day.
Whatever day of the week you decide to serve these, red beans and rice is one of my favorite things.
Perhaps they remind me of my mother-in-law, perhaps they remind of visits to New Orleans, and yes, they definitely remind me of good food.
Most of all this Southern classic reminds me of good times.
And isn't that what a great dish is really all about!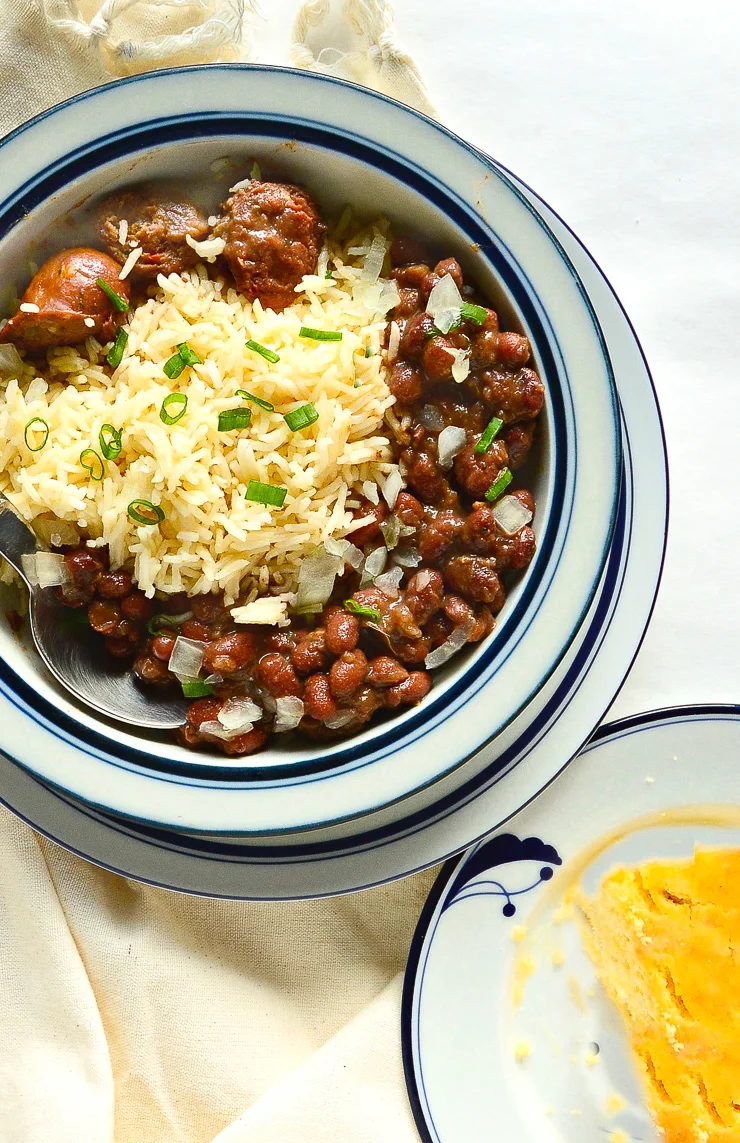 Need a Few More?
This post has been updated since 2018.
This post contains affiliate links from which I may or may not be paid a small commission at no cost to you.
Print
Red Beans and Rice Cajun Style
Author:

Abbe Odenwalder

Prep Time:

45 Minutes

Cook Time:

1 hour 45 minutes

Total Time:

2.5 hours

Yield:

6

-

8

Servings

1

x

Category:

Mains/Side Dish

Method:

Stovetop

Cuisine:

Cajun
---
Description
Red Beans and Rice is comfort food to those in the know. I like my red beans Cajun style, which means spicy nice! Served over rice and accompanied with Andouille sausage, this meal is a healthy family favorite!
---
1

lb

dry red beans with water to cover the beans

3

lbs

ham hocks (optional)

16

c

water or chicken stock in all (You may not use all of this)

2 1/2

c

finely chopped celery

2

c

finely chopped onions

2

c

finely chopped green peppers

5

bay leaves

2

t white pepper

2

t dried thyme leaves

1 1/2

t garlic powder

1 1/2

t dried oregano

1/2

t fresh ground black pepper

1

T Tabasco

1

t red pepper, preferably cayenne

1

–

2

lbs

smoked sausage such as kielbasa or Andouille (I buy Saags chicken Andouille) cut into large chunks (Depends on if you are using ham hocks)

4 1/2

c

cooked white rice
---
Instructions
Cover beans with water 2 inches above the beans. Let stand overnight. Drain before using or See Notes Below!
Place ham hocks, (if using), 10 cups of water or stock, celery, onions, green peppers, bay leaves and seasonings in a 5 1/2 quart Dutch oven. Cover and bring to a boil over high heat. Reduce heat to simmer until meat is fork tender, about 1 hour, stirring occasionally. (If not using ham hocks, add the drained beans here.)
After 1 hour remove ham hocks and set aside. If just using beans , bring them to a boil with seasonings from above, reduce heat and simmer for 60 minutes stirring occasionally, uncovered. If more water or stock is needed feel free to add. Stir in the sausage and continue simmering until the beans start to break up, about 35 minutes. Scrape bottom of pot fairly often. If the beans start to scorch, do not scrape up the bottom. Just transfer mixture to another pot. If beans are almost done, add back ham hocks and cook and stir 10 minutes more.
Serve over fresh cooked rice with a bit of sausage or ham hock and about 1 cup of red beans.
---
Notes
This is a perfect recipe for your slow cooker or your instant pot. 
I have neither, so I do it the old fashioned way.
I soak my beans overnight or combine them with enough water
to cover the beans.
Bring to a boil. Cover and remove from heat and let stand for 1 hour,
then proceed with recipe. Sometimes you do need to cook these longer
and add more liquid, especially if you live at high altitude.

This can also be made with canned beans. 
Four 15 oz cans is the approximate equivalent to 1 lb of dried beans.
I have used ham hocks, though I didn't with this recipe. They give great flavor.
After removing the thick skin from the ham hock, I shred the meat and added it back
towards the end of the cooking time, with or without extra sausage.
Traditionally red beans and rice is served on Mondays for lunch in New Orleans.
I like to top my red beans and rice with a little minced onion 
and Tabasco and cornbread on the side.
Keywords: best red beans and rice recipe, easy Red Beans and Rice recipe, New Orleans red beans and rice recipe, what to serve with red beans and rice, easy red beans and rice, Recipe red beans Paul prudhomme red beans and rice