"These black eyes peas were a comforting surprise. Containing 11 grams of protein and 5 grams of fiber per serving, Hoppin' John is a healthy way to start the new year! Served with rice, these black eyed peas are a perfect one dish meal!"
Many years ago when I first married Manservant he told me that his mama always served Hoppin' John black eyed peas on New Year's Day.
Now I am a person of tradition and I intended to keep this tradition…until I tried those little black eyed peas. I'm not sure if I purchased them from a can or if I bought them at deli counter, but what I am sure of is that I didn't like them. Not one little bit.
His Mama also used to make red beans and rice and I liked those, so that tradition continues! But today I'm talking peas.
Black eyed peas. They are supposed to be lucky and that is why they are served on new year's day.
A southern tradition with a long history, you can read more about it here if you'd like.
Well, I don't know about you but luck and I don't always go hand in hand, which is why if someone tells me that something is lucky I'm not one to turn up my nose at the offered suggestion. I'm no fool.
So what is it that makes these cute little black eyed peas so lucky? Well, about all I could find was that black eyed peas are said to resemble coins and we all need those, don't we?
Hoppin' John black eyed peas are actually beans and often collard greens are mixed into this traditional dish. Collards symbolize paper money.
This customary New Year's dish is considered African American soul food and after eating these, I can see why this is also comfort food!
Another interesting fact I learned is that black eyed peas are mentioned in the Talmud and were eaten on the Jewish new year which is in the fall.
It is speculated that they were brought to the US in the 1730's by Sephardic Jews when they first arrived in Georgia.
As for the term hoppin' john, it's a bit unclear where it came from.
In any case, I felt pretty lucky after making these black eyed peas. I had no idea they were so good.
This pretty little black eyed pea is also loaded with fiber and protein which makes this a great meal for vegetarians. Just sub in olive oil instead of bacon and veggie broth instead of chicken.
Perhaps after all these years, my tastes have changed but I can tell you that this simple version of black eyed peas was so good.
Maybe it was lucky that I found presoaked peas from Melissa's waiting for me in the refrigerator section. Or maybe it was the takeout Chinese rice that needed a home in mine?
Whatever. These little peas caught my eye and I went for it. And so did Manservant!
A new/old tradition? You betcha!
Happy New Year!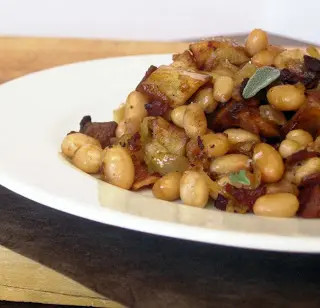 I'd love it if you Follow me on Pinterest and Pin and Share!
This is an updated post from 2017. Figured we could use them again this year!
Print
Hoppin' John Black Eyed Peas
Author:

Abbe Odenwalder

Prep Time:

25 Minutes

Cook Time:

30 Minutes

Total Time:

55 Minutes

Yield:

4

-

6

Servings

1

x

Category:

Side Dish/MainCourse

Method:

Stove Top

Cuisine:

American
---
Description
These black eyes peas were a comforting surprise. Simple seasonings including garlic, celery and red peppers combine to make this a lucky dish each new year. Containing 11 grams of protein and 5 grams of fiber per serving, Hoppin' John is a healthy way to start the new year!
---
4

strips bacon

3

T bacon fat or olive oil

1/2

c red pepper, chopped

2

ribs of celery, finely chopped

1

c onion, finely chopped

11 oz

soaked black eyed peas (I used Melissa's) cooked according to package directions

1

t garlic powder

1

t salt
Fresh ground pepper

3

c chicken stock

2

c cooked rice

3

T finely chopped Italian parsley
---
Instructions
Cook bacon and reserve 3 T of bacon fat. Reserve the crisp bacon for garnish.
In pot with bacon fat, saute red pepper, celery and onion over medium high heat until soft. Add black eyed peas, seasonings, and chicken broth.
Cook black eyed peas until softened or until the broth has boiled down to the thickness you want. I didn't want soup, so I simmered this about 30 minutes. If you want it soupier, it may only take about 10 minutes. Taste for seasoning.
Serve over hot rice. Garnish with crisp, crumbled bacon. Sprinkle with parsley.
---
Keywords: black eyed peas, hoppin'john, hoppin john, black eyed peas recipe, black eyed peas recipe