This easy peanut butter pie without cream cheese, but with chocolate ganache, is better than icing on a cake. Or at least as good!
Easy Peanut Butter Pie is as simple as melting peanut butter and butter together and then mixing with sugar, eggs and a few other things.
Pour this into a partially baked pie shell and top with a luscious chocolate ganache to create a dessert for peanut butter chocolate lovers!
Of course, let's not forget it is a pie and who doesn't love pie?
Except maybe cake lovers, which leads me to the below!
There's no getting around it. I had a birthday. In December.
It was in the double digits with the second number ending in 0. I was not excited.
Let's face it… Birthdays so close to Christmas are generally an afterthought.
Everyone is celebrating Hanukkah or Christmas or my dad's birthday or getting ready for New Year's.
I can't tell you how many times people would say to me this present is for Hanukkah and your birthday. (Not that birthdays are all about gifts! HAH!)
Manservant asked about a party. I was adamantly against it.
December has not been a fun month in a long time for reasons that I don't need to go into.
He said I threw you a surprise party twenty years ago and I think that's a good thing to do every twenty years.
I didn't agree. Case closed. Or so I thought. It seems Zoe didn't get the message.
As you know I've had company almost nonstop since June 9th. All of it good.
Zoe and her boyfriend arrived on July 4th…right after Manservant's sister left. Zoe came home for a wedding and also to spend time with us.
My parents decided to come see Zoe, (or so I thought) and arrived on July 11th. I cooked my patootie off.
Zoe had all her favorites for me to make and then I had to plan ahead for when my folks arrived.
We ate lamb and we ate French toast casserole and lox and bagels and Mexican eggs and potato salad and this easy peanut butter pie with chocolate ganache and chocolate chip cookies and key lime cheesecake and baked beans and bbq chicken and even smoked a turkey.
It was all good. By Friday afternoon I was so happy because I felt like I had just cooked my last meal for at least a few days.
Friday night we had RESERVATIONS and Zoe and boyfriend were going to the wedding rehearsal dinner. Or so I thought…
Friday afternoon Zoe suggested that we all go to the movies. I wanted to see Oceans 8 but was told by Zoe that it wasn't any good.
I'm still not sure if she made that up. We bought 4 tickets to see RBG.
The boys decided to stay back except for my dad. Shortly before we were supposed to leave for the theatre Zoe tells me her friend needs her earlier at the wedding venue so she can't make it to the movies.
Fine, I say. Just fine. We will go without you. And we did.
Friday afternoon with RBG. Exciting stuff. Don't get me wrong. It was a good documentary but I think it would have worked just fine on FrontLine.
Then another detour. You know where this is going, don't you? My friend said to stop over because she wanted to say hi to my folks. So we did.
As we were getting ready to leave she says, "Wait! Just a few more minutes. My husband is coming home and wants to say hi too."
He was even asked to stay at the driving range a bit longer which he said is like the first time someone has ever asked him to play golf LONGER.
And then finally we were in the car on the way home. Pulling into the garage I realized I'd been had.
A beautifully decorated table had been spotted and my father had to convince me to walk inside.
I was very upset because I blamed this state of affairs on Manservant. My father politely told me it was all Zoe's doing.
And so it is I walked into my home with hair that needed to be colored and a dress that probably wasn't my best look, and found two of the dearest kids awaiting me…along with 30 others.
Yes…even Alex Odie San China Boy had flown in for the occasion. I think I hyperventilated.
Not only that Zoe had asked my maid of honor to come.
She drove in from New Mexico. I hadn't seen her in at least 28 years. We both still look phenomenal.
Another friend who I hadn't seen in 9 years came too.
My brother, who hasn't been here since the kids were 13, (Yes, I do keep track!) came with his fiance, who everyone adored.
And then I was surrounded by neighbors who I hardly see and grown up friends of the kids and neighbors who I don't see enough and more friends who are all so dear to me.
They came for Abbe Appreciation Day. Zoe said it wasn't my birthday and she didn't want me to be mad, so appreciation day it was.
She did an extraordinary job. She decorated French country with all my yellow flowers and lavender from the garden.
She made kebabs at my neighbor's house late one night and a gigantic salad.
She confessed she did use store bought dressing but she ran out of time to make her own. Was that OK?
She even went to pick up Alex from the airport on Thursday night and safely deposited him at a friend's house.
She went under stealth to Costco and procured every cold appetizer there, along with one of their chocolate birthday cakes drowning in frosting, that Alex ate from for a week.
She decorated, set music up and did all this with the boys help in 4 hours. And still she looked good.
She even had Manservant taking orders from her. But in actuality he's been her Manservant also for 27 years!
I must confess. I love giving birthday parties, but I was never a fan of my own.
Perhaps it was the time of year. Perhaps it is because I just don't like making a big deal of ME!
Whatever the reason this was one occasion where Zoe ruled! This felt right. It felt good. It was without a doubt the happiest thing that has happened to me all year.
I love my friends. I love my family. I love my neighbors. I loved the brief shining moment the four of us had together.
I loved being surrounded by my parents and my brother and my other brother and his wife were there in spirit. (After all we were just with them in Taos.)
I actually felt whole and I haven't felt whole in a long time. Family is not to be taken for granted. Nor are friends. Even long lost ones.
Which means birthdays shouldn't be taken for granted either. Whatever the year…whether happy or sad…birthdays are a testament to life.
And though my family always tells me to lighten up, life is one thing I don't take lightly.
One last thing. Alex brought the caps from China. I think they'll be perfect at my 80th!
Zoe, take note. They are above the washer in the laundry room!
So go celebrate something! Anything! I didn't want to have a celebration without all of you.
We may just be virtual friends but you are all in my heart!
Now go eat something with chocolate… like this easy peanut butter pie with chocolate ganache. You won't be sorry!
How To Make Easy Peanut Butter Pie:
Easy Peanut Butter Pie is as simple as melting creamy peanut butter and butter together in a large bowl in the microwave.
Mix in brown sugar, white sugar sugar, eggs, maple syrup and vanilla to make a delicious peanut butter mixture.
Pour the creamy peanut butter filling into a pie crust or make an oreo crust or a simple crust with graham crackers.
For that matter you can use a premade graham cracker crust which saves having to partially bake a pie shell.
The options are all good!
No need for an electric mixer, this easy dessert with lots of peanut butter flavor, comes together fast.
This is a pie made for peanut butter lovers and contains no cream cheese or cool whip.
Though I won't stop you if you want a dollop of cool whip or whipped cream on the top.
This family favorites recipe is topped with a luscious chocolate ganache made with heavy cream and semi-sweet chocolate to create a decadent dessert for peanut butter chocolate lovers!
But if you don't want chocolate ganache, a drizzle of chocolate syrup would work well, too!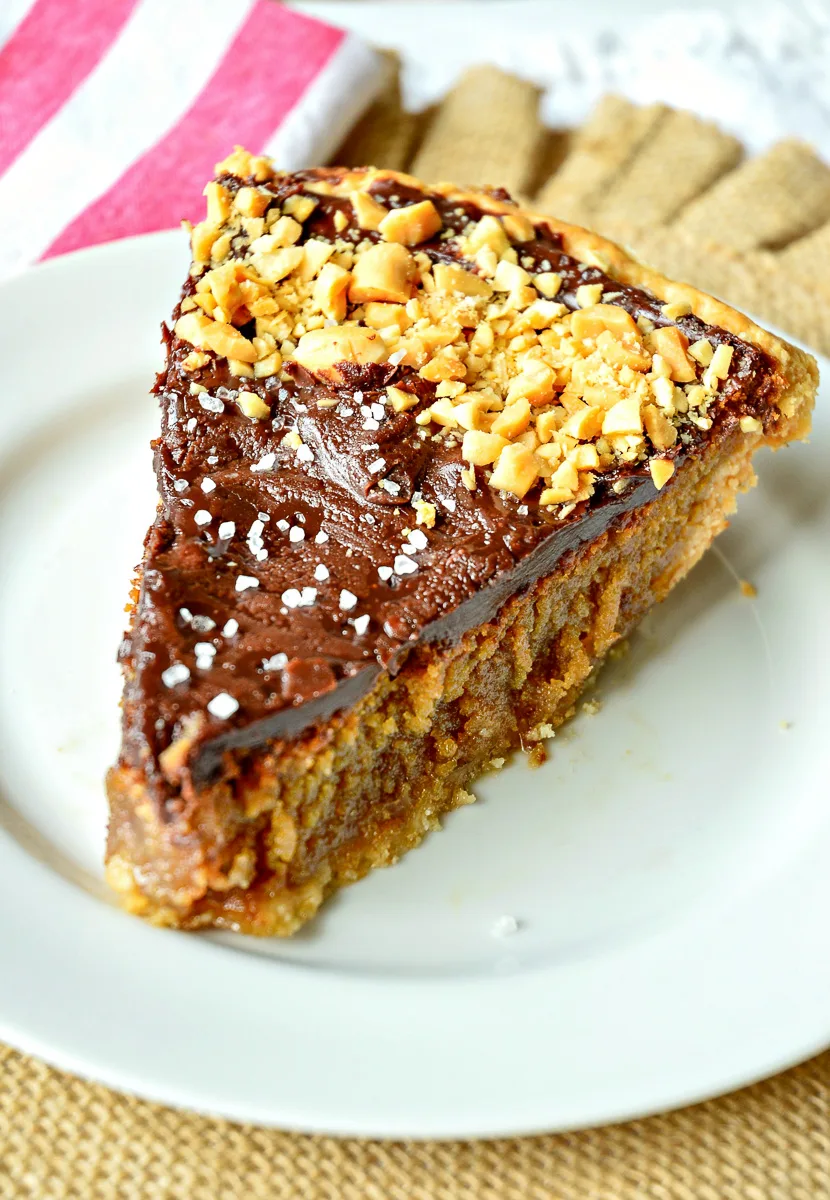 This creamy peanut butter pie is perfect to add to your collection of peanut butter recipes.
Just a few simple ingredients are required to bake this delicious dessert and this easy peanut butter pie recipe can quickly be on your counter!
I know this is not a no bake peanut butter pie, but it is an old fashioned peanut butter pie that will please all peanut butter fans.
The puffy and golden filling is a bit fudgy and creates a creamy filling while the top of the pie can be topped with the ganache or even cute mini Reese's peanut butter cups.
I am guessing peanut butter chips would work, too.
We love this amazing peanut butter pie recipe that can be garnished with lots of fun toppings.
Just make sure for best results to chill the pie before topping with the ganache.
Perfect for a peanut butter lover's sweet tooth this delicious pie will satisfy all peanut butter cravings.
This easy peanut butter pie recipe is just so good!
Here's a few more peanut butter things:
Chocolate Peanut Butter Brownies from Shugary Sweets
Peanut Butter Banana Bread with Chocolate Chips from Tidy Mom
Peanut Butter Fudge Ripple Ice Cream from Saving Room for Dessert
Need More?
Chocolate Peanut Butter Cookies
(This is an updated post from 2018)
Print
Easy Peanut Butter Pie with Chocolate Ganache
Author:

Abbe Odenwalder

Prep Time:

20 Minutes

Cook Time:

1 hour and 20 minutes

Total Time:

1 hour and 40 minutes

Yield:

8

Servings

1

x

Category:

Dessert

Method:

Baking

Cuisine:

American
---
Description
This easy peanut butter pie with chocolate ganache is better than icing on a cake. Well…almost! For peanut butter lovers everywhere!
---
3/4 c creamy peanut butter
1/2 c unsalted butter
1 c sugar
1 c firmly packed brown sugar
3 eggs
2 T flour
1/3 c light corn or maple syrup
1/3 c milk
1 t pure vanilla
Pinch of salt
1 partially baked 9″ pie shell
4 oz semi sweet chocolate
1/2 c heavy whipping cream
1/2 c chopped peanuts for garnish
Sea Salt for sprinkling on top
---
Instructions
Preheat oven to 325. In a glass measuring cup melt peanut butter and butter together in microwave. Whisk until mixture is one cohesive mixture.
Combine both sugars, eggs, flour, syrup, milk, vanilla and salt in large bowl. Mix well. Blend in peanut butter mixture.
Pour filling into partially baked pie shell. Bake until filling is puffed and golden, about 1 hour and 20 minutes. Filling will still be soft. After pie cools I chill it which gives this pie an almost fudgy interior.
When pie has chilled thoroughly, prepare chocolate ganache. Place chocolate in a bowl. Heat heavy cream in the microwave until it just begins to simmer. You do not want this to boil. Pour heavy cream over the chocolate. Let sit for a few minutes and then whisk cream and chocolate together. Pour over chilled pie. Sprinkle with sea salt. Garnish with chopped peanuts. Chill until chocolate has cooled. We prefer this pie well chilled but that is up to you!
---
Notes
I used chocolate chips in the ganache.
I like Trader Joe's all butter pie crust that is in their freezer section, if I don't have time to bake my own. Make sure to leave time for pie crust to thaw and bake before you begin this recipe.
Keywords: easy peanut butter pie, easy peanut butter pie recipe, easy peanut butter pie chocolate recipe, chocolate peanut butter pie, old fashioned peanut butter pie recipe