Grilled Lamb with Mint Marinade and lemon onions is a real crowd pleaser. This tangy, tender, succulent lamb disappeared quickly at our house!
Things are finally settling down here, with lots of company behind us.
When having so many, it's nice to have a few easy dishes up your sleeve. Zoe requested lamb and being the mother that I am, I tried to make her happy.
I knew Manservant would be happy because I don't cook meat often, since I haven't eaten it in over 11 years.
I used to love lamb and often made it for dinner parties. Everyone always loves it and it is so easy to prepare.
For some reason many people are afraid of making lamb, but it just isn't that tough, people!
My father devoured this lamb. He always loved grilled food and especially meat.
He even made some for lunch the next day. How nice to make people happy.
We took some of the reserved marinade, brushed it on some naan bread, threw on some slices of lamb and some feta and placed it in the toaster oven to heat.
Then we added more of the savory lemony onions which work so well with this dish. Perfect leftovers!
But now my toaster oven just died and I need recommendations for a new one. Really. I loved my toaster oven.
Now I'm off to Phoenix to celebrate my father's coming to America!
My brother decided to do a party last minute to surprise him. (Really, it was last minute because I just booked my ticket a week ago.)
I never remember him talking about this when I was a kid, but in 1938 he boarded the good ship Normandie and sailed with his family to Ellis Island.
They were lucky. One year later every Jew in his village was dead. Yes, 80 years ago this month my dad was 6 1/2 years old and came to America. What a story.
But that will have to wait, because I must catch a plane. Enjoy this lamb!
A Great Salad:
Sugared Almonds and Mandarin Orange Green Salad
Chocolate Sandwich Cake with Cream Filling
Please Pin and Share!
Print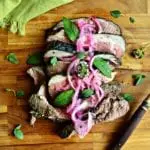 Grilled Lamb with Mint Marinade and Lemon Onions
Author:

Abbe Odenwalder

Prep Time:

20 Minutes

Cook Time:

20 - 30 Minutes

Total Time:

40 Minutes

Yield:

8

-

10

Servings

1

x

Category:

Main Course

Method:

Grill

Cuisine:

American
---
Description
Grilled Lamb with Mint Marinade and Lemon Onions is tender, succulent and easy to prepare. And delicious. Did I say delicious?
---
2 lemons

2 medium red onions, peeled

1/8 t cayenne pepper, plus more for sprinkling

1/3 c plain yogurt, plus more for serving

1/3 c fresh mint leaves and tender stems, plus more for garnish

6 garlic cloves

1 small jalapeno, seeded if needed

1/2 t black pepper

1 boneless, butterflied leg of lamb, about 5–6 lbs

Flaky sea salt
---
Instructions
Grate the zest from one of the lemons and squeeze the juice into a small bowl. Place zest into a blender. Cut the other lemon into wedges and save for serving.
Cut one onion into wedges, put into a blender and add lemon zest. Halve remaining onion and slice it thinly. Rinse well with cold water in a sieve. Place in small bowl with lemon juice. Sprinkle lightly with salt, sugar, and cayenne. Toss and refrigerate for at least 6 hours or until serving.
Add yogurt, mint, cilantro, garlic, black pepper, 2 1/2 t kosher salt and 1/8 t cayenne. Blend until smooth.
Prepare lamb by removing from mesh. It should already be butterflied and unfold. Pour marinade, (I reserved some for serving) into a large zip-lock bag and add lamb making sure it is well covered. Refrigerate for at least 6 hours or overnight.
Heat grill. Wipe off most of the marinade from lamb with paper towels. Grill until a meat thermometer registers 115 degrees for rare and 125 for medium, about 6 – 15 minutes per side, depending on how thick the lamb is and how well you like it cooked. I do not recommend cooking it more than medium. The nice thing about lamb is that because it is not of an even thickness, when you grill it, there are some areas that are rare and others that are more cooked. This way there is something for everyone's tastes. If the meat starts to char before it's done, move to a cooler part of the grill.
Transfer to a cutting board and tent with foil, letting lamb rest for 10 minutes, before slicing. Spoon any juices over the top. Sprinkle with sea salt, mint leaves and lemon wedges. If you reserved some of the sauce, drizzle that over the top along with the lemon onions. (Drain juice from the onions!)
---
Keywords: lamb, grilled food, meat, pickled onions, mint marinade