Chicken tinga is really just shredded chicken in a tomato, chipotle sauce with onions. It doesn't get much simpler or better than this! This Chicken tinga totally rocks!
Chicken Tinga Tostadas are not the recipe I'd expect to find in a book about bread. And even though I did find it in a book about bread, it is not one I expected to like so much. But I adored these chicken tinga tostadas and I know you will love this chicken tinga recipe. That is why I'm posting two Mexican recipes in a row. You don't mind, do you? Well, Manservant didn't either!
What is chicken tinga made of?
Chicken tingas are made of simmered shredded chicken and then simmered again with onions, and a smoky tomato sauce made with chipotles. Chipotles are smoked and dried jalapenos and they are what gives chicken tinga its characteristic taste. Making the chicken is easy. Just throw it in a pot and let it simmer, just like you were making chicken soup. If you have an InstaPot this would work great also. This is a simple dish to make!
So the chicken tingas? A hit in our house. Really a home run. We used the leftovers on a quesadilla but they would have also been great in a bowl with rice, beans, and avocado. Dry it out a bit and they are the perfect taco! Chicken tinga would also be great in a burrito or as a filling for enchiladas.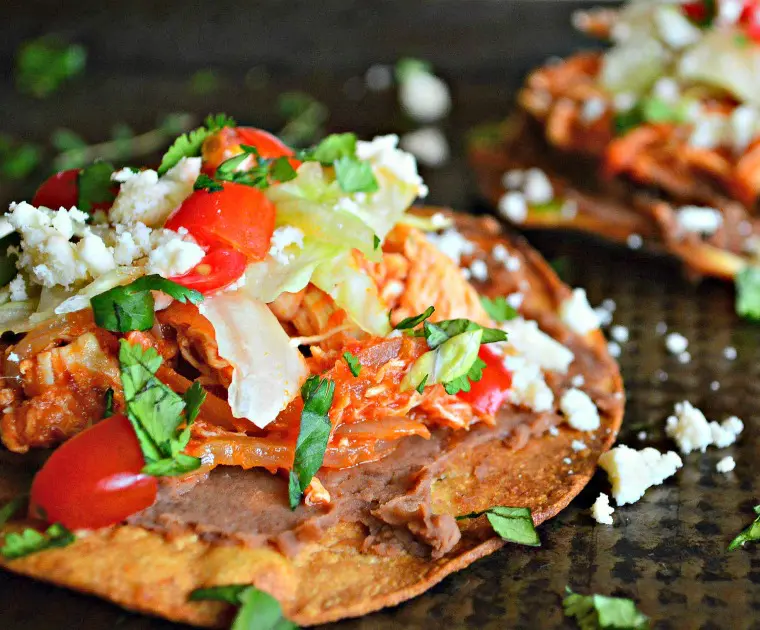 Hot Bread Kitchen
I received the book, "Hot Bread Kitchen " from the Blogging for Books program in exchange for this review. The cover of the book will catch your eye if you like looking at spectacular photos of bread. Winter is the perfect time to bake-especially bread-as my kitchen has no air conditioning- and baking bread requires a warm spot. Not only that, but this book by Jessamyn Waldman Rodriguez of Hot Bread Kitchen fame in East Harlem, leaves a warm spot in my heart.
Jessamyn is the bright mind behind the social enterprise that provides a life-changing education for low income minority women. Bakery trainees are taught skills that allow them to get management track positions in the food industry or even start their own businesses. How cool is that? Each loaf of bread sold helps pay for this mission. The bread that is baked every day is inspired by the women that are trained there, and the book reflects this.
Chapters such as unleavened flatbreads and then leavened flatbreads, leads to tortillas and challah, and filled breads and sweet breads, and quick breads and what to do with leftover bread. Yes, that's a lot of bread. And the fun part is that there are breads in this book that I've never heard of. Breads such as M'smen and Nan-E-Barbari and Momos all make an appearance. Though I don't consider this a book for novice bakers, it certainly is one to peruse for numerous ideas in bread baking. Additionally, it includes recipes besides bread, that this group of international women cook for their families.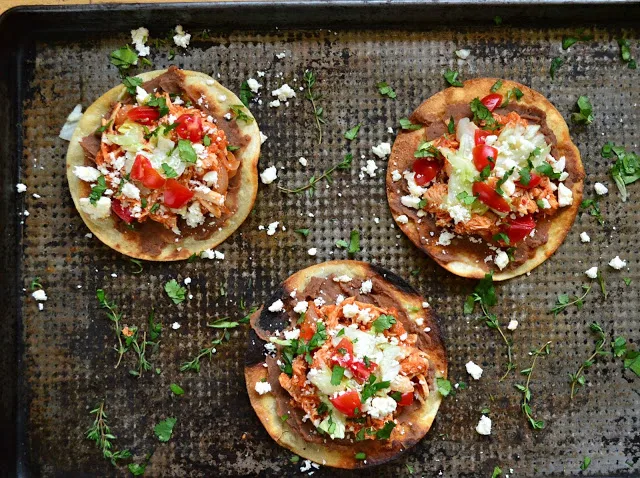 Hence the chicken tingas, that is perfect with Hot Bread Kitchen tortillas and the chopped liver that works well with the recipe for matzoh. Yes, there are definitely recipes in here that may show up on my Passover table. I had the opportunity to try several of their creations and though I didn't feel all were perfect, I did pick up a few new tricks.
Jessamyn's challah is a bit salty for my taste but her recipe made a gorgeous loaf. Jessamyn employs a technique using pate fermentee which is a pre-ferment dough, like levain, but it doesn't impart a sour flavor to the final recipe. It also allows one to use less yeast in the dough and helps extend the shelf life of the final product. I have made many challahs, but none that used this technique. It does require an added step, which means planning 8-24 hours ahead, so that the pate fermentee can later be mixed into the challah bread dough.
Did it extend the life of the challah? I do believe it did, but this loaf also had a lot of salt and that may have helped, too. Jessamyn also brushes her challah with an egg wash during the second rising and then again before it goes into the oven. What emerges is truly a spectacular bread. Her braiding instructions were too tough for me to follow, so I relied on my tried and true method. I'll do a post about challah soon, I promise.
Banana bread was also on my radar screen, as the low and slow method of baking intrigued me. Can't say I was overly impressed by the flavor, but maybe my bananas were lacking. Currently I'm working on Jessamyn's bialy recipe as she uses Mimi Sheraton's recipe, which I have also interpreted. They seem to be pretty good, but I haven't tried toasting them yet!
All in all, Hot Bread Kitchen is a joy to read. Though the recipes may need to be tweaked for a home baker, I am not adverse to trying more. The photos are drool worthy and I love reading the notes and stories behind each recipe. This is a book meant to be read and lingered over and I am glad it is now part of my collection.
So there you have it. Chicken Tingas and a new cookbook to be on the watch for. Like I said I never expected to find a recipe for chicken tingas in a bread cookbook. But you can bet that I'm glad I did!
I love it when you Pin and Share!
Print
Pulled Chicken Tinga Tostadas and #TheHotBreadKitchenCookbook
Author:

Abbe Odenwalder

Prep Time:

30 Minutes

Cook Time:

50 Minutes

Total Time:

1 hour 20 minutes

Yield:

4

Servings

1

x

Category:

Main Course

Method:

Stove Top

Cuisine:

Mexican
---
Description
Chicken tinga is shredded chicken with onions in a tomato chipotle sauce. It doesn't get much simpler or better than this! This Chicken tinga totally rocks!
---
1 1/2 lbs bone-in, skin-on chicken breast halves

1 large yellow onion, halved

4 garlic cloves, crushed and peeled

Kosher salt

1 15 oz can of diced tomatoes

2 chipotle peppers in adobo sauce, chopped

3 T olive oil

4 sprigs fresh thyme

Refried Beans

(Adapted from my friend Karen)

Ingredients:
2 strips of bacon

1–2 garlic cloves

1/2 c minced onion

1 15 oz can of pintos

1/4 t oregano

1 pinch cumin

Chicken broth

Tostadas

Ingredients:

12 6″ corn tortillas, home made or store bought

Canola oil

Tostada Toppings:

Refried Beans

Iceberg Lettuce Shredded

1 Tomato diced

1/2 c Mexican Crema or sour cream

1 /2 c crumbled cotija cheese or feta

Chopped Cilantro
---
Instructions
Place the chicken breasts in a large pot and cover with cold water. Add one of the onion halves, 2 garlic cloves and 1 t kosher salt. Bring to a boil over high heat, skimming and discarding the foam that rises to the top. Reduce heat and simmer until the chicken is firm to the touch, about 30 minutes. Remove chicken from broth and set aside to cool. Do not throw the broth way! Once chicken is cool, shred the meat with your hands and discard the skin and bones.
While chicken is simmering, place tomatoes, 2 garlic cloves, chipotles and 1/2 t salt in a blender and blend until smooth. Slice the remaining onion half into thin half moons. Heat the olive oil in a large skillet over medium high heat and add the onion, thyme and a large pinch of salt. Cook, until the onion just begins to soften, stirring occasionally.
Add the shredded chicken and the tomato mixture to the skillet along with 1 c of the reserved broth. Bring the mixture to a boil, reduce the heat and simmer until the chicken is very tender and the flavors have developed, about 20 minutes. Keep warm until ready to assemble tostadas.
Refried Beans
Fry bacon. When bacon is crisp, remove from pan, but leave the bacon drippings. You can garnish the beans with the crisp bacon or you can eat it as is! Add garlic and onion and cook until soft. Add beans and cook until warmed. Using a potato masher or a fork, mash the beans. I prefer them to have some texture, but that is up to you. You may want to thin the mixture with some chicken broth, depending on how thick you like your refrieds! Season with oregano and cumin and add salt as desired.
Tostadas
In a skillet that can hold the tortillas, heat about 1″ of oil over medium high heat. Once the oil is hot, add the tortillas in one layer. (I usually do one at a time, but you can do s many as your skillet will hold.) Press each tortilla sown with tongs or a spatula to keep them flat. Cook until browned and crisp, about 1 minute per side. I do not like them totally crisp because then the don't break as easy when you add your toppings. As they are cooked, transfer to a paper towel lined plate and blot each side. Set aside until ready to use.
To assemble:
Spread tostada with about 2 T of refried beans. Top with a large drained spoonful of chicken tinga, a bit of lettuce, some diced tomato, some crema and a bit of cheese. Garnish with cilantro.
---
Notes
Thanks Hot Bread Kitchen.
Keywords: chicken tinga, chicken tinga tostada, chicken tinga recipe, chicken tinga tacos,
Past March Recipes: