This springtime matzo egg drop soup is perfect. It solves the matzo ball dilemma of sinkers or floaters by using just matzo meal and eggs that are dropped by spoonfuls into the hot broth. This forms creative little matzo drops that I just love!
Every Passover one debates the merits of matzo balls. There seems to be no question that everyone loves matzo balls. The question is what kind they prefer. Many prefer floaters; those light fluffy balls that are perfectly cooked with no dense spots in the inner sanctum. Others prefer sinkers; where the balls are dense and almost chewy and maybe not even cooked all the way through. I must admit to being in the sinker category though I am never one to turn any matzo ball down. Actually I'm kind of in the middle of this camp and prefer them just right! Whatever that may be.
Well, I've just discovered that I now like them a new way. A way that I've never heard of or tried before. These are more like matzo drops. The are made with just toasted matzo meal and eggs. Simple and no refrigerating and they only take three minutes to cook. Last year I tucked this recipe away after spying it in the WSJ. I am so glad I found it again…which wasn't easy to do after one year of being tucked into my overflowing recipe drawer. While I searched for this I found a lot of other tucked away recipes I can't wait to try!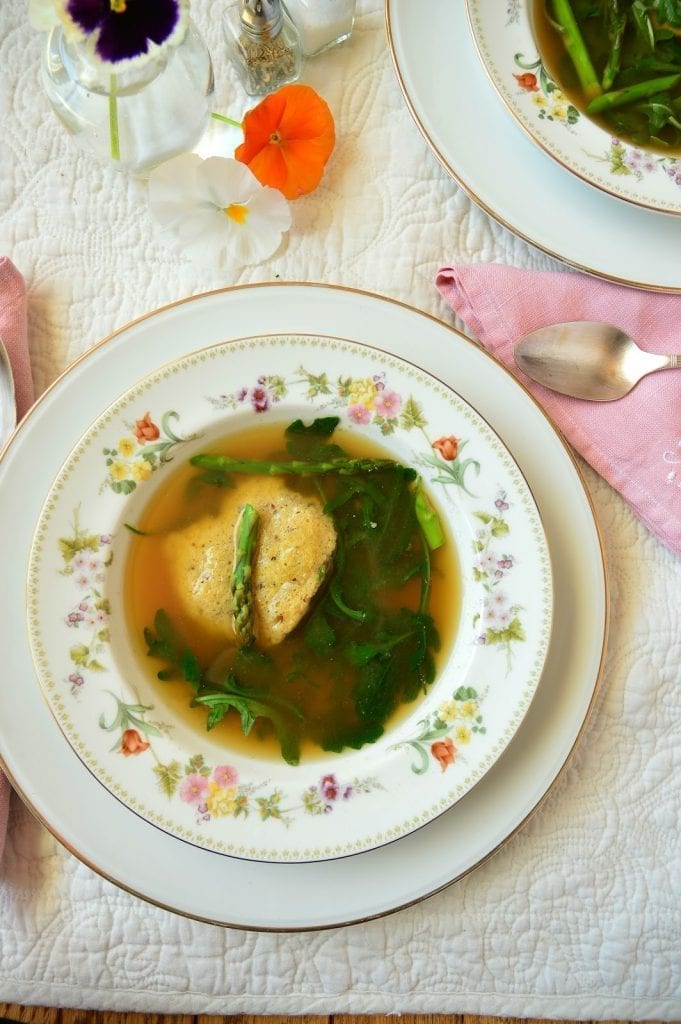 I loved this simple chicken soup made with boxed broth and  infused with herbs and garlic and mushroom powder. However if you have already made chicken stock this will work with that too! Either way this is a great new way to make a springtime chicken soup. The matzo drops that float in this soup are a bit peppery and blend well with the arugula that you add when you are ready to serve. These discs forever solve the problem of floaters or sinker and I think will become my go to matzo ball even though they aren't really a ball at all. These are delicate and hearty, both at the same time. Adding the asparagus make this the perfect Spring soup and I think a very pretty one too. Those this isn't a true egg drop soup it mimics an egg drop soup when you drop the matzo egg mixture into it.
If you feel so inclined this would be a great chicken soup for the Seder. Just cook your matzoh discs and then remove until ready to serve. They are so thin that they will reheat well in a hot chicken broth. If you do reheat them in the broth make extra, because matzo anything has a tendency to suck it up! To plate, throw a handful of arugula into each bowl, a few asparagus, a matzo disc and then ladle the hot soup 0ver when ready to serve. These drops may not be as attractive as a perfectly formed matzo ball, but I guarantee everyone will ask for more!
Below Are The Greatest Passover Hits and a Few More: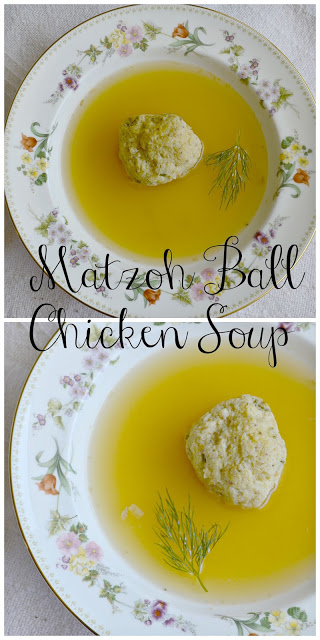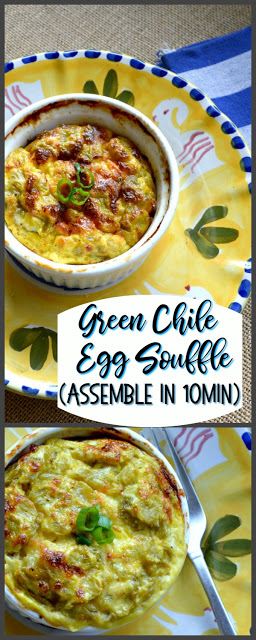 Please Pin and Share: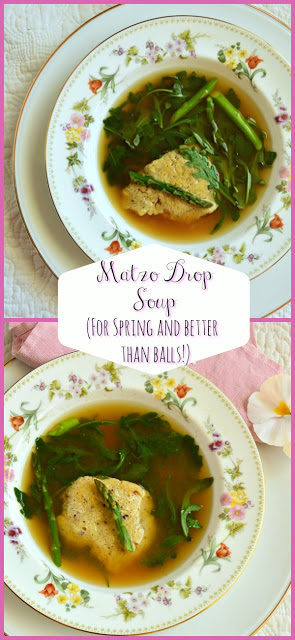 Yield: 4-6 ServingsAuthor: Abbe OdenwalderPrint Recipe
Matzo Egg Drop Soup
This matzo egg drop soup is made by dropping spoonfuls of a matzo egg mixture into chicken broth. Add some greens and you have a gorgeous, but simple chicken soup with lovely floating matzoh discs.
prep time: 20 MINScook time: 45 MINStotal time: 65 mins
ingredients:
2 quarts chicken stock (yours or the store's!)
1 bay leaf
1/4 t finely chopped fresh tarragon
12 smashed garlic cloves
2 T mushroom powder
3/4 t kosher salt and more to taste
1/2 lb asparagus, trimmed and cut on the bias into 2″ lengths
2 large beaten eggs
2 T toasted matzo meal (See Notes)
1/2 t freshly ground black pepper
2 handfuls of arugula
instructions
Combine stock and seasonings into a large lidded pot. Bring to a gentle boil over medium high heat, then lower heat to medium low or just enough to keep your stock simmering. Keep covered or your broth will simmer away. (Since I used store bought broth, I did this to immerse some flavor into the broth. If you have broth you like, feel free to skip this step.) Simmer for about 40 minutes, then strain broth into another pot. Check for seasoning and add more salt if necessary.
Add asparagus and simmer until it is bright green, about 3 minutes. Remove and set aside.
Meanwhile, combine eggs and toasted matzo meal, pepper and a pinch of salt. (I loved the pepper in this.)
Carefully spoon batter into soup a spoonful at a time. I got about  8 spoonfuls. Cover pot and cook until batter rises to surface of soup, about 3 minutes. Break into small discs if necessary.
Into each bowl add a small handful of arugula and a few pieces of asparagus. Top with a matzo disc and ladle soup over all.
notes
Place matzo meal in a small pan and brown in an oven at 300 for about 10 minutes or until golden. You can also do this in a skillet on low heat. Stir and watch carefully so it doesn't burn.
.recipe-inner{text-align:left;max-width:620px;border:6px double #009BFF;padding:20px;background:#f2f2f2;margin: 40px auto;font-family:Lato, sans-serif;}.recipe-inner a{color: #4193f0;}#recipe .recipe-name{font-size: 21px;}#recipe .info{position:relative;font-size:13px;text-transform:capitalize;border-bottom:2px solid #000;padding-bottom:7px;margin-bottom:20px}.info:after{content:";display:table;clear:both}#recipe .info span:first-child{margin-right:30px}#printbutton{border:0;margin:0;color:#fff;float:right;background:#555; padding:5px;border-radius:3px;cursor:pointer}#recipe .time{text-transform:uppercase;font-size:12px;text-align:center;background:#fff;padding:15px 0;margin-bottom:20px}#recipe .time span:not(:last-child){margin-right:12px}#recipe .time span:not(:last-child):after{content:";display:inline-block;height:10px;width:1px;background:#000;vertical-align:middle;margin-left:12px}#recipe .summary{line-height:1.7;font-style:italic}.ingredients{line-height:1.7;clear:both}.ingredients h3,.instructions h3,.notes h3{font-size:20px !important;font-weight:400 !important;margin-bottom:0;color:#000;text-transform: uppercase;}.ingredients ul{margin:0!important;margin-top:5px !important;}.instructions li{margin-bottom:15px !important;line-height:1.6;text-align:left;}.ingredients li{text-align:left}#recipe .instructions{margin-top: 30px;}#recipe .instructions ol,#recipe .instructions ol li {list-style:decimal !important;}#recipe .instructions ol{padding-left:39px;margin:0!important;margin-top:6px !important;}.posturl{border-top:1px solid #ccc;padding-top:10px;}.ing-section{padding-left:20px;margin: 10px 0;}.ing-section > span{font-weight:700}.recipe-credit{font-size:13px;border-top: 1px solid #ccc;padding:10px;text-align:center;background:#ffffff;margin:-20px;margin-top:15px;}.recipe-credit a{color:blue;text-decoration:none;}.copyright-statement{font-size: 13px;font-style:italic;border-top: 1px solid #ccc;margin-top:15px;padding-top:15px;line-height:1.6;}.notes pre{font-size: 15px;margin: 10px 0;padding-left: 20px;font-family: inherit;line-height: 1.7;white-space: pre-line;}.notes h3{margin: 0}.nutrition-info{font-size: 0;margin: 20px 0;padding: 10px;background: #fff;}.nutrition-info>div {display: inline-block;font-size: 14px;width: 20%;text-align: center;}.nutrition-info>div:nth-child(5) ~ div{margin-top: 20px;}.nutrition-info>div p{margin-top: 0;margin-bottom: 7px;}.print-options {display:none;position: absolute; top: 0; right: 0; background: #fff; border: 1px solid #ccc;z-index: 1;}.show-print-options{display:block}.print-options button { display: block; background: transparent; border: 0; cursor: pointer; padding: 10px; width: 100%; text-align: left; } .print-options button:hover { background: #555; color: #fff;}#recipe .image{width:auto;text-align:center;margin-bottom:25px;margin-right:20px;float:left}#recipe .image img{max-width:250px}#recipe .recipe-name{margin-bottom:10px;line-height:1.6;text-transform:uppercase;margin-top:0;letter-spacing:1px;text-align:left}#recipe .summary{line-height:1.7;font-style:italic}#recipe .time{background:#fff;clear:both;border:1px solid #d7d7d7}function printDiv(a,printOption){if(printOption === 'printWithOptions' || printOption === 'printWithImage') {document.querySelector('.print-options').className='print-options';}var b=document.getElementById(a);newWin=window.open(",'printwin');var c=newWin.document.createElement('style');c.innerHTML='html{font-family:sans-serif}.print-options{display:none}img{visibility:hidden;display:none;}#recipe-pinit,#printbutton,.recipe-credit{visibility:hidden;display:none;}.info{text-align:center;text-transform:capitalize}.recipe-name{text-align:center}.info span{margin-right:20px}.time{text-align:center;padding:10px;border-top:1px dashed #000;border-bottom:1px dashed #000;}.time span{margin-right:20px}.adunit,.adunitlabel,.adunitwrapper,.adunitwrapper,.chicory-order-ingredients{display:none!important}.nutrition-info{font-size: 0;margin: 20px 0;padding: 10px;background: #fff;}.nutrition-info>div {display: inline-block;font-size: 14px;width: 20%;text-align: center;}.nutrition-info>div p{margin-top: 0;margin-bottom: 7px;}.ingredients h3, .instructions h3{text-transform:uppercase !important;}';if(printOption === 'printWithImage') {c.innerHTML = c.innerHTML.replace('img{visibility:hidden;display:none;}', 'img{display:block;margin: 20px auto;width: auto;max-width:100%;}');}newWin.document.getElementsByTagName('head')[0].appendChild(c);newWin.document.getElementsByTagName('body')[0].innerHTML = b.innerHTML;newWin.print();}