Halloumi and Oregano Shrimp, with lots of garlic and lemon, makes one great dinner where everyone asks for more!
It has been a long time since I visited Chicago. I miss it. Not only do I miss the wide open spaces-well, there used to be-on the drive from O'Hare to Kankakee, but I miss Chicago itself. I love the Windy City and finally I will be visiting again, but it won't be until January. Not exactly the best time of year to experience Chicago, but family obligations wait for no one! I believe we'll go back in April for another. As my brother pointed out, this is a big year for our family. 4 B'nai Mitzvahs, 1 new baby and 1 wedding. None of this directly in my nuclear space-thank goodness, as I'm still not ready for the last two!
One of my favorite experiences in Chicago is dining at the Greek Islands. As a teenager,we often stopped there to eat. Because it is on the South Side of Chicago, it was convenient from Kankakee. Not only was the food delicious; eating at a big Greek restaurant is fun. The OPAS, the saganki, the family style HUGE meals and the great waiters, make the place very lively. Everything is superb. I also loved their skordalia-the Greek garlic dip. OMG. Just slather that on my body when I die, and I'm sure I'd be preserved forever.
One of my favorite things to eat at Greek Islands was the saganaki. Fried cheese. Two words that shouldn't be allowed to be close together. Having saganaki is one item on my "Last meal to eat before I die" list. We all have those don't we? Well, it probably should be one requirement on the list, "How to be a Foodie". In any case, I love the stuff. And it is pretty pathetic that I can't remember the last time I had it. I believe someplace in Denver has it, but I'm sure it isn't as good as the Greek Islands. I, however, would be happy to be a guinea pig and give my honest opinion!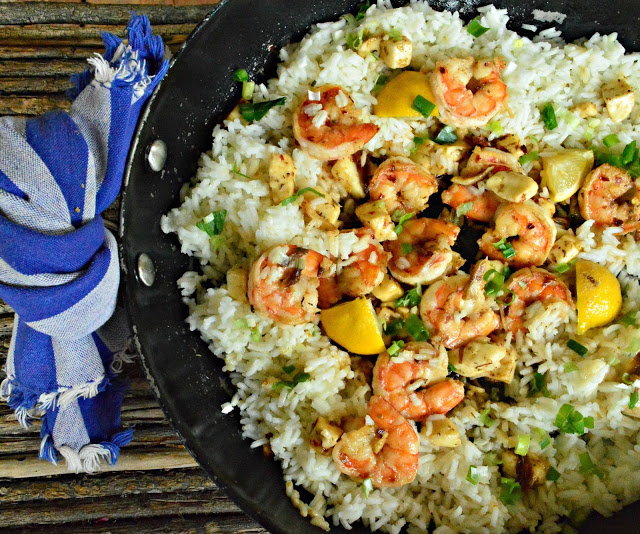 Well, onward. Trader Joe's opened close by, so I discovered they sold halloumi cheese at about half the price of my favorite grocer. Same brand and everything. Yes, it totally now makes preparing halloumi, so much more enjoyable. I hated spending $10 just to make fried cheese. Thank you Trader Joe's. But eating fried cheese just seems so decadent… So bad for you, even if it is topped with heart healthy olive oil. So… I decided to make it as a main course in order to count those calories in a better space.  So.. I made it with shrimp, the cholesterol free kind. Don't I wish? And I served it with white rice-the whole grain kind. Don't I wish?
What can I say? Manservant loved this recipe. I did too. Tomorrow we are eating greens and whole grains the entire day. I promise…
Halloumi and Oregano Shrimp
Yield: 1 Manservant, 1 Wife (Preferably 4 servings)
Ingredients:
2 T butter
2 T olive oil
5 minced garlic cloves
1/2 c white wine
1 t oregano
Pinch of Italian chili flakes
16 – #21-25 large  raw shrimp peeled
4 oz halloumi – cut into about 1″ cubes
1 lemon, cut into quarters
1 c dry rice – prepared in your favorite way
Directions:
In a large skillet, heat butter and oil over medium heat. Add garlic and cook until softened, and not golden. Add white wine, oregano, and chili flakes and bring to a simmer. Add shrimp and when they are just starting to turn pink, add halloumi. Let simmer a couple minutes, but don't overcook the shrimp, and serve with a squeeze of lemon. Spoon rice or pasta into pan and mix it all up. Serve and yell OPA!