There are so many great Italian dinner ideas and this rich and simple classic Italian pasta dish is one of them! Pork shoulder ragu and Italian sausage make a fabulous sauce for farfalle or bowtie pasta!
I love having friends for dinner and when I do it is hard to go wrong with Italian food.
Everyone loves Italian cuisine and this classic Italian recipe is no exception.
In fact, this easy dinner should be in every home cooks repertoire.
Not only did this receive ooh's and ah's, I love the fact that I was able to put some of it into the freezer, which means now I can make Italian pork subs when Zoe comes home!
So what is this fabulous recipe?
Basically it is braised pork shoulder that I add lots of cherry tomatoes and a can of whole Italian plum tomatoes too, so I can create this easy recipe that is perfect for a dinner party.
Not only that it also contains Italian sausage which in my mind makes this one of the best Italian recipes I know of.
OK. Italian sausage and I have a thing. Hated it as a kid, but I love it now!
Forget going to an Italian restaurant, this main course is one of the best pasta recipes I know of and a perfect Italian dinner idea.
Thanks to Alex Guarnaschelli whose cookbook this came from, I can now add this to my file of easy Italian recipes.
The first recipe I tried wasn't my fave, but after trying three more I realize that she might actually know what she's talking about! LOL!
But to be truthful, aren't Italian dinner recipes all pretty easy? I think that's what makes them the perfect easy meal.
Don't overcook your pasta, have some simple ingredients on hand, and you are good to go for most popular Italian recipes.
Now let's get to it, shall we?
Here's my 3 course Italian Dinner Ideas Menu:
For starters, I served this with a fabulous and super simple iceberg wedge salad with a giardiniera salad dressing.
I make my own pickled vegetables, but feel free to use a jar from the grocery if you want.
If you choose to make these, plan ahead because they do need some time to brine.
And the recipe makes a lot so you also have a perfect gift-just in case you are invited to a friend's house for one of their traditional Italian recipes!
Yes, I know many love a Caprese salad but when fresh tomatoes aren't in season this is a perfect salad. Not to mention everyone loved it.
I did serve some pizza rolls but garlic bread works just fine, and for dessert we had an orange pound cake with real dark chocolate chunks and some orange buttercream on the side.
Maybe not quite an Italian dessert but I didn't hear anyone complaining!
Ok. Finally back to the cooking:
This sort of Italian hearty stew, braised pork ragu, served over bowties or farfalle pasta was great on a chilly Fall night.
Follow the cooking instructions on the side of the box so as not to overcook the pasta.
Rigatoni or ziti would also make a fine choice for this spicy tomato sauce.
How to Make Braised Pork Ragout:
Cook the Italian sausages in 1 tablespoon of olive oil until seared on all sides. Remove from Dutch oven and set aside. (Spicy or mild-it is up to you.)
Using pork shoulder that was already cut into strips just meant I had to cut them into 2 – 3″ chunks. I then seared them in the same Dutch oven.
Don't forget to season well with salt.
Add in the sliced onions, garlic and red pepper flakes. Again, the heat level is up to you.
Once the onions are translucent, add the white wine and cook until most of the liquid has been absorbed.
Stir in both the canned and fresh tomatoes, along with the anchovy fillets and fish sauce.
Bet you didn't see the fish sauce coming? Between this and the anchovies, they impart a lot of umami, that wonderfully rich taste, that you can't always put your finger on.
Even if you don't like either, you will never know they are part of this sauce.
They add so much to the flavor and I encourage you not to leave them out.
Now cover the Dutch oven and place it in the pot for 2 to 2.5 hours.
Once I removed it from the oven I used a fork to tear the meat into shreds. This is not necessary, but this is the texture I prefer.
Get your pasta started in really salty water-just like ocean water. Taste it and you will know what I mean!
Once it is cooked, set aside some of the pasta water just in case you want to add it to your sauce to thin it out.
Toss the drained pasta with 1/4 c of Parmesan cheese. It sticks better this way! Now add the butter.
After you have shredded your meat, add back the sausages. I cut them in half at this point.
If you want your sauce a bit saucier, at this point stir in some of the reserved pasta water.
Add in the rest of the Parmesan cheese and red wine vinegar. Last but not least, don't forget the fresh herbs.
Yes, fresh basil leaves are a must, as is a good grind of black pepper. Or even some more red pepper flakes.
I love dishes that don't require a lot of hard work which makes this Italian classic perfect for any dinner table.
Want more traditional Italian dishes for Italian dinner ideas?
I love Marcella Hazan's recipes and these are oldies, but goodies, here at TIHIC.
Her bolognese is awesome but my kid's fave is the linguini with clam sauce.
Many love eggplant parmesan but I prefer this really simple recipe that is similar but still loaded with mozzarella cheese.
My version of easy chicken parmesan may be untraditional, but it truly is delish when it is made with ground chicken breasts and served pizza-style.
Love sun-dried tomatoes? Than you will adore my Marry Me Chicken that takes less than 30 minutes to make.
Click here if you'd love to see more of my Italian recipes.
And now go get cooking! Everyone loves Italian food! Go create your own Italian dinner ideas!
More Italian Dinner Ideas:
Braised Chicken with Salami and Olives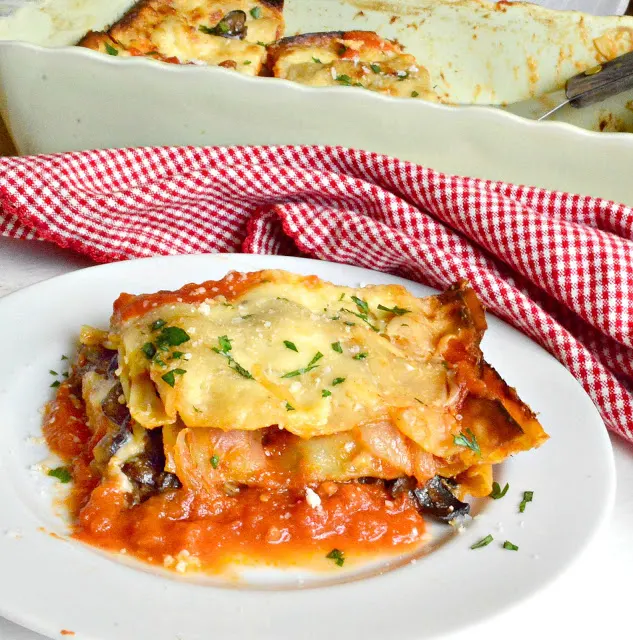 This post contains affiliate links from which I may or may not earn a small commission at no cost to you.
Print
Pork Shoulder Ragu
Author:

Abbe Odenwalder

Prep Time:

30 Minutes

Cook Time:

2.5 hours

Total Time:

8 minute

Yield:

10

Servings

1

x

Category:

Main Course

Cuisine:

Italian
---
Description
This super easy, super tasty ragu sauce made with braised pork shoulder and Italian sausage is truly a perfect Italian dinner idea. Leftovers can be put on subs or pizza, or reheated on their own.
---
1 T olive oil

1 lb spicy Italian sausages

2.5 lbs boneless pork shoulder cut into 2.5 to 3″ chunks
Kosher salt

2 medium yellow onions, halved and thinly sliced

5 garlic cloves, thinly sliced

1 t dried red pepper flakes

3 c dry white wine

1 28 ounce can peeled whole tomatoes (I use San Marzanos)

1 pt cherry tomatoes (I use cherubs)

2 anchovy fillets, coarsely chopped

1 T fish sauce

1 lb farfalle or bow tie pasta

2 T unsalted butter at room temperature

1 c finely grates Parmagianno Reggiano

1 T red wine vinegar

1/2 c fresh basil leaves
---
Instructions
Preheat oven to 350.
Heat a Dutch oven over high heat and add the olive oil. Place sausages in oil and reduce heat to medium, browning the sausages on all sides, until they are cooked through. Transer to a plate and set aside. Cut in half if you prefer.
Season the chunks of pork with salt. Add to dutch oven and brown on all sides, 5 to 8 minutes. Stir in the onions, garlic and red pepper flakes. Cook, stirring occasionally until the onions are translucent, 8 to 10 minutes. Add the white wine and cook until almost all of the wine has cooked out. Stir in the canned and fresh tomatoes, along with the anchovies and the fish sauce. Cover the pot and place in the center of the oven until the meat is tender when pierced with the tip of a knife, about 2 to 2.5 hours.
Remove the pot from oven and using a fork shred some or all or none of the meat! I prefer it shredded. Add back the Italian sausages and stir in the Parmesan, red wine vinegar and basil leaves. Taste for seasoning.
Set aside while you cook the pasta. If you want more of a sauce make sure to save some of the pasta water to thin the sauce.
Cook pasta according to package directions, in very salty water, stirring so it doesn't clump. Reserve some of the pasta water for the sauce if you choose to use it. Drain pasta and toss with 1/4 c of Parmesan. Now toss with the butter.
I served this with the sauce on top of the pasta. You may choose to toss the pasta with the sauce, but since this is so meaty, I liked it resting on top.
---
Notes
Thank you Alex Guarnaschelli.
Keywords: pork ragu, braised pork shoulder, Italian dinner ideas, pork ragu recipes