This mouthwatering braised chicken; braised in a tomato wine sauce with lots of garlic, salami and olives, qualifies for the chicken of the month club! So good!
Just last week I made this braised chicken recipe for company and everyone loved it…including myself.
Full of flavor from salami and chile tangerine green olives, this chicken had glorious flavor.
Salty and a little spicy and a feeling that one couldn't wait to get to the next bite, put this chicken into the chicken of the month club.
This Sicilian chicken dish, from Donald Link of Cochon Butcher in New Orleans, makes good use of his salami, but truthfully any salami will do.
Just make sure to use a good, full flavored salami and buy a chunk of it so you can cut it into wedges or thicker slices.
Too thin and it may melt away while cooking!
I used a juniper, fennel spiced salami from Il Porcellino, here in Denver.
I wish this local shop was closer to me because their sandwiches are to die for.
Luckily though I found this incredible variety of salami at my local Whole Foods around the corner.
The tangerine chile olives were found at the olive bar in my local Kroger's.
Any good firm green olive will do, but try to stay away from jarred or canned olives because they could make this chicken dish a bit too salty.
I made this dish on a Sunday afternoon but for some reason we didn't eat it that night, so it was with pleasure that I invited my neighbor over to eat it with us on Monday night, knowing her husband was out of town.
Imagine my surprise when I called to invite her and her husband answered.
He had been planning to go see family in Vancouver and flown all the way to Seattle when the airlines stopped him from flying to Canada, because his proof of of not having Covid would be expired by 23 minutes when he landed in Canada.
Frustrated, he flew back to Denver. Well, at least he got to come for dinner!
So time to eat right?
What is braised chicken?
Braised chicken usually refers to chicken that has been browned first and then cooked in a liquid, low and slow, usually in a covered dish.
Braising is a common cooking method that you wil find when making stews or short ribs.
The original recipe calls for baking the chicken in a shallow baking dish, such as a 13 x 9 pan, but I used my Dutch oven.
And strangely enough this recipe did not call for covering the pot, though I did when I reheated it the next day. Didn't want all that glorious sauce to evaporate!
Begin by heating the olive oil in a large skillet or a Dutch oven.
Dry off the chicken by blotting with a paper towel. This helps keep the splatter down when you add the chicken to the hot oil.
Season well with salt and black pepper and sear the chicken skin side down until golden brown and then flip over and do the other side.
Make sure not to crowd too much chicken into the pot while browning. It ends up taking longer because the chicken is steaming, rather than browning!
What kind of chicken to use?
I used 3 chicken thighs with the bone-in and skin on. I also used two chicken breasts with bone-in and skin on, though I cut off the rib portion.
For good measure I added in two boneless, skinless chicken breasts cut in half.
Of course you could also cut up a 4 pound whole chicken into 8 – 10 pieces.
After everything is browned, take out of pot and set aside while you prepare the braising liquid or sauce.
Add the onions to the hot chicken fat and cook for about 4 minutes. If you need to add a tablespoon of oil, feel free.
Now add in the garlic, rosemary, salami, olives, oregano and red pepper flakes.
Because I used a fennel salami, I didn't feel the need to add fennel seeds, but if I hadn't I would have stirred some in.
Pour in the white wine and simmer while scraping up the browned bits on the bottom of the pan.
Stir in the tomato paste and cook for 5 minutes. Add the flour and cook while incorporating for 2 more minutes.
Pour in the chicken stock and simmer over medium heat until slightly thickened. Stir in bay leaves and lemon juice.
Add back the chicken, in a single layer, to the pot and nestle the chicken pieces into the liquid. If using a shallow baking dish, pour the liquid over the chicken.
Place in the preheated oven and baste every thirty minutes or so, until the chicken is very tender.
Total cooking time is about 90 minutes.
One of the best ways to serve this salami chicken is with buttered papparadelle noodles but it would also taste incredible over polenta, mashed potatoes or orzo.
Just make sure to serve with plenty of sauce!
To reheat the chicken, bring to room temperature first. Then if you used a Dutch oven, keep it covered and reheat on low heat for about 45 minutes or until the chicken is bone tender.
I love how just a few simple ingredients create such a memorable dish.
I also love how with such little effort one can create a great and simple dinner with a ton of flavor.
Served with a green salad and some crusty bread, I guarantee this chicken dinner will please the whole family.
Garnish with some lemon zest and fresh rosemary and you will have created dinner with little work.
And the end result? Perfectly tender chicken that is pefectly flavored.
I loved serving this with extra slices of salami on top and though this dish is made with white wine, you can bet we drank a hearty glass of red wine during dinner.
So far, I've been very pleased with this chicken of the month. Let me know your thoughts!
Need Some More?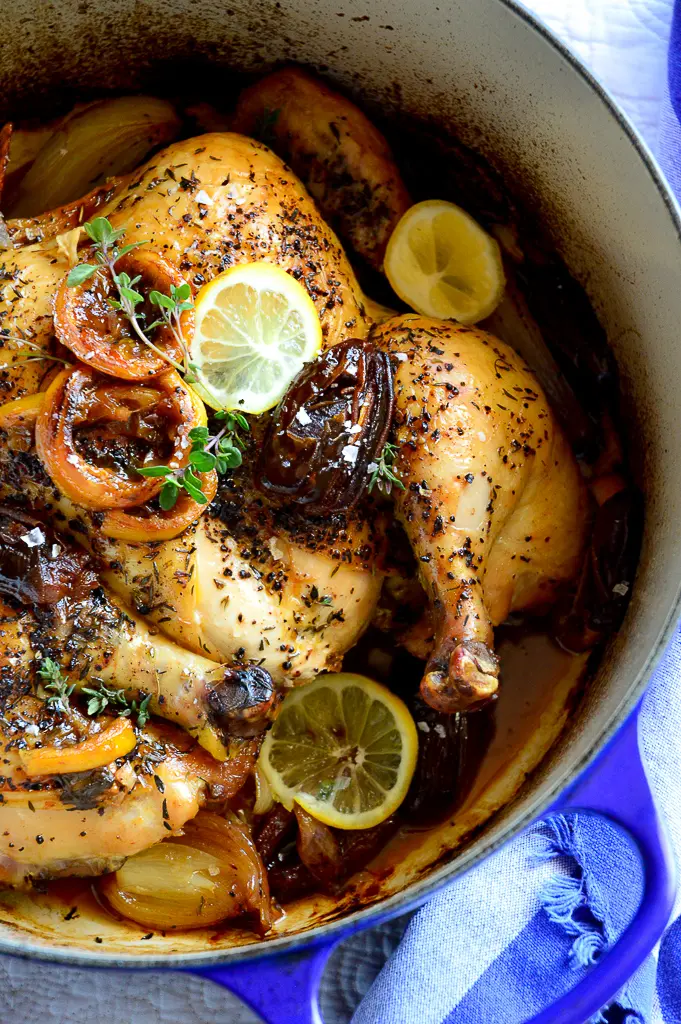 I'd Love it if You'd Follow Me and Pin and Share!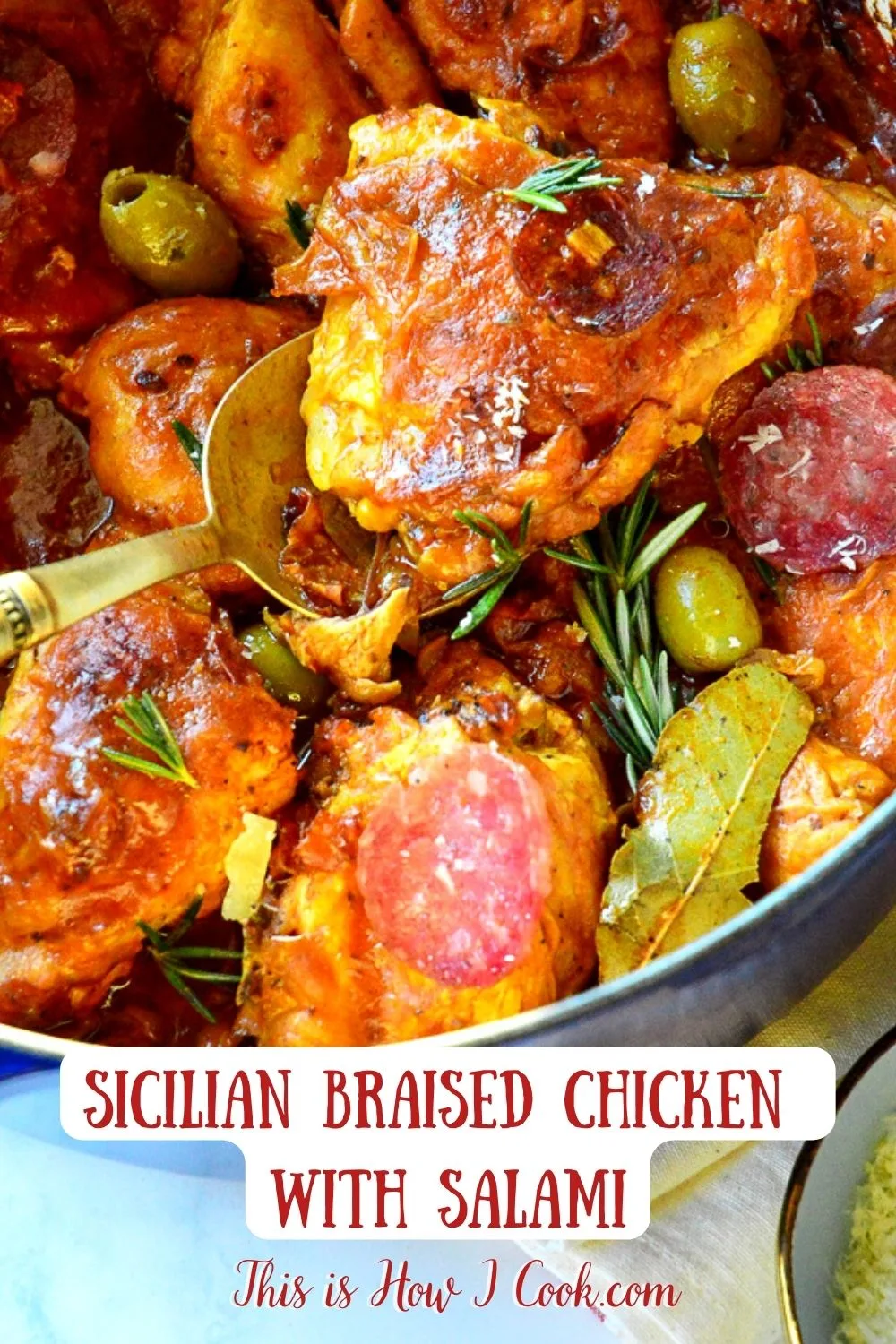 Print
Sicilian Braised Chicken with Salami and Olives
Author:

Abbe Odenwalder

Prep Time:

30 Minutes

Cook Time:

90 Minutes

Total Time:

2 hours

Yield:

4

to

6

servings

1

x

Category:

Main Course

Method:

Braise

Cuisine:

Italian/American
---
Description
This very tasty chicken is loaded with flavor. With salami and olives, lots of garlic and plenty of seasoning, this chicken received rave reviews!
---
1 3.5-4.5 lb chicken, cut into 8 – 10 pieces
2 t kosher salt
3/4 t fresh ground black pepper
3 T olive oil
1 medium onion, thinly sliced
5 garlic cloves, thinly sliced
1 rosemary branch-about 8 inches
1 1/4 c diced salami
1 c pitted green olives, some cut in half (I used the tangerine chile olives)
1 t dried oregano
1/2 t red pepper flakes
1/2 c dry white wine
2 T tomato paste
2 T all-purpose flour
2 1/4 c chicken broth
4 bay leaves
Juice of 1 lemon
---
Instructions
Heat oven to 375. Season chicken with salt and pepper. Heat olive oil in a large skillet over medium heat and sear chicken in batches until golden brown-about 7 minutes per side.
Transfer chicken to a 13 x 9 baking dish or another large shallow casserole or do what I did and use a Dutch oven. I set aside the chicken and added it back at the end after I made the sauce.
Add onions to the skillet and cook in the rendered chicken fat until brown, stirring, about 4 minutes. If you need a bit more oil, add some. Add garlic, rosemary branch, salami, olives, oregano and red pepper flakes.
Pour in wine and simmer to reduce, scraping the bottom of the pan.
Add tomato paste and cook for 5 minutes. Add flour and cook, stirring to incorporate for 2 minutes.
Pour chicken broth in in batches and stir to incorporate. Bring to a simmer over medium heat and cook until slightly thickend, 2 to 3 minutes. Stir in bay leaves and lemon juice.
Pour sauce over chicken in shallow pan or add back chicken if you did it my way. Place in oven in a single layer and baste every thirty minutes or so, until chicken is very tender, about 1 1/2 hours. Discard bay leaves and rosemary before serving.
Serve chicken with mashed potatoes, noodles, pasta or polenta and make sure to ladle on lots of sauce.
---
Notes
Fennel or fennel seeds can be added, along with the salami and olives.
I made this dish a day ahead of time and rewarmed it covered over low heat for about 40 minutes. Low and slow, so you don't overcook the chicken and simmer away all the good sauce.
Keywords: sicilian chicken, chicken with olives, braised chicken, braised chicken recipes