Lemon Oregano Pesto is a great way to use fresh oregano you have growing. Love this on fish or chicken or even Italian subs! Simple to make this pesto beats basil any day!
I'm ready for a little joy and hopefully this pesto will do the trick. Oros ganos, a Greek word meaning joy of the mountain, defines the mountain sides of Greece where oregano and marjoram flourish.
The sweet, spicy scent was created by Aphrodite as a symbol of happiness.
Oregano grows in my herb garden and it is just starting to flower, which means harvest now, or forget about it. I could dry it and I will, but this year I thought I'd try a pesto with my favorite herb.
As an herb, oregano was used in Egypt to preserve, heal and disinfect. In Europe, oregano was used in nosegays because of its sweet scent.
It was also used in furniture polish to make the air more fragrant. I can attest to the fact that honeybees love my oregano. Now if I could just find that hive!
Ways to Use Pesto:
Oregano is one of my favorite herbs. I love the flavor it gives to pizza and tomato sauce. I love it on subs as part of an Italian dressing and I love it on grilled fish.
It tastes savory on fresh tomatoes and gives a definite warmth to eggs and cheese. Butter or olive oil, lemon and oregano brushed on fish or shrimp is heaven in my book.
I love pesto of every sort. With a bit of extra oil, or vinegar, pesto is easily made into salad dressings. Stir this sauce into rice or any grain dish and one creates a new favorite dish. Of course, pesto always works with pasta.
Try some mixed into your favorite vegetable. I can tell you that I plan on trying this oregano sauce over grilled corn.
Pesto is great with goat cheese as a spread on crackers or a baguette. Over tomatoes-no questions asked. Stirred into mayonnaise, it makes a great flavored spread for any sandwich.
Tonight's dinner plan is this spread over grilled fish. I can't wait. A dollop of pesto in soup gives so much flavor. You get the idea. It is a workhorse in the kitchen.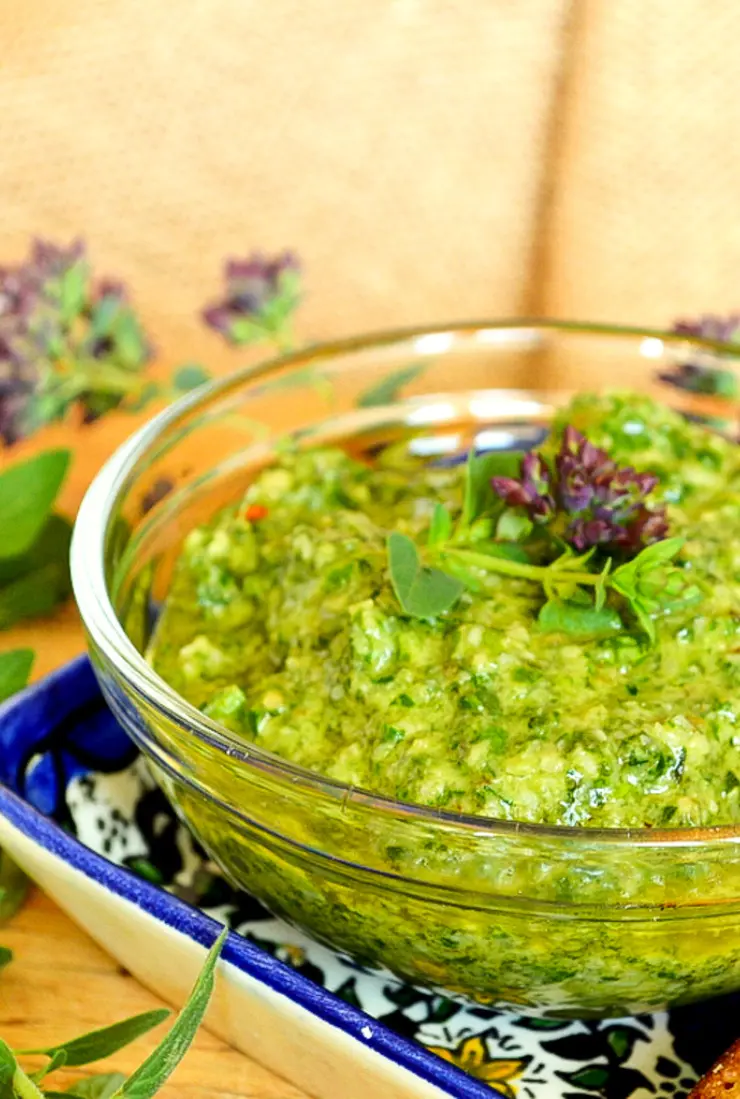 Freeze Your Pesto!
One of the best things about pesto is that it can be frozen. That is great news for your summer's bounty of herbs, because that means you can taste summer, all winter long. How good is that?
Pesto can be frozen in small containers or in ice cube trays. If you want a little flavor all you have to do is pop one out. One cube really can flavor the soup pot!
Leaves of oregano can also be frozen stacked and flat in a freezer container. Take them out and use them as you would fresh oregano.
So enough about oregano. Tonight I'm sprinkling some dried oregano and salt and pepper on my fish. Then as soon as it is grilled through I 'm going to top it with a dollop of pesto and serve it on a bed of pasta with some fresh, juicy, red tomatoes thrown in.
I better get started. Just writing this is making me drool!
Please Pin and Share:
More Ways to Use Oregano:
Lemon Oregano Greek Grilled Chicken
Print
Lemon Oregano Pesto
Author:

Abbe Odenwalder

Prep Time:

10 Minutes

Total Time:

10 Minutes

Yield:

1 cup

1

x

Category:

Sauce

Method:

Food Processor

Cuisine:

American
---
Description
Lemon Oregano Pesto is a great way to use fresh oregano you have growing. Love this on fish or chicken or even Italian subs! Simple to make this pesto beats basil any day!
---
1/4 c olive oil

2 chopped scallions

1 garlic clove, halved

1 T walnuts

1 1/2 t lemon juice

Zest of half a lemon

1/3 c grated Parmesan (optional)

1 lightly packed cup of Italian parsley

1 lightly packed cup of fresh oregano leaves (Take the leaves off the stem by running your hand backwards up the stem)

Salt and Pepper to taste

Pinch of red chili flakes
---
Instructions
I made this pesto in a food processor and processed until well combined and pesto like!
Use a blender if you want and puree until smooth. If you like more oil feel free to drizzle more in. And by all means if you can't find oregano, you could use cilantro, mint or basil instead!
---
Keywords: oregano pesto, pesto, pesto sauce, oregano sauce,