A very simple baked egg custard recipe, that can be made into Chinese egg tarts or just made in custard cups, is easy and delicious-with or without the crust!
This traditional Chinese dessert, beloved by Manservant, is actually an old fashioned recipe for baked egg custard.
Don't know what egg custard is?
Egg custard generally refers to a milk or cream mixture thickened with egg yolk.
Egg tarts are an example of custard and are baked in either a pastry crust that goes back to Hong Kong's British roots or are baked in puff pastry, thought to have come from Portugal and to have arrived in Guangzhou China in the 1500's.
Manservant used to love going to KFC in China just to eat the egg tarts. He was never a fried chicken guy but somehow he discovered their egg tarts and said they were the best.
When we were in China, I never stepped into a KFC so I can't tell you if they were the best.
However wherever I ate them, they were always one of the best foods I ate in China.
Creamy egg tarts are often found in bakeries and often served with high tea in Hong Kong.
Here in Denver I find them at the few dimsum restaurants we have and often order a few to go!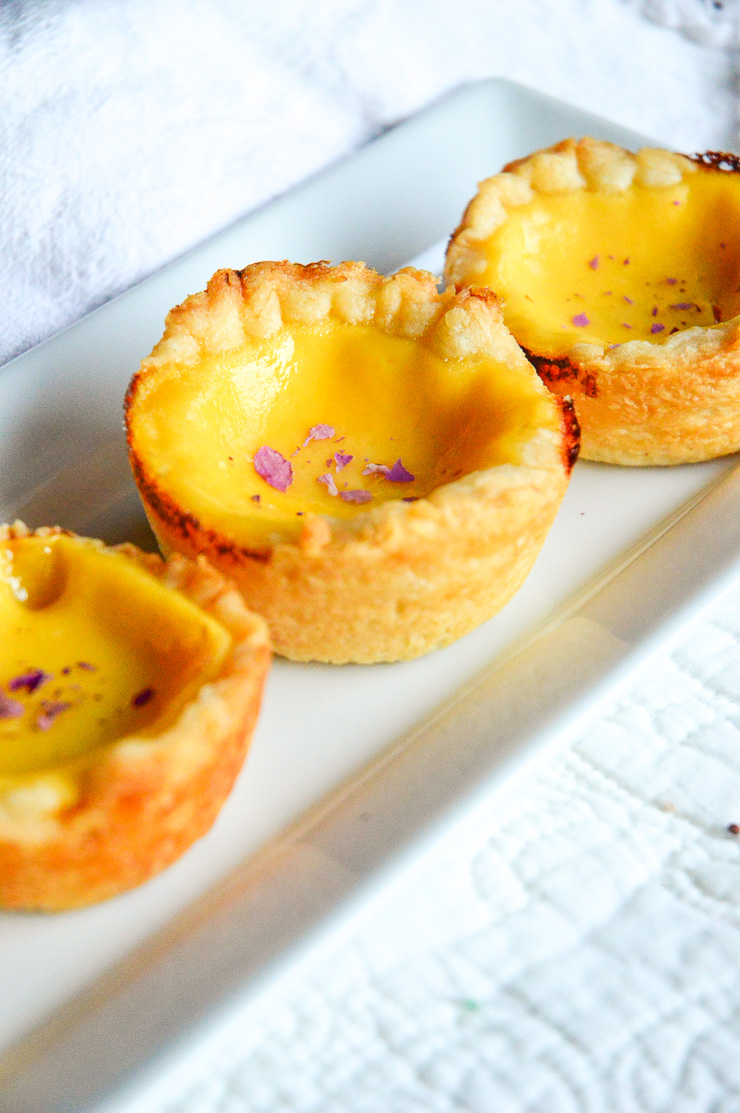 Finally, I decided it was time to make my own and even though this was my first time baking these beauties, the results were exceptional!
After all, egg custard is such a simple recipe.
The first thing you need to do is decide if you want a puff pastry or a pie crust style crust.
I chose to make my own flaky pastry, but one can easily slip little puff pastry squares into muffin tins. No need to bake them first.
You could also make an egg custard pie if you don't want little tarts. You could even use a store bought pie crust, though I have not tried this!
Personally I love the mini tarts. But you can choose to not even have a crust and bake the egg custard in 6-ounce custard cups.
In which case use a hot water bath to bake them in. (And no, I haven't tried this either, but I will!)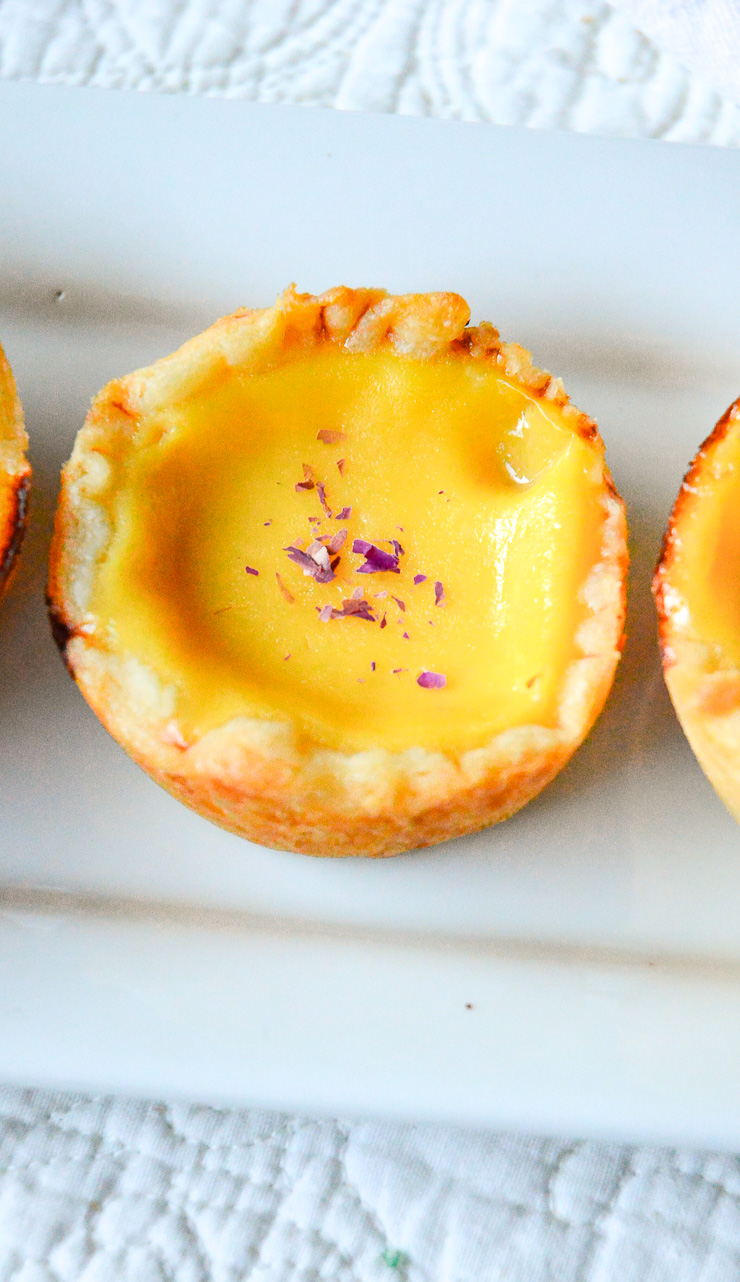 How To Make Chinese Egg Tarts:
This recipe for egg custard uses the whole egg, so no need to worry about what to do with leftover egg whites.
Please make sure the butter and eggs are at room temperature.
Make almost a sugar syrup by combining 1 cup of hot water with 1/2 cup sugar. Be sure the sugar dissolves and then allow this sugar mixture to come to room temperature, otherwise you might end up cooking the egg mixture which wouldn't make for a smooth creamy texture.
In a mixing bowl, whisk the eggs and evaporated milk together. Do not over whisk and create lots of bubbles.Pour in the cooled sugar water and vanilla extract. Yes, you could use the seeds from a vanilla pod, but this simple dessert is one great recipe and certainly isn't creme brulee!
Strain this mixture through a wire mesh strainer while pouring into your preferred crust.
Straining gives the egg custard tart a smooth and glassy top.
Cooking time is about 25 minutes and don't forget to reduce the oven temperature as soon as you put the tarts in.
The tarts are baked until the filling has just a slight wobble or is just set!
Egg tarts are best enjoyed warm, but no one is adverse to eating one at room temp!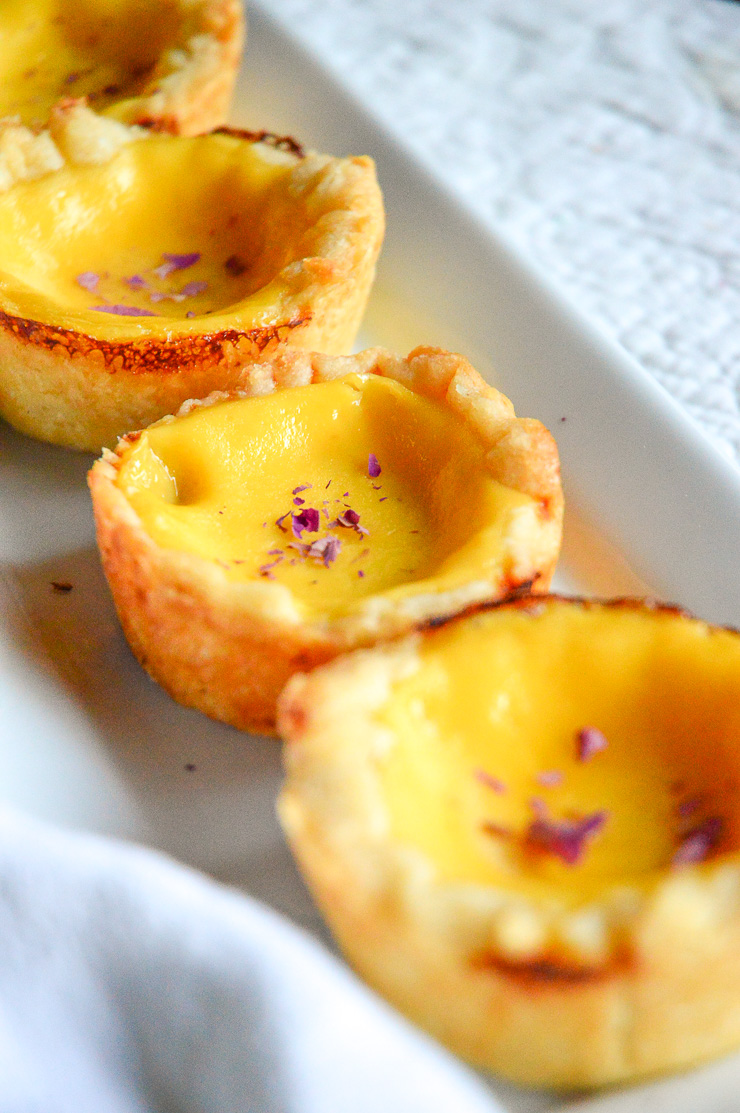 Chinese new year is coming up on February 1st and even though you can almost always find egg tarts at your favorite Chinese grocery stores or dimsum restaurants, they might also be found in the pastry case of any good bakery.
I love old fashioned recipes and this classic custard recipe is composed of hot water, sugar, eggs and evaporated milk with vanilla for flavor. That's just four simple ingredients!
Variations of egg custard:
The fun thing about any custard recipe is the number of variations one can create to make many dessert recipes.
Switch out the vanilla extract and add almond. Add coffee extract or lemon if you'd like. The flavor is up to you.
Sprinkle the tarts with cinnamon, nutmeg or even pumpkin pie spice. I used rose petals that I sprinkled on after baking, just because I loved the contrast in colors!
Many old recipes just use cream or whole milk instead of evaporated milk. They also don't make the sugar syrup and often cook the milk until scalding.
The Chinese custard is a bit different in that regard, but just a few simple recipe changes make things pretty easy.
Truly if not making the pastry, this custard recipe can be whisked up in 10 minutes!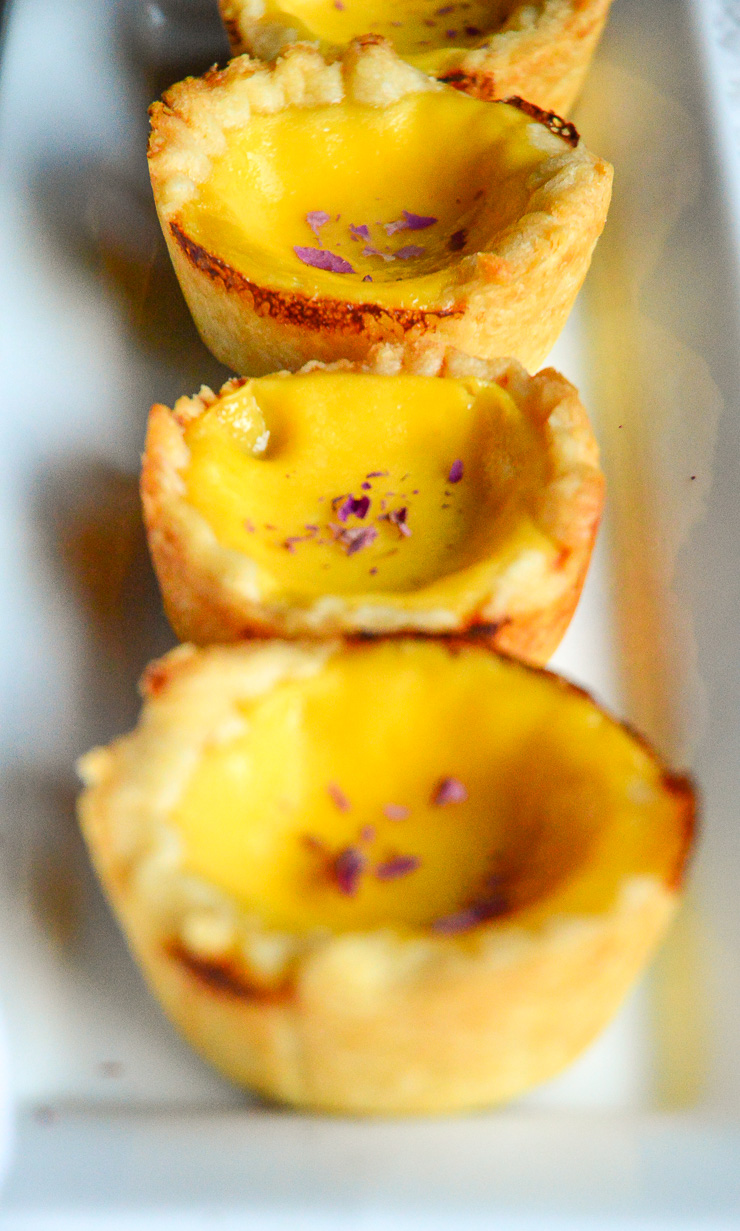 I didn't grow up with egg custard tarts and I'm happy Manservant discovered this delicious treat.
Truthfully it is a popular old recipe that has been around for years!
Creme brulee, creme caramel and egg custard are all just kissing cousins, but this egg custard is a perfect comfort food because it is made with such simple ingredients that are staples in everyone's home.
Baked custard should be in everyone's repertoire.
After a long day this soothing dessert can easily be made in just a matter of moments. And it is so good!
Need a Few More?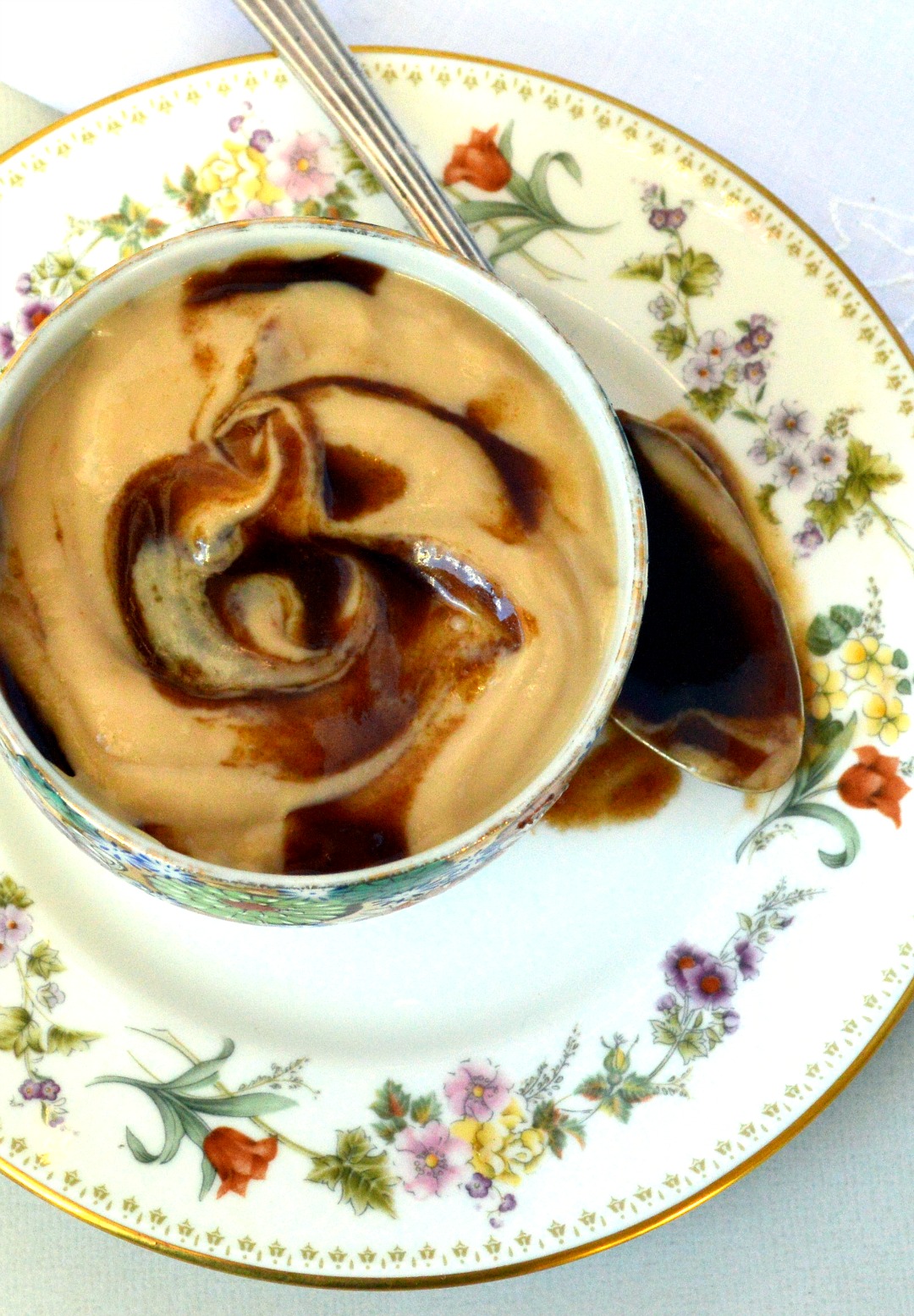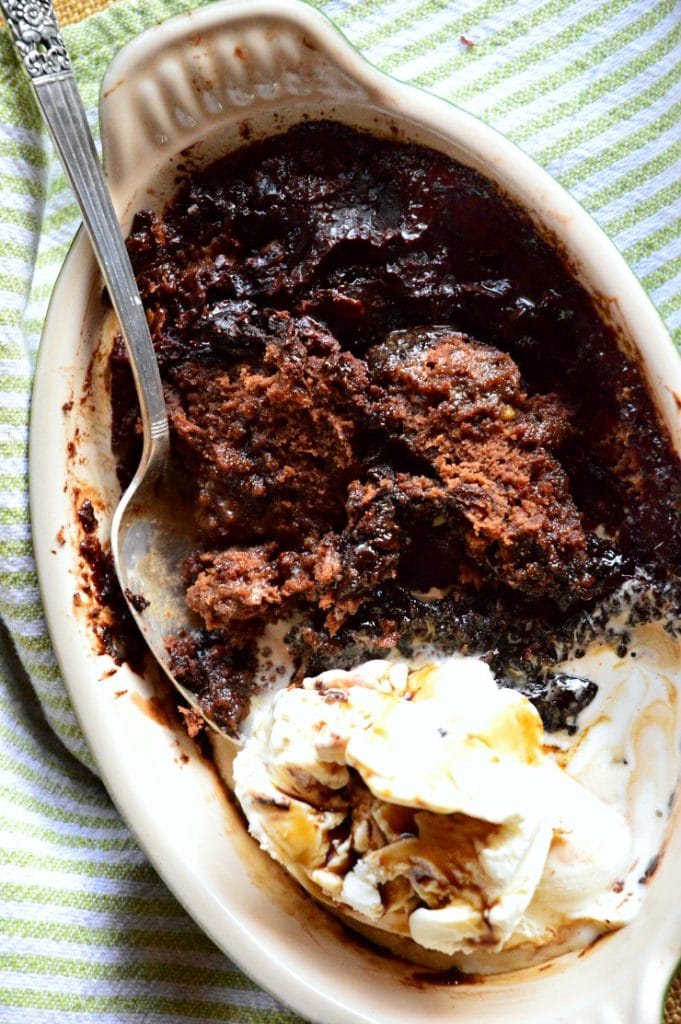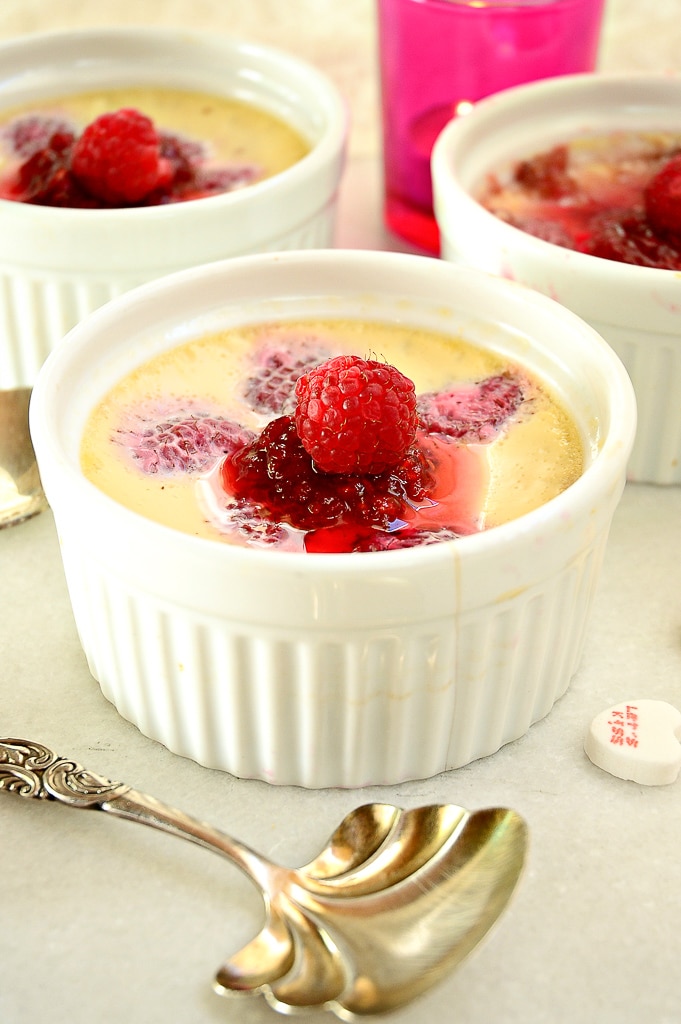 I'd Love it if You'd Follow Me and Pin and Share!
(This post may contain affiliate links that may or may not, pay me a small commission at no cost to you.)
Print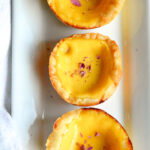 Baked Egg Custard Recipe (Chinese Style)
Author:

Abbe Odenwalder

Prep Time:

25 Minutes*

Cook Time:

25 Minutes

Total Time:

60 Minutes

Yield:

16

small tarts, approx.

1

x

Category:

Dessert

Method:

Bake

Cuisine:

Asian
---
Description
This egg custard, Chinese style, is made into egg tarts. So easy. So good. So comforting.
---
Crust:
2 c all purpose flour, fluffed and then scooped
1/8 t salt
1 T sugar
12 T unsalted butter at room temperature
2 T cold water
Egg Custard:
1 c hot water
1/2 c sugar
3 large eggs at room temperature
1/2 c evaporated milk at room temperature
3/4 t vanilla extract
---
Instructions
In a bowl, combine the flour, salt and 1 T sugar. Add the butter and break it up with your fingers or a pastry blender, being sure to keep little pea-sized chunks of butter in the dough. Add 2 T of cold water and bring the dough together. In Colorado where it is so dry, I use more water so adjust accordingly. Cover the dough and refrigerate for 20 minutes.
Turn the dough out onto a lightly floured board, knead gently and form into a rectangle. Roll the dough away from you-not back and forth- forming a rectangle about 6 x 15 inches. Try to keep the edges even and don't overwork the butter streaks or chunks. Those are good!
Fold the top half of the dough into the center. Then fold the bottom half of the dough up to the center. Give the dough a quarter turn and roll out again to 3x the length. Fold again as above-envelope style, wrap and chill for 30 minutes. This allows the dough to absorb the moisture.
While the dough is resting, make the filling.
Dissolve 1/2 c of sugar into the cup of hot water and then let cool to room temperature.
Whisk eggs and evaporated milk together and then whisk in the cooled sugar water and vanilla. Strain through a very fine mesh strainer, to get all the bubbles out and any floating pieces of egg yolk or white. Straining gives the tart a smooth and glassy look. You should have about 2 1/4 cups.
Preheat oven to 375 and position a rack in the lower third of the oven. Roll the dough thin and cut 4″ circles to fit your aluminum tart pans, or use a muffin pan, or these tart pans. Press the dough into the tins and crimp the edges. Use a ladle to fill each tart shell until the filling just reaches the edges of the outside crust. Once filled, place the tins on a baking sheet or if using a muffin pan, transfer the pan to the oven and immediately reduce the oven temperature to 350 and bake about 26 minutes or until filling is just set. (If a toothpick stands up in them, then they are done.)
Let the tarts cool for a few minutes before serving.
---
Keywords: egg custard recipe, recipe for custard, egg tart, egg custard, egg tart recipe, egg custard tarts