Dark Chocolate Covered Candied Orange Peels are the perfect healthy treat. Though they are soaked in sugar syrup and coated in dark chocolate I think you will agree that these are an indulgent way to satisfy a craving.
Chocolate covered candied orange peels are always a favorite of Manservant's.
Every year around Passover I buy him these treats, but they seem to be getting harder and harder to find.
He loves anything chocolate and orange flavored and that includes chocolate orange candy bars and those chocolate and orange balls they sell at Christmas.
When I discovered how easy these chocolate orange confections are to make I decided to give it a go. What a way to win his heart!
Well, this month begins the citrus deluge in our local groceries. What a perfect thing to start a new year with!
I, of course, was wanting to make a little something sweet with them, so seeing how I decided they probably wouldn't be too hard to make.
Well, I've solved the problem. These are so easy to make as long as you can peel an orange.
Please don't tell me you can't peel an orange.
All right. I admit, my mom used to peel them for me. They always seemed to taste better that way.
I am not a big user of citrus and have never ever liked orange marmalade or lemon meringue pie.
Lemon in sweet food never really did it for me, nor did orange, and after being on the grapefruit diet in high school; well, I never really liked grapefruit much after that.
However I will imbibe a Salty Dog now and then, but only if the conditions are right.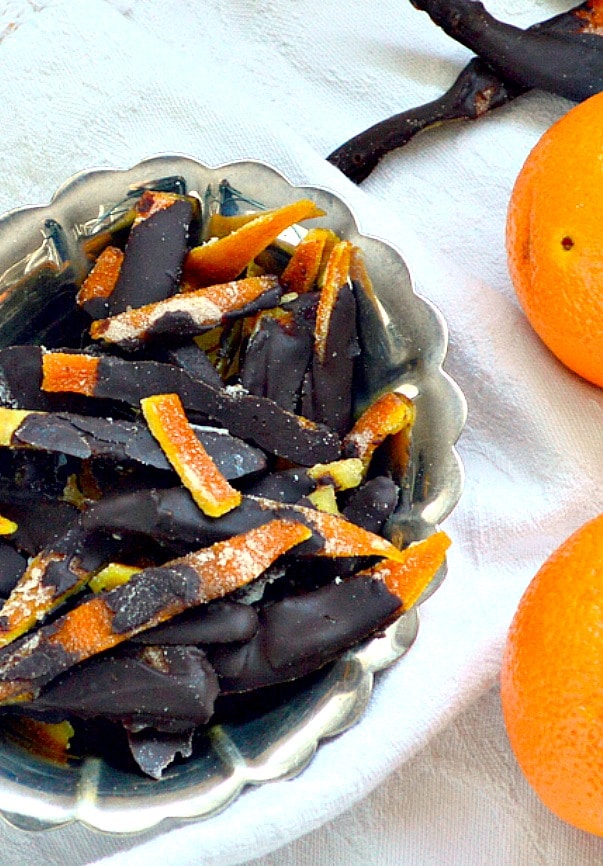 One thing I do love though, is freshly squeezed orange juice.
Winter often found us in Phoenix visiting my parents and way back when, one was able to find orange groves with juice stands just standing by the side of the road.
My dad would pick up gallons of juice for us to drink and that was always so special. It's been awhile since I've seen an orange grove in Phoenix.
I guess the orange groves have now become shopping malls and I do miss them. Blossoming orange trees are just the best perfume.
It is freezing in no uncertain terms outside, so I figured it best to dream of places where citrus grows on trees.
No, Whole Foods didn't tell me to say that, but they do want us to think abut citrus and it sure seems like a good thought right now.
Seriously though, the stores are ripe with oranges and grapefruits and Buddha's hands.
They look like mysterious ghostly hands made of giant lemon peels. Pick one up and inhale its aroma. I adore the smell of Buddha's hands!
The year's end is suddenly upon us and it has hit me with a vengeance; a good kind of vengeance though. The kind that says it is good to be begin again.
Though we haven't had Alex's company, we have had the pleasure of Zoe's, and I certainly hope she wants to do it again.
We've crammed in massages and movies and museums. She's skied and I've cooked and the refrigerator is more full than I remember it in the last year.
We've celebrated Hanukkah, eaten banh mi's, chili mac and steak, and last night we had a full fledged Thanksgiving, even though the table wasn't decorated with pumpkins and gourds.
We still have New Year's to go, but she will be with friends so it looks like I'll be cooking for just my friends.
I do expect though that she and the boyfriend will probably be coming back in time for dessert and whatever else might be around to stuff into their mouth's!
It's been a grand visit and it isn't even close to being over. Today she is with her dad helping him choose new eyeglass frames and I thank her for that!
But back to these dark chocolate covered candied orange peels.
Manservant apparently caught Zoe diving into his stash. He deftly hid them up high in the pantry where she can't reach.
Never knew chocolate covered orange peels had such an effect.
So whether you make these for gifts or yourself, maybe you should hide them, unless of course you like to share!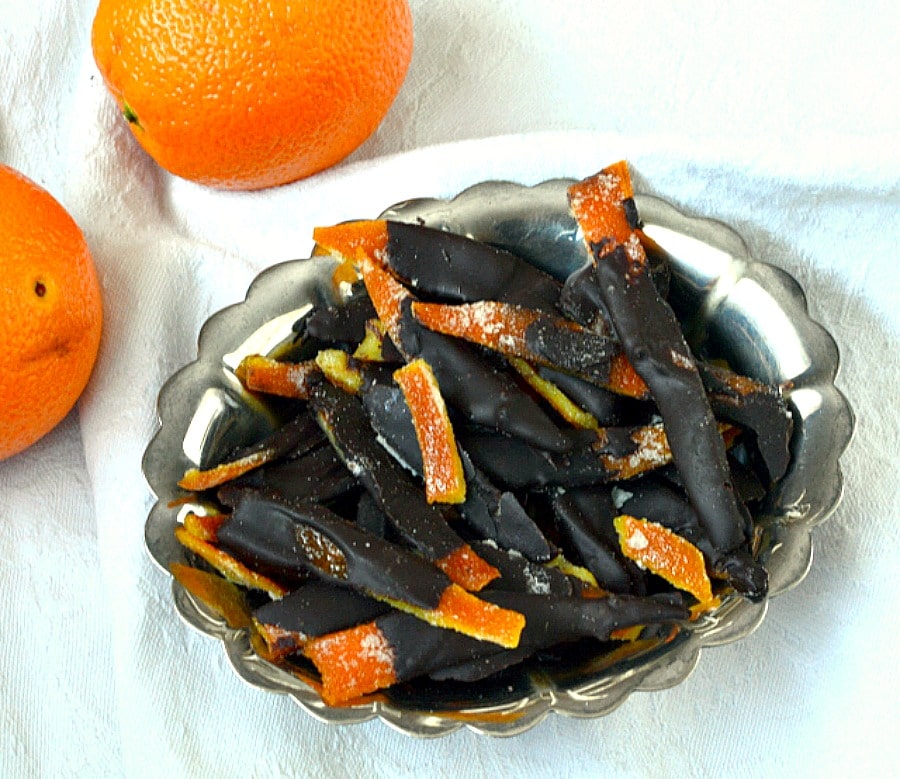 Please Pin and Share!
Print
Dark Chocolate Covered Candied Orange Peels
Author:

Prep Time:

30 Minutes

Total Time:

30 minutes

Yield:

About

1 cup

1

x

Category:

Candy

Method:

Stove Top

Cuisine:

American
---
Description
Dark Chocolate Covered Orange Peels are the perfect healthy treat. Though they are soaked in sugar syrup and coated in dark chocolate I think you will agree that these are an indulgent way to satisfy a craving.
---
Peel from several large oranges, pith cut away and sliced into thin strips
1/2 c water
2 T sugar
A few tablespoons of super fine sugar (optional)
1 c dark chocolate
---
Instructions
Blanch peel in saucepan of boiling water for one minute. Drain and run under cool running water. Repeat the process.
Line a baking sheet with parchment or waxed paper.
Boil water and sugar in a small heavy saucepan over medium low heat, until sugar dissolves. Add peel and simmer until almost no liquid remains.
Transfer peel to prepared sheet, separating into strips. Cool completely. When almost cooled, I sprinkled peels with superfine sugar on one side.
When peels have cooled, melt your chocolate in a small bowl. I do this in a microwave on a low power for about one minute each time, whisking in between until chocolate is smooth. Now dip each individual peel into chocolate and carefully lay then back on the paper. Let harden in fridge and then enjoy!
---
Keywords: chocolate covered orange peels, chocolate covered orange peels recipe, candied orange peel