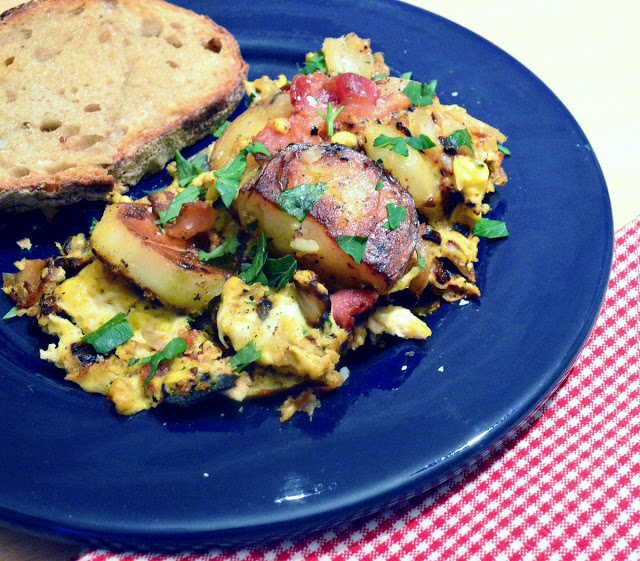 It seems the holiday is upon us and I have been scrambling. I'm sure we've all been scrambling. I've been scrambling eggs, though! Actually these photos were taken several years ago-can't you tell- but lacking time I decided to do the best I could. Truth is, this is a fabulous recipe! It is perfect for Christmas morning, if you haven't planned ahead.
I think sometimes we are all so busy planning Christmas Eve and Christmas dinner that breakfast goes by the way side. And we all know that the way to a perfect day is eating breakfast. Now had I taken these photos at breakfast, they would be a whole lot better, but we eat this for brinner and often it is dark outside, before we dive in. My tripod broke and I have no lights, but please do not neglect this recipe. You won't be sorry.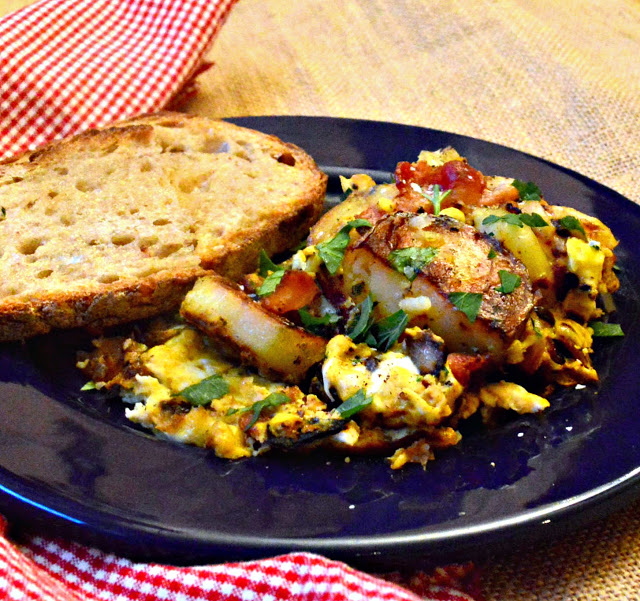 If you are anything like me, I consider potatoes, bacon, onions, and eggs as staples in my home. So that means if you wake up tomorrow and haven't planned ahead-well this is the perfect recipe! To get everything golden and crisp, follow the directions. Really. This hearty dish comes out great. Make sure you cut everything to the proper size so that the mixture cooks perfectly. The recipe is of German heritage and is called Amana Hoppelpoppel. Kids love to say that! Driving through Iowa and stopping at the Amana Colonies, might find a dish like this turning up on restaurant menus.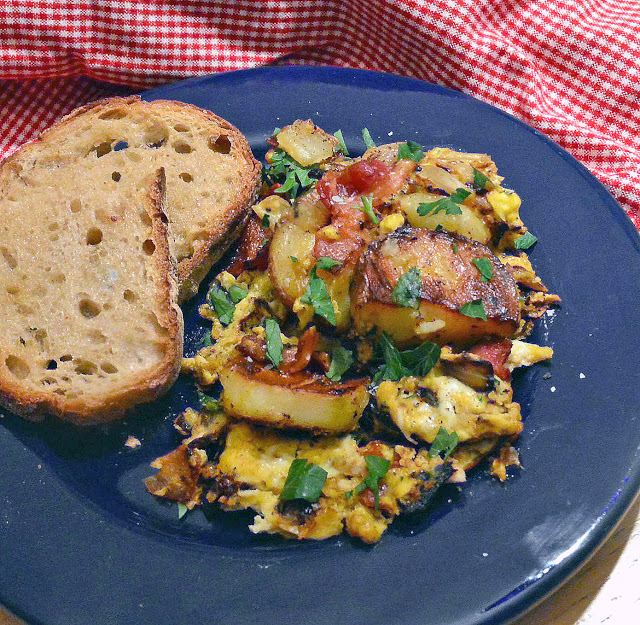 Serve this with some toast and jam. That's it! You have got Christmas morning covered! Hope Santa brings everything you want and have a Merry Day!
Egg Scramble with Potatoes, Bacon and Onion or Amana HoppelPoppel
Serves 4-5
Time to Make: About 30 minutes
Ingredients:
4 large eggs
2 T milk
1-2 T minced fresh parsley
Salt and Fresh Pepper
4-6 thick slices bacon, cut into 1″ pieces or German sausage (Who are we kidding here? Use 6!)
1 large onion, cut into large dice
3/4 lb small waxy red potatoes boiled until tender, then cut into 1/4″ slices
Directions:
Start your potatoes boiling. When they are started, start frying the bacon in a large skillet over medium heat. While bacon is frying, combine eggs with the milk, parsley, salt and pepper. Whisk to combine. You should still see large bubbles. Set aside. When bacon is crisp, remove it with a slotted spoon and reserve. Add the onion to the bacon fat and saute until soft, but not brown, about 5 minutes. As soon as potatoes are done and sliced, add to skillet. Cook until they are golden with some brown edges. Stir in the bacon. Now pour in the egg mixture. With a spatula, turn the mixture over a couple of times to combine, scraping up from the bottom, then pat the mixture down into a thick layer. Cover. Reduce heat to low and cook for 5-7 minutes or until the eggs are lightly set, but still moist. Don't overcook. Serve immediately. I like mine smothered with ketchup!
From: A Real American Breakfast-Cheryl and Bill Jamison
More to Try:
Colorado's Best Hash (Perfect for turkey leftovers)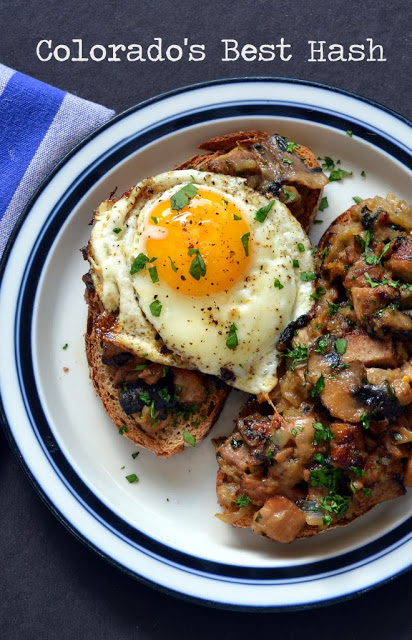 Red Chile and a Breakfast Sandwich