When it comes to comfort food that isn't sweet, there is nothing I love more than Lipton meatloaf with onion soup.
I'm not sure if it's the whole shebang – you know – with my meatloaf I love corn and mashed potatoes.
And perhaps a biscuit.
Forget the green beans. It's corn for me.
Kind of reminds me of the old-fashioned Swanson's tv dinners that came with corn and applesauce and a cute little brownie.
Don't ask me how I remember this stuff. I have no idea.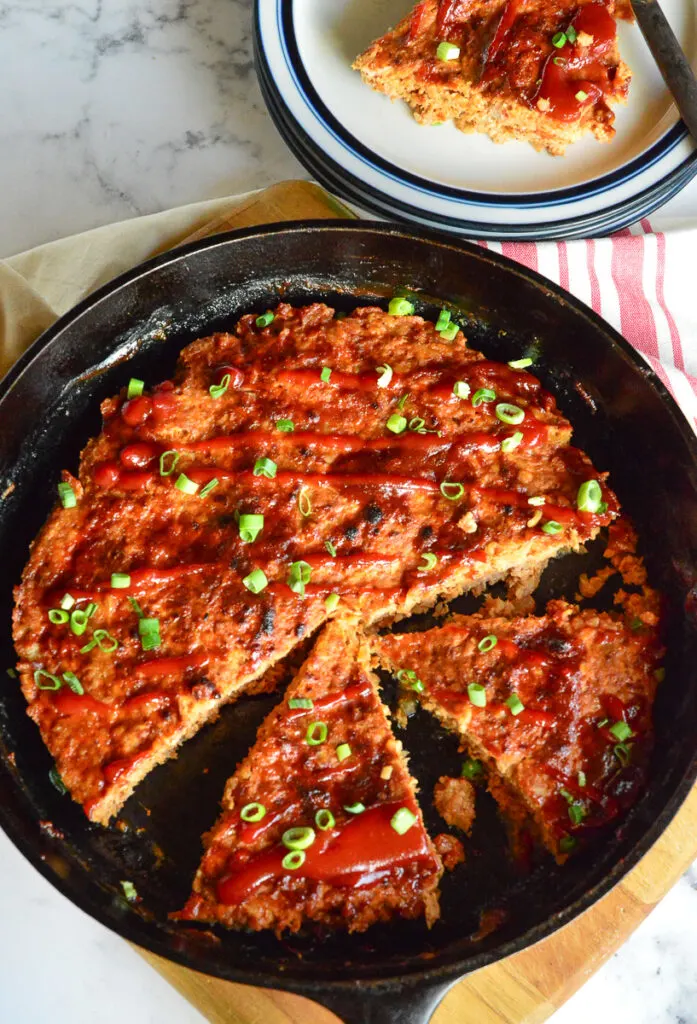 Skillet Meat loaf vs. Loaf Pan Meat Loaf vs. Loaf Shaped?
But back to meatloaf. Ordinarily I make my meatloaf with oatmeal and onion soup in a 13 x 9 pan and pat it into a loaf shape.
This time I made it in a cast iron skillet and I must admit it was a nice change eating wedges vs. slices.
Others just put the meatloaf mixture in a loaf pan.
But the choice is up to you.
This easy meatloaf recipe can be made however you choose.
As for the meat mixture- many of you know I don't eat beef anymore. Actually it's been 16 years and if you want to know why you can read here.
I really don't miss it anymore because I've found that combining ground pork and ground chicken works pretty well.
I'm not a huge fan of ground turkey, but if that is your ground meat of preference by all means use it.
After being gone for three weeks eating perfectly horrible fast food of every known variety, I was ready for some comfort.
And with the nights getting chilly and daylight getting shorter, meatloaf is what sounded good.
One of my favorite things about meatloaf is having leftovers for the next day.
It may sound weird but I love making leftover meatloaf sandwiches by spreading Heinz ketchup on white bread and then grinding on lots of black pepper.
I then add thin slices of onion and then the slices of meatloaf and of course potato chips on the side and that folks is a mighty fine lunch.
How do you enjoy your meatloaf leftovers?
How To Make This Lipton Meatloaf Recipe with Oatmeal and Onion Soup:
Whatever you do, this meatloaf is made with two pounds of meat, so use your fave.
In a large mixing bowl, combine the ground meats of choice with regular oatmeal or quick oats and ketchup, barbecue sauce if you like and some yellow mustard.
Don't want bbq sauce? Just add more ketchup.
The secret to a moist meatloaf is lots of wet ingredients!
It's the eggs and the oatmeal that help the meatloaf to hold together.
To this meatloaf mixture add in 1 large egg or possibly two large eggs if you are using very lean meat, some diced onion and minced garlic or garlic powder, and an envelope of dry onion soup mix, because to me it ain't meatloaf without an envelope of Lipton onion soup mix!
Some might consider that the secret ingredient, but to me it is just a traditional recipe for meatloaf.
This is really just a classic recipe for a great meatloaf.
Feel free to add in some extra seasonings of salt, pepper, perhaps some onion powder, a little Worcestershire sauce, if you like.
I always test my meatloaf to see if it's seasoned correctly by taking a tablespoon or so and cooking it in the microwave for thirty to sixty seconds to see if it tastes the way I prefer.
If it doesn't, I can still doctor it up to create the flavorful meatloaf I want before baking the whole dang thing.
Honestly, I keep my meat loaf pretty simple.
No tomato sauce, no bell pepper-who does that?
I like to top my Lipton meatloaf with a ketchup glaze of brown sugar, ketchup and yellow mustard. So, so good.
And if you don't want to mix that up, just pour some ketchup on top about 45 minutes into the cook time, and let it bake in or broil for 5 to 10 minutes until the top is caramelized.
You will know when the meatloaf is done when a meat thermometer registers 160 to 165 degrees.
Should you drain the meatloaf?
Yes, you should! Draining the meatloaf insures that the sides will bake well and that the bottom won't be soggy.
You might find that lots of juice collected in your skillet or other pan after this recipe has baked.
About 3/4 of the way through the cooking process I pour out the liquid that has collected.
Well, really I pour it over the dog's food. Yep, he loves meatloaf, too!
After removing the Lipton meatloaf from the oven make sure you let it rest so that when you slice it, it holds together.
Meatloaf can be kept in the refrigerator wrapped in plastic wrap or aluminum foil or in an airtight container.
Yep. In our house Lipton meatloaf is always a family favorite and this traditional meatloaf recipe made in a skillet or loaf pan, is just a simple recipe for Lipton meatloaf that makes everyone happy.
Whether serving wedges or individual slices of this old fashioned meatloaf recipe, take the time to savor this tasty meatloaf.
It's an easy dinner recipe and eating dinner with family or friends is often what makes the comfort in comfort food so worth it.
Need Some More?
Print
Lipton Onion Soup Meatloaf
Author:

Abbe Odenwalder

Prep Time:

15 Minutes

Cook Time:

45 Minutes

Total Time:

60 Minutes

Yield:

4

-

6

Servings

1

x

Category:

Main Course

Cuisine:

American
---
Description
If you love meatloaf, than you should know that the best place for an envelope of Lipton onion soup is in meatloaf! Manservant could eat this comfort food every day!
---
2 lbs ground meat (I used 1 lb of ground chicken and 1 lb of ground pork)
1/2 c quick or old-fashioned oats
1 dry envelope of Lipton's onion soup mix
1/4 c ketchup, plus more for topping
1/2 c bbq sauce or more ketchup
1 T yellow mustard
1 to 2 eggs depending on how lean your meat is
1 c minced onion
1 clove minced garlic
1 T Worcestershire sauce
1 t salt
Topping: (optional or just use ketchup-but this sure is good!)
3 T ketchup
1 T mustard
2 T brown sugar
---
Instructions
Preheat oven to 375.
In a large bowl combine all ingredients and mix with clean hands-being careful to not overmix.
Add to your favorite choice of meatloaf pan but for this recipe I used a greased 10″ cast iron skillet.
Pat the loaf into shape and top with your choice of topping.
Bake for 45 minutes or intil the center temperature registers 160-165 degrees.
Drain the grease and broil for 5-10 minutes or until the top has caramelized.
---
Keywords: meatloaf recipe with oatmeal and onion soup, meatloaf recipe with oatmeal, lipton onion soup meatloaf, Lipton meatloaf