Green Chili Meatloaf is perfect this time of year. Made with a filling of green chili and cheese, this meatloaf can also be topped with green chili. You won't be worry, either way!
So how do we get to chili lover's meatloaf? Ya got me.
Sometimes I get tired of cooking the same thing and my brain goes a bit haywire.
Like when I clean house, manservant tells me it goes totally out of control.
I can imagine everything under the sun and I have a pretty deep, sometimes dark, imagination. But one day I thought of this.
And I thought I don't need to make a pot of chili, I'm going to make a chili meat loaf.
Life changing, right? Well, not really. But I googled and I really couldn't find too many recipes that looked good, so I made up my own.
Now I need to find something else to imagine because this came out really good.
Manservant loves chili. He's from Tayxas, so that explains it, right? I'm from Illinois, and though we like chili, I never really needed chili.
Well, Manservant needs chili. It's in his genes (jeans?).
Especially after yard work, and during football games. And for lunch, and for breakfast over eggs, and well, I could go on and on.
This meat loaf came out so good that I crumbled it up and put it on nachos.
I put it in scrambled eggs. I put it between two slices of bread. I wrapped some in a tortilla with some beans and called it a burrito.
Now, I know you could do all of that with a bowl of chili, but sometimes we all need a change. I know I'm ready and I'm not just talking meatloaf.
Their chili ain't for people from Tayxas. I mean it has mushrooms in it. It looks like a really bean filled, easy chili to please a lot of people, but when I make my chili I like to up the ante, so to speak.
In other words, feel free to dial the spices whatever direction you want.
This is another fun meatloaf.
Compare it if you want to my Cap'n Crunch meat loaf. I like that a lot, too.
One of my favorite things about making meatloaf is having leftovers.
Now that the kids have moved on (sob, sob) we get a lot more leftovers. They were never a dirty word in our house.
Don't forget all the things you can do with those leftovers.
And when you are finished eating this spicy, delectable green chili meatloaf, make sure to save some for breakfast!
Other Game Day Winners:
This is an updated post from 2013.
Print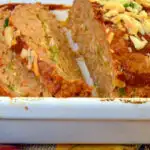 Green Chili Meatloaf
Author:

Abbe Odenwalder

Prep Time:

20 Minutes

Cook Time:

60 Minutes

Total Time:

1 hour 20 minutes

Yield:

4

-

6

Servings

1

x

Category:

Main Course

Cuisine:

American
---
Description
Meatloaf filled with green chiles and cheese? Can't beat that!
---
1 1/2 lbs ground turkey (or meat of your choice)
2 minced garlic cloves
1 seeded, finely chopped jalapeno
1 chopped chipotle
2 T ancho chile powder
2 t smoked paprika
1 t dried oregano
1/2 t cumin
1/2 t salt
1/2 c chopped onions
2 T ketchup
1 egg
1 c crushed tortilla chips
Topping
1 c shredded cheese (I used a combo of cheddar and jalapeno)
1/3 c ketchup
1 can green chilies, drained or Hatch chilies
Sauce
1/3 c ketchup
1/2 t garlic powder
1 t chipotle tabasco or another chopped chipotle
---
Instructions
Preheat oven to 350.
Combine turkey and other ingredients through tortilla chips. Mix well. I use my hands. They work really well! Then take half the mixture and shape it in a long flat loaf in a rectangular pan. (I like to bake my meat loaf in a baking dish, not a loaf pan.)
Spread 1/2 of the 1/3 c of ketchup on the loaf. Top that with 1 c of shredded cheese. Top that with the can of drained green chilies. Now spread the rest of your ketchup over that. Or something like that! This green chile cheese ribbon is not too spicy, but makes your loaf tasty and pretty. (We all need pretty, right?)
Ready? Now you can take the other half of the meat mixture and spread it on top of your filling. Make sure your filling is sealed in well so it doesn't leak out the sides.
OK, mix up the ketchup with the garlic powder and chipotle tabasco. Spread that on all sides of your loaf.
Bake for about 1 hour. Sometimes with turkey there is a lot of liquid that makes its way into the pan. Feel free to drain this or pour it onto your dog's food. They will love it!
Serve this with beans or potatoes. Manservant voted beans.
---
Keywords: green chili meatloaf