Pork and ground chicken meatloaf is tender and savory with great onion flavor and lots of ketchup! (I think you'll love the change from beef.)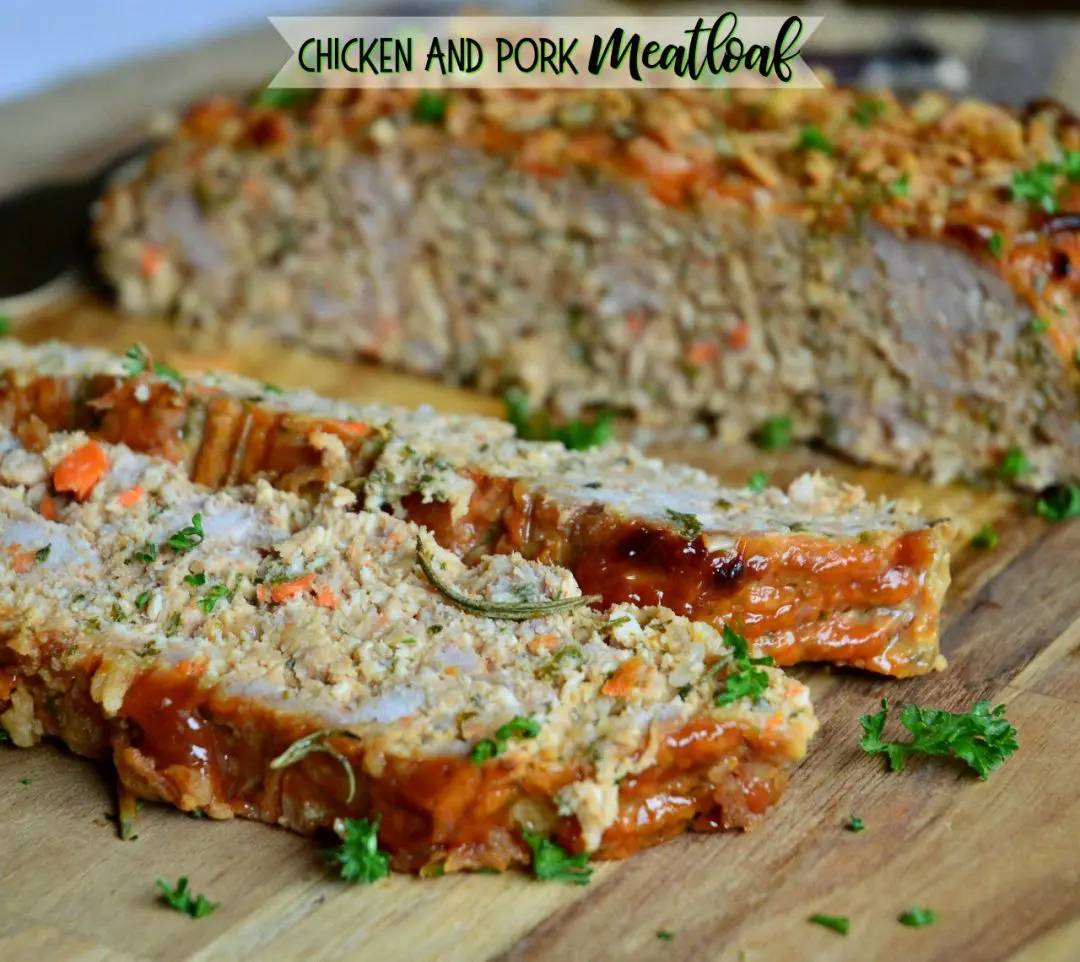 I think this is the best pork and chicken meatloaf recipe ever!
Many of you may think that meatloaf should always be made with beef, but this ground chicken and pork recipe has won lots of converts!
Since I stopped eating beef years ago, I've never lost my need for burgers or foods made with ground beef.
But with all the options out there, I've come up with new favorites and this meatloaf recipe is one of them.
For some reason I've never been a fan of ground turkey, so I use a lot of ground chicken. I think I like the texture better as it is not so wet. Try it and see!
As a child my mother often made meatloaf, always with ground beef, and usually we never quite knew what to expect. She usually took a variety of leftovers and combined them with onion soup mix and what you got is…well, what you got!
She did that with brisket also, but when it comes to such classic dishes, I like to revert to recipes, so I always know what I'll get!
So let's explore, shall we?
How to Make Ground Chicken Meatloaf with Ground Pork?
Let's start at the very beginning! Meatloaf or Meat Loaf? Believe it or not, I come up with both search terms so for the purpose of research we are going with meatloaf!
How do you keep meatloaf moist?
This seems to be a common issue and so easily remedied as long as you don't keep reheating the loaf!
Eggs are used to give moisture and also to bind the ingredients together.
Using ground meat with a high fat ratio also helps, as does a sauce or bacon strips laid on the top, but honestly, even with other versions of meatloaf I have to admit, I've never had this problem.
Figure 1 egg to a pound of meat unless you are using really lean meat.
Bread crumbs or often oats, are used as a filler to make the meatloaf stretch! and to serve more people actually! I've even used cooked rice.
Use fresh bread crumbs so your meat loaf doesn't dry out…Another common error!
Though I'm sure many of you have a recipe that works just fine with dry bread crumbs!
However, I'm guessing you soaked those bread crumbs in milk, which helps to keep things moist!
Using a sauce or glaze on top of the loaf is also good for holding in moisture, but it's also great for flavor.
And please, please, please! do not pack the meat too hard. Meat should be handled gently, otherwise it can end up tough and who wants a tough ground chicken meatloaf?
If your meatloaf does happen to produce too much juice, well I just pour it off. I prefer my pork and ground chicken meatloaf to be tender, but not wet.
If you do like crust around your meatloaf you might try baking it in muffin cups. Individual portions this way and if the meat juice doesn't collect you will have nice browned edges.
The rest is up to you. Veggies and seasonings can be catered to your tastes. Should you use cooked veggies or raw?
Frankly, cooking them is one more step, so I am not known to saute the veg! But using butter definitely would give more flavor, so this is your choice.
The one thing I almost always do is add Lipton's onion soup mix. Why? Well, that was the one constant in Mom's meatloaf and I like the taste. It seems to give the meat a little extra umami.
It's also hard to go without ketchup in a meatloaf, so I always rely on Heinz.
The seasoning of choice in this pork and ground chicken meatloaf? Rosemary. Superb, I must say! Lots of onion flavor and a glaze of brown sugar and mustard. Totally yummy!
Hopefully you will have leftovers because I crave a good meat loaf sandwich.
And when I make my meatloaf sandwiches with leftovers, well, it is as simple as taking soft white bread, (I like Oroweat country white) untoasted, and slathering the bread with ketchup and lots of black pepper and a few slices of onion, and then I add slices of meatloaf and yes…this is what I eat when you aren't watching! (What a long sentence!)
(This is an updated post from October 2018!)
In previous programming I mentioned that Zoe was home and shortly after Alex arrived, though they didn't overlap. Zoe took the good weather with her and Alex, fresh from touring Baja on a motorcycle, came home to quite cold weather.
Needing comfort food we kind of went through our list and started with chili, and roast chicken and then finished off with these great chicken enchiladas with red chile sauce. The sauce is killer!
I served these with my stuffed poblano peppers, which he always requests.
During the time he was here we also made this pork and ground chicken meatloaf, that is comfort food at its finest.
Yes, we had mashed potatoes to accompany them, and I even mixed in some leftover beer cheese from the fridge. Winner!
My mom wasn't big on mashed potatoes and I would never think of meatloaf without them. She never made gravy either, and now my family won't eat mashed potatoes without gravy.
Meatloaf always reminds me of home, so while Alex is off to the East Coast and another wedding (his second of the trip) we are happily eating leftovers.
Of course the weather has changed and now we are back to warm and sunny days, but that doesn't stop me from making a ground chicken meatloaf sandwich. Pure comfort to me.
(And now it's off to making wedding gifts of which my kids have needed a lot of. Feel free to peruse my shop by either clicking the link above or visiting Orchard and Franklin.
Let me know what you think…of my meatloaf and my shop!
And A Few More Meatloafs!
I'd love it if you follow me on Pinterest
and share the meatloaf!
Print
Chicken and Pork Meatloaf (A Family Favorite)
Author:

Abbe Odenwalder

Prep Time:

25 Minutes

Cook Time:

55 Minutes

Total Time:

80 Minutes

Yield:

8

Servings

1

x

Category:

Main Course

Method:

Baking

Cuisine:

American
---
Description
Chicken and Pork Meatloaf is savory and delicious. It's a family favorite!
---
3 slices white bread with crusts removed
1 large carrot, peeled and cut into thick rounds
1/2 medium onion, peeled and rough chopped
2 cloves garlic, smashed and peeled
1/2 c parsley
1/2 c plus 3 T ketchup
1 lb ground pork
1 lb ground chicken
2 large eggs beaten
1/2 t salt
1 t ground pepper
1 t Tabasco
1 envelope Lipton's Onion Soup Mix
1/2 t rosemary, plus more for top
2 T brown sugar
1 T mustard
French fried onions for garnish
---
Instructions
Preheat oven to 400. Place bread in food processor and pulse until fine crumbs form. Transfer to a large bowl. (Dried bread crumbs don't make for a tender meatloaf.)
Place carrot, onion, garlic and parsley in the bowl of the processor and pulse until veggies are minced and about the same size. Add to bowl with breadcrumbs.
Add 1/2 c ketchup, meats, eggs, salt, pepper, Tabasco, onion soup mix and rosemary. With your hands knead mixture together until thoroughly combined. Don't over knead or your meatloaf will be tough.
Set a wire rack in an 11 x 17″ baking pan and cover it with parchment. Form meat into a loaf that will fit on the parchment. Mine was long and wide. You could place this directly in the pan, but this way the juice drains off.
Combine remaining ketchup, mustard and brown sugar and brush all of it over the loaf.
Bake 30 minutes and then sprinkle with more rosemary. Continue baking about another 25 minutes until an instant read thermometer inserted into the center of the loaf registers 160.
Let sit a few minutes covered before slicing to get better slices. Garnish with French fried onions.
---
Notes
Please see all the tips above!
Keywords: ground chicken meatloaf, chicken meatloaf recipe, chicken meatloaf, how to make meat loaf, best meat loaf, best meat loaf recipe, best meatloaf ever