Coq au Vin, or chicken with wine is a traditional French dish, popularized by Julia Child. It may take a while to make but the results are delicious!
Coq au Vin, a classic French dish, is made slowly with layer upon layer of flavor building to achieve magic results.
This dish, commonly known as chicken with wine, is most commonly made with red wine, though one can also use white.
Throw in some bacon lardons or pork belly, mushrooms and pearl onions and this is a chicken dish that becomes beloved.
Julia Child had a version in her very first book, "Mastering the Art of French Cooking", published in 1961.
Yes, she definitely made this rustic dish popular. But it also helped make her popular, too!
I love making this coq au vin recipe on a cold day. It makes the house smell so good.
Another great thing about this classic dish is that it gets better with age. No, not like forever, but its flavors really come together after a night in the fridge.
Then it's a matter of slowly reheating in the oven which makes this chicken dish a great make ahead meal.
Is Coq Au Vin hard to prepare?
I don't want to lie. This dish takes a bit of time to prepare. First one must cook the bacon. And if you'd like pork belly or pancetta will also work.
Then it's a matter of browning the chicken.
After removing the chicken, one has to saute the mushrooms and then cook the pearl onions.
And after removing those from the Dutch oven, one deglazes the pot with brandy or cognac.
From there it is time to get fancy and create a buerre manie-a butter flour combo that is used to thicken the sauce. Really, this is just like making gravy!
Stir in the red wine and broth if using that and the seasonings. Add the chicken, let it simmer and make the kitchen smell good.
After that comes together you can add back the mushrooms and onions and let this stew cook a bit.
Hands on time is considerable, but nothing that makes this not doable!
Way back in 2016, I ate this at a restaurant that is no longer there-I am sorry to say.
Chef Mark's Coq au Vin had an Alsatian influence with its melting purple cabbage resting on top of the glorious chicken simmered in red wine, and that chicken, resting on bacon mashers.
I really loved this version, but when I spoke with a girlfriend of mine, she waxed eloquently of her mother's Coq Au Vin.
I know how it is when you have those fond food memories, so when she casually mentioned that she had her mom's recipe, I said send it on over.
It came via text within a few minutes. God, I wish I was that organized!
So I decided to make my friend's mom recipe for Coq au Vin! Though this recipe didn't feature that delicious melting purple cabbage, it was quite similar to Julia's.
Taking a few simple liberties, I then invited my friends for dinner. Laura may not remember it quite like this, but it was fun to cook with her mom's recipe.
We also drank good wine, ate good cheese and had a great red wine chocolate cake with a red wine strawberry filling for dessert!
I served the coq au vin over mashed potatoes, but wide egg noodles would also be delish. Polenta would work and grilled toast would also be a nice base for this rich and comforting dish.
Whatever you choose, I hope you take the time to prepare this traditional French dish.
It's funny when we think about the foods that inspire us. It is funny about what we remember of foods from our childhood.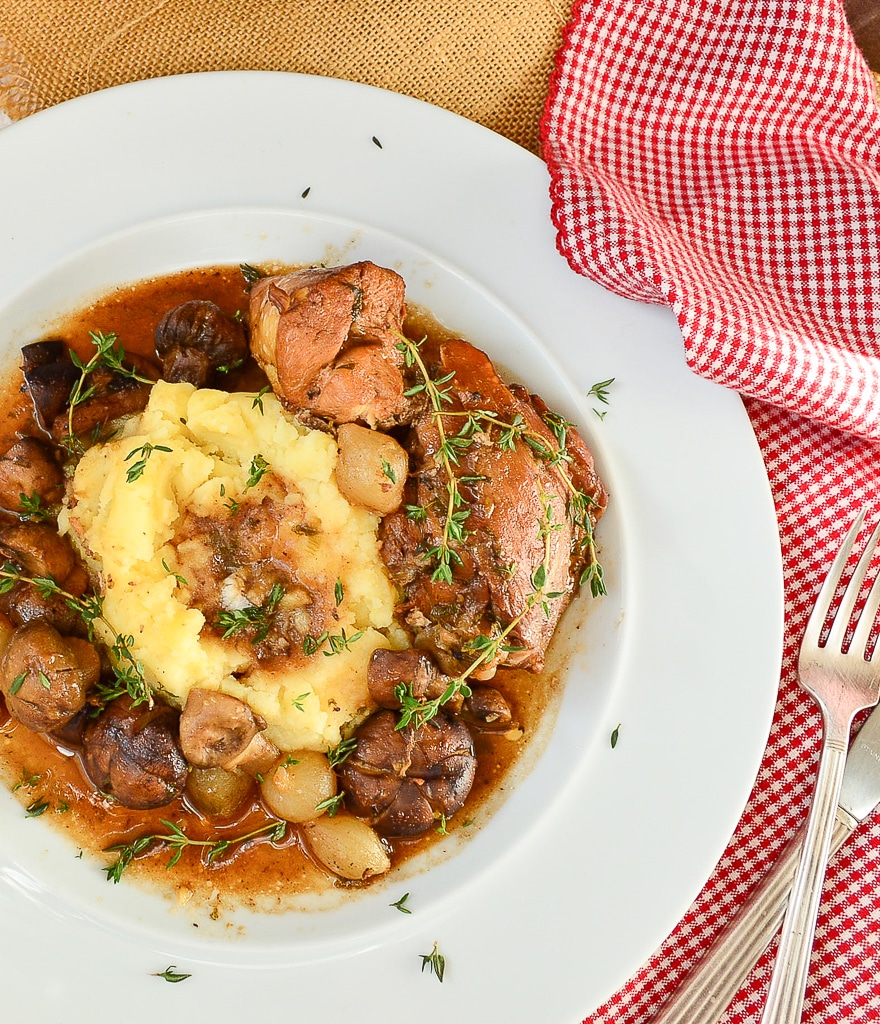 I grew up on the Kankakee River. We dug for crawdads. We never ate them. We counted them.
My grandfather was a butcher. We ate beef. My mom might not have cooked us many of Julia's recipes, but I do remember seeing her with that book and watching that tv series.
And lo and behold Julia Child inspired many and got them cooking in the kitchen. Laura's mother included.
I love family recipes and if there are any you'd love me to make a stab at, I am willing and able! Just send them on over!
More to Try:



Chocolate Cake with Red Wine and Strawberries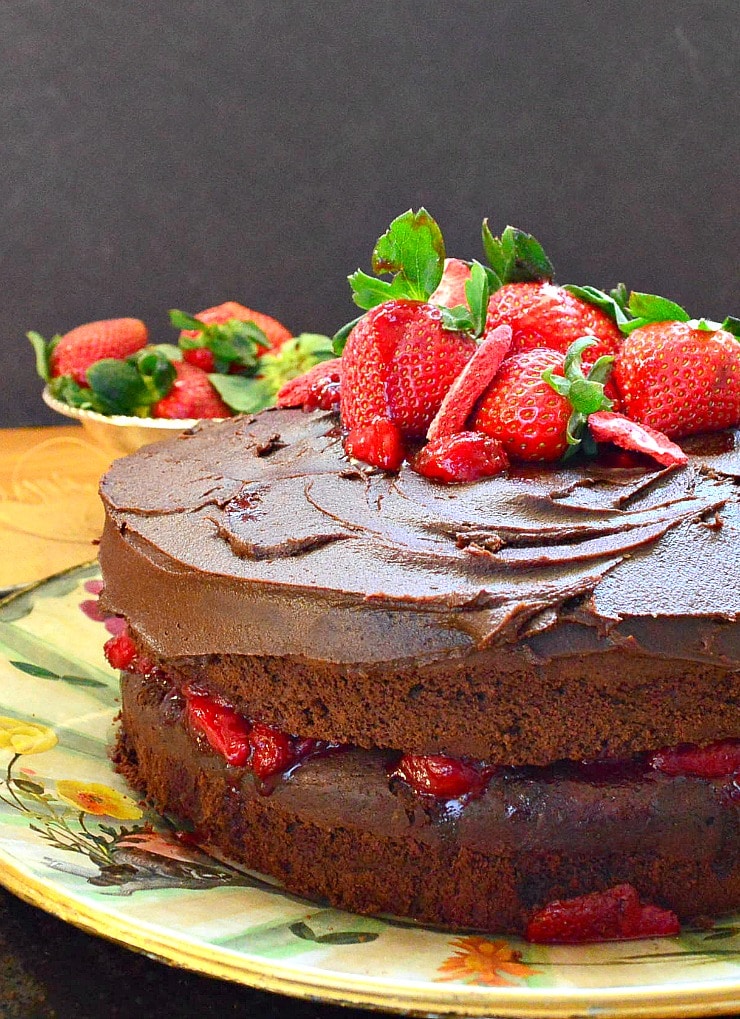 Please Pin and Share!
Print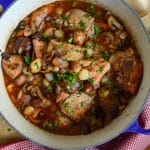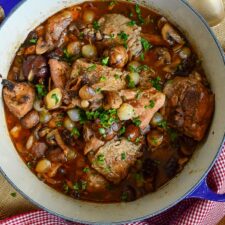 A Coq Au Vin Recipe
Author:

Prep Time:

25 Minutes

Cook Time:

90 Minutes

Total Time:

2 Hour 25 Minutes

Yield:

8

Servings

1

x

Category:

Main Course

Method:

Braising

Cuisine:

French
---
Description
This rustic French dish is total comfort food. I mean who doesn't love chicken, red wine and mushrooms?
---
4 chicken thighs-bone in and skin on
4 chicken breasts-bone in and skin on-cut into 2 pieces or about 4 lbs total chicken)
3 T bacon fat or butter (About 4–5 slices of bacon) Cook until crisp and reserve bacon for garnish
2 c frozen pearl onions
1 lb fresh crimini mushrooms and I threw in a few ounces of rehydrated morels
3/4 c minced green onions or carrots (Though not traditional)
3 garlic cloves, chopped
3 T cognac
3 T butter
3 T flour
2 c beef stock or one can use all red wine
1 c good dry red wine (this gives a lot of flavor so make sure you like it!)
Salt, pepper, thyme, parsley, bay leaf
---
Instructions
Melt bacon fat or butter in a large skillet or Dutch oven over medium high heat. Feel free to use bacon and reserve it for a garnish.
Brown chicken that has been seasoned with salt and pepper in the Dutch oven. You will have to do this in separate batches. Remove from pan.
Now add the onions and brown those. Remove onions and add mushrooms and saute until tender. Remove mushrooms and set aside.
Add green onions and garlic and saute until tender.
Deglaze your pan with the cognac and cook while scraping up all the brown bits from the bottom of the pan. Add butter and stir in flour and cook a few minutes while stirring to take away the raw flour taste.
Slowly stir in the stock and the red wine. Stir over medium heat until thickened. Add chicken back and season with thyme, salt, pepper, bay leaf, and parsley-reserving some for garnish.
Bring to a simmer and simmer slowly for about 1/2 hour or until the chicken is tender and the juices run clear. (If you are using the breasts, you may want to add those about 15 minutes after the dark meat, so they don't dry out.)
Add back mushrooms and onions and simmer covered another hour until the chicken is falling off the bone.
You can eat this right away or chill overnight. Whatever you do, don't forget to garnish with the crisp bacon!
At this point this is ready to be served or kept in the refrigerator, until reheating for dinner. I love the extra flavor it gets from being chilled. If you chill it, make sure to remove the congealed fat from the surface. Before reheating remove from refrigerator and bring to room temperature. Reheat in a preheated 325 degree oven for about an hour.
I serve this with mashed potatoes, though boiled potatoes or noodles will work also.
---
Notes
See post above for other notes.
Thanks Laura's Mom and Julia Child!
Keywords: coq au vin recipe, coq au vin, coco van, chicken coq au vin