One of my favorite dishes from childhood was my mother's  roast beef and rice. I always took the end piece well done and I always liked the crispy part of the rice coming out of the pan. I can still smell its peppery garlic glory, and though I don't eat beef anymore, I would be hard pressed today to not eat the rice, even with all of the beef drippings mixed in. It's funny how some things just stay with us.
Not to long ago, I dined at a new French restaurant, Cafe Marmotte, that opened in the Wash Park area. It is a  vibrant and easy going French bistro, with a menu waiting to be explored.  Their French bohemian artwork may need a story, but each dish already has one.
This tiny jewel box restaurant with white table cloths, dark walls and rust colored banquettes, is the perfect venue for a romantic occasion, or the perfect drop in spot for when you need a little love. The casually rich and warm atmosphere is comforting and the food only glorifies that feeling. A charming wine list and luscious cocktails just add to the ambiance.
Coq au Vin, French onion soup, hanger steak and a few French inspired delights such as a panko and crab encrusted salmon, and a shrimp crusted cod, are there for feasting. I'd like to get my hands on the foie gras with pomegranates, dates and pear butter, where as Manservant would probably adore the venison. The menu is small, though filled with what the chef does best.  I won't regale you with Chef Mark's story and who he has cooked with during his New York years, because you should really go and talk to him. Have him tell you about Tony Bourdin and Jean Georges-but there I go…
Chef Mark's Coq au Vin had an Alsatian influence with its melting purple cabbage resting on top of the glorious chicken simmered in red wine, and that chicken, resting on bacon mashers.  I really loved this, but when I spoke with a girlfriend of mine, she waxed eloquently of her mother's Coq Au Vin. I know how it is when you have those fond food memories, so when she casually mentioned that she had her mom's recipe, I said send it on over. It came via text within a few minutes. God, I wish I was that organized!
It has been a long time since I made Coq au Vin. As many of you may know Coq au Vin was a dish that Julia Child became known for. And as it turns out Julia Child was the inspiration for Café Marmotte's Coq au Vin. Chef Mark was doing a cooking demonstration the day she died, and was making Coq au Vin. He created that dish in her honor, and it has been on Cafe Marmotte's menu ever since. Julia published a recipe for it in her first book-Mastering the Art of French cooking- and as we all know, that book became history. Yes, that was 1961! Coq au Vin is essentially a chicken stew made with mushrooms and pearl onions and all of it cooked in  red Burgundy with a touch of cognac. I would describe this as comfort food, French style.
My mother also adored Julia and has a well marked book that she cooked from, but she never made us Coq au Vin. I can never remember her cooking a Julia Child recipe for us-her family-her loved ones! My mom made roast beef and rice. But my friend's mom made Coq au Vin! So I figured I best get to work. Though this recipe didn't feature that delicious melting purple cabbage, it was quite similar to Julia's. I took a few simple liberties and then invited my friends for dinner. I'm not sure if Laura remembers it quite like this, but it was fun to cook from her mom's recipe. We had good wine, good cheese and a great red wine chocolate cake with a red wine strawberry filling for dessert. But I'll also mention that when I need Coq au Vin again, I plan on heading to Cafe Marmotte. I preferred Mark's version!
It's funny when we think about the foods that inspire us. It is funny about what we remember of foods from our childhood. Chef Mark reminisces about  about seafood from Cape Cod. Digging for steamer clams, fishing for striped bass, and of course, fresh lobster. I grew up on the Kankakee River. We dug for crawdads. We never ate them. We counted them. My grandfather was a butcher. We ate beef. My mom might not have cooked us many of Julia's recipes, but I do remember seeing her with that book. Julia inspired many of us.Chef Mark was one of them, my mother another, and Laura's mother another. And the list can keep on going…
Now in case you don't know- a marmot is a animal that looks like a large squirrel.  They live at high altitudes and I've always enjoyed spotting them in the mountains. Marmots communicate by loud whistles and are quite social. They hibernate in cozy dens. I don't know why  Cafe Marmotte chose that name, but I think they are on to something. Marmots are cute. Marmots are social. And they like cozy places. Cafe Marmotte is a cozy, but elegant, classic in the making, that feels as if it has been around for years. And so it is that things stay with us. Wonderful meals. Wonderful atmosphere. Wonderful people. Really, that's what Cafe Marmotte is all about. Just remember to whistle when you get there…though I doubt that once you see this gem and taste this food, that that will be a problem!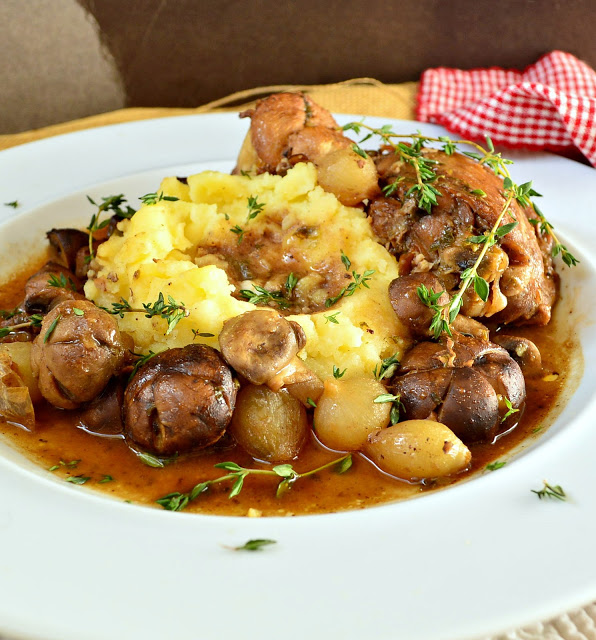 Laura's Mother's Coq Au Vin with Minor Adaptations from Julia Child!
Time To Make: About 60 minutes
Serves About 8
Ingredients:
8 chicken thighs-bone in and skin on
4 chicken breasts-bone in and skin on-cut into 3 pieces
3 T bacon fat or butter
2 c frozen pearl onions
1 lb fresh crimini mushrooms and I threw in a few ounces of morels
3/4 c minced green onions
3 garlic cloves, chopped
3 T cognac
3 T butter
3 T flour
2 c beef stock
1 c good dry red wine (this gives a lot of flavor so make sure you like it!)
Salt, pepper, thyme parsley
Directions:
Melt bacon fat or butter in a large skillet or Dutch oven over medium high heat. Feel free to use bacon and reserve it for a garnish. Brown chicken that has been seasoned with salt and pepper in the Dutch oven. You will have to do this in separate batches. Remove from pan. Now add the onions and brown those. Remove onions and add mushrooms and saute until tender. Remove mushrooms and set aside. Add green onions and garlic  and saute until tender. Deglaze your pan with the cognac and cook while scraping up all the brown bits from the bottom of the pan. Add butter and stir in flour and cook a few minutes while stirring to take away the raw flour taste. Slowly stir in the stock and the red wine. Stir over medium heat until thickened. Add back chicken and season with thyme, salt, pepper and parsley-reserving some for garnish. Bring to a simmer and simmer slowly for about 1/2 hour or until the chicken is tender and the juices run clear. Add back mushrooms and onions and simmer covered another hour until the chicken is falling off the bone. At this poin,t this is ready to be served or kept in the refrigerator, until reheating for dinner. I love the extra flavor it gets from being chilled. If you chill it, make sure to remove the congealed fat from the surface. Before reheating remove from refrigerator and bring to room temperature.This can be reheated in a preheated 325 degree oven for about an hour.
I serve this with mashed potatoes, though boiled potatoes or noodles will work also.
More to Try:
Strawberry Crepes
Roasted Carrot Dip with Hazelnut and Raisin Topping
Mussels in White Wine with Home Made French Fries
Onion and Chicken Fat Baked Rice with Boneless Rib Roast
Quick Chocolate Cake
Please Pin and Share!