Chocolate Rugelach are a not too sweet Jewish cookie, often rolled up like a croissant or jelly roll, that can be filled with a myriad of fillings. Perfect little bites meant to go with coffee or tea, this chocolate rugelach recipe version is always a winner.
Any rugelach recipe is a winner, but this chocolate rugelach recipe is super good!
Chocolate Rugelach cookies, often misspelled as rugala, though rugelach is the correct spelling, are a pie crust lover's delight.
A Jewish cookie, they are often served during Hanukkah and almost any other occasion.
Perfect for eating with your cup of tea or coffee, these not overly sweet pastries are also perfect as a light dessert after a heavy meal.
Little twists are what they translate to in Yiddish.
Made with so many different fillings-I gave you a browned butter apricot long ago-but now it's time to explore this chocolate rugelach recipe.
Keep in mind though that all fillings taste delightful and you really should make a batch just to find your own favorite.
The good thing is that this recipe is made into 4 rolls so you could do each different if you prefer.
Rugelach are often made in a crescent shape and each section is rolled into a circle like pie crust.
Since I am not the best at rolling pie crust, I prefer this jelly roll shape better.
Commonly rugelach are sprinkled with a mixture of jam, cinnamon sugar and nuts.
My dad's favorite was poppy seed filling or apricot, but you don't see poppy seed very much anymore.
So good, but this rugelach dough is just sprinkled with a chocolate filling composed of brown sugar, cocoa powder and finely chopped chocolate.
I tried chocolate chips, but think that the finely chopped chocolate melts better.
Since cookie season has officially arrived I thought it time to revisit this cookie.
Rugelach were not common on our table growing up as my mother never made them.
They were often on our temple's table for Oneg Shabbat-a sweet table after Friday night services that all were welcome to eat off of.
I don't know who made them, but I can tell you who enjoyed them!
As an adult, I figured it was time to try my hand at baking a batch, even though rugelach are now easily found in any grocery store.
That being said, I must tell you that mine are better!
How to Make Rugelach:
Begin by lining a rimmed baking sheet with parchment paper.
Next up is making the dough-easily done-just trust me on this!
My version and most, contain cream cheese and butter. Make sure they are at room temperature because they beat up nice and fluffy when they are.
Many recipes call for two sticks of butter but this cream cheese dough only calls for one and it rolls out fine.
The rugelach dough will be thin and pie-crust like. Add the extra stick and you will have a more traditional dough that is much richer.
After the butter mixture is whipped well with the paddle attachment in the bowl of a stand mixer, add in 1/2 teaspoon of vanilla and then start adding the all-purpose flour that has been combined with a pinch of salt.
Some like making rugelach dough in a food processor but I think it creams better in the mixer.
After the dough is made, divide it into 4 equal pieces and wrap it in plastic wrap. Place in the fridge for about an hour before rolling out.
When ready to shape, lightly flour your surface and using a rolling pin, working with one piece at a time, roll each ball into a rectangle about 12″ long and 4″ wide.
If you choose you can roll this into a thin circle, just like pie dough, and then cut each round, using a pizza cutter, into 12 wedges.
Continue as below but just shape each wedge into a crescent shape.
To make your rugelach more sweet you can spread the rectangle with Nutella and then sprinkle with the cocoa chocolate mixture.
I recommend this!
But using just the chocolate cocoa mixture is perfectly fine!
Use your favorite kind of chocolate-I like grating Trader Joe's large bars of dark chocolate, but semi-sweet or milk chocolate is good, too.
The choice is up to you!
How to Shape Rugelach:
Beginning with the long end, roll up into a tight log just as you would a jelly roll.
Using a sharp knife, slice each log into 12 pieces that are about 1″ slices.
Place on the prepared sheet pans, 24 to a sheet.
Continue in the same way with the remaining dough.
Brush well with a thin layer of egg wash and then sprinkle the top of the dough with a cinnamon sugar mixture, but if you prefer some texture, turbinado sugar looks great, too.
Just don't leave out the cinnamon because I think it gives rugelach its special flavor.
Bake until golden brown and let the baking pan cool on a wire rack before removing the rugelach.
These are easily stored in an airtight container and can also be frozen, baked or not.
Israeli rugelach is often yeast based, making the rugelach more of a croissant-like dough.
I prefer this American version best because to me they are more like a cookie.
Looking to add to your cookie repertoire this season?
Give rugelach a try. Everyone will be happy!
Need a Few More?
Hanukkah Recipes (Think Latkes and Other Good Things!)
Mandel Bread (Jewish Biscotti)
I'd Love it if You'd Follow Me and Pin and Share:
Print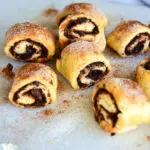 Chocolate Rugelach Recipe
Author:

Abbe Odenwalder

Prep Time:

30 Minutes

Cook Time:

20 Minutes

Total Time:

40 Minutes

Yield:

48

cookies

1

x

Category:

Cookies

Method:

Baking

Cuisine:

Jewish
---
Description
Chocolate Rugelach Cookies are a luscious little cookie made to go with your favorite cup of tea or a simple mocha latte. Even perfect with a cold glass of milk, these not too sweet, but very worthy cookie are so worth baking!
---
Rugelach Dough:
8 oz cream cheese at room temperature
1 stick unsalted butter at room temperature* or two if you want a richer dough
1/4 c confectioner's sugar
1 t vanilla
2 1/3 c all-purpose flour plus more for dusting
1/2 t kosher salt
1 large beaten egg for egg wash
Filling:
Nutella: if you would like a sweeter rugelach, spread 2 T on each piece of dough once it is rolled out
I love the the addition Nutella makes!
6 ounces bittersweet chocolate, finely chopped (or your favorite chocolate)
1 tablespoon granulated sugar
1 tablespoon light brown sugar
2 tablespoons cocoa powder
For the Topping:
2 tablespoons granulated sugar
1/4 teaspoon ground cinnamon
---
Instructions
In the bowl of a stand mixer with the paddle attachment, combine cream cheese, butter and powdered sugar. Beat on low, gradually increasing speed to medium and mix for about two minutes, or until light and fluffy.
Add 1 t of vanilla and beat in. Add flour and salt (I usually cover my mixer with a clean dish towel so that the flour doesn't fly everywhere,) and mix until a smooth dough forms. Remove from bowl and shape into a large ball. Divide into 4 equal pieces and wrap each in plastic wrap. Refrigerate for about 1 hour.
Prepare filling by combining the finely grated chocolate with the cocoa and sugars.
Prepare topping by combining the cinnamon and sugar.
Preheat oven to 375. Put one oven rack in the top third of the oven and the other in the lower third. (Not at the top or bottom!) Line 2 baking sheets with parchment paper.
On a slightly floured surface, roll each piece of dough into a 4″ by 12′ log. Spread Nutella on in if using. Then sprinkle on about 3 T of the chocolate filling spreading over the entire surface. press mixture slightly into dough. From the long end, roll up dough like a jelly roll. Then slice each roll into 12 1″ slices. Repeat with each section of dough. Place 24 of them onto each baking sheet.
Beat egg and lightly brush a bit of egg wash onto each cookie. Sprinkle with cinnamon sugar filling.
Bake for 20 minutes, rotating pans halfway through and from from to back until the rugelach are golden.
---
Notes
Rugelach can be stored in an airtight container for up to two weeks. The dough can also be frozen and sliced from the logs when needed.
*If you prefer the dough richer, rather than more crisp like a pie crust, add an extra stick of butter.
Keywords: rugula, rugelach recipe, recipe for rugelach, chocolate rugelach, rugelach cookies, chocolate rugelach recipe, rugelach