What's the difference between chili seasoning vs. taco seasoning? Truly not much. Switch the proportions a bit and you can have either!
Chili Seasoning vs. Taco Seasoning
What's the difference between chili seasoning and taco seasoning?
In two words…not much!
Both contain the same seasonings, but in different proportions.
Chili seasoning mix contains a higher concentration of chili powder and a packet of taco seasoning usually contains a higher amount of cumin.
That's about the only major difference!
Store bought packets of both often contain tomato powder and some thickeners like flour or cornstarch.
If you don't make your own, merely add a bit more cumin or chile powder to satisfy your recipe's requirements.
And realize it is totally personal preference.
I am not a huge lover of cumin so in my chili recipes I often do not add as much as the recipe specifies.
However I do miss it, if it isn't there.
Given that Manservant is a HUGE chili lover and we could have it every night for dinner in all its various forms, I decided it was time to write down our favorite chili seasoning.
Want to make it into taco seasoning? Or fajita seasoning? I will tell you how!
Let's start with making a chili seasoning spice blend.
I add several types of chili powder to give my chili more flavor and nuance.
Know the difference between chile and chili?
Chile powder contains just the chile powder of one particular chile.
American chili powder contains chili powder from various chilies in addition to ground cumin, paprika, and cayenne pepper.
Even if you are out of chili powder you can still make your own seasoning mix with the most common spices of 2 teaspoons paprika, 1 teaspoon cumin, and a scant ¼ teaspoon cayenne along with salt, that is in most store-bought stuff.
It may contain more than that, but as you can see it is not a pure chile powder.
What types of chili can be found in chili powder?
I use Ancho chili powder because of its richness and depth. The ancho chile is actually a ripened dried poblano chile.
It is usually mild in flavor but sometimes you get a hot one!
Molido chili powder is the other type I add.
It is made from fresh roasted Anaheim chiles rather than dried chilis.
It is also on the mild side and is commonly found in most chili recipes.
What is usually in chili powder?
To the chili powder seasoning I add garlic powder, onion powder, black pepper, cumin, cayenne or red pepper flakes for heat, smoked paprika, salt and oregano.
Many people often ask about Mexican oregano. Mexican oregano has more citrus undertones whereas Italian oregano has a more minty profile.
I must admit that in this combination of spices I don't really discern the difference but if you do have Mexican oregano on hand, just go with it!
I mix this up in a small bowl and store it in an airtight container or a mason jar in a dry place like my spice cabinet.
Always check for more salt. Everyone has a different threshold and adding a bit more sea salt or a bit less, is totally dependent on your likes.
Want more spicy flavor? Just add a bit more cayenne for extra great flavor.
How Do You Know if a Seasoning Mixture Has Gone Bad?
Personally, I like making my own spice mix as I can adjust accordingly for each recipe.
I also know that I am using the freshest seasonings.
With store-bought packets from the grocery store you never know how long it has been on the shelf.
With any seasoning mixture if the first thing you taste is salt, it is probably because the other seasonings are past their prime.
After about 6 months many seasonings have passed their prime.
Homemade Taco Seasoning Mix
To make your own taco seasoning I adjust this recipe and add less chili powder and more cumin.
Usually 2 1/2 T of chili powder to 3 1/2 t of cumin does the trick.
Each taco or chili seasoning packet contains about 3 T of spices whereas with my recipe I figure about 2 T of chili seasoning per pound of ground beef.
So yes, this recipe does make more than 1 packet of store-bought mix.
Many taco seasoning packets also contain flour or corn starch or other thickeners, so though they may contain a larger amount in the packet, not all of it is seasoning.
For fajita seasoning use the taco seasoning version, double the onion powder and make sure to add some citric acid in the form of lemon or lime juice or vinegar when using.
Also, keep in mind that any ground meat such as ground pork, ground chicken or ground turkey can be used in your favorite recipe.
Depending on how flavorful you like your chili add more of the homemade chili seasoning blend to the recipe.
Have leftover chili?
Use it for taco night. Merely stir in a bit more cumin to taste and I promise no one will know the difference.
Use crispy taco shells or soft flour taco size tortillas and no one will be the wiser that you didn't make your own taco meat.
Add some hot sauce and sour cream on the side and have a taco Tuesday!
I love making a big batch of chili or taco meat and often mix it into macaroni or serve it over spaghetti with lots of grated cheese on the side.
Shoot, Manservant loves it over hot dogs or hamburgers and will even eat it on its own in a bun.
The other day he ate it on fried eggs.
Tortilla chips are perfect for dipping and you can even mix this into sour cream for your own Mexi-dip.
Spread leftover chili on a pizza crust. Top with cheese and bake for a fun new family recipe.
I could go on and on but I bet you want to go make some of this great seasoning, so I'll let you get started!
Making a jar of this always reminds me of making sand candles when I was a kid.
I love the different layers!
Chili seasoning vs. taco seasoning? Honestly I think the difference is slight. Use what you like!
Enjoy and let me know your favorite way to use it!
Need Some More?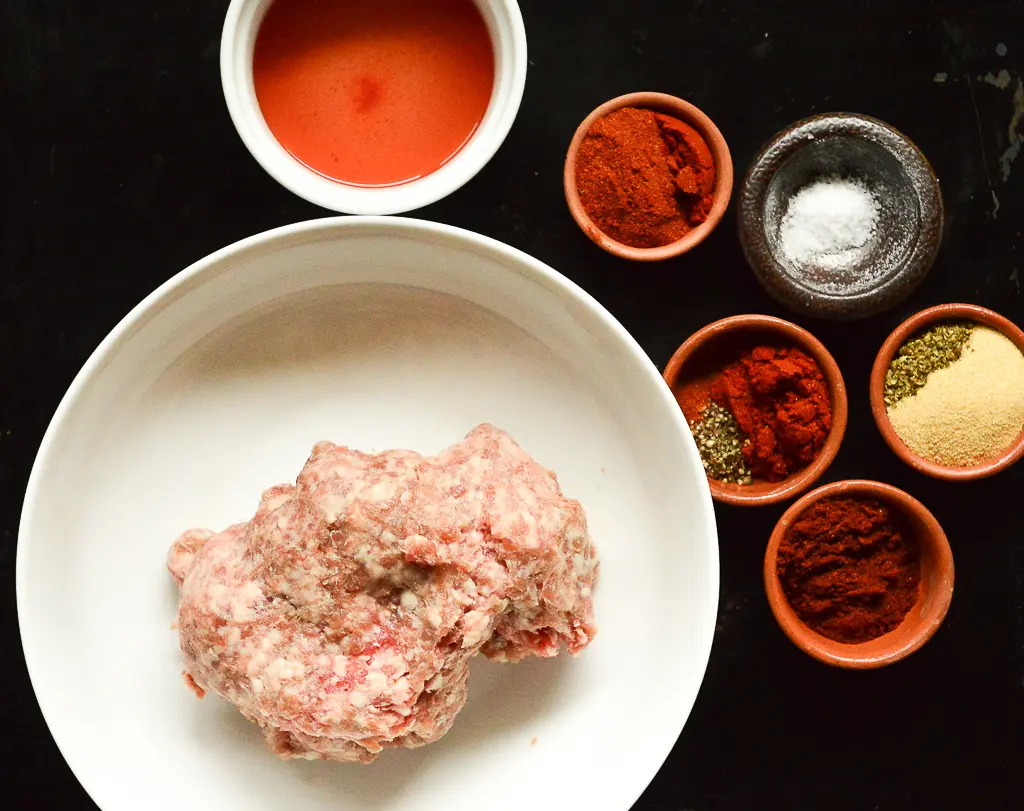 Print
Chili Seasoning
Author:

Abbe Odenwalder

Prep Time:

10 Minutes

Total Time:

10 Minutes

Yield:

Enough for

2

-

4

batches of chili

1

x

Category:

Seasoning/Spices

Cuisine:

American
---
Description
This chili seasoning is great for chili, but with a few minor changes it can be taco seasoning, too! Or even fajita seaoning for that matter!
---
4 T ancho chile powder
1 T Molido chile powder
1 t ground cumin
1 T garlic powder
1 1/2 t onion powder
1/4 t cayenne powder
1 T smoked paprika or regular paprika
1 t coarse salt or sea salt
1/2 t oregano (Mexican or Italian)
---
Instructions
Combine all ingredients together in a jar.
Check for salt.
Use 2 to 3 T per pound of ground meat.
To adjust for taco seasoning decrease chili powder to 2 1/2 T and increase cumin to 3 1/2 t.
---
Keywords: chili seasoning vs. taco seasoning, homemade chili seasoning, homemade taco seasoning, types of chili powder, different types of chili powder, do spices go bad, mexican oregan vs oregano, t