Spicy fried spaghetti pancakes are made with leftover spaghetti and filled with hot Italian sausage and cheese. They are a perfect use for leftover spaghetti and a great way to showcase spicy sausage.
It's not every day that I'm sent home with a bag of meat. Lots of meat. River Bear meat. Manservant was quite happy. We've been enjoying this divine meat since the end of October and will sadly be starting the new year empty handed. Summer Sausage, Texas Red Hot Sausage, Italian sausage and corned beef has graced our table and I am sorry to say that it is now gone. River Bear American meat is produced by Justin Brunson of Old Major and Masterpiece Deli fame, and soon will be found at stores near me and hopefully you. This will certainly make Manservant happy again, which is a good way to start the new year!
Old Major with its seafood, swine, and wine, has been winning major awards since its inception in 2013. Chef Justin Brunson, a good Iowa farm boy and nationally renowned meat authority (I didn't make this up) has been a Denver fixture since 2008 with the opening of Masterpiece Deli. A sandwich shop that never compromised on quality, portion size or taste, this fine dining between bread establishment was just the beginning of Chef Brunson's empire. With numerous 5280, Bon Appetit and Westword awards, Chef Brunson has ruled Denver in a major way. (I couldn't help myself.) Brunson and Company now encompasses Masterpiece Deli, Old Major and over at Central Market he rules with Culture Meat and Cheese. Now he can add his own produced River Bear Meat to his repertoire. Last but not least you can see Brunson on the "Best Thing I Ever Ate", on the Food Network Channel. I love that show!
Now you might think it funny since I am not a "meat person" that I speak so highly of the pig and the cow. Without the cow I'm not sure how my grandfather would have survived when he first arrived in this country with his wife and three children in tow. He settled into the grocery business and quickly became known as Kankakee's best butcher. He had the best little superette in K3 and was known not only for his steaks, but his Italian sausage. I was not enamored with this sausage, which my father so carefully cooked on the grill. In fact, I thought Italian sausage was the grossest meat around.
Truthfully I never ate pork as a child. My father did fry bacon but I thought that was the second grossest meat around. He never seemed to fry it crisp enough. I do remember eating the local diner's fried and pounded very thin pork tenderloins, sandwiched in a bun too small for its size. Now those were good, she says drooling. I never liked ham and still don't. I don't eat pork chops, however will manage a pork tenderloin but my parents love giant thick pork chops and honeybaked hams. Somehow this pride in the swine just missed me. Well, almost.
When I gave up beef, I grew closer to Mr. Pig. Being a lover of Asian food, pork is kind of essential. (Not that I thought about this before I dissed the beef). I missed burgers for awhile but somehow ground pork and chicken soon began to fill in. The flavors of sausage magically disbursed any thoughts of the moo moo. Lardo and guanciale and bacon became more prevalent in my kitchen as did chorizo and Italian sausage and Andouille. However I do admit to missing Kosher corned beef and pastrami stuffed into a Kaiser roll. And not to miss a good thing I did try Chef Brunson's corned beef before Manservant grabbed the package back. Yummmm. Just like I remembered.
Which so carefully brings me back to River Bear American Meats. Where meat is made of meat. Where a portion of every sale will go to nonprofits that help to protect and restore rivers. Where meat is raised by farmers that care and then cured in small batches. Where the chef is a gardener, a hunter, a fisherman. Where I can get my favorite meats and be grateful that meat is done right. Chef Justin Brunson is a man that respects what he treasures and treasures what he respects. It shows in his food, in his staff, and in his face.
At Old Major you will find a rustic, warm atmosphere, welcoming staff and a curing room in the dining room! It is the place for brunch. It is the place for happy hour and watching sports and fried chicken. It is the place for scallops and octopus and divinely composed farmer's salads. And of course, it is the place for meat. Beautiful, beautiful meat. If only my Papa Alex had known Justin Brunson. I think they would have had a lot to talk about…except their mouths would probably have been full.
So why a Fried Spicy Spaghetti Pancake?
River Bear American meats are simply good and so full of flavor. They are not to be messed with or taken lightly. They are however perfect for giving something as simple as leftover spaghetti a whole new craveworthy existence. Manservant, as he chowed down so passionately, kept saying how good this fried, spicy spaghetti pancake was. Leftover spaghetti, whether it is leftover squid ink spaghetti, or old fashioned white spaghetti, or just simple angel hair pasta is all that is needed to make the Italian sausage shine. (If you can't find River Bear Italian sausage, use the best spicy Italian sausage you can find.)
Combine your leftover spaghetti with some ricotta and Parmigiano and chunks of sausage. Fry it up in pancakes that really resemble latkes. Serve on a bed of spicy tomato sauce and if you want you can even place a big slice of mozzarella on top. Throw it under the broiler and let it melt. Place a carefully fried slice of Red Bear American hot Italian sausage on top. Pretend no one is around. Start passionately devouring. Swear that the sausage is so spicy good. Then just power through. And pray you can find more sausage at your local grocer.
(Product was provided but all opinions expressed are my own.)
In case you want to make your own spicy honey drizzle, check out this favorite recipe of mine.
This chicken scarpariello is a great dish to use sausage in. (Another one of my faves!)
Please Pin and Share!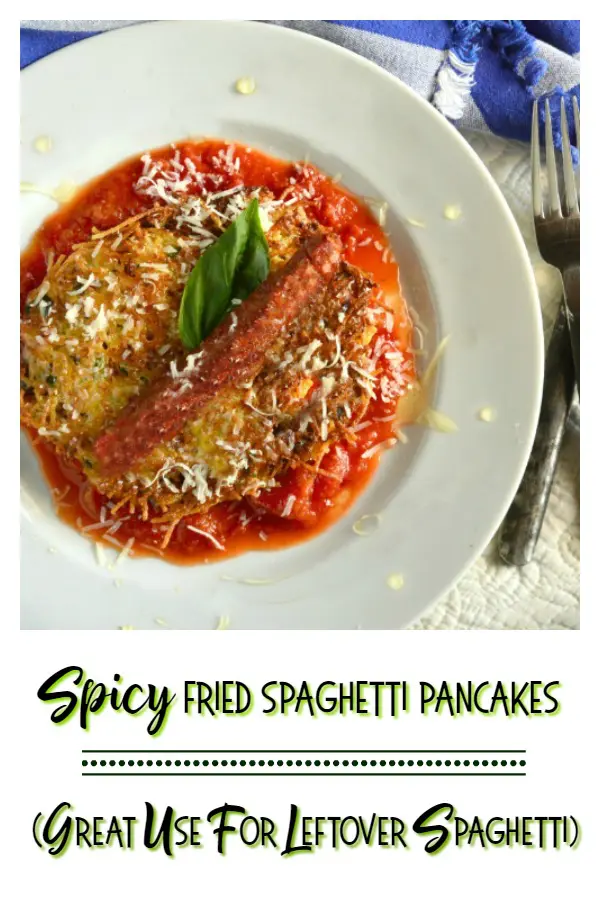 Print
Fried Spicy Spaghetti Pancakes
Author:

Abbe Odenwalder

Prep Time:

20 Minutes

Cook Time:

25 Minutes

Total Time:

45 Minutes

Yield:

5

-

6

Pancakes

1

x

Category:

Main Course

Method:

Stove Top

Cuisine:

Italian
---
Description
These fried, spicy spaghetti pancakes are filled with hot Italian sausage and cheese. They are a perfect use for leftover spaghetti and a great way to showcase spicy sausage.
---
1 lb of Italian Spicy Sausage in casings. Chop 3 into 1" chunks and slice one link into 6 wedges.

1/2 c chopped onion

1/2 c ricotta cheese

3/4 c Parmigiano, grated

1/2 t kosher salt

1 T chopped fresh Italian parsley

1 T chopped fresh basil

1 t marjoram or oregano

1 –2 t minced fresh garlic

Red pepper flakes at your discretion

3 large eggs

4 c cooked leftover spaghetti, chopped into smaller lengths

Olive oil for frying

Spicy Honey for drizzle

Fresh Mozzarella Slices, Optional

Spicy Tomato Sauce (Use your favorite. I used Spinelli's, a local brand.)
---
Instructions
Pan fry Italian sausage in skillet until good and crispy. Do not pour grease from skillet.
In a large bowl, combine onion, ricotta, Parmigiano cheese and seasonings with eggs. Mix well and stir in spaghetti.
In the nonstick or cast iron skillet that you fried the sausage in, add enough olive oil to create a thin layer of oil. Over medium high heat, heat the skillet until a piece f spaghetti dropped in begins to sizzle. You may have to adjust the heat during cooking as you don't want the pancakes to cook too fast.
Measure 1 c of the spaghetti mixture. Turn over and place into the hot oil. With a spatula, carefully flatten pancake until you have about a 5-6″ pancake. When crisp on one side, flip over and fry until both sides are golden.Each pancake took about 5-6 minutes to fry until golden, but depending on the temperature of your burner this could be longer or shorter! Drain and keep warm.
Serve on a bed of spicy tomato sauce. Top with a link of spicy sausage. Top with a slice of mozzarella, and broil until golden, though that is optional. Drizzle with some spicy honey. Devour politely.
---
Keywords: spaghetti pancake, fried spaghetti, leftover spaghetti, pasta patties, spaghetti pizza, fried spaghetti pancakes,