This page may contain affiliate links.
Blueberry bread with toasted walnuts is my most favorite quick bread to make. It's a great way to eat blueberries, though maybe not the healthiest, but a slice of this is sure worth it!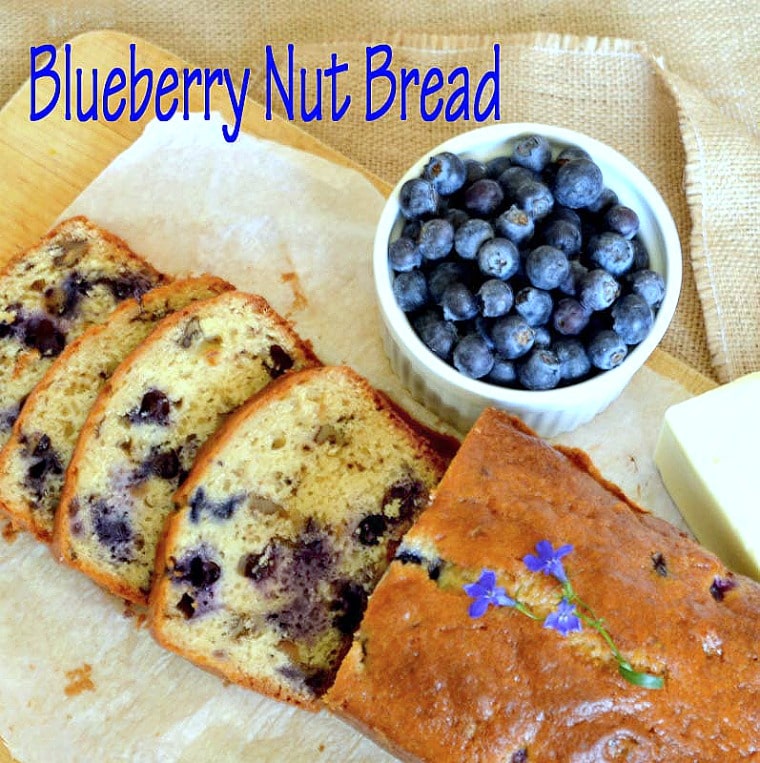 Blueberry Bread happens to be one of my favorite quick breads. I discovered this recipe years ago in my college days and Manservant always asks for it. This was way before blueberries became a healthy fruit, so now I feel really healthy when I have a slice! Hah! However it is said that good food makes you feel good, so I'll stick with that!
So what exactly is a quick bread?
Quick breads are breads, or any baked goods that aren't leavened with yeast or eggs. Before the discovery of chemical leavening agents, baked goods required yeast or eggs to give them lift. Baking soda was invented in 1846 and baking powder in 1856. The most known baking powder, "Calumet baking powder" is from Calumet City, Illinois which wasn't that far from where I grew up!
During the Civil War skilled bakers became scarce and there was a need for bread to be produced quickly and consistently. Hence the beginnings of the popularity of quick breads. Chemical leavening agents initially were a trade off to yeast, but quickly it was found that more reliable results could be produced with them. So what exactly does a chemical leavener do in your baked goods? Basically it produces carbon dioxide which creates a softer and lighter texture in the bread. And now if you play Trivial Pursuit you will know this fun fact!
Did you know that you can't substitute baking soda for baking powder?
Baking soda when combined with liquid and an acidic agent works under heat. So the minute you put something with this into the oven it starts to rise. After a certain period of time the leavening agent wears off, so get this in the oven fast!
Double acting baking powders react in two phases so they can wait a bit before going into the oven. Some gas is released before the heat hits, but most of the action takes place in the oven. With this blueberry bread recipe you might notice that the batter sits for twenty minutes before going into the oven. Good thing this recipe calls for baking powder!
Enjoy this blueberry bread recipe. There are many out there but this one has proven time and time again that good recipes stand the test of time. It has kept us happy over the years. Let me know how it works for you!
---
This is an updated post from 2013. It takes me back!
I'm feeling a bit blue today and it isn't because I discovered this blueberry bread in the fridge this morning. I had made several last week and gave one to neighbors, but somehow this one was hiding in its loaf pan, on top of the eggs. It kept well and is still moist and good. Blueberry bread is perfect with your tea or coffee, as an afternoon snack, breakfast treat or even for dessert. In that case, top it with a giant scoop of vanilla ice cream and some blueberry syrup. You will thank me later.
No, I'm feeling a bit blue because this was posted on my son's Facebook page today. "Officially moving to Sonoma on Monday." We knew it was coming and we are happy for him. But life is a series of hellos and good byes and this is just one more, in many that are still yet to come. He would tell me I'm being a bit dramatic, which I probably am, but I liked knowing he was living in the same state as me. I liked the rush of when he would come home and we could sit and talk around the dinner table with music playing in the background, and the sound of the washing machine signalling the presence of his dirty clothes.
Music seems to follow my son where ever he goes. And isn't it funny that his guitar teacher who he took lessons from -from the age of 7 until 15- immediately messaged him back and said he lives not far from there. That his guitar teacher still follows him is soothing to me, and I know they will get together. Well, they better.
Alex will be working here. It looks like a pretty awesome place. They aren't paying him enough but I bet all mothers say that. I hope they treat him better than the last place that didn't deserve him. I bet all mothers say that, too. But he learned a lot. Not just about working, but about himself. He learned that he doesn't need to know a soul to explore the world. And his soul isn't afraid to explore. This is just a stop on the road back to China. I can feel it in my soul.
I've never been to Sonoma. I've been to Napa twice. Yes, he is choosing a spot I can imagine being and I hope I can visit. No, I don't think he intends to be there long, but it is the kind of country that looks like it could inhale you. The scenery is so magnificent and the air must be filled with the scent of food and wine. And I bet everyone has grapes in their backyard and perfect vegetables in their garden and the ocean is just an hour away. Well, a girl can dream, can't she?
When my kids went off to college I wondered if one would be on the East coast, and one on the West. It didn't happen then; but now that will be the case. My husband better make a lot of money fast because I don't intend to stay put in the middle. I'm ready to explore life, just like my son, and I am tired of waiting. (No pressure, dear.)
And so it is, that I ask of all of you-do you know anyone in Sonoma? A mother always feels better when someone can check up on their offspring. And after all, he is just living temporarily with a stranger in Santa Rosa in a room in their town home. I hope he is a good stranger.
So, I guess he will soon be on his way. He is getting tires for the car and loading it up. After, of course, we attend a big wedding in the mountains with lots of friends. Everyone will say hello and how are you doing; it's been too long, look how your son has grown, and then it will be time for goodbyes-again. Life-full of good byes. But better yet-full of hellos and see you soon's. I promise.
I'm partnering with Amazon to help keep this site afloat. I may earn a small commission at no cost to you, which I use to help pay for costs of keeping this blog going.
So cook along with me! Below are a few things I find helpful in the kitchen!
Please Pin and Share!
Print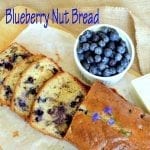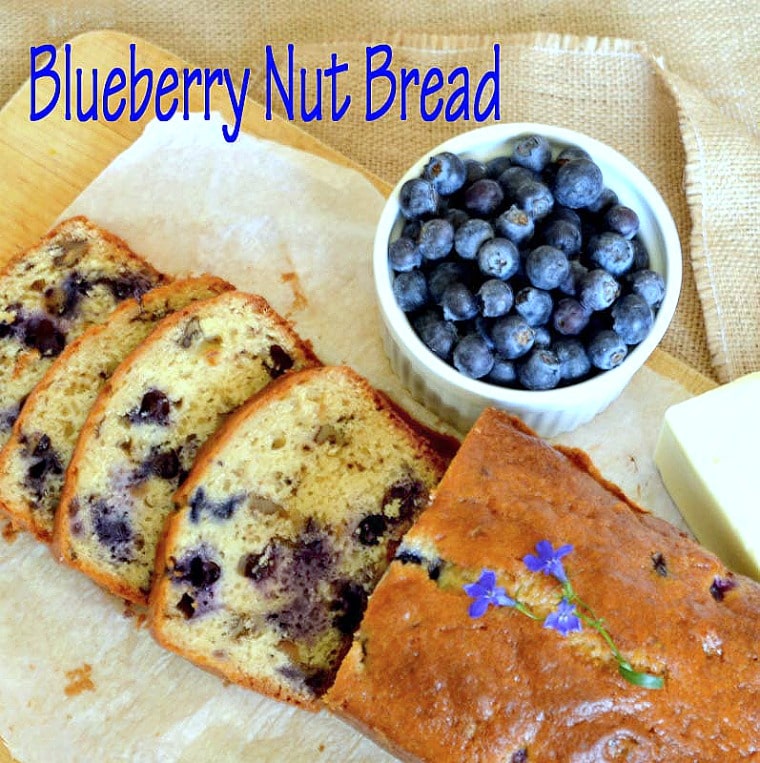 Blueberry Bread with Toasted Walnuts
Author:

Abbe Odenwalder

Prep Time:

20 Minutes*

Cook Time:

60 Minutes

Total Time:

1Hour 20 Minutes

Yield:

12

Servings

1

x

Category:

Bread

Method:

Hand Mix

Cuisine:

American
---
Description
Blueberry Bread is my favorite quick bread to make. One bite of this and you will see why!
---
2 c flour

1/4 t salt

3 t baking powder

1/2 c maple syrup or (use 1 c sugar total since you really can't taste the maple in this and increase the milk to one cup)

1/4 c sugar or if omitting the maple syrup increase to 1 cup

1 c fresh blueberries

1/2 c toasted walnuts or pecans

2 eggs beaten

3/4 c milk or if omitting maple syrup increase to 1 cup

3 T oil

1 t vanilla or maple extract
---
Instructions
Stir together flour, salt, baking powder and sugar.
Add the berries and nuts and toss.
Combine eggs, milk, oil and vanilla and stir into berry mixture.
Pour/spoon into parchment lined 9 x 5 loaf pan. Let stand 20 minutes.
Preheat oven to 350. Bake loaf one hour or until toothpick comes out with just a few tiny crumbs sticking to it.
---
Notes
*Does not include 20 Minutes resting time.
Keywords: blueberry bread, blueberry bread recipe, blueberry bread recipes, blueberry bread loaf
Others you should try: