This is the best pan fried rainbow trout recipe I know of. Yes, it's New Mexican style, but in my book, that's a great thing!
I don't often make a rainbow trout recipe. In fact, I don't often make trout.
Which is a shame because I live where rainbow trout are found. Well, sort of. Kind of.
If you are a fisher-person coming to fish in our streams you may find a rainbow trout.
You might find a cutthroat trout or a brown trout or perhaps a brook trout.
But there is no such thing as a Rocky Mountain trout.
Apparently, no one thought to name a trout after the Rocky Mountains!
And please don't ask me about trout because I know nothing except how to buy fish art which for some reason I own a lot of.
If you ever come to visit you will find trout hanging on our walls-you just don't often find it on my table!
And yes, they are pictures of rainbow trout and brown trout and don't ask me why I never looked at them closer!
(Please ignore the reflections. I take pictures of food, not art!)
So it was when someone asked me to make a recipe from Denver, I didn't think of trout.
Instead I discovered the Mexican hamburger.
But apparently that recipe wasn't good enough-even though it is actually delish!
​And Mexican food wasn't what they wanted-which is totally Denver food.
Perhaps I could make Rocky Mountain Oysters? Which for those in the know is total dive food you find at your nearest dive bar.
And no, I couldn't, because I hate frying and I don't know about you, but I've never spotted 'dem kind of oysters at my local grocery store!
Could I make a lamb or a steak? Well, yes I could, but what makes them a Denver food?
Got me. Perhaps they came from the nearest ranch.
So it was settled. Trout from the Rocky Mountains! And I was off!
If you've never made trout this way with a rich, red New Mexican chili sauce that some might say tastes raw, well, you don't know what you're missing!
Except in this case, I was missing the trout.
The gorgeous whole rainbow trout that I find in my supermarket with the heads and tails usually on, but can be taken off, if requested.
No trout to be found when I was supposed to make this superb dinner that represented the Rocky Mountain region.
(I know they would have found the ingredients for the Mexican hamburger!)
So I ended up with a brown speckled trout.
Now I have never seen a brown speckled trout. I don't know where they are found.
I certainly have never cooked a brown speckled trout, but sometimes you gotta do, what you gotta do!
Well, Mr. Brown Speckles didn't know what hit him.
I mean with that rich red chili and stuffed poblanos on the side-Mr. Brown Speckles went out well.
If I say so myself.
So now it's time to turn the tables and make this pan fried trout with real rainbow trout fillets, but minus the head and tail.
Yes, I know. It's not really whole.
But if you want you can keep the head and tail on, but there is no way a whole trout will fit even in my large skillet!
Sorry, baby.
Other great recipes for trout call for lemon slices and lemon juice and black pepper and garlic powder, but my fish is being prepared with Rocky Mountain style.
A few ingredient notes: Red chile powder comes in many flavors and spice ranges. Each will make the recipe taste different. I like to use a combination of red chile from New Mexico along with ancho chili powder, which is very rich.
Blue cornmeal is sweeter and has a more intense flavor than yellow cornmeal. Give it a try!
How To Make This Pan Fried Rainbow Trout Recipe:
In a small bowl I made a seasoned mustard paste with fresh garlic cloves, a touch of honey, red chile powder, smoked salt and olive oil; this fish will have a city slicker not knowing what hit them.
With just a few simple ingredients, you have a great meal for fisher-people and those who think they might be.
This savory mustard paste is rubbed on the interior of the room temperature butterflied trout and then closed back up, ready to be breaded.
​The breading isn't your typical breading.
Sure there are a few panko crumbs, but primarily, the breading consists of blue corn meal, yellow corn meal, chopped, toasted pecans and yes-more red chile powder.
This makes for a good crispy, golden brown crust that is great on its own or accented with some rich red chili sauce.
Bread the fish on both sides and then fry the fish in just a few tablespoons of olive oil for 4 minutes on one side and two on the other.
Place the cooked fried fish briefly on a paper towel so it won't be greasy and then transfer to a parchment paper lined baking sheet.
Place trout in a preheated 200 degree warm oven.
Don't cover the fish with aluminum foil because that will cause the fish to steam as you fry the others.
Serve skin side up on a plate doused in red chili sauce and garnish with lots of chopped pecans.
Apparently whole toasted pecans, that I just love are better chopped for a garnish!
As you open up the butterflied trout watch how the fish flakes.
Trout is a mild-tasting fish that is found in fresh waters.
It is a great way to convert non-fish eaters.
And don't ignore the crispy trout skin which can be eaten.
Nope, this isn't the last time I'll be cooking this white fish and it certainly isn't the last time I'll be having a trout dinner.
I just spotted this delicate fish frozen, as fish fillets, at my local Trader Joes, and with those I made Trout Almandine.
I just have easily could have sprinkled them with Old bay seasoning and fresh dill and had a delightfully quick meal.
But honestly, for this easy dinner, these fresh trout with a mild flavor are the way to go.
What to Serve with this Pan Fried Rainbow Trout Recipe?
This pan fried trout is delicious with a glass of Pinot Grigio or other white wine, but this red chili preparation I prefer a cold, iced beer.
Feel the need for a starch? After all, everyone loves side dishes.
Rice is simple and a great option with this red chili sauce.
My stuffed poblano chiles are perfect in every way and this esquite corn in a bowl or on the cob would really tempt me.
This great recipe may or may not say Rocky Mountain to you, but to me it definitely says good!
And whether you are presented with something you've never seen, like perhaps a brown speckled trout, just know that this rainbow trout recipe will work with it too!
Still hungry?
Red Chili Breakfast Enchiladas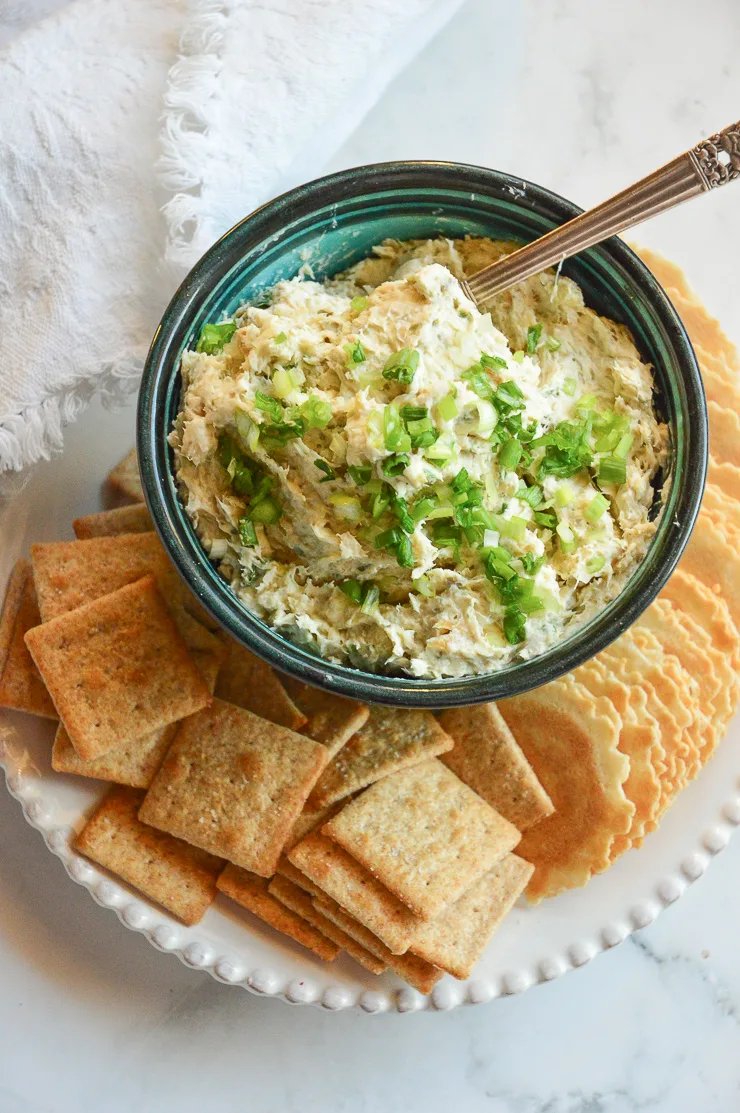 This post contains affiliate links from which I may or may not earn a small commission at no cost to you.
Print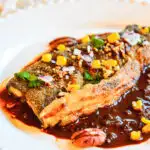 Red Chili Trout
Author:

Abbe Odenwalder

Prep Time:

30 Minutes

Cook Time:

6 Minutes

Total Time:

40 Minutes*

Yield:

4

Servings

1

x

Category:

Main Course

Cuisine:

American
---
Description
This easy pan fried trout-New Mexican style- is served with a red chili sauce. Delicious with or without, this great trout recipe comes together fast.
---
Red Chili Sauce:
2 T canola oil
1 medium onion minced
3 garlic cloves, minced
1/2 c red chile powder (I prefer ancho and molido)
1 t dried Mexican oregano
28 ounces chicken stock (You may not use all of this)
1 T honey – 1 t at a time
1/4 t smoked alder sea salt
1/3 c half and half
2 T butter
Red Chile Trout:
4 Rocky Mountain trout all about the same size, Butterflied and filleted, heads removed
1 T honey
3 minced garlic cloves
2 t Dijon mustard
1/2 t smoked salt
1 T oil
1 t chile powder
Breading:
4 T toasted pecans
1/4 c blue cornmeal
1/2 c yellow cornmeal
1/4 c panko crumbs
1 t salt
2 T ancho chile powder
1 –2 T olive oil for frying
---
Instructions
Red Chili Sauce:
Warm oil in a heavy sauce pan over medium heat. Add chopped onion and garlic and saute until onion is limp.
Stir in chile powder and oregano and let toast a minute while stirring. Add stock or water 1/2 c at a time while letting mixture simmer. I let this simmer down and add more as needed until it reaches the consistency of a sauce. You can decide if you want this thicker or thinner but for this dish I prefer thinner.
Before serving taste for seasoning. I like to add a touch of honey for sweetness and do this 1 t at a time. Add some smoked sea salt, half and half and butter while whisking together for added flavor to the sauce.
Trout:
Preheat oven to 200.
Open trout up and spread with mustard mixture. Let sit at room temperature for 30 minutes.
Combine all breading ingredients in a spice grinder and blend until fine.
When ready to fry heat 1 T olive oil over medium heat.
Close trout fillets. Place breading mixture on plate and dredge both sides of trout in mixture.
Fry in oil for 4 minutes on one side and 2 minutes on the other.
Place in oven to stay warm while frying the rest of the trout.
Serve surrounded by red chile and top with toasted pecans.
I also like to serve this with stuffed poblano peppers.
---
Notes
You may have red chili sauce left over. That is a good thing! Use it on steak, lamb, salmon or shrimp. Eggs, of any kind and of course, enchiladas!
Keywords: pan fried trout recipes, red chili, pan fried trout, best trout recipes, rainbow trout recipe, pan fried rainbow trout recipes