Smoked Fish Dip is a great spread for your favorite crackers. Perfect on a cheese board, this smoked fish dip should become your house special!
Smoked fish dip is beyond simple to make.
I find that even people who don't like fish-who turn up their nose at fish- love a good smoked fish spread.
You can use hot smoked salmon or smoked white fish, but I prefer to turn mine into a great smoked trout dip.
Trout tends to be a bit milder than salmon but if you can find whitefish, you can make a great smoked whitefish dip, too.
It's hard to say what the best type of fish is to use as it is really a matter of personal preference.
Really the best fish is the one you like!
And dip is relative because mine is more like a fish spread.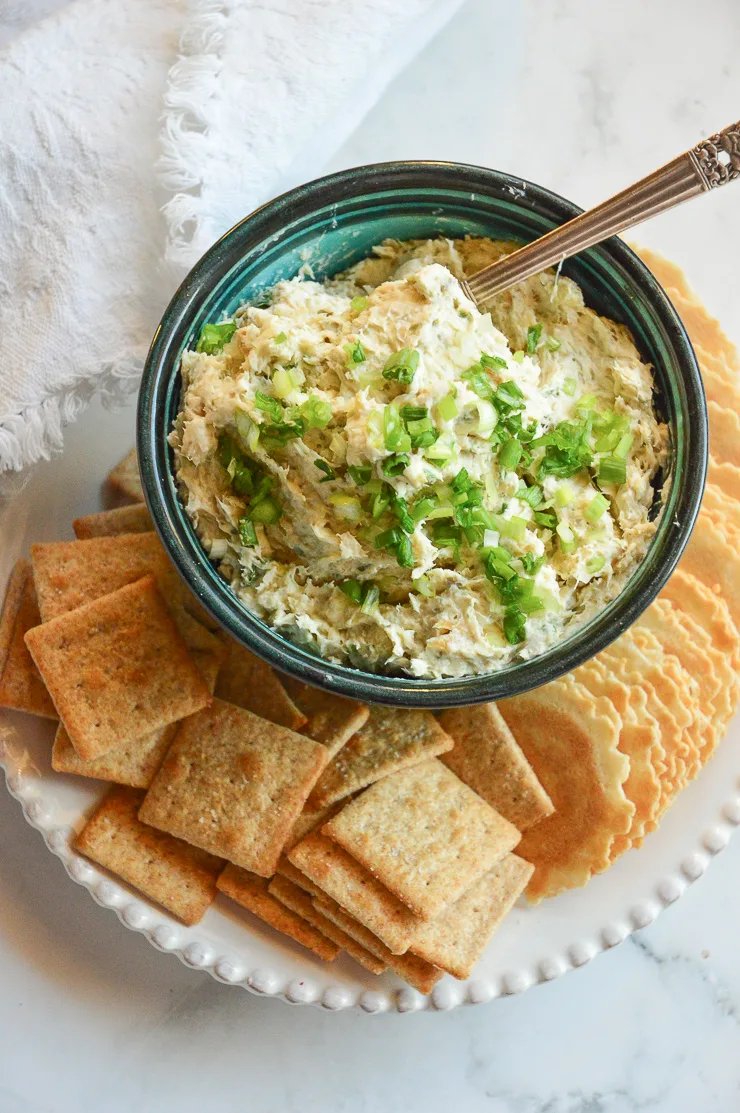 The beauty of this recipe is that you can truly use the ingredients in the recipe to create your own "house dip" if you will.
With additions like hot sauce, liquid smoke, black pepper, old bay seasoning, lemon zest and worcestershire sauce, all of which are probably in your pantry or fridge, this fish dip is one easy appetizer.
I also love a touch of horseradish and fresh dill.
How to Serve the Best Smoked Fish Dip?
This smoked fish dip recipe is great on saltine crackers, club crackers, and baguette slices.
Make it healthy and serve it on celery sticks.
And please be sure if there are leftovers to serve them the next day on a toasted bagel.
If you are going a spicier route, you could also serve smoked fish dip with tortilla chips.
This great recipe is one of the best recipes I know of and honestly the hardest part is watching it disappear.
Yep. One kind of thinks I should have made more!
Charcuterie boards benefit from having smoke fish on the platter. It always add that extra touch!
How to Make Smoked Fish Dip:
All you need to make this is a food processor or an immersion blender.
Throw the room temperature cream cheese, green onions, a touch of Dijon mustard, and some liquid smoke into the processor.
Process until it is of a creamy dip consistency and the cream cheese is nice and fluffy.
This makes for a more spreadable seafood dip.
Don't have green onions? Add some chopped up red onion.
Want this dip creamier? Don't be afraid to add a spoonful of mayo or sour cream, but plain yogurt works well, also.
Throw in a hard-boiled egg if you want and a dash of hot pepper sauce never hurt anyone!
A squeeze of fresh lemon juice is great if your fish is a bit fishy for your tastes.
Want it smokier? Add more liquid smoke.
Word to the wise – Keep a package of trout fillets from Trader Joes in the fridge for those moments when you need a special appetizer.
Mine has some in it right now in case my Alex Odie San should happen to come home from Taiwan.
He told us March and March is almost over and Passover is almost here.
The last time he was home he told me to buy him the smoked white fish dip from Costco and being a good mother I did.
Next time I think he will prefer mine and all I can say is that I hope next time is very soon.
Let me know how you make your smoked fish spread. I'd love to hear.
My friend, Mr. Riffs always comments and says, "Good stuff".
In this case, he would be quite right!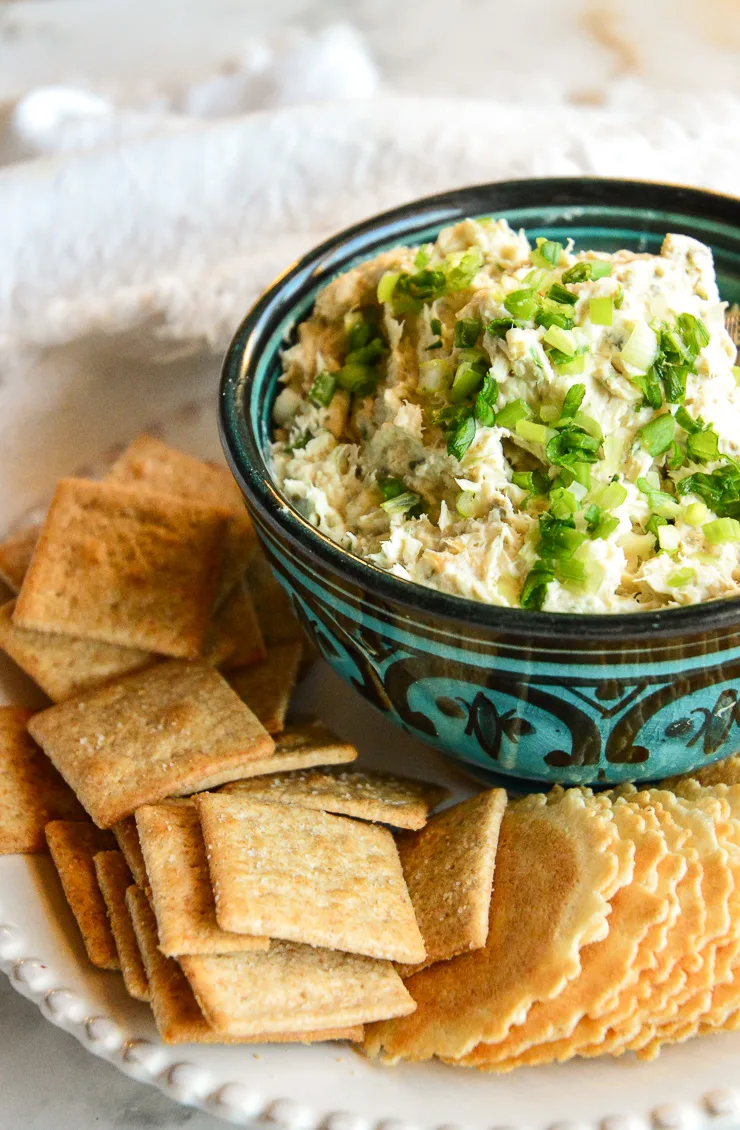 Need Some More Ideas?
Radish Crostini with Lemon Cream Cheese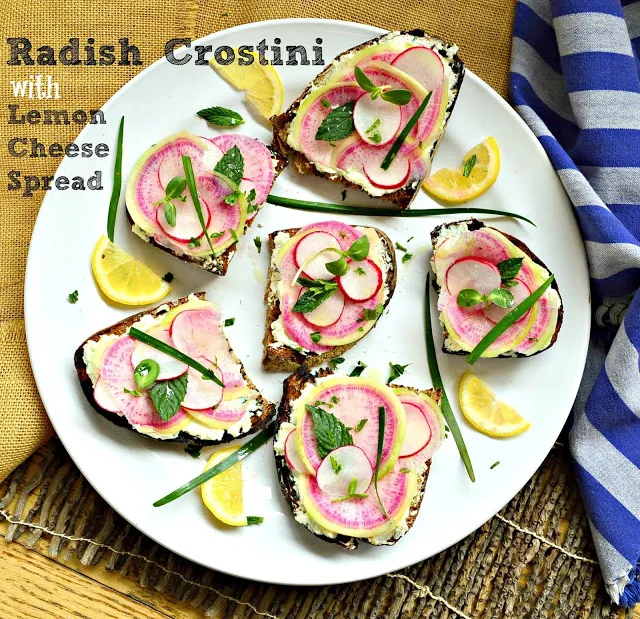 I'd Love it if You'd Follow Me and Pin and Share:
Print
Smoked Fish Dip
Author:

Abbe Odenwalder

Prep Time:

10 Minutes

Total Time:

10 Minutes

Yield:

4

Servings

1

x

Category:

Appetizers

Cuisine:

American
---
Description
A good smoked fish dip recipe is worth its weight in gold. Make this your new "house dip"!
---
1 smoked trout fillet with the skin peeled off (These can be found next to the smoked salmon near the seafood case. There are two to a package. Eat the other one on a salad or double the recipe.)
4 oz cream cheese at room temperature
2 green onions or 1/4 c red onions
1/2 t Dijon mustard
1 T capers, drained
1/4 t smoke in a bottle (if you have it)
---
Instructions
Throw all ingredients except peeled trout into food processor.
When onions are chopped well and cream cheese is somewhat fluffy, add your trout.
Do a few quick on/offs in the processor and you are finito!
Garnish with thinly sliced radishes and finely chopped green onions.
Serve with crostini toasts or your favorite crackers. Or spread this on celery. Leftovers taste great on an everything bagel.
---
Notes
Feel free to double this and use both fillets.
Other suggestions are in above post.
Keywords: smoked fish dip, smoked fish spread, smoked fish dip recipe, fish dip, smoked trout dip,