So you need something fast, but you don't want it to be the usual? I've got you covered. I made this stuffed French bread countless times when my kids were in high school and they needed something for all those sport meetings we had to attend.
It is quick, easy and adaptable, unlike a lot of those coaches we had to deal with. No, I do not miss those meetings at all. Tennis season made me cringe, swim team made me suffer (all those early mornings), and cross country I could deal with. I often wondered if playing sports really translates into real life and the good news is that in my kids case, it does.
Zoe, who was in constant battle with her high school tennis coaches, (because they believed in playing favorites) became captain of her college team. Though she was always at the bottom of the roster, she had a great attitude and was a strong leader. She still plays tennis today, but not as often as she likes. She also runs and has been in 3 half marathons and run a full one, too! That was exciting!
Alex had the same awful tennis coaches; really they were. So much so that he gave up tennis his senior year and decided to run cross country. I remember feeling awful about that, but was so proud of him for not being afraid to switch sports as a senior. He now is hopefully going to run a half marathon in Shanghai in May. They both are also excellent skiers; which I hope is my golden ticket for getting them to move back one day. I have faith!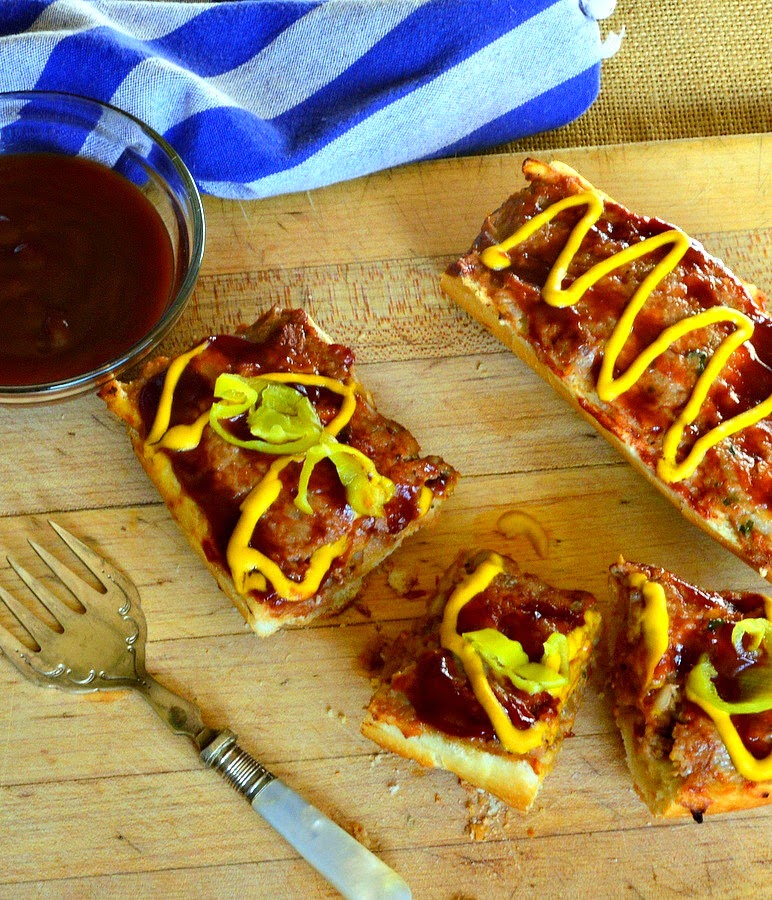 But back to this burger bread. It is highly adaptable and almost any ground meat mixture can be placed atop the French bread. The juices from the meat sink into the bread and it is heavenly.
You can do a more traditional burger with the ketchup, mustard, onions and pickles. Or you can do some Italian seasonings with some tomato sauce and mozzarella.
Mexican style-that works, too! Throw in some chilies, some jalapeno cheese and some taco seasoning and it rocks! If you are taking this somewhere just wrap it up in some foil to keep it hot, but it does work even at room temp. Well, at least it works that way with teenagers!
Super Bowl is a perfect occasion to serve this. It takes truly just minutes to throw together and you can even make the meat mixture ahead and keep it in the fridge until you are ready to bake it. No need to make a mess with grilling or frying burgers, this makes life easy! Now if only those coaches were, too!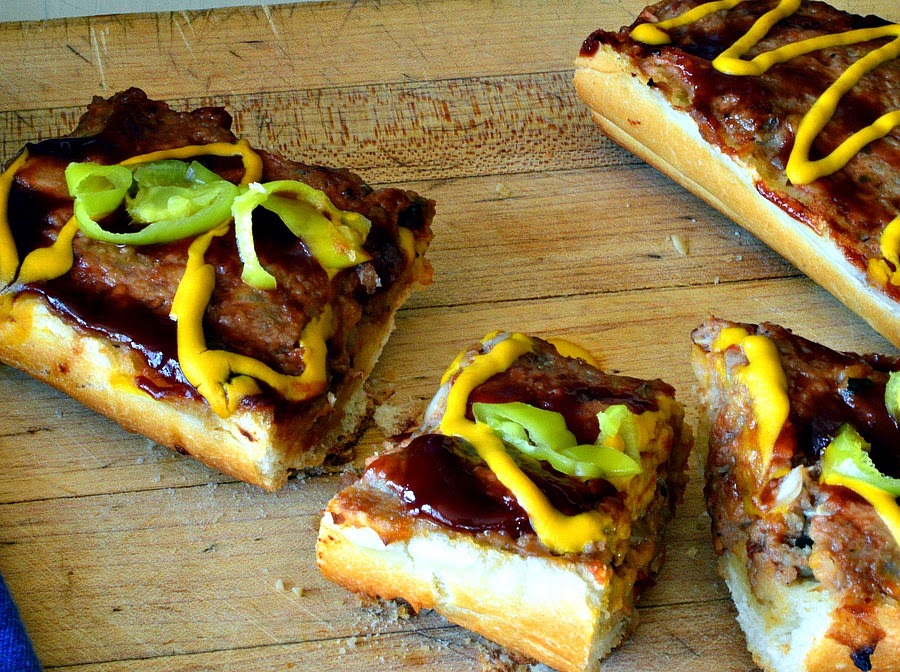 I'd Love it if you'd Follow Me on Pinterest and Pin and Share!
Print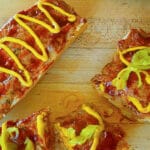 10 Minute Burger Bread
Author:

Prep Time:

15 Minutes

Cook Time:

7 - 15 minutes

Total Time:

30 Minutes

Yield:

8

Servings

1

x

Category:

Main Course

Method:

Bake

Cuisine:

American
---
Description
Stuffed French bread burgers are a great for a party and perfect for an appetizer and kids love them. Can't beat that!
---
1 long thin French baguette split lengthwise
4 T butter softened
1 1/2 lbs of your favorite lean ground meat or sausage
1/2 c finely chopped onion
2 T Worcestershire sauce
2 T bbq sauce (see below)
Ground pepper and salt
1/2 t garlic powder
Bbq Sauce
1/2 c ketchup
4 T Worcestershire
4 T brown sugar
Yellow mustard for drizzling
Other accompaniments include cheese, pickles, onions, jalapenos, etc.
---
Instructions
Preheat oven to 400. Spread slit baguettes with a light smear of butter. Make it garlic butter if you want!
Combine meat, onion, Worcestershire, bbq sauce, salt, pepper and garlic. (If you want to check to see if this is seasoned to your liking take 1 T of mixture and put it in microwave for about 25 seconds. If you like it, then leave it, if not feel free to up the seasonings.) I use my hands to mix this really well.
Spread meat on buttered bread about 1/4 inch thick. If you make the meat to thick, it won't be cooked when the bread is golden. Make sure all the bread is covered and it is pressed a bit into the bread.
Spread some of the bbq sauce on top. You should have some left over which you can serve on the side.
Place the bread halves on an ungreased baking sheet and bake for 7-15 minutes. This depends on how well you like your meat cooked. Watch that the bread doesn't burn, but it should get golden and crispy. If you want to add cheese, place it on when the meat is done and run it under the broiler until it melts.
Slice into serving pieces and serve with your favorite accompaniments. I drizzled with some mustard and added pepperoncinis! It is good as is, but you could put out pickles, pepperoncini, mustard, jalapenos…You get the idea!
---
Notes
Adapted From: James McNair's Favorites
Keywords: stuffed French bread, French Bread Burgers, Burger Recipes,
Other Super Bowl Food:
Saigon Crunch Chex Mix
Buttery Garlic Parmesan Potato Chips
Italian Nachos
Pimento Less Cheese
World's Best Onion Dip
3 Ingredient Artichoke Dip
Thai Peanut Pork Dip
Dan Dan Sliders or Chinese Sloppy Joe
Microwave Caramel Corn
Texas Chocolate Sheet Cake