This simple Japanese stir fry with ground meat and tofu and a scrambled egg is pure comfort food. Quickly made, it can be served over rice or noodles and tastes way better that going out for Japanese fast food!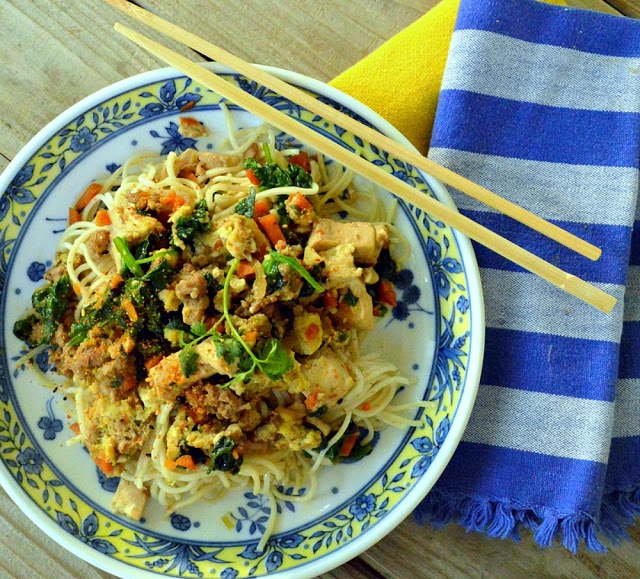 My in-laws came this week. Does that explain why today's post is short? They usually come up from Texas this time of year; so they can go to a  Colorado campground for Labor Day and stay there until October. Our home is their parking ground until they move on. Luckily, our neighbors never seem to mind this giant RV and pick up truck parked in front of our home, decorating our lawn with  colorful electrical cords and water hoses. For that I am grateful and also for the fact that they can still do this at the age of 82. It seems like A LOT of work to me. So I do what only I can do. I feed them.
Today I am giving you a recipe for donburi, basically a Japanese rice bowl. Yes, I know there is no rice in the picture. Keep reading… No, this is not what I served the in laws. This is what I made for my husband and myself the night before they came. It is a filling, quick dish with simple but good flavors. Healthy and savory, it has been a stand by for those nights I don't feel like cooking much. In this case, it is quicker than going out and it fills the belly well. Plus the rabbit catcher likes that it has a lot of protein and not many carbs. Well, he tries to not eat the noodles. Generally, this dish is served over rice, but I had some organic ramen noodles in the pantry that had a decent amount of protein in them, so I made noodles instead of rice.
I know you will like this recipe. It satisfies and it does it fast. You could serve it with fruit or a salad or eat it all by its lonesome. Feel free to jazz up the veggies and use whatever protein you prefer, be it ground pork, beef, chicken or turkey. It is filling but doesn't leave you stuffed. And that is a good feeling, because now that the in laws are here, I am stuffed. And tired. And it has only been three days. Let me just say that next week on the blog, you will see a lot of comfort food. Sweet and not. But good. Very, very good.
Stay tuned…
Donburi (serves 4 in about 30 minutes – start to finish)
Ingredients:
2 chopped green onions
2 chopped carrots
2 chopped garlic cloves
2 T canola or peanut oil
6 oz ground beef, chicken, pork or turkey
1 14 oz package tofu firm, cut into 1/2″ cubes
1/4 lb fresh spinach stemmed or a couple of big handfuls
2 T sugar
4 T soy sauce
Pepper to taste
4 eggs, lightly beaten
Noodles or rice for four
Directions:
Heat oil in skillet. Add onions, carrots and garlic. Saute about 3 minutes over medium heat. Cover and cook over low heat about 5 minutes longer. Add your choice of meat to the skillet, stirring occasionally, over medium high heat until brown. Add tofu, sugar, soy sauce, and pepper. Reduce heat and cook on medium low, covered, until spinach begins to wilt. Stir carefully so that the tofu doesn't break. Add eggs to mixture and cook, stirring, about 3-4 minutes.
Spoon over rice or noodles. I also sprinkle with togarashi, a Japanese 7 ingredient, spicy pepper/sesame seed condiment. (You could also top each serving with a fried egg if you don't want to scramble the eggs into the mixture.)
More Quick Meals:
Don't Lose This Recipe!
Please Pin and Share!