What is a pasty? A pasty is a hand-held pie of cooked meat and vegetables. My version of a pasty is perfect for St. Patrick's Day because it's filled with corned beef and cabbage, and some potatoes for good measure!
With some pie crusts in the fridge that needed a home and also some leftover mashed potatoes, I decided to have some fun with this version of an Irish pasty.
What is a pasty?
Pasties can be filled with most anything you want and the most common version, known as a Cornish pasty, often used ground beef or roast beef mixed with potatoes and a thick savory gravy.
A Cornish pasty was eaten as a meal in one by those working the mines in Cornwall, England.
It is said these humble pastries could survive a tumble down the mine shaft where often there was an oven to bake them in.
Initials were cut into the pastry so each miner could tell who they were for.
Irish pasties, from Northern Ireland are often deep-fried and sometimes even sandwiched into slices of bread along with French fries!
Seems like there are many ways to eat these satisfying snacks whether they be for lunch or dinner.
Kind of like an empanada, a Jewish knish, a Jamaican patty or even a Chinese stuffed pancake; this pasties recipe has a lot in common with snacks from around the world!
My pasty, made with a pie crust dough would not stand up to a tumble down a mine shaft.
I am guessing that the traditional dough was rolled much thicker and also made a more substantial meal.
The filling of a traditional pasty was uncooked. Potatoes, vegetables and meat were chopped about the same sizes and then baked until done.
How do you pronounce pasty?
And in case you are wondering pasty would rhyme with fast-e, if you were pronouncing it correctly!
This hearty snack would be perfect for eating while swilling a few beers, in case you are so inclined.
In which case, I'd for sure add in an order of fries, because well, salty fries with lots of ketchup are also a great accompaniment while beer drinking.
And you know I'm always about fries!
So let's get going, shall we?
How to make a pasty?
Begin by following package instructions of your pastry.
Chop your veggies. The celery, the carrots, the onions.
Saute in butter. OK. Use oil if you want.
Stir in the chopped cabbage and let it wilt a moment. Add your seasonings. The parsley, the thyme leaves. And I almost forgot-the corned beef.
I bought mine from the deli, but leftovers would work great, too.
And yeah. I did use pickle juice to deglaze my pan.
No, the miner's wives probably kept this pretty basic, but hey-I'm all about flavor!
But thinking about it, they probably added in lots of flavor by combining this with gravy, which I did not use. There's always next time!
Grate some cheese. Combine the mustard with horseradish if you want a kick or just use the mustard on its own, if you choose.
Make sure you have some mashed potatoes and if you don't, just dice up a cooked potato and add it in with your veggies.
I am very accomodating here at TIHIC.
The last thing you need before assembly are some round hamburger dills.
I was kind of conjuring up my inner McDonald's with that pickle, you know?
I mean they are Irish, are they not?
And back in the days when I ate many a hamburger from Mickey D's, I used to love that lonely pickle I hunted for on my single burger.
Please add the pickle. It adds so much flavor. Really, it does!
So time to assemble. You've got your beer handy, right? Just in case you get thirsty.
And coming from this nice Jewish girl, who attended Bishop McNamara H.S. in Kankakee, Illinois, the home of the fighting Irish, I can tell you that beer almost always comes in handy in any situation.
But let's get these things in the oven, shall we?
Preheat the oven to 425. Roll out the pie crusts and using a 5″ pastry cutter or the top of a cereal bowl, cut out about 15 pastry rounds.
Place on a parchment lined baking sheet. Brush them with the mustard mixture.
Dollop the bottom half of each one with 1 1/2 T of mashed potatoes. Top those with 1 1/2 T of the corned beef mixture.
Now top that with the pickle. And sprinkle with cheese. Fold the top half over the bottom and crimp or roll the edges.
Brush with the egg wash and have a sip of beer.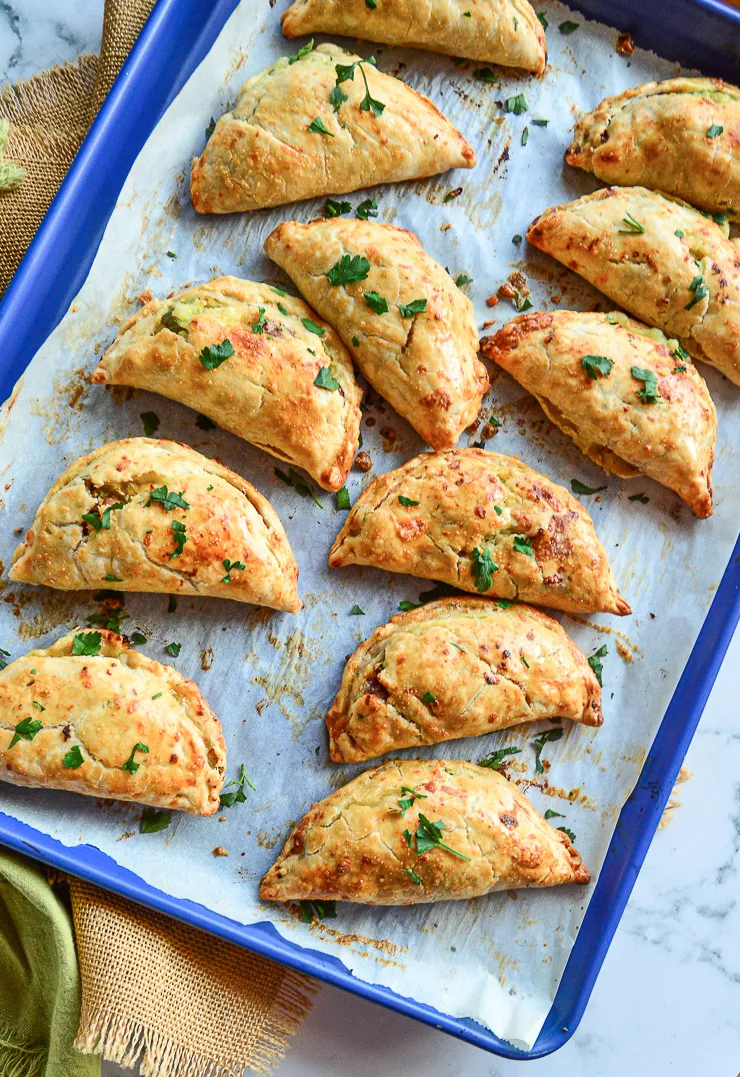 Clean the kitchen up fast and save some of that beer or open another, because this pasties recipe should now be coming out of the oven.
Serve with fries. And marvel at your ingenuity. This is a great way to use leftovers and of course, drink beer at the same time!
Need Some More?
Irish Corned Beef, Potato and Cabbage Pie in a Potato Crust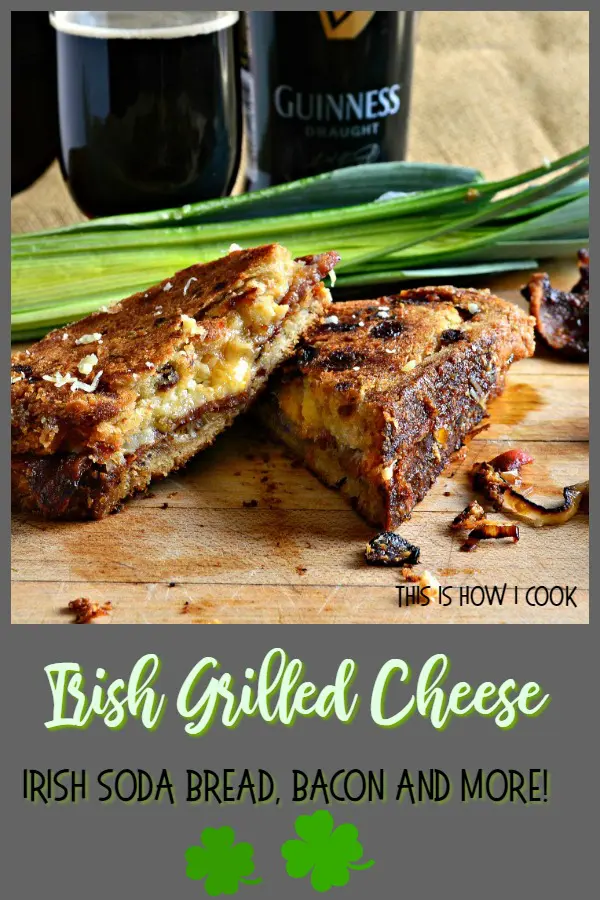 I'd Love it if You'd Follow Me and Pin and Share!
Print
What Is A Pasty? Irish Pasties
Author:

Abbe Odenwalder

Prep Time:

30 Minutes

Cook Time:

18 Minutes

Total Time:

50 Minutes

Yield:

About

1

5

1

x

Category:

Snacks/Appetizer

Cuisine:

American
---
Description
This Irish pasty is a meal by itself. Stuffed with mashed potatoes and corn beef and cabbage, this savory hand-held pie is hearty and delish.
---
3 Pillsbury refrigerated pie crusts
2 T butter
1/2 c chopped carrots
1/2 c chopped celery
1/2 c chopped onions
2 c chopped cabbage
2 T minced parsley
1 t dried thyme leaves
2 T pickle juice
1/2 lb chopped corn beef
3 T honey mustard
1 T horseradish
1 1/2 T mashed potatoes/pasty or about 1 1/4 cups) Feel free to use leftovers or a refrigerated bag of mashed potatoes.) Make sure they are well seasoned.
1 c shredded Irish Cheddar
15 large dill pickle slices (hamburger rounds)
1 egg mixed with 1 T water
---
Instructions
Make sure your pie crusts are ready to use according to package directions.
In a large skillet melt butter and then add the carrots, celery and onions. Cook until softened over medium heat for about 10 minutes. Stirr in cabbage and cook a few minutes until cabbage has wilted. Stir in pickle juice to deglaze pan.
Mix in parsley and thyme leaves and check for seasoning. Add salt and pepper if needed. Stir in chopped corned beef until mixture is well mixed. Remove from heat and set aside.
Combine honey mustard and horseradish and set aside.
Roll out pie crusts and using a 5″ pastry cutter, proceed to cut out rounds of pastry. (I used the top of a cereal bowl for my pastry rounds.) Reroll pastry until you have about 15 rounds.
Place on a large parchment lined baking sheet. Brush each pastry circle with a bit of mustard. On the lower half of each round spoon approximately 1 1/2 T of mashed potatoes. Top with about 1 1/2 T of corned beef mixture. Top with a slice of dill pickle and finish with a bit of shredded cheese.
Preheat oven to 425 degrees.
Fold the other half onto the filled pasty and crimp shut. Finish stuffing and folding all the pasties. Brush each with egg wash. Bake for 18 minutes or until golden brown.
---
Notes
This recipe can be adapted to your own tastes.
I used leftover mashed potatoes but the mashed potatoes found in the refrigerated section or the deli should also work fine.
I used Pillsbury refrigerated pie crusts but Trader Joes should work well also.
Corned beef, pastrami or even roast beef would work in this recipe or feel free to make them vegetarian, by upping the cheese, veggie and potato mixture.
These are a great handheld snack.
Keywords: irish pasty, what is a pasty, cornish pasty, pasties recipe, pasty, leftover mashed potatoes