This Irish Potato, Corned Beef and Cabbage pie begins with a tater tot crust. This recipe for St. Patrick's Day is then filled with a corned beef, cabbage and leek filling that is spiked with Guinness and mustard and topped with a stout cheese.
St. Paddy's Day found me looking for a recipe for St. Patrick's Day. Making this savory tater tot crusted Irish potato, corned Beef and cabbage pie pleased everyone!
Somehow I combined a slew of Irish standbys and threw them into this concoction for one giant Irish surprise. It contains lots of corned beef and cabbage, some Guinness, plus some Irish cheddar with stout, and mustard.
You've got to have mustard with corned beef. Oh- and did I say it is all in a crisp potato crust? Now Manservant would have thrown a fried egg on top, but I didn't let him.
This Irish Corned Beef, Potato and Cabbage Pie is a lot like a corned beef hash in pie form. No blarney! Make this and you just might be dancin' a jig!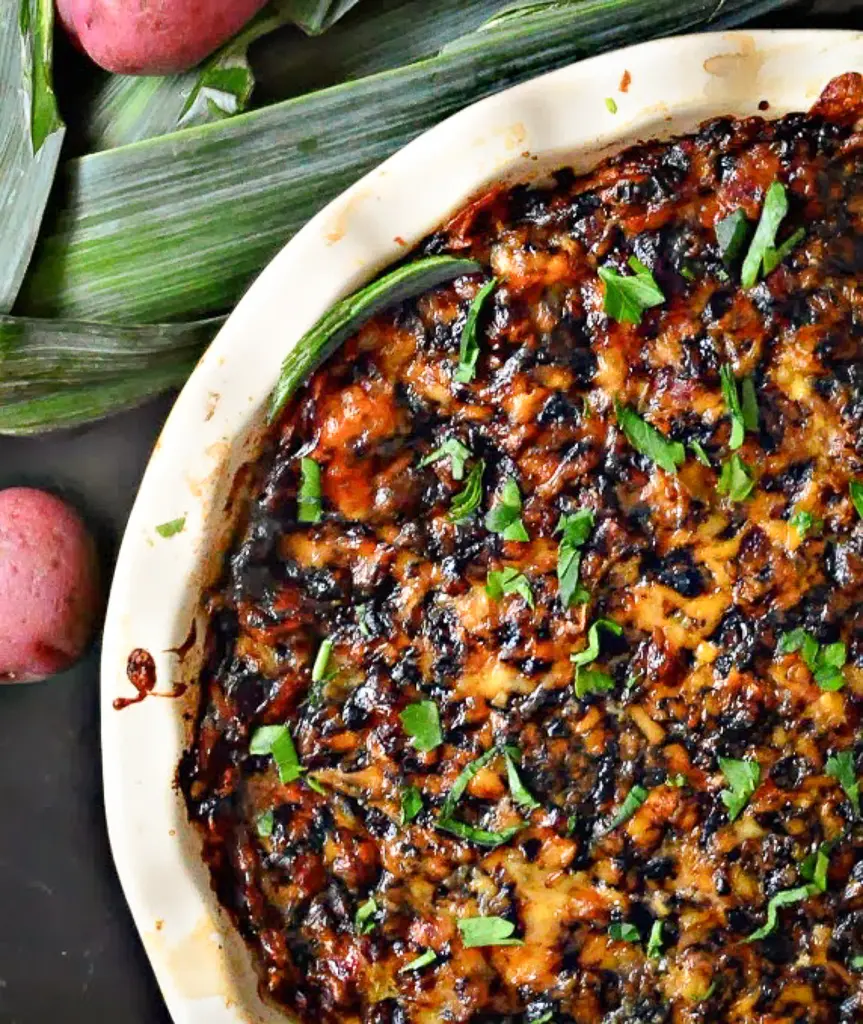 In my past, I've had plenty of Jewish corned beef and my mom used to bake corned beef each year to commemorate this great Irish occasion.
My kids never liked corned beef and cabbage, but they did build a few elaborate leprechaun traps. Somehow one of their teachers convinced them that leprechauns existed and if they caught him, he would lead them to a pot of gold. (I can remember thinking what a crazy teacher at the time, but it was fun to watch them get excited while building their trap.)
Being the great mother that I was am, I threw down those little green metallic, confetti shamrocks and even put shamrock stickers everywhere to show them that the leprechaun visited. Their traps were set off and no leprechaun was ever caught much to their regret and mine!
But back to corned beef and this recipe for St. Patrick's Day. It seems that Jewish corned beef came by way of the Irish, because of the close proximity of both groups arriving during the height of immigration. Kind of interesting to know that corned beef is really an American Irish thing and even though Ireland has historically produced a lot of corned beef, most of it is exported.
A traditional Irish meal contains bacon or ham, not corned beef. It does have an interesting history though and if you want you can read more about it here.
Spring will hopefully, soon be upon us and a sighting of green will be a sight to behold, at least in many parts of the country. Though I'm not Irish, I'm always happy to celebrate any occasion and St. Patrick's Day is no exception.
Where I come from there was many a Ryan or O'Brien close by, and believe it or not, my parents saw the need to send this Jewish girl to a high school where we were known as the home of the Fighting Irish. I wore the green plaid tartan almost every day!
This Irish style quiche is easily made with thawed tater tots, which happen to make a great crust.
After that saute the leeks, cabbage and onion. Then stir in the corned beef, which I bought at the deli. Deglaze the pan with beer and you have a perfect Irish recipe.
Then just like making a quiche, combine the eggs, milk and cream to make a simple custard to pour over the filling. Add in mustard to this and the corned beef mixture and honestly, I'm sure this is great St. Patrick day food!
But don't forget the cheese. Irish cheese preferably. And oh yeah, this would be might tasty served with a beer on the side. Unless of course you are serving it for breakfast!
Need a good recipe for St. Patrick's Day? I think this has you covered!
More St. Patrick's Day Food!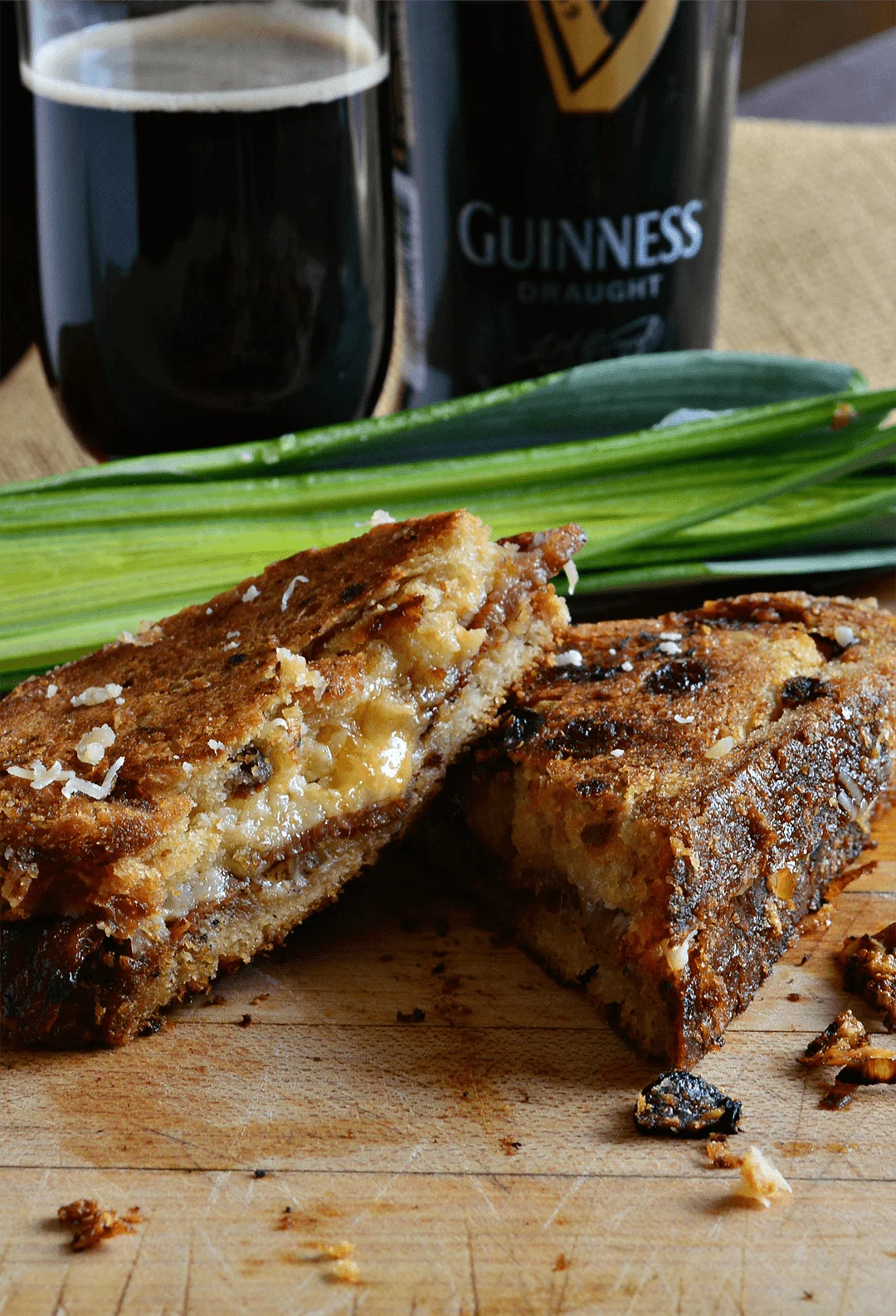 I'd love it if you Follow Me on Pinterest and Pin and Share!
Print
Irish Potato, Corned Beef and Cabbage Pie
Author:

Abbe Odenwalder

Prep Time:

45 Minutes

Cook Time:

40 Minutes

Total Time:

85 Minutes

Yield:

6

-

8

Servings

1

x

Category:

Brunch/Dinner

Method:

Stove top/Bake

Cuisine:

Irish American
---
Description
This Irish Potato, Corned Beef and Cabbage pie begins with a tater tot crust. It is then filled with a corned beef, cabbage and leek filling that is spiked with Guinness and mustard and topped with a stout cheese. A perfect recipe for St. Patrick's Day!
---
Crust:
1 package of Tater Tots, thawed

1 egg

1/4 c of finely chopped onion

Filling:
1 T oil

2 T butter

2 c chopped leeks

3 c chopped cabbage

1/4 c chopped onion

1/4 t salt

1 t thyme leaves

1/2 lb sliced deli corned beef, chopped

1 1/2 T spicy brown mustard

1/2 t black pepper

1 c Guinness or other dark beer

3 eggs

1/2 c milk

1/2 c half and half

2 t spicy mustard

1 1/2 c shredded stout cheddar
---
Instructions
Preheat oven to 400. Oil a pie plate. Mix tater tots with egg and onion. Mush it up and press it into pie plate. Bake about 20 minutes and then brush with a little more oil. Bake about another 20 minutes until crisp. Remove from oven and reduce oven to 375.
Heat butter and oil in a large saute pan until hot. Add leeks and cabbage and onion. Saute about 20 minutes over medium heat until golden.
Stir in salt and thyme, mustard and pepper. Add corned beef. Cook a few minutes and then use the beer to deglaze pan. Bring up to a simmer and simmer until most liquid has evaporated.
Combine eggs, milk, cream, and mustard in a large bowl. Beat until well mixed. Stir in cooled cabbage and corned beef mixture.
Sprinkle half of the cheese on the bottom of the potato crust. Pour in corned beef filling. Top with other half of cheese. Bake at 375 for 35-40 minutes.
Slainte!
---
Keywords: recipe for St. Patrick's Day, St. Patrick's Day food, Irish recipes, corned beef pie