Chinese Meat Pies or Xian Bing are street food in China. These Chinese pork stuffed pancakes are great for a hand held breakfast or lunch on the go!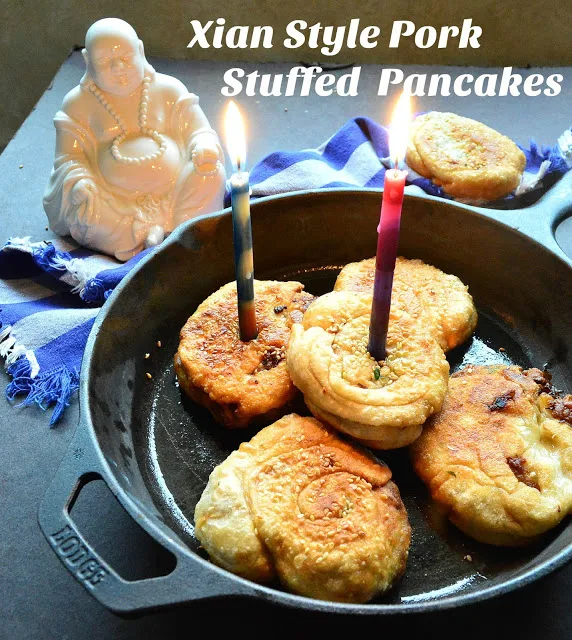 A birthday cake this isn't; but a cake this is, none the less. Imagine a traditional Chinese pork stuffed pancake or Xian Bing as they are known in China.
It seems fitting that on the day my children are turning 26, there must be some way to celebrate.
Yes, I know we will soon be lighting candles together or perhaps setting off fireworks, but it is still hard for me to let this day go without recognizing this momentous occasion.
Each year I tell myself I can't possibly be getting any older and then THEY have a birthday.
Reflecting over the years lets me remember how far we've come; how far they've come; how they truly have become more than what we had imagined, 26 years ago today.
Venturing into parenthood was not something we took lightly.
It took us 8 1/2 years to become pregnant and at the time we were even exploring adopting.
I was already 10 weeks along before I knew; so you might say I was feeling funny.
Not being able to buckle my ski boots was the first indication that led me to schedule an appointment with the doctor.
I know that sounds totally crazy, but I really could not believe that I would actually be pregnant.
It took us awhile to come up with names. We even went to Hawaii as our "last" vacation to calmly discuss this. I guess now that's called a "babymoon".
Coming up with four names is no easy task and not knowing their sex before they were born, made this quite challenging.
In Jewish tradition it is common to use names of those that have died. It is traditional to have a Hebrew or Yiddish name and a common name.
This meant we kind of had to come up with 8 names; but who's counting? I actually recently found the name list that we worked on in Hawaii!
How I found that I truly do not know, as I still can't find their birth announcement, which means I better add this to the list of chores for winter!
We quickly ruled out Hannah Leah, which sounded a bit to Hawaiian to us when we got home.
Noah reminded me of a ship and I get seasick. Manservant really wanted Satchel and Paige, but there was no connection except of course to the great Satchel Paige.
It's a good thing we didn't name Zoe Whitney because that's what her good friend is named and Alex sure doesn't seem like a Zachary, but then Clay was on there also.
Max was a possibility and so was Joshua, along with Sasha and Tillie and Kali. I laugh at these now.
Truth is I have learned that one grows into a name. In the end I think Zoe's great grandmothers would be proud of who she has become.
Zoe Bryn was named after her great grandma Fanny on my mother's side. And though I would have named her Fanny, someone else objected.
My Grandma Fanny whose Yiddish name was Faigele, translates to little bird. Zoe's Hebrew name is Zipporah, which also means little bird.
Zoe did remind me of a little bird when she was born, as she was constantly eating!
Now though I see other traits that remind me of my grandma. My Grandma Fanny was independent. She was loving. She told it like it is. Nothing slipped by her.
She worked as a dietician, when women didn't traditionally work. Fanny would be proud of what Zoe has become and Zoe even has her blue eyes. Well, I like to think they came from her.
Alex was named after my Grandpa Alex, on my father's side. Just as I adored my Fanny, I adored my Papa, too.
My Papa Alex came from a shtetel in Lithuania in 1938, with his wife and three young kids in tow.
They arrived in August and within a month after he left, his entire village was wiped out.
My Papa had courage and good timing. He wasn't afraid of hard work, and I don't think he ever looked back; though he always seemed wistful.
Everyone liked my Papa and he had a twinkle in his eye, just like my Alex.
He was an educated man, loved to eat my Bubby and Ilse's cooking, and he always brought mini Hershey's chocolate bars when he stopped over Sundays to see his grandchildren.
My Papa would love Alex. And he would adore Zoe.
I could tell more, because I haven't even gotten to their middle names, but some things are for keeping.
At least until next year when I reflect again and remember all that they've become and imagine all that they will still be.
So far they've made me incredibly proud that I'm part of this wondrous journey.
On their birthday, I thank them for reminding me of those that I loved and those that loved me. What memories I had.
What memories I will have. Today I say Happy Birthday to my two totally incredible kids, with such incredible names, that remind me each and every day that life is for living.
_________________________________________________________________________________
On that note, as I wipe away tears…I felt compelled to make a Chinese pancake; a xian bing, a Chinese pork stuffed pancake…as if you don't know!
It may not be birthday cake, but it can hold a candle. It seemed kind of fitting, given our upcoming journey.
Though we are choosing not to go to Xi'an-home of the Terracotta Warriors-we are choosing to take the road less traveled. In my family, that sure seems to be the path.
Don't forget to pin and share!
Print
Xi'an Style Pork Stuffed Chinese Pancakes
Author:

Abbe Odenwalder

Prep Time:

30 Minutes

Cook Time:

6 Minutes

Total Time:

45 minutes

Yield:

8

1

x

Category:

Main Course

Cuisine:

Asian
---
Description
This street food from China is a wonderful hand held snack. Perfect for grabbing on the go!
---
2 1/4 c flour
3/4 c water
1/2 t salt
Filling:
1 c ground pork or your favorite ground meat
1/2 t 5 spice powder
1 T soy sauce
Pinch of sugar
1/4 t salt
1 c finely chopped green cabbage
1/2 c chopped cilantro
2 scallions finely chopped
1/4 t garlic powder
1 t sesame oil
Pinch of white pepper
Sesame Seeds
About 1/2 c Oil for frying
---
Instructions
Make dough: Combine flour, water and salt in a mixing bowl. Mix until it forms a ball. I do this by hand. Knead for 5 minutes. Set aside and cover with a damp paper towel.
Filling:
In a small bowl combine pork, 5 spice powder, soy sauce, sugar and salt. Mix well.
In another small bowl combine cabbage, cilantro, scallions, garlic powder, sesame oil and white pepper.
Now your dough is ready to be shaped. I did this by shaping the dough into a cigar shape. Cut into 8 equal pieces. Keep in bowl, covered by the damp cloth until ready to use.
On an oiled wooden cutting board, shape each piece of dough. I do this one at a time. Roll into a thin rectangle, about 4 inches wide. Lightly brush oil on the rectangle and then smear 1/8 of the pork mixture over it. Take 2 T of the cabbage mixture and place this at one end of the rectangle. Roll away from you to form a coiled cigar shape. (Like a jellyroll) Now stand this cigar on one end and smash it down with the other to form a round or flattened pancake, about 3/4″ thick with a diameter of about 4 inches. Sprinkle one side with sesame seeds. Set aside and finish the rest of them.
Now pour oil into a large heavy skillet. I used my cast iron. Heat over medium high heat until oil reaches about 300 degrees. Place pancakes into the pan. I was able to fry 4 at a time. Fry for about three minutes until the bottom is golden and then flip and fry about three minutes more. Drain on paper towels and serve warm. I like these dipped in a mixture of soy sauce and chili paste!
---
Keywords: xian bing, chinese meat pancake, chinese meat pie recipe, chinese bing