Loaded with granola and toasted and glazed pecans, along with honey roasted peanuts and special M and M's, well this trail mix is a lot more than the sum of its parts.
I'm sure there are a zillion trail mix recipes, but this is the one that was in the goodie bags at my daughter's wedding.
What is Gorp?
This gorp-which stands for good old raisins and peanuts, was a perfect snack when Zoe took the bridal party to Maroon Bells.
Loaded with energy and sweet and salty flavor, this trail mix recipe combines a lot of my favorite recipes on this site.
Zoe wanted a goodie bag that screamed Colorado and I think this one did.
Containing Boulder potato chips, Acclimate packets for altitude, Justin's peanut butter cups – so good – Stinger waffles with honey, chap stick and yes, this gorp trail mix.
Something for everyone, I think.
When tasked with the making of the trail mix, I decided that combining some of the favorites from TIHIC would make this exceptional.
Really, how can glazed pecans, honey roasted peanuts with a touch of spice, homemade granola, raisins and m and m's be bad?
70 bags later, I will attest that any stray crumb was devoured by me.
I first found out about trail mix when I moved to Colorado where it was called gorp. Frankly I think I thought that gorp was the best thing about hiking. What a great snack.
And especially great when there were M and M's left over!
Back then I used to use Quaker Oats granola in the mixture but I've since upped my game so that it includes my special crack granola. When I make it for this recipe, I do leave out the dried fruit since I know that raisins will be added.
AS you can see we did have custom M and M's made. They were so cute!
There are so many variations of gorp trail mix so let me give you a few ideas.
Trail Mix Ingredients
Dried Fruit – raisins, cranberries, pineapple, papaya, apricots, dates, coconut, dried banana chips,
Chocolate- I prefer M and M's because they don't melt in your hand! Peanut M and M's would be awesome, too.
Nuts- any nut is great. Peanuts, pecans, walnuts, cashews, macadamias… I use glazed pecans and roasted pecans for a decadent mix.
Other add in's- Pretzels, White chocolate pretzels, Cheerio's or other cereal, corn nuts, etc.
Trail mix can be sweet or savory but in this house we prefer it to be both.
And then I made a few batches of honey roasted peanuts with a bit of chile. So good. Of course, I've been brain dead and didn't snap photos of just the peanuts, but they are in there!
Granola. Use your favorite kind or make the crack granola above or this. So good. Dried seeds such as chia or flax are good as are pumpkin seeds!
How to Make Trail Mix or Gorp
Start with three cups of granola, 1/2 c honey roasted peanuts, 1/2 c roasted peanuts, 1/2 c M and M's, 1/2 c raisins and 1/2 c glazed or toasted pecans or both.
I used both glazed and roasted pecans. Please be sure if you are using any kind of nut to toast them first. It gives them such good flavor.
To toast nuts, preheat your oven to 350 and toast the harder nuts about 8 to 10 minutes. When you smell them they are done. Nuts burn fast so be careful!
Though the pics from my Iphone are awful-yes, I guess it is time I upgrade- the goodie bags were so fun.
Zoe decided that Thursday night would be Western night so we tried to put on our best Western attire.
It was great fun welcoming everyone into our rented house that Zoe made look like our home by placing lots of photos and flowers everywhere, along with lucky horseshoes!
So sorry I was away for so long. I truly did not believe that a wedding could be so consuming. However with 4 different events and a daughter who is into tiny details, I found myself being way busier than I thought.
Honestly, just making the nuts and the granola took me two full weekends. Well, I did squeeze in a few batches of applesauce.
Being a mom has always been my number one job and I had no idea I would be thrust back into it when they are 31 years of age!
But time goes fast and I only get to celebrate her wedding once and yes, it was so worth it!
Need a Few More Snacks?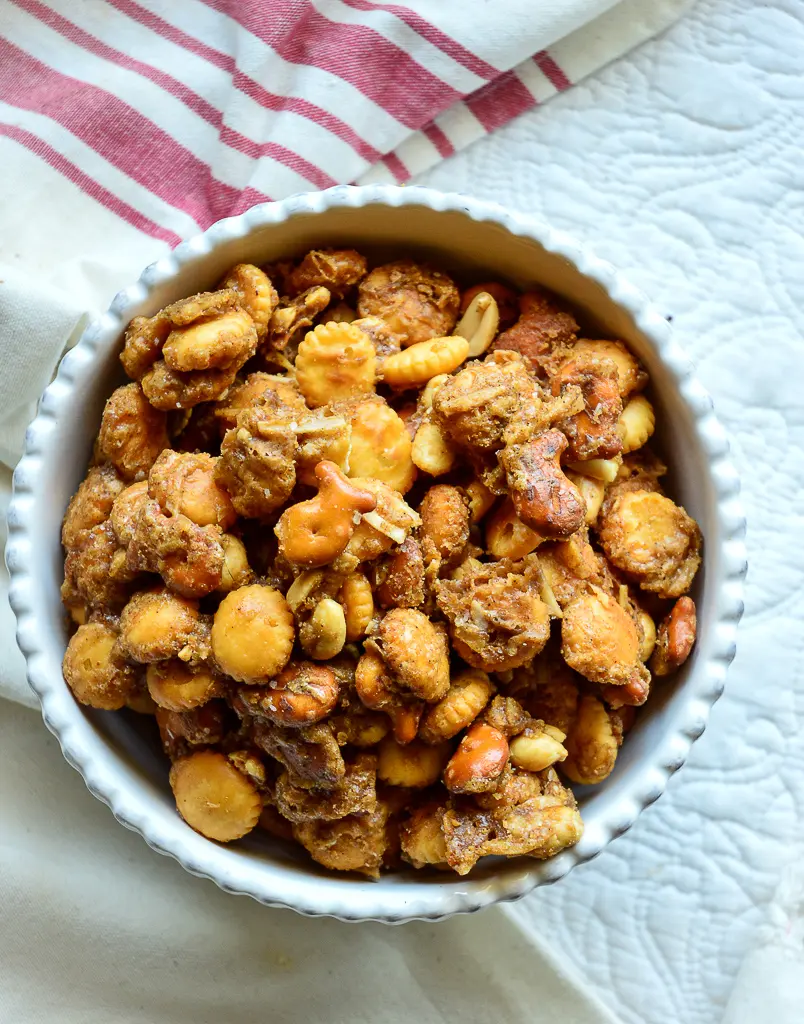 I'd Love it if You'd Follow Me and Pin and Share:
Print
Trail Mix Recipe with Honey Roasted Peanuts
Author:

Abbe Odenwalder

Prep Time:

5 Minutes

Cook Time:

20 Minutes

Total Time:

25 Minutes

Yield:

2 cups

1

x

Category:

Snacks

Method:

Oven

Cuisine:

American
---
Description
Trail mix can be made with your favorite assortment of snacks. This high energy sweet and salty mix is perfect on the trail or even on a long car ride!
---
2 c raw or salty peanuts

2 T butter

2 T honey

1 t chili powder

Salt to taste – 1 to 2 teaspoons

Sugar to taste – 1 to 2 Tablespoons
---
Instructions
Preheat oven to 325 and line a baking sheet with parchment paper.
Melt butter and honey together in a small saucepan on medium heat. Stir in peanuts and chili powder.
Pour mixture onto baking sheet and spread out in an even layer.
Place in oven for 15-20 minutes or until golden brown making sure to stir every 5 minutes, so they cook evenly.
Remove from oven and after cooling a few minutes feel free to sprinkle on extra sugar and salt, while mixing to combine.
Store in an airtight jar or zip lock bag.
---
Notes
Perfect for gifting!
Trail Mix recipe in the above article!
Keywords: gorp, trail mix recipes, homemade trail mix, trail mix ingredients, trail mix recipe, roasted peanuts, honey roasted peanuts