These spicy sweet oyster crackers are an addictive munchie. If spicy, sweet , salty and crunchy is your thing, than don't miss these!
As a child I always loved the oyster cracker snacks that came in the cellophane bags alongside my mother's chili in the local diner.
The salty little crunch bites were always a favorite of mine and I wondered why my mother didn't keep those in the house instead of potato chips.
It's that time of year when it's good to have snacks around, (Really? It's always good to have snacks around!) and this oyster cracker recipe is perfect for the munchies.
If you like things that are spicy and sweet, then this recipe is for you!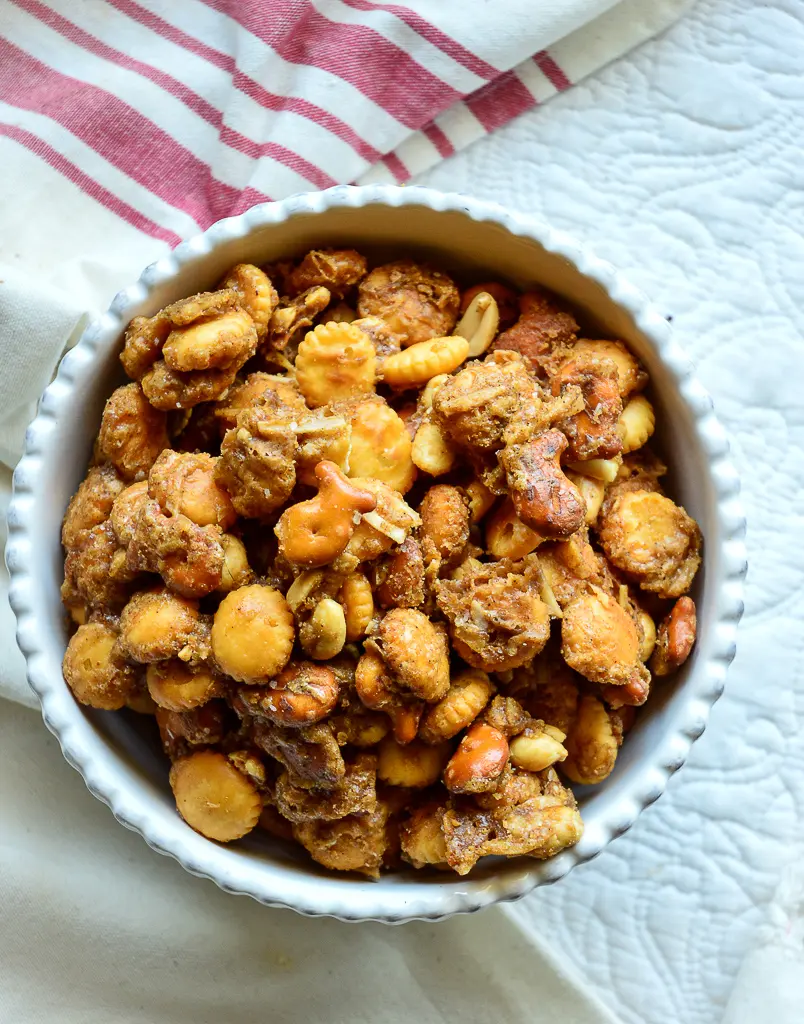 But first a little trivia. No one really knows where the term oyster cracker came from but it could be because this cute little bitesize cracker resembles an oyster.
Or it could be that they have always been served with oyster stew or clam chowder.
I've never tried Westminster oyster crackers made in Vermont but they have been making oyster crackers since 1828! Hmmm. A real trivia question would be, "How many oyster crackers have been made by the Westminsters Bakers Company since 1828?"
My brain can not quite comprehend this today, especially when wondering why Nevada can't quite count its presidential votes. Hmmm. This is coming from a state that deals a lot with numbers!
But right now I'm focusing on oyster crackers. These caramel coated crackers, spiced up with cayenne and kosher salt, are the best thing to eat while, hmmmm, waiting for those returns!
They are quite possibly a good thing to eat while watching any sporting event.
And if you don't like nuts, these are great by the handful, just like nuts. Wait, how can you not like nuts !?
Mix these with nuts and you have created your own oyster cracker snack!
Make sure to use good oyster crackers in this recipe. The cheap ones, flake out, so to speak!
Use the cayenne at your discretion. I like a lot, but I tailored it a bit to be more moderate. By all means add this too taste.
I used pretzel goldfish, and peanuts, besides oyster crackers. You might say I like to cover all the bases when it comes to snacks.
Stir in other nuts, if you'd like. The important thing is that your snack ingredients equal 4 cups.
This way you could eat these toffee like oyster crackers all by yourself, but there would still be enough to share with a friend!
These oyster cracker snacks are also perfect for gift giving. Or for munching before the big meal.
Or while counting votes!
Want a Few More Snacks?
This post may contain affiliate links. Please see our disclosure policy. As an Amazon associate, I earn from qualifying purchases at no cost to you.
Print
Spicy Sweet Oyster Cracker Snacks
Author:

Abbe Odenwalder

Prep Time:

10 Minutes

Cook Time:

10 Minutes

Total Time:

20 Minutes

Yield:

4 cups

1

x

Category:

Snack

Cuisine:

American
---
Description
These spicy sweet oyster cracker snacks are a great munchy!
---
4 c oyster crackers, (I used 3 c oyster crackers with 1 c pretzel gold fish. You could also add in 1 c peanuts for 1 c oyster crackers)
3/4 c salted butter
3/4 c brown sugar
2 t vanilla or maple extract
1 t kosher salt
1/2 t cayenne
---
Instructions
Preheat oven to 350.
Line a rimmed baking sheet with parchment paper and lightly spray with cooking spray.
Spread your cracker mixture evenly on the baking sheet.
In a large pot, melt the butter over medium heat. Add the brown sugar and stir until it has dissolved.
Turn up the heat to medium high until the mixture begins to boil. Stir for 3 -4 minute while this boils and gets lighter in color.
Turn off the heat and stir in vanilla.
Quickly pour over cracker mixture and mix gently with a spatula until all of the crackers are completely coated.
Sprinkle salt and cayenne over the top. Bake for 8 – 10 minutes. Know your oven! Do not let this burn.
Let cool and break into pieces. This will keep a long time in a big zip lock bag. (But you will probably eat it sooner!)
---
Notes
I used Nabisco oyster crackers.
Keywords: oyster cracker snacks, oyster cracker recipe, oyster crackers