These luscious strawberry crumble bars with a buttery crust, are filled with fresh strawberries and jam, topped with a nutty crumble, and then glazed. Oh my!
Strawberry bars are one of my favorite strawberry desserts.
Made with a buttery shortbread base that holds up the luscious filling; these strawberry squares are a special treat.
Yes, they take a few more steps than say making blondies, but I guarantee you just can't stop eating them.
The crumble streusel-like topping for the strawberry crumble bars is made with the reserved crust mixture which keeps this strawberry recipe somewhat uncomplicated.
And the fresh strawberries in this recipe require no cooking.
To amp up the strawberry flavor, I also topped the cookie crust with strawberry jam. I love my homemade jam, but any good jam will work, and if you don't have strawberry, raspberry jam will taste great, too!
After the bars are baked, a simple powdered sugar glaze was drizzled over and though this is completely optional I think you will find that this simple glaze moved these bars from luscious to decadent!
They are such pretty bars that I've often made them for Valentine's Day, but honestly as long as you can find sweet fresh strawberries there is nothing better to use them with.
A Great Strawberry Recipe!
Yes, I adore strawberry shortcake, too, but this strawberry recipe is equally good.
I've brought these to new neighbors; I'm not sure if anyone still bring new neighbors cookies, but I like to start things off right. Or at least try.
A few years ago I dropped off cookies to our new neighbors directly next door and after a few months of no acknowledgment I ran into the mom while getting the mail. She thanked me and apologized for not thanking me sooner and basically that was the last I saw of her.
We were quite disappointed because we got along well with our old neighbors of 25 years, and looked forward to continuing the tradition with someone new. Nope. Not this family.
They proceeded to erect a tall fence and their kids never even said hello to us. Now they are gone and we aren't sure who is coming in-but it can only get better from here!
Contrast that to the neighbors that just moved in, one street over. I dropped off these luscious strawberry bars and Harry, the husband, explained that Cookie, (his wife) was at the grocery. He asked if I wanted to come in.
We chatted a few moments and then I was off to the grocery, too. Later that night Cookie called and proceeded to tell me they ate every one and how thoughtful it was to think of them.
I wasn't even sure Harry remembered my name but somehow they tracked me down and made the call. I can tell we are going to get along well with these folks-and after all with names like Harry and Cookie-how can we not?
Perchance I brought the wrong cookie a few years ago? Maybe these strawberry bars have more appeal?
No, I don't really think that was it! However these strawberry crumble bars have a lot going for them. With a buttery, crisp crust, a delectable fresh fruit filling, and a crumble made of nut filled dough, these red ruby bars are truly phenomenal.
The day I made them I offered Manservant a bite. One bite later and he immediately told me to wrap them up and get them out of the house.
Not much better compliment, than that, huh?
A Few More: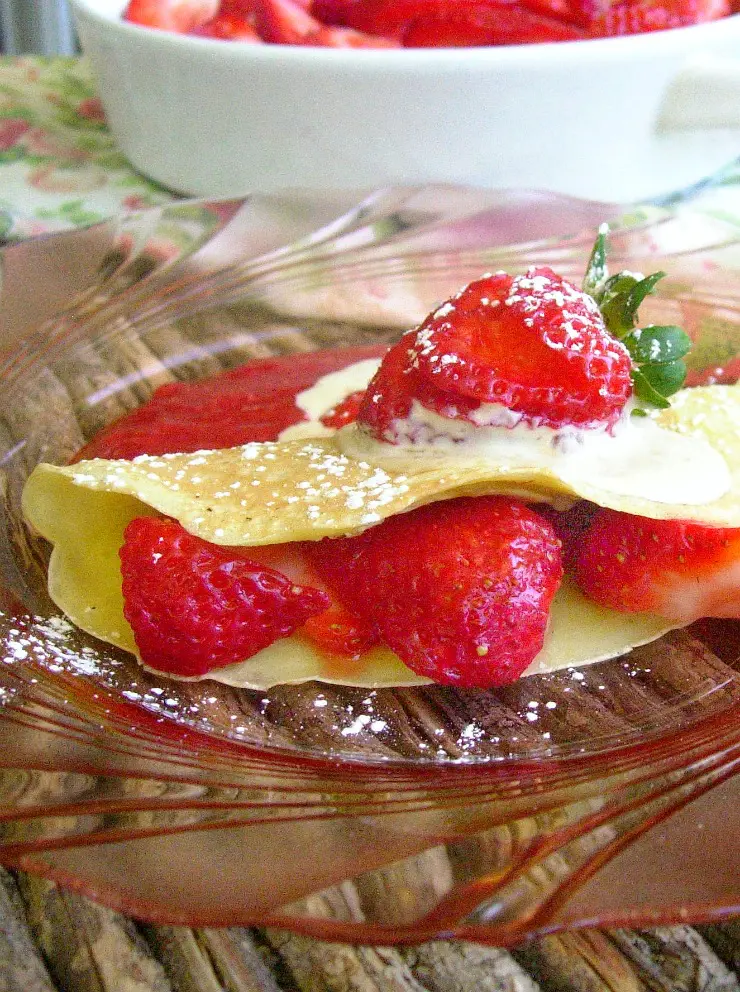 Please Pin and Share:
Print
Strawberry Crumble Bars
Author:

Abbe Odenwalder

Prep Time:

25 Minutes

Cook Time:

45 Minutes

Total Time:

60 Minutes

Yield:

1

13 x 9 pan

1

x

Category:

Dessert

Method:

Baking

Cuisine:

American
---
Description
Strawberry bars with a crumble topping and glaze are one of the best ways to eat strawberries, IMO!
---
Crust

4 sticks unsalted butter at room temperature

2/3 c sugar

1/2 c brown sugar

4 c unbleached flour

1 1/2 t kosher salt

2/3 c chopped toasted walnuts

1 t cinnamon

Strawberry Filling
1/3 c sugar

1 1/2 lbs washed and hulled strawberries, sliced

1 T lemon juice

1/4 t cinnamon

1 T balsamic vinegar

————————

4–5 T of strawberry or raspberry jam


6 T unsalted butter, melted

3 c powdered sugar

about 1/4 c milk or until glaze reaches drizzling consistency

1/2 t vanilla

Dehydrated dried, unsweetened strawberries (optional)

---
Instructions
Line a 13 x 9 pan with parchment paper so that the paper hangs over the edges of the pan. (This is so dough won't stick but also allows you to remove the bars from the pan after baking to slice them easier.)
For the crust: Place butter, sugars, and vanilla in a stand mixer. Beat with paddle attachment for about 3-5 minutes or until light colored and fluffy. Stop mixer. Scrape down sides of bowl.
Cover bowl with clean towel to avoid flour flying around. Add flour and salt and mix on low until combined.
Press 2/3 of the dough on to the bottom of the pan and a 1/2″ up the sides. Refrigerate for 15 minutes. Reserve 1/3 of the dough for the crumble.
Preheat oven to 375.
Stir chopped nuts and cinnamon into the rest of the dough. Wrap in plastic wrap and chill.
After crust has chilled, bake in preheated oven for 20 minutes.
Prepare the filling by mixing filling ingredients together in a large bowl.
After removing crust from oven, spread the jam lightly over the baked crust. Top with the filling.
Remove remaining dough from refrigerator and form into balls and scatter over the top. Bake 25 minutes or until light golden brown.
While bars are baking prepare the glaze. Melt butter and stir in powdered sugar. Add milk and vanilla and stir with a small whisk until a glaze of drizzling consistency is formed.
After bars have cooled, drizzle with glaze. I also crumbled some dried strawberries over the top and into the glaze to give a little pink hue and a touch of strawberry flavor to the glaze, though this is totally optional!
---
Notes
Glaze is optional but is so good!
Keywords: strawberry desserts, strawberry recipes, strawberry bar, strawberry squares, strawberry crumble bars