Giada's Bolognese sauce recipe may be more like an American ragu than the traditional Italian version, but this simple sauce is still great!
When the days are cold there is nothing I love more than THE Giada de Laurentiis recipe for bolognese sauce.
Many of you know I don't eat beef so I am here to tell you that this can also be made with ground pork, ground turkey or ground chicken.
Yes, it isn't quite as rich that way, but using a mixture of ground turkey and Italian sausage does help and the sausage gives this an extra flavor boost.
But do it your way!
What is the difference between an American meat sauce and a Bolognese Sauce?
This deeply rich ragu is not a traditional recipe from Bologna.
However, it does include ingredients like a soffrito of onion, celery, and carrot.
A traditional recipe would also add white wine, milk, and a small amount of tomatoes or tomato paste as it is not a tomato-based sauce.
Adding milk makes for a richer sauce and more tender meat.
It is also not served over spaghetti!
It is served over tagliatelle noodles where it is used as a light sauce.
I have made the celebrated chef Marcella Hazan's recipe and it is a classic bolognese sauce, complete with fresh shavings of nutmeg.
It is amazing, but takes a long time to reach perfection.
In most cases, people do not want to take the entire day or 5 or so hours that it requires, even though most of it is hands off time.
I totally get it, but one day you should try it, just because it is a great recipe!
Giada's delicious recipe isn't a true Bolognese sauce with milk, wine or nutmeg, though you could add it.
This recipe is one often found in the United States, where we like ours over spaghetti and with lots of tomato sauce and it is often thought of as Ragu.
Just wanted you to know the difference between what you find in Italy vs what you often find here.
This flavorful sauce is made with ground chuck beef or an 80/20 mixture of ground beef.
How to Make Giada's Bolognese Sauce Recipe:
To make Giada's de Laurentiis' recipe you begin by usng a large skillet or dutch oven and heating the extra-virgin olive oil until almost smoking.
Add 1 chopped medium onion and 2 garlic cloves, and saute over medium heat until the onions become soft.
Then add the chopped celery stalk and chopped carrots and saute a few minutes.
Now turn the heat to high and add the ground beef or meat of your choice.
(If you were making this true Bolognese style now would be the time to add some white wine and cook until the wine has evaporated.Then you would add some milk and let it evaporate!)
But thank goodness you've skipped two steps and now it's time to add 1 can of crushed tomatoes-preferably San Marzano tomatoes.
(Honestly, once I did a taste test and you can really tell the difference.)
Don't forget the fresh Italian parsley and fresh basil leaves and cook over medium low heat, uncovered, for about 30 minutes or until the sauce thickens.
Check for seasoning and don't be afraid to add salt and fresh ground black pepper and more fresh herbs if you want.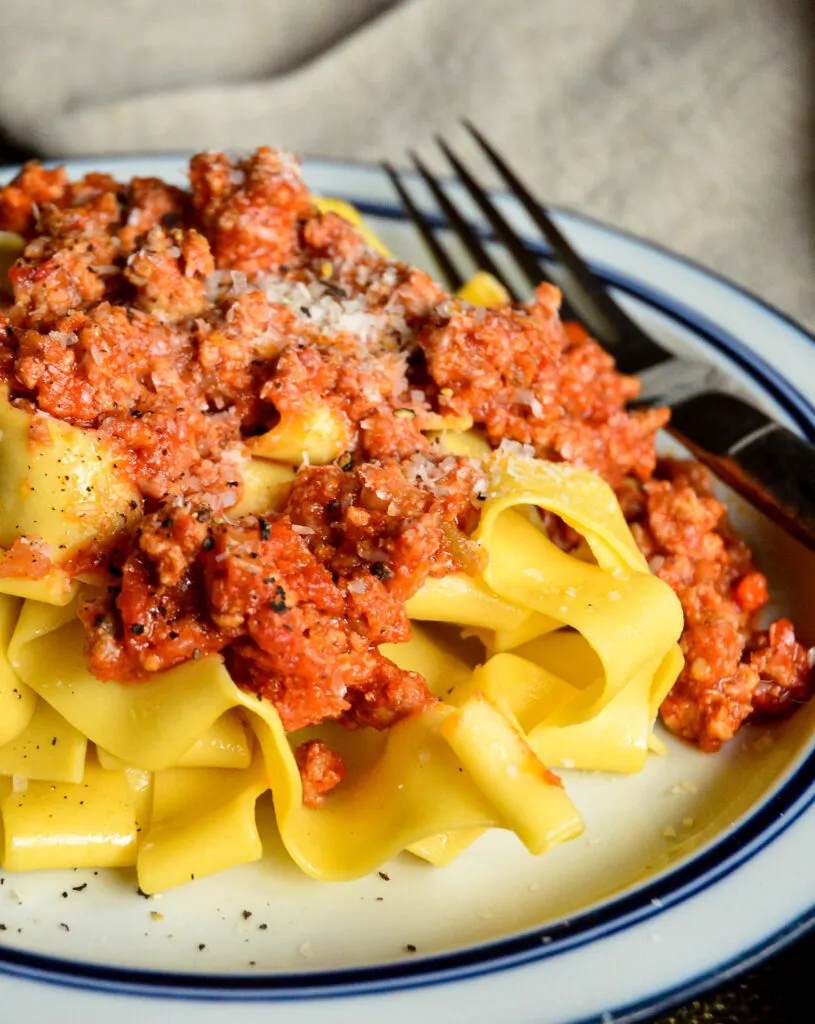 Many like to add a leftover parmesan rind for extra umami flavor. If you have one, try it.
I always save mine, but then forget to add them!
This simple bolognese can be served over spaghetti with pecorino romano cheese or parmesan cheese sprinkled on top.
As you can see I adopted the Italian version and served mine over tagliatelle!
If you want your sauce not quite so thick don't be aftraid to stir in some well-salted pasta water.
I like to think that Giada's Bolognese Sauce Recipe is a typical American meat sauce that everyone loves.
Make a double batch of this sauce because it's easily frozen in an airtight container for other weeknight meals when you are craving a pasta dinner.
This easy Italian dish also tastes great the next day.
Perfect for easy dinners, this is almost everyone's favorite pasta dish.
And if it's not yours, I'd love to hear what is!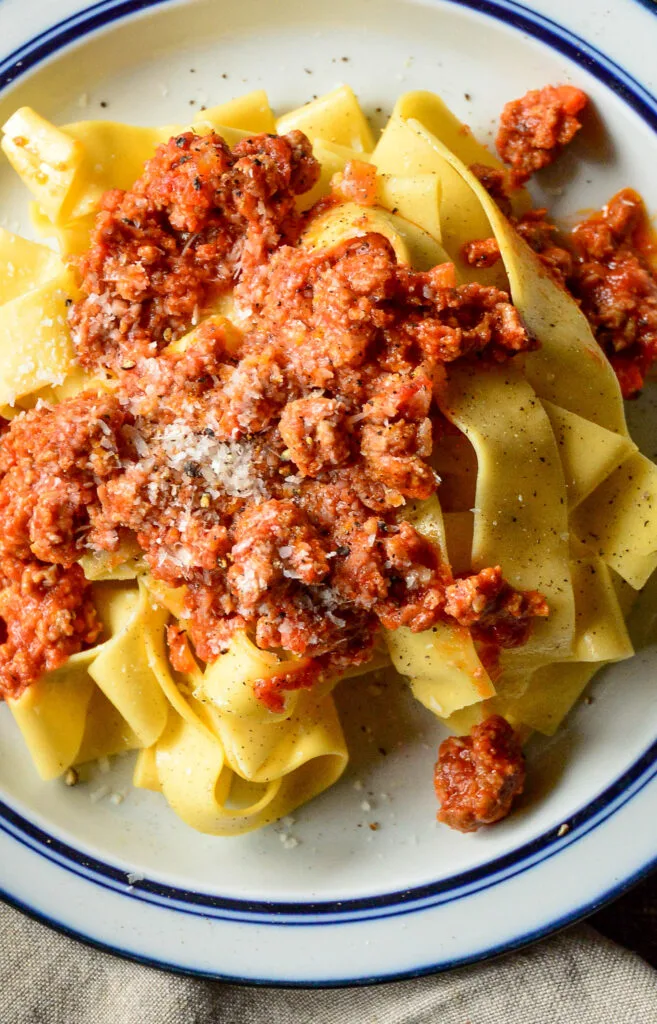 More Pasta Recipes: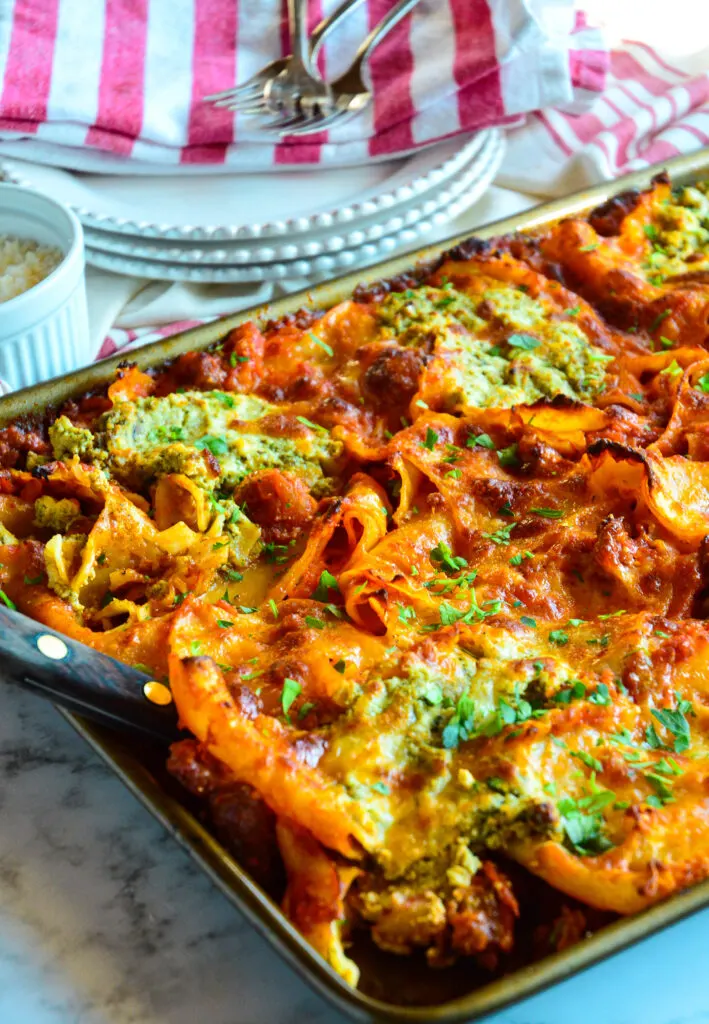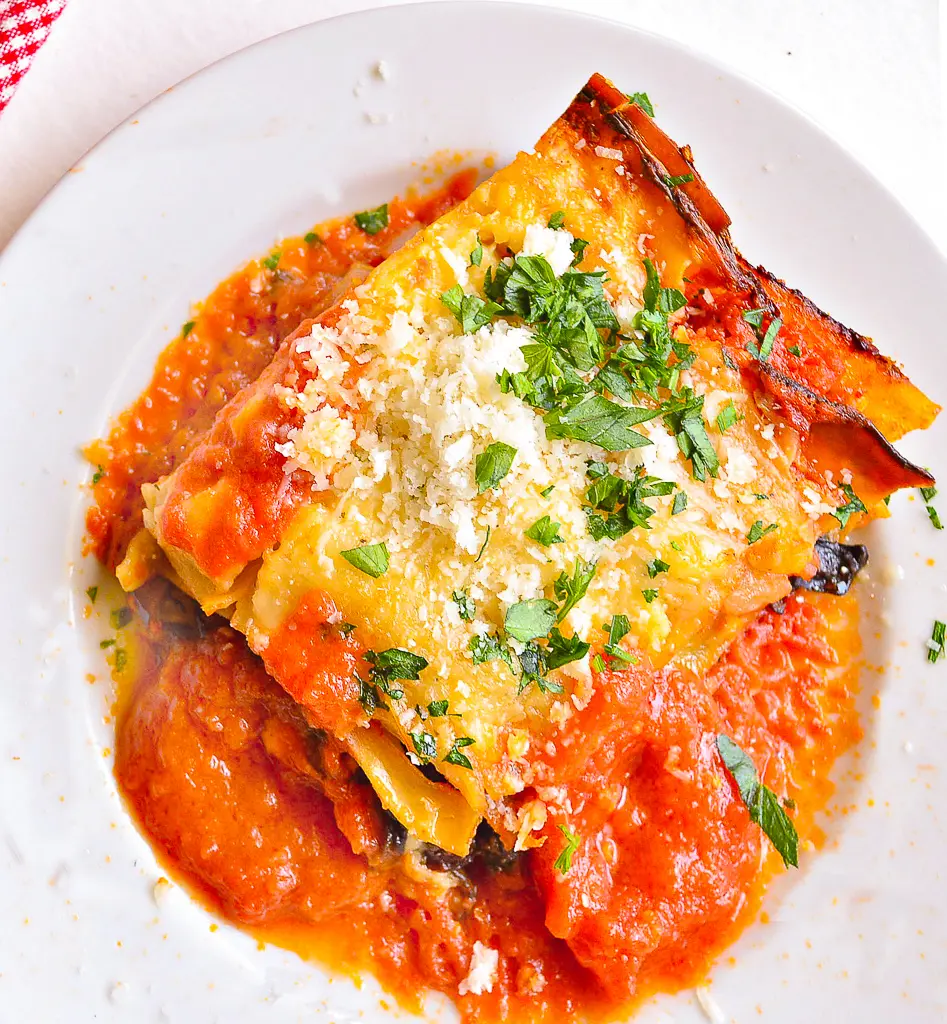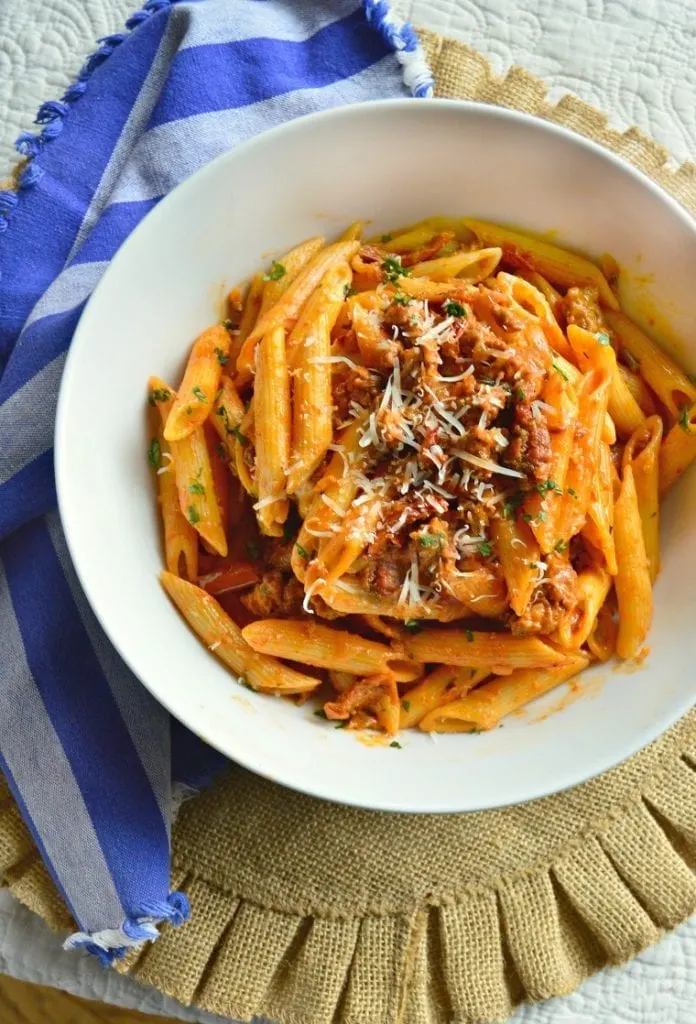 TIP: Sometimes when I'm trying to chop ground meat it takes forever. I use this and it makes the job go a lot faster.
Giada's cookbook-can't say I've tried it, but she has many to choose from.
This post contains affiliate links from which I may, or may not, be paid a small commission at no cost to you.
Print
Giada's Bolognese Sauce Recipe
Author:

Abbe Odenwalder

Prep Time:

25 Minutes

Cook Time:

30 Minutes

Total Time:

60 Minutes

Yield:

4

to

6

Servings

1

x

Category:

Main Course

Cuisine:

Italian
---
Description
This simple and classic Bolognese pasta sauce from Giada is easy to make and so rewarding. Who doesn't love a big bowl of meat sauce over pasta?
---
1/4 c olive oil
1 medium onion, coarsely chopped
3 garlic cloves, chopped
1 celery stalk, chopped
1 carrot, chopped
1 lb ground chuck
1 28 oz can crushed tomatoes
1/4 c Italian leaf parsley, chopped
8 fresh basil leaves, chopped
Salt and fresh ground pepper
1/4 c fresh grated Pecorino or Parmesan
---
Instructions
In a large skillet, heat olive oil until almost smoking. Add the onion and garlic and turn heat down to medium and cook until the onions become very soft, about 8 minutes. Add the celery and carrot and saute for 5 minutes.
Raise heat to high and add the ground beef and cook until it is no longer pink, about 10 minutes. Add the tomatoes, parsley and basil and cook over medium-low heat until the sauce thickens – about 30 minutes. Season with salt and pepper.
Serve over pasta of your choice with more black pepper and grated cheese.
---
Keywords: giada's bolognese sauce recipe, ragu sauce, ragu recipeeasy bolognese sauce, giada bolognese recipe, simple bolognese, bolognese sauce, bolognese sauce recipe, best bolognese sauce,