Want to make your own homemade seasoned salt substitute for Chex mix? Check out some different ideas for creating your own original snack mix recipe! And in this case this Southern style Chex-mix recipe with biscuit croutons and pecans is totally scrumptious!
Homemade seasoned Chex mix is often made with seasoning salt.
I love Lawry's seasoned salt but not everyone has it on hand.
And even if I have it, it often isn't fresh and flavorful, especially after it's been sitting in my spice cabinet for awhile.
And let's face it, I don't want my snack mix to taste like everyone else's, so I make my own party mix often with what I have on hand.
In this case, this snack mix recipe begins with leftover biscuits.
Really. And if you don't have leftover biscuits you can use leftover cornbread.
You can use leftover bread. Basically, these homemade croutons are a big part of this snack mix AND they are what makes it so good.
Well, that and the seasoning you choose to use.
In my case I used Nashville Hot chicken seasoning which I love on most anything.
Made with garlic salt, chili powder, cayenne pepper, regular paprika, smoked paprika, black pepper and more; this is one of my favorite seasoning blends.
Worcestershire sauce, melted butter and honey, plus this great seasoning, make this a great recipe and a favorite snack here at TIHIC.
Seasoned Salt Substitute for Chex Mix:
Salt substitutes can include celery salt, parmesan cheese, Buffalo seasoning, za'atar and honestly whatever homemade blend you want to make.
Old Bay Seasoning and of course, this Nashville hot chicken seasoning are great, too as would be any Cajun spice mixture.
However I must say that I do love the hot chicken seasoning, and combined with biscuits and pecans makes this a real Southern chex mix with great flavor!
Mix up your own seasoning salt by using a combination of onion powder, garlic powder, salt, cayenne, paprika and sugar.
I always eat seasoning salt on corn on the cob and popcorn! Not to mention burgers, chicken and other veggies.
How to make this homemade seasoned Chex mix recipe with your own seasoned salt substitute:
Begin by turning your bread of choice into croutons. Yes, it's as easy as cubing your biscuits (in my case) and baking them until golden brown.
Then get out your large bowl and combine the bread cubes with wheat chex, rice chex or corn chex or even a combination of the three works great.
Add in some pretzel sticks or mini salty pretzels along with some chopped pecans and sesame seeds and you are on your way to creating your own original chex mix recipe.
Now make the butter mixture by combining unsalted butter with Worcestershire sauce, honey and your favorite seasonings and heat together over low heat until the butter melts.
After mixing up this easy recipe pour the cereal mixture onto a prepared baking sheet lined with parchment paper.
Bake for about 1 hour until golden brown and store in an airtight container at room temperature.
Chex mix recipes are always popular and it seems everyone has their favorite component that disappears first.
In this case, the biscuits and pecans go first.
With my Asian Chex mix, the wasabi peas always seem to go first!
Just remember that you can always switch out ingredients so if you don't have enough pretzels stir in cheese crackers.
You get the idea, right?
Perfect for bbq's or game day, this is a great version of the original chex party mix.
It's easy to make your own chex mix and I love going to the grocery store to peruse everything I can find to put in it.
One can never go wrong when it comes to creating the next great thing-especially when it's as simple as a snack mix.
Perfect for gifting along with your favorite spice blend, a big bowl and your own original recipe, this was a favorite Christmas gift of my MIL.
She called it trash but in our home it is much, much more.
Enjoy!
Want More Party Mixes?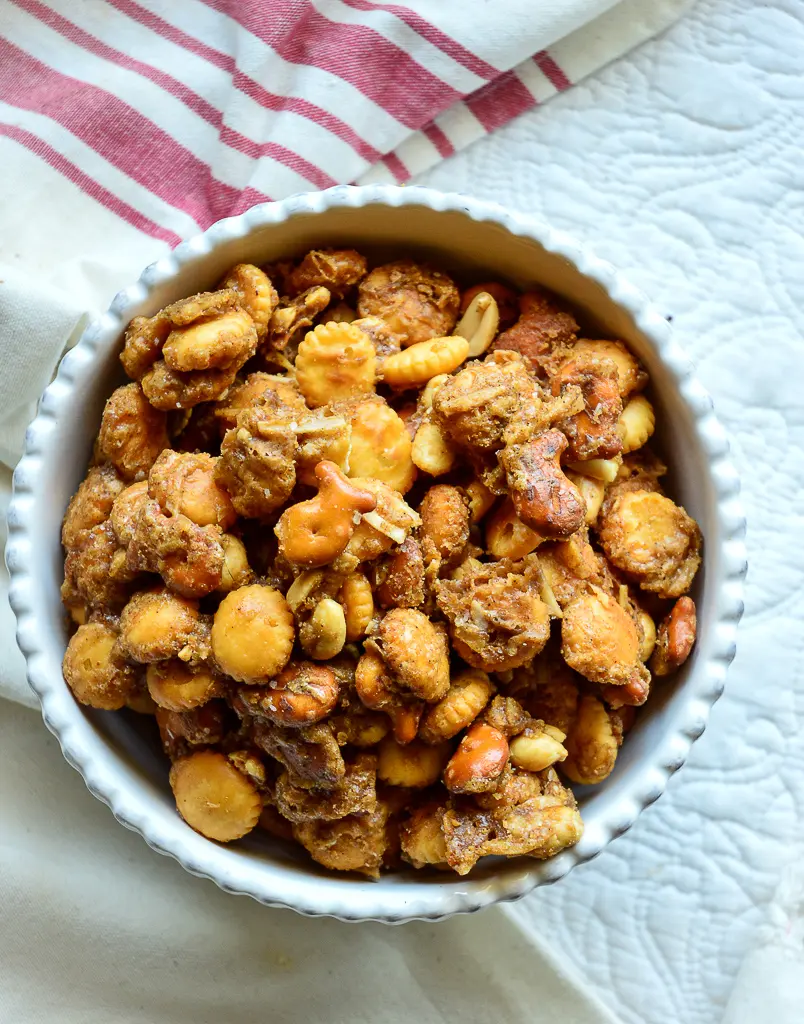 This post contains affiliate links for which I may or may not be paid a small commission at no cost to you.
Print
Homemade Seasoned Chex Mix!
Author:

Abbe Odenwalder

Prep Time:

15 Minutes

Cook Time:

60 Minutes

Total Time:

75 Minutes

Yield:

12 Cups

1

x

Category:

Snacks

Cuisine:

American
---
Description
This homemade seasoned Chex mix can be made with your choice of seasonings or use you favorite blend like I did! Add in some biscuit croutons and pecans and you have a readl Southern Chex mix!
---
6 cups cubed leftover biscuits, croutons, challah or other bread
3 c Chex cereal
2 c bite-sized pretzels
1 c coarsely chopped pecans or halve them
1/2 c white sesame seeds
12 T or 1 1/2 sticks unsalted butter
1/4 c Worcestershire sauce
2 t honey
1 T fine sea salt
1 1/2 t garlic powder
1 t onion powder
1 t cayenne pepper
OR in place of the seasonings above use 1 T of your favorite seasoning mixture such as Nashville Hot Chicken Seasoning
---
Instructions
Place racks in the middle and lower third of the oven and preheat to 350. Line baking sheets with parchment paper.
Divide the cubed biscuits between the two baking sheets and bake for 8 – 12 minutes turning halfway through and toasting until golden brown. Remove and let cool to room temperature.
REDUCE oven temperature to 250.
In a large bowl combine the biscuit cubes, Chex cereal, pretzels, pecans and sesame seeds and stir gently to mix.
In a small saucepan or large microwaveable measuring cup combine the butter, Worcestershire, honey and your choice of seasonings. Make sure to use 1 T of your favorite combination and mayber even more! Cook until the butter melts, stirring occasionally to blend.
Pour the butter mixture over the party snack and stir until everything is evenly combined.
Divid between the parchment lined baking sheet and bake for about 60 minutes, stirring mixture every 15 minutes.
Remove from oven. Let cool and store in an airtight container until ready to eat!
---
Notes
See the post for seasoning suggestions.
Thanks Cheryl Day and Treasury of Southern Baking for this great inspiration.
Keywords: snack mix, party mix, party mix recipes, seasoned salt substitute for Chex mix, Chex mix, Chex mix snack recipes, snack mix reipes