Baked saffron chicken is marinated with lemon, shallots and garlic and then baked with potatoes and carrots to make a one dish meal!
The high winds blew me from Phoenix to Denver yesterday.
Manservant picked me up at the airport and then we made our way to happy hour.
Happy hour is not something we normally do but being St Patrick's Day and the fact that I really was home, prompted us to stop off at McCormick's for some good deals.
They had mussels steamed with Guinness in honor of the day, which I can't wait to try at home. Just slurping the broth would make me a happy girl.
Today it is raining snow and though it really isn't sticking, it reminds me of how nice the weather is in Phoenix this time of year.
Everything was blooming and fresh, and the birds were out busily looking for areas to nest.
Denver is still in the midst of grayness; though I did see hints that the grass was starting to turn green.
Not having enough time to get the tan I wanted in Phoenix, I am so looking forward to next month when I fly back.
With luck my mom will be doing a jig and we will be able to cook Passover together.
Well, I think that's a good thing. You know what they say about too many cooks in the kitchen, right?
I had a busy week playing nurse and now my dad is up to this week's challenge. Right, Dad?
Whereas my mom is always very nice to me, she needs to be a touch easier on my dad, but that is my opinion.
He assures me he can take the heat and given that they have been married over fifty years, I know that to be true.
He's looking forward to her being able to golf again and though I am still not believing that will happen, I hope it does for their sake.
After helping my parents out several times, the one thing I can say with assurance is that sickness does not get in the way of eating well in our family.
We began with this saffron chicken that really hit the spot after sitting two days in the hospital.
The patient then requested wonton soup and reminded the chef that wontons aren't really that hard to make. No, they really aren't, Mom, but when was the last time you made them while caring for someone laid up in bed?
Yes, she did get home made wontons. And fresh lo mein. And cod over Meyer lemons. And sandwiches. (How those got in there I'll never know.)
And then there was the Boboli pizza because she wanted pizza bad, but couldn't go out for it just yet.
And you know pizza delivered is just not the same. I suggested my Boboli which they have never had before and after hearing a diatribe of what needed to be on it and in the sauce and so on and so forth and it would drip cheese in the oven if it wasn't directly on a pan, I was sorry I even brought up the idea of making pizza, but at least she remembered to put her hearing aids in that night and yes this is a run on sentence-and yes, they both were happy with the results. Thank goodness.
And now I am home and they have two different sets of friends bringing them dinner this week. I am thankful for that.
My advice is do not ask them what they want. Make it your way. They will eat it. With pleasure.
Of course, they will critique you when you leave, but that is a story I can not tell.
Saffron Chicken was adopted from the Jerusalem cookbook. It is warm and soothing and perfect for sick people.
At least sick people in my family. It tastes good as leftovers as my aunt can attest, because she didn't want a sandwich. I aim to please!
This is a great company dish. Let it marinate and then just throw it it in a pan to bake.
I only let this marinate for a few hours but I think it would have been even more outstanding if left overnight.
If you have never tried recipes with saffron, this is a good one to try.
Saffron has an almost sweet, floral taste and if yours doesn't, it might be a cheap imitation.
If you haven't made many saffron dishes, please note that a little goes a long way.
But don't skimp! This unique taste is integral to the dish, just as it is in Spanish paella.
This saffron chicken recipe calls for Jerusalem artichokes which I used because they were easy to find in Phoenix.
They taste great raw, but are cooked in this dish. If you can't find them use baby potatoes. I used both and they were perfect.
This is a perfect dish for those that love comfort food.
Yes, it has lots of flavor, with lemon and saffron being predominant, but the carrots and potatoes makes this hearty dish a joy to eat.
More great Middle East inspired recipes:
Smoky Pumpkin Hummus
Hummus
Mezze
Baba Ganoush
Muhamara
Israeli Salad
Roasted Za'atar Chickpeas
Chicken with Figs, Pumpkin and Red Wine
Chicken Sofrito
Moroccan Fish with Saffron Aioli and Chickpeas
Freekeh
Spinach Salad with Za'atar, Dates and Almonds
Kadaif or Middle Eastern Cheesecake
Ma'aneesh with Za'atar
I'd Love it if You'd Follow Me and Pin and Share!
Print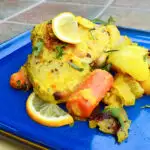 Saffron Chicken
Author:

Abbe Odenwalder

Prep Time:

20 Minutes

Cook Time:

45 Minutes

Total Time:

1 hour 5 minutes

Yield:

4

1

x

Category:

Main Course

Cuisine:

American/Mediterranean
---
Description
This baked saffron chicken is full of flavor and makes a complete dinner with potatoes or Jerusalem artichokes. Haven't tried Jerusalem artichokes yet? Kind of a crunchy potato with more flavor, I must admit I loved them!
---
1 lb Jerusalem artichokes, peeled and cut into wedges OR
1 lb Baby new white potatoes cut in half OR
Combo of both
3 T fresh squeezed lemon juice
8 skin on or bone in chicken thighs or 1 medium whole chicken, cut into pieces
8 large peeled shallots, halved lengthwise
12 large cloves of garlic, peeled and sliced
1 leek, sliced and rough chopped
4 carrots, peeled and cut into large pieces
1 medium lemon halved and thinly sliced
1 t saffron threads
2 bay leaves
3 T olive oil
2/3 c water
1/2 t coarsely ground black pepper
1/4 c fresh thyme leaves
1 t salt
---
Instructions
Put the Jerusalem artichokes and potatoes in medium saucepan. Cover with water and add half the lemon juice. Bring to a boil and lower the heat. Simmer for 10-20 minutes, until tender but NOT soft. Drain and leave to cool.
Place the Jerusalem artichokes or potatoes and all the remaining ingredients except for the lemon juice in two large zip lock bags or a large bowl. Feel free to throw in the lemon rinds also. Use your hands to mix everything together well. Marinate in the fridge overnight of for at least two hours.
Preheat the oven to 475. Arrange the chicken pieces skin side up, in the center of the roasting pan and spread the remaining ingredients around the chicken. You may need two pans to avoid overcrowding. Roast for thirty minutes. Then cover with aluminum foil and cook for another 15 minutes. (I will tell you though that I roasted this without covering for the full 45 minutes and then some. I like my chicken browned and it was not browned in just the thirty minutes alone. You must be careful though to not let it dry out.) Remove from the oven and sprinkle with the reserved lemon juice. Stir well, and taste for salt. Potatoes usually require more salt.
I served this with rice and a salad.
---
Notes
From the Jerusalem Cookbook
Keywords: saffron chicken, recipes with saffron, saffron dishes