"This saffron herb rice with currants and pomegranate seeds is not only pretty it tastes great too!"
2018 is in full swing and though I've been busy you wouldn't know it from this blog. As I mentioned 2017 did not end on a high note and I was definitely not in holiday mode. Try as we could throughout 2017 to make things better…well, better just wasn't cutting it. This will be the year of doing things differently as it was obvious to us that better doesn't always work. It isn't easy to teach old dogs new tricks but we are determined to master skills such as how to work differently, how to be nicer, how to gain patience and most importantly how to grow old together. It's time to say goodbye to the year of floods, me getting older, parents getting even older, crappy jobs and to say hello to a new year- a year of new possibilities. I've been in high mode getting my business restarted and soon will have a website where you can see the custom plates I design for special occasions. Revamping this blog is also on the list as as are the usual items such as health, diet and exercise which are kind of one and the same. Boring!!! And that's it for what some may call resolutions.
On to rice. I last left you at chicken shawarma and didn't even have the decency to write out the recipe for this charming, perfectly gorgeous, perfectly festive, luscious rice. It reminds me of how my bedroom looked when I was young. Yellow walls and yellow bedspreads with rose, hot pink flowers, a gold shag carpet and of course… a pink princess phone completed the picture. Well that's how I remember it and though this rice doesn't leap off bed spreads it will leap off your plate and into your mouth quite rapidly. It is good and tasty and perfect with most any dish, but pile this on a plate and surround it with chicken shawarma and you will be diving in. Even from a high dive…this distinctive yellow and white rice is that enticing. And easy to make!
So speaking of rice I figured it was time to continue the journey to China. I should have added this to my list of resolutions… though I only have two more segments after this. Hopefully if I complete them I will be able to go back because it doesn't sound like China Boy is coming home any time soon. However he will be visiting in a month and I can't wait!
From Hangzhou we flew south 2.5 hours to Guilin. We didn't arrive until midnight due to Chinese airlines consistently running late. Early the next morning we left for our 4 hour Li river cruise to Yangshuo. The limestone karst scenery was beyond spectacular. We may not have cruised the Yangtze but this was quicker and I hear a lot better than spending 3-4 days on a boat. As you can see the morning haze was still looming.
And lots of boats were going the same place we were!
We got settled well on the ferry…Don't you just love it?
And then they served us brunch. Yummy!
We climbed often to the upper deck to take snaps of the scenery. It was hot. Really hot. Maybe more humid than hot. But that didn't stop us and everyone on the boat from getting the money shot. The money shot…you ask?
And quickly we arrived in Yangshuo. This might be as close to Boulder as one can get in China. This is where one can climb, hike, bike and boat. It is a destination for backpackers. We saw Jamaican bars and Irish bars and 99% of the faces were Chinese. Lots of cats roamed the streets. The red chiles were prevalent. The daytime streets were empty. The night time streets were packed. We stayed a bit out of town at the Eden Garden Hotel which can be found on booking sites. It was a lovely site located on the river and near the bike paths. They served us an awesome dinner of Drunken chicken or fish – a popular dish in Yangshuo.
This is the entrance to the hotel. Yes, it was off of a busy road, but once inside the gates it was very peaceful. At night it was lit up and made for a pretty site. We also happened to time it right and the red flowers on the vines had just started blooming. We were told this only happens once a year.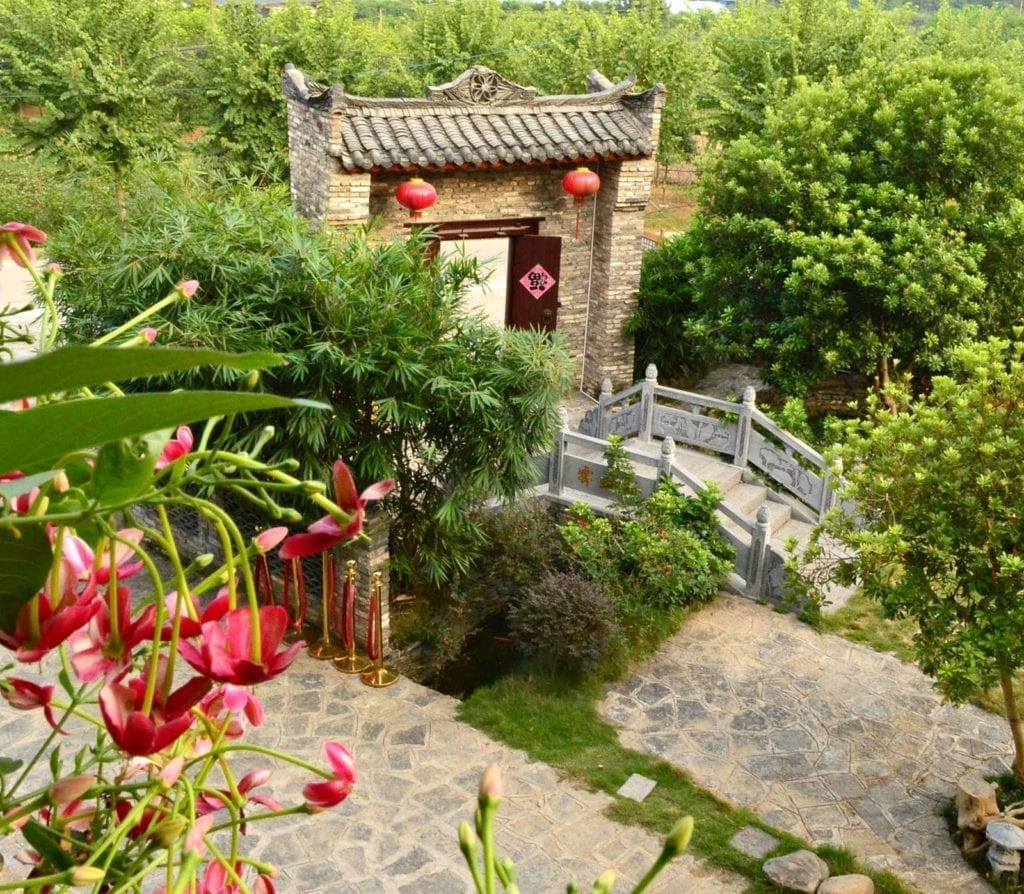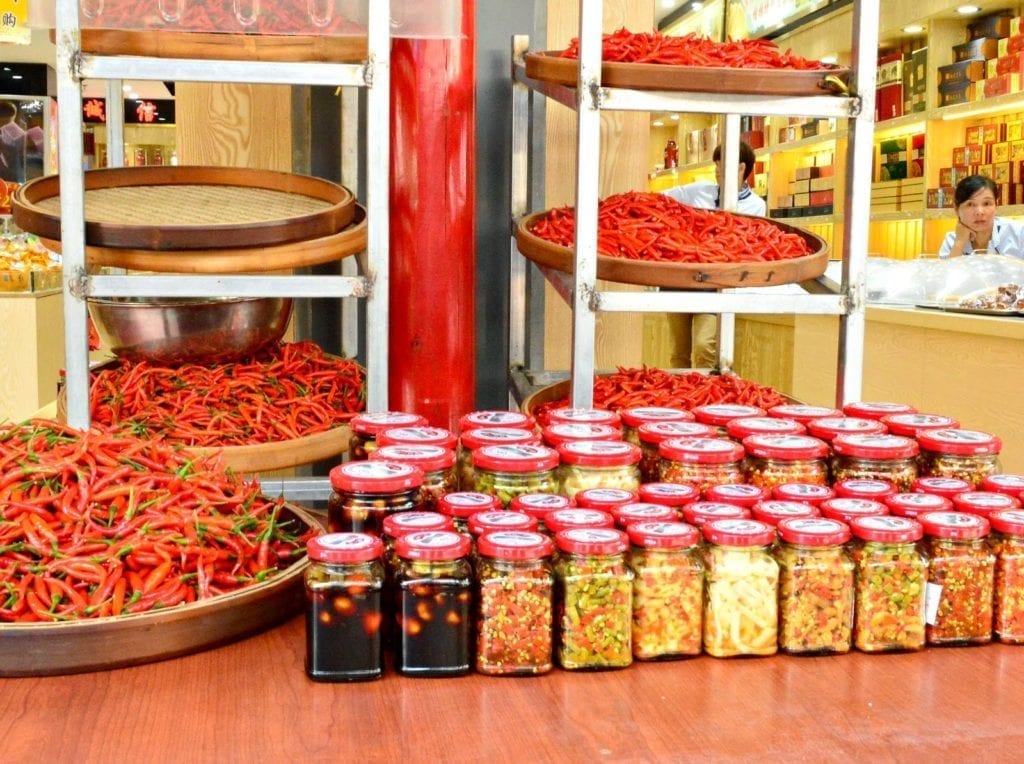 The next morning found us renting bikes. It was expensive, probably because of the quality of the bikes. For a whopping 75 cents we were able to rent bikes with no brakes or steering. It was quite a deal! We headed to the brick paved path that took us along the river and through the rice fields. The haystacks kind of made me think Monet in China!
We are looking quite good here, aren't we? Until the ….well… you know!
I think this was her IG shot!
Be careful little duckies. China is a dangerous place for a duck!
We rode over bumpy bricks-we did notice the stone layers in China have yet to perfect their craft. Every surface of tile, or brick tends to have its fair share of toe thumpers. And always there is a section being redone! Truly a hot, glorious ride that made for many photos. It was on this ride I had my famous bike accident that caused China Boy to exclaim that he can't take me anywhere. But really it wasn't my fault. As Manservant started to ride too close, I steered away to avoid hitting him and without a bike that steers or brakes I felt myself going down. It really was slow motion until I got up and noticed my torn leggings and the bruises on my face. Thank goodness I had just passed off the camera around my neck to Manservant.
It was then that the flower selling ladies crowned me, and bruised and all we continued on our path. Two boys decided to go swimming and then the Chinese boys followed suit. I think they were waiting for them to test the waters! Note that this was a popular spot for truck crossings, too!
And then it was a quick stop for lunch and biking back to take Advil, wash off and catch our Uber back to Guilin. Way too fast for such a glorious spot. Oh, but I almost forgot. I couldn't forget the rice. After all it isn't everyday one sees rice in China.
Though we came back to Guilin the next day we still didn't have enough time to explore its beauty. Trying to see everything in China in three weeks is impossible. We did manage to eat well, never any problem with that, and walked around Fir Lake, saw the twin Sun and Moon pagodas, but still there was so much more to do. I hope to see Guilin again some day and spend more time exploring. A Chinese Song dynasty scholar once wrote, "I often sent pictures of the hills of Guilin which I painted to friends back home, but few believed what they saw." There is a lot of truth in that.
Seafood and chilies were everywhere. So were the crowds. The garlic baked oysters were incredible and I don't even like oysters. We grabbed a plastic stool and dove in!
Yes, those are plastic school cafeteria trays. However I've never seen them filled with fresh scallops! What a full day we had. From bike riding to ubering from Yangshuo to Guilin is one day I would happily repeat-bruises and all! We woke up Sunday morning in time to catch the bullet train to Shenzhen but not before enjoying our breakfast and one last view from the Aroma Tea House where we stayed. I wish we would have had more time to enjoy this little gem of a hotel, but next time, I promise!
And those are happy memories to start the new year with. Now it's time for rice which will forever be ingrained in my soul. Get it? In grained? So time to shut up and give you the recipe. Enjoy this rice. And just for your notes…This rice isn't from China. It is from the Middle East. An Ottolenghi favorite of mine. But if you want a new take on a Chinese STYLE fried rice this could fill the bill. And because this is a post on China I will close with an old Chinese proverb, "Without rice, even the cleverest housewife cannot cook."
.recipe-inner{text-align:left;max-width:620px;border:6px double #009BFF;padding:20px;background:#f2f2f2;margin: 40px auto;font-family:Lato, sans-serif;}.recipe-inner a{color: #4193f0;}#recipe .recipe-name{font-size: 21px;}#recipe .info{font-size:13px;text-transform:capitalize;border-bottom:2px solid #000;padding-bottom:7px;margin-bottom:20px}.info:after{content:";display:table;clear:both}#recipe .info span:first-child{margin-right:30px}#printbutton{border:0;margin:0;color:#fff;float:right;background:#555; padding:5px;border-radius:3px;cursor:pointer}#recipe .time{text-transform:uppercase;font-size:12px;text-align:center;background:#fff;padding:15px 0;margin-bottom:20px}#recipe .time span:not(:last-child){margin-right:12px}#recipe .time span:not(:last-child):after{content:";display:inline-block;height:10px;width:1px;background:#000;vertical-align:middle;margin-left:12px}#recipe .summary{line-height:1.7;font-style:italic}.ingredients{line-height:1.7;clear:both}.ingredients h3,.instructions h3,.notes h3{font-size:20px !important;font-weight:400 !important;margin-bottom:0;color:#000;text-transform: uppercase;}.ingredients ul{margin:0!important;margin-top:5px !important;}.instructions li{margin-bottom:15px !important;line-height:1.6;text-align:left;}.ingredients li{text-align:left}#recipe .instructions{margin-top: 30px;}#recipe .instructions ol,#recipe .instructions ol li {list-style:decimal !important;}#recipe .instructions ol{padding-left:39px;margin:0!important;margin-top:6px !important;}.posturl{border-top:1px solid #ccc;padding-top:10px;}.ing-section{padding-left:20px;margin: 10px 0;}.ing-section > span{font-weight:700}.recipe-credit{font-size:13px;border-top: 1px solid #ccc;padding:10px;text-align:center;background:#ffffff;margin:-20px;margin-top:15px;}.recipe-credit a{color:blue;text-decoration:none;}.copyright-statement{font-size: 13px;font-style:italic;border-top: 1px solid #ccc;margin-top:15px;padding-top:15px;line-height:1.6;}.notes pre{font-size: 15px;margin: 10px 0;padding-left: 20px;font-family: inherit;line-height: 1.7;white-space: pre-line;}.notes h3{margin: 0}.nutrition-info{font-size: 0;margin: 20px 0;padding: 10px;background: #fff;}.nutrition-info>div {display: inline-block;font-size: 14px;width: 20%;text-align: center;}.nutrition-info>div:nth-child(5) ~ div{margin-top: 20px;}.nutrition-info>div p{margin-top: 0;margin-bottom: 7px;}#recipe-pinit {float: right; background: #BD081B !important; border-radius: 4px; margin-right: 5px !important; color: #fff !important; max-height: 25px !important; padding: 2px 10px !important; text-decoration: none !important; display: -webkit-box; display: -ms-flexbox; display: flex; -webkit-box-align: center; -ms-flex-align: center; align-items: center;} #recipe-pinit svg { display: inline-block; width: 16px; height: 16px; margin-right: 4px;}#recipe .image{text-align:center;margin-bottom:25px}#recipe .image img{max-width:100%}#recipe .recipe-name{line-height:1.6;text-transform:uppercase;margin-top:0;letter-spacing:1px;text-align:center;margin-bottom:20px}#recipe .time{border-top:1px dashed #000;border-bottom:1px dashed #000;border-right:0;border-left:0}#recipe .summary{margin-bottom:30px}#recipe .summary:after{content:";display:block;width:50px;height:2px;background:#000;margin:auto;margin-top:10px}#recipe .instructions{margin-top:30px}#recipe .instructions ol{padding-left:39px;margin-top:6px}function printDiv(a){var b=document.getElementById(a);newWin=window.open(",'printwin');var c=newWin.document.createElement('style');c.innerHTML='html{font-family:sans-serif}img{display:none;}#recipe-pinit,#printbutton,.recipe-credit{visibility:hidden;display:none;}.info{text-align:center;text-transform:capitalize}.recipe-name{text-align:center}.info span{margin-right:20px}.time{text-align:center;padding:10px;border-top:1px dashed #000;border-bottom:1px dashed #000;}.time span{margin-right:20px}.adunit,.adunitlabel,.adunitwrapper,.adunitwrapper,.chicory-order-ingredients{display:none!important}.nutrition-info{font-size: 0;margin: 20px 0;padding: 10px;background: #fff;}.nutrition-info>div {display: inline-block;font-size: 14px;width: 20%;text-align: center;}.nutrition-info>div p{margin-top: 0;margin-bottom: 7px;}';newWin.document.getElementsByTagName('head')[0].appendChild(c);newWin.document.getElementsByTagName('body')[0].innerHTML = b.innerHTML;newWin.print();}document.querySelector("#recipe-pinit").addEventListener("click", function (e) { window.open(this.href, "", "menubar=no,toolbar=no,resizable=yes,scrollbars=yes,height=300,width=600"); e.preventDefault(); });