Pickapeppa Sauce is proably in your fridge, and if not it should be. Whether serving it over cream cheese, or making this simple Jamaican shrimp recipe, you will always have a great recipe that is a crowd pleaser!
During my informative years to the best of my knowledge, Kankakee, Illinois did not have bottles of Pickapeppa sauce available at the grocery.
They certainly didn't at Weiner's Superette.
Kankakee did not have parties where Pickapeppa sauce was dripped over blocks of cream cheese and served with crackers.
The refrigerators in Kankakee did not contain bottles of Pickapeppa sauce lurking in their innermost recesses.
I venture a guess that the closest thing that Kankakee had to a pepper sauce was Tabasco, and that is about as close as it got.
They had Lipton's French onion soup mix, available to blend with sour cream to create your own dip.
They had plastic tubs of beer cheese. And they had little weenies one could dip in bbq sauce. They had Ruffles with ridges.
They did not have salsa and chips. They had cheese balls and meat balls and ham balls. But they did not have Pickapeppa sauce.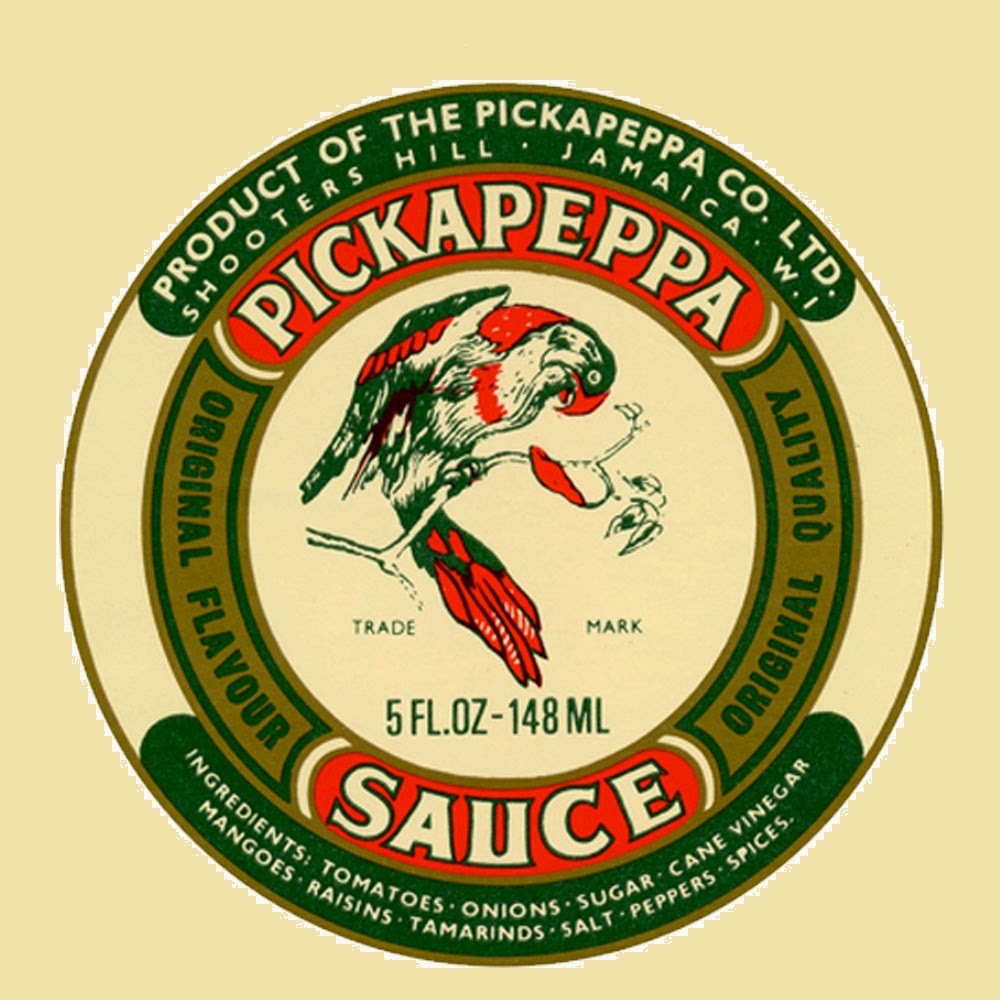 It was just a few posts ago that we ventured into the wilds of Jamaica and now we are going back, oh so quickly.
It is not from Jamaica that I received my first bottle of Pickapeppa sauce.
I believe the first bottle I received came from my mother in law who shared with me the Southern hostess's secret of pouring Pickapeppa sauce over cream cheese to create an appetizer.
This wasn't really a secret to me as I never knew the stuff existed. Being sworn into the sorority involved knowing this little tip.
Have guests surprising you? Get out the bottle. Nothing in the house? Well, everyone has a bottle of this in the fridge. And everyone has crackers, even if they are stale!
So after pulling out all of my dibs and dabs of stuff to find the hot sauce required to make patties, I discovered the Pickapeppa sauce calling out to me.
Use me. Use ME! I'm dying. I'm DYING! Even though Pickapeppa sauce never dies. It lurks. I told you that already. So to make a long story short…
I found this recipe in my Jamaica book, mon. It is quick and simple and uses a lot of Pickapeppa sauce. Some nights we all need something simple and this will do ya!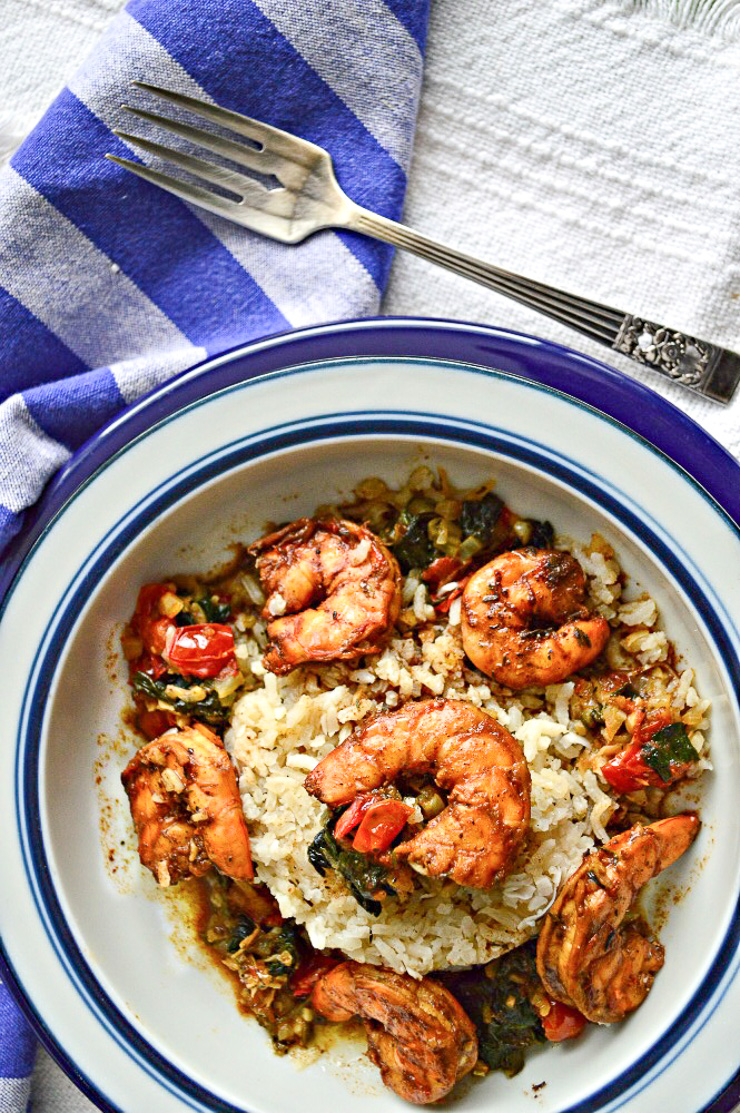 Now a bit of trivia. Pickapeppa sauce was invented by a 16 year old boy in Jamaica in 1921. He created Pickapeppa sauce in his mom's kitchen.
If you've never had it, this sauce is a sweetish, thick tomato sauce containing onions, vinegar, mangoes, raisins, tamarinds and pepper.
The famous parrot logo was designed by a relative. It is aged one year in oak casks and is sold in 41 countries around the world.
I just never found it in Kankakee, Illinois. Go figure.
My point is this; when you are out of cream cheese to make the above appetizer, you can surprise your guests with this.
I served the shrimp over rice flavored with thyme and coconut for our dinner, but these Pickappepa shrimp would also be great speared with toothpicks and shoveled into your pie hole!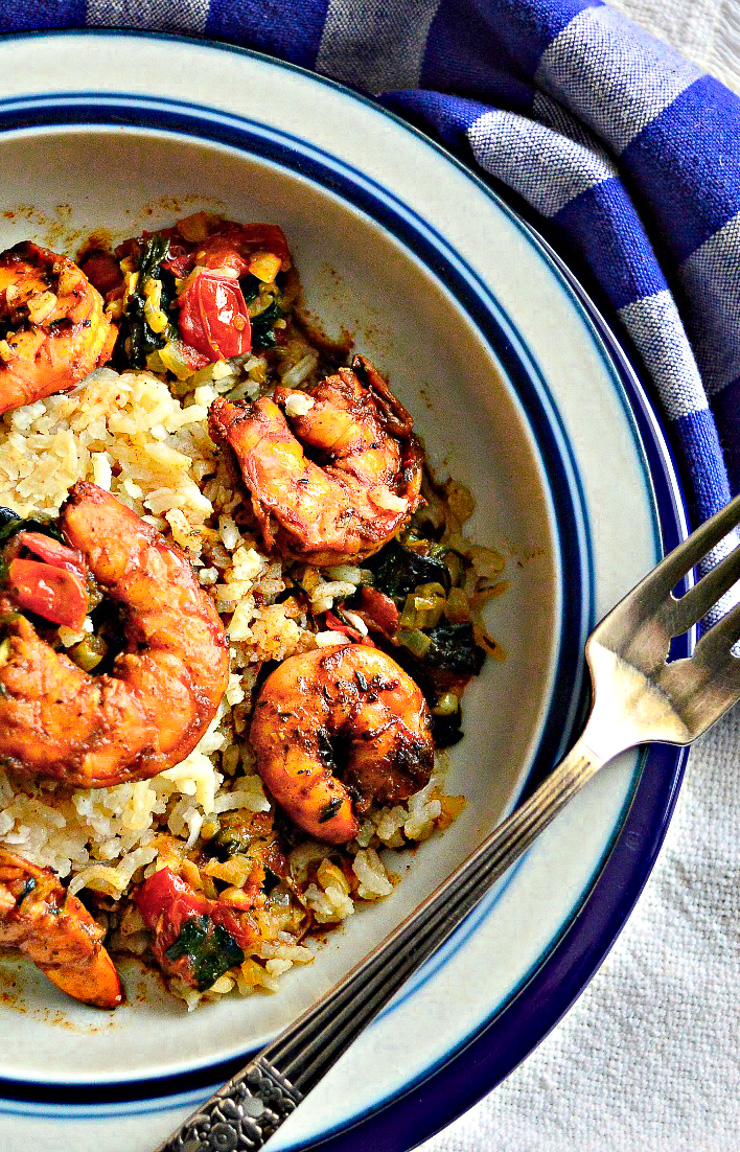 Other Great Shrimp Dishes:
I'd Love it if You'd Follow Me on Pinterest and Pin and Share!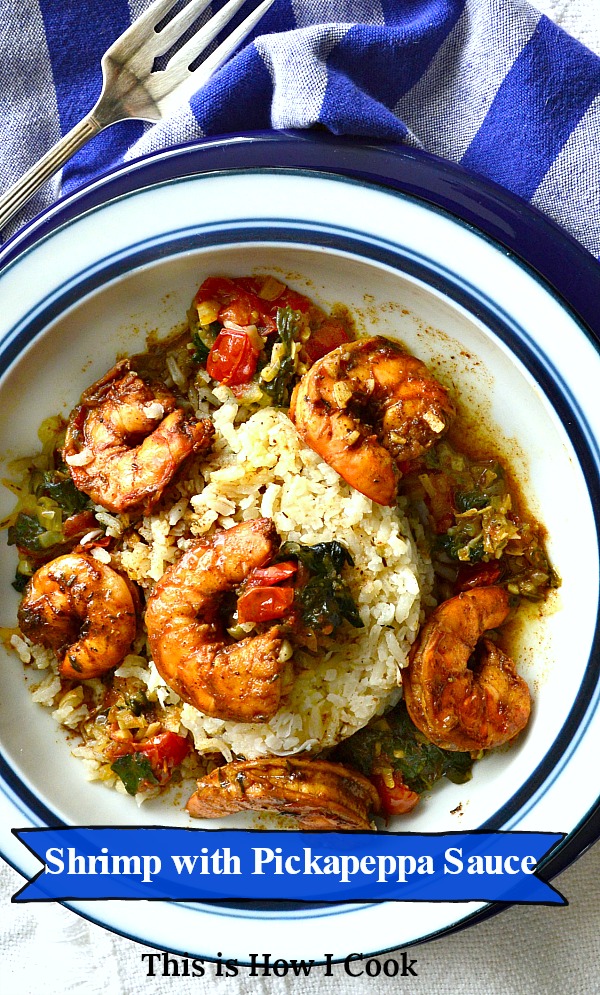 Print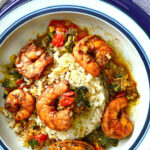 Pickapeppa Shrimp or 1 More Use for Pickapeppa Sauce
Author:

Prep Time:

10 Minutes*

Cook Time:

10 Minutes

Total Time:

20 Minutes

Yield:

4 Servings

Category:

Main Course

Cuisine:

Jamaican
---
Description
This super simple, super tasty shrimp with Pickapeppa sauce coud be dinner tonight. You will love it!
---
1 lb large to jumbo shrimp (I shelled and deveined them but it isn't necessary.)
1/4 c olive oil
3 large garlic cloves, thinly sliced
1/2 T coarsely ground black pepper
1/2 t coarse salt
3/4 t dried rosemary
1/2 bottle Pickapeppa Sauce
Juice of 1 lemon
1/4 c room temperature beer, Red Stripe to be authentic!
2 T butter
---
Instructions
Place shrimp in a 9×12 ovenproof glass dish.
Mix olive oil, garlic, pepper, salt and rosemary with Pickapeppa sauce and lemon juice. Marinate shrimp for abut 2 hours at room temperature.
Preheat oven to 350.
Pour beer over shrimp in dish. Dot with about 2 T of butter.
Bake for 10 minutes, turning them if necessary.
You can use the sauce over rice or sop it up with bread. You know you want too!
---
Notes
*Does not include time to marinate.
Keywords: Pickapeppa sauce, pickapeppa sauce recipe, pickapeppa, Jamaican shrimp