Yes, this pretty pickled eggs recipe without pickling spice is also a deviled egg recipe. Now if you love both you can have them together! Kind of like a Win/Win!
This pickled eggs recipe without pickling spice is not just a pretty recipe, but they taste great, too.
Combining pickled eggs with deviled eggs is a great way to go.
Best of both worlds, I must say, as long as you like pickled things.
Now really. If I were to look at the name of this post in years past, I'd be running clear out of dodge.
Deviled Eggs just weren't my thang. Nor were pickled eggs.
I remember seeing them in my favorite dive bars as bar food, in giant jars waiting for someone who apparently was also pickled.
They kind of reminded me of a mad scientist's lab and just did not appeal to me.
I am a yolk person. Not a whites person.
LOL! If someone presents me with a deviled egg, I only eat the yellow part.
My daughter on the other hand likes the whites.
As a child if I had to, I'd be happy to eat the yellow part and feed the white part to the dog, anxiously awaiting under the table.
But combining a deviled egg with a pickled egg is another story, because I have grown up to like most anything pickled.
My mom used to make deviled eggs. At least I think she did, though honestly I don't remember.
I do know I gave away at least three deviled egg platters that were collecting dust in her kitchen, during the big downsize.
So how is it I decided to make this pickled deviled eggs recipe without pickling spice?
Looking for something besides plain old hard boiled eggs, I spied this recipe.
Besides being pretty and matching my table, I thought why not?
Let's try something new!
Where did the name deviled eggs come from?
Deviled Eggs are called that because of the spiciness of the mustard.
Now I don't think mustard is that spicy, but apparently in the 19th century, deviled was synonymous with spicy.
As deviled eggs popularity grew a name change took place and they were also called angel eggs or stuffed eggs or salad eggs, especially at church functions where God forbid, the devil's name should come up.
And so it is, I made these pretty deviled beet pickled eggs for Passover.
Because it is traditional to eat boiled eggs for the holiday; I thought I would jazz things up a bit!
I also thought I would enjoy them more than the simple hard boiled egg.
Deviled eggs are so popular right now and with egg season upon us, I thought they would be a perfect way to start the picnic season.
It's easy to get hooked on these briny, pickled eggs.
Since I haven't eated many pickled eggs, I can't tell you that these are the best pickled eggs, but I can say this easy recipe is a good option if you want to try making you own version and you don't have pickling spice.
They are also a healthy snack option that can be made at home with just a few basic ingredients.
How To Make Pickled Eggs Without Pickling Spice- With or Without the Deviled Egg Filling:
To make the best-pickled eggs, you'll need to start with hard-boiled eggs.
(Buy them alread hard boiled if you want!)
Grocery stores have hardboiled eggs but usually they are medium sized or small eggs.
If so, you will probably be able to pickle a dozen eggs, rather than 8 large eggs.
Place the large eggs in a large pot and cover with enough water to cover them by about an inch.
Bring the water to a boil, then reduce the heat to low and let the eggs simmer for 10-12 minutes.
Remove the pot from the heat and run the eggs under cold water to stop the cooking process.
Once the eggs are cooled, peel them under water and set them aside.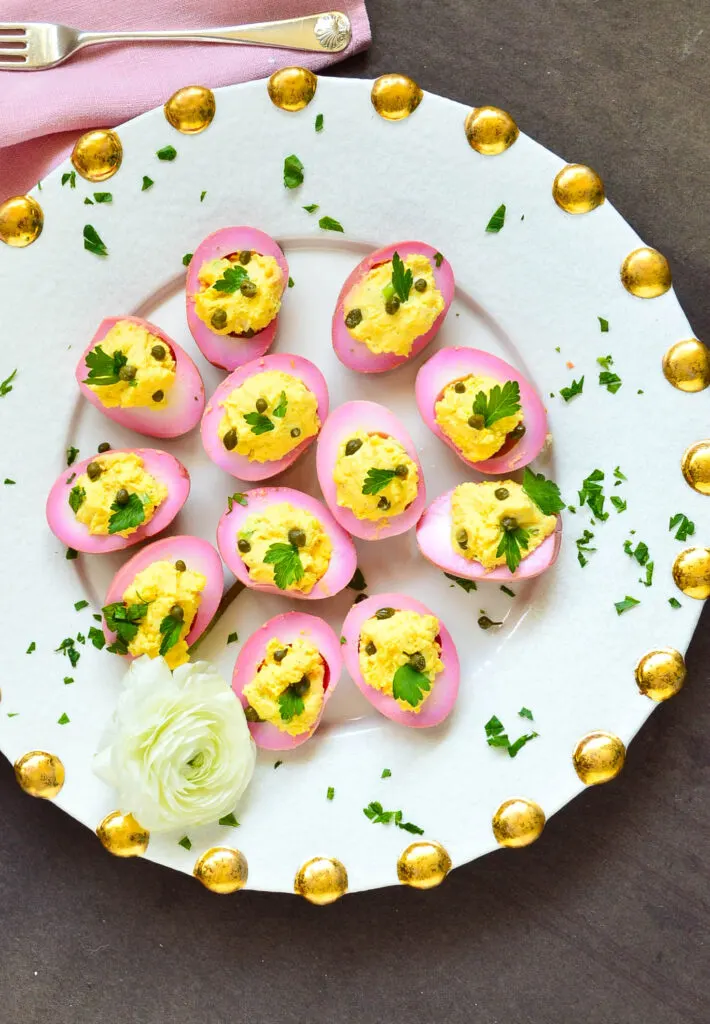 In a large ziplock bag combine the beets, beet juice, white vinegar, brown sugar, salt, celery seeds, mustard seeds and garlic cloves..
If you want these spicier, add some black peppercorns and a pinch of red pepper flakes, or perhaps even a jalapeno.
Want to add a bay leaf or fresh dill? I don't see why not!
Add the peeled eggs to the pickling brine and place in the refrigerator for about 24 hours.
To make the filling, slice the egg in half and scoop out the yolks.
Add the mayonnaise and if you are making these for a Passover meal, add more mayonnaise and leave out the yogurt or use non-dairy sour cream.
Stir in some dry mustard, chives or scallions and a bit of turmeric to brighten up the yellow color.
Add a squeeze of fresh lemon juice and you are good to fill.
Garnish with diced red onion, capers and chopped parsley.
Simple, but effective.
For a quick pickled eggs recipe without pickling spice try dill pickle juice or pickle brine from a jar of kosher dill or butter pickles.
Simply place the peeled eggs in a clean jar and pour the pickle juice over them.
Let the jar sit in the refrigerator for a day or two before eating.
However if you want them pink, be sure to use the beets and beet juice.
When following pickled egg recipes, it's important to remember food safety.
Always use fresh eggs and make sure they are cooked and peeled properly.
Store the pickled eggs in the refrigerator and use them within a week or two.
Pickled eggs can be enjoyed on their own or used to make egg salad or deviled eggs.
They also make a great addition to a charcuterie board where they can be served at room temperature.
And with low carb and high protein, they're a healthy snack option.
So, whether you're a fan of old fashioned pickled eggs or deviled eggs, or want to try a new twist on the classic recipe, this pickled deviled egg recipe without pickling spice, is delicious and easy to make.
Everyone loved them and I have to admit, I thought they were pretty good, too!
I slightly adapted these from Leela Cyd's new book, "Food with Friends".
There is one thing I can tell you for sure. I wish I was a friend of Leela's.
Leela, a long time contributor to TheKitchn.com and various other publications, has authored a beautiful book.
The photos are glorious and as one who admires beautiful, clean, well composed photos, the book is worth the price of admission.
However the recipes are pretty good, too.
The rose meringues I made at Passover, which were also pink and delicate and well received, were also taken from this book.
Truthfully, I think Leela must see pink wherever she goes.
I heartily recommend trying this pickled deviled egg recipe.
They make great appetizers for summer holidays and are a perfect way to use up any hard-boiled eggs that the Easter bunny left!
Enjoy!
More to Try:
Print
Pretty Beet Pickled Deviled Eggs
Author:

Abbe Odenwalder

Prep Time:

30 Minutes*

Total Time:

0 hours

Yield:

1

2

1

x

Category:

Appetizers

Cuisine:

American
---
Description
This pickled egg recipe without pickling spice easily becomes deviled eggs. The choice is up to you! Easy to make and everyone loves them!
---
8 large hard boiled eggs (OK. I bought mine and they were medium sized eggs so this made a dozen.)
1/3 c packed light brown sugar
1/2 c white wine vinegar
1 t sea salt
1 t celery seed
1 t yellow mustard seeds
2 garlic cloves, halved lengthwise
4 small boiled and peeled beets or 1 15 oz can
Filling:
1 t dry mustard
3 T plain whole milk yogurt
1 T mayonnaise
1/2 t turmeric
1 T finely chopped chives or scallions
1 T fresh lemon juice
Salt and pepper
Garnish with capers, red onion and parsley.
---
Instructions
In a 32 oz jar or a large zip lock bag, mix together 1 c of water, brown sugar, vinegar, salt, celery seed, mustard seeds and garlic. Add the beets and 1/2 c of beet water and stir to combine. Put the peeled eggs in the beet brine and refrigerate for about 24 hours.
After the eggs have brined, it is time to make the filling. Cut the eggs in half lengthwise and scoop the yolks into a medium bowl. Add the dry mustard, yogurt, mayonnaise, turmeric, chives or scallions and lemon juice. Mix with a fork, mashing everything together. Season with salt and pepper to taste.
Scoop a heaping teaspoon of filling into each hard boiled egg half. Garnish with some parsley, some some capers and red onion. Sprinkle with a touch of salt and pepper. Serve immediately. These are best at room temperature.
---
Keywords: beet pickled eggs, different deviled eggs recipe, pickled egg recipe without pickling spice, best pickled eggs recipe, easy pickled eggs recipe, beet pickled eggs recipe,