Rosewater Meringue Cookies without cream of tartar, are so easy to make, taste like spring and are so, so pretty!
Meringues and meringue cookies are not usually in my repertoire.
However Passover makes them magically appear. And my mother loves them!
They are magic; light and airy; and in this case-pink. Because there is no flour, they are perfect for Passover.
Just a hint of food coloring and a smidgen of rosewater brings out the best in these cookies.
They'd be magical with berries, but in this case I served them on their own. Well. Not quite on their own.
I kind of went over the top this year when it came to desserts.
We had the macaroons, a new Francois Payard chocolate version, and a chocolate nut fudge cookie.
Then there was the matzoh toffee and the home made marshmallows and the chocolate raspberry cake and last but not least-Ilse's mocha nut cake.
Oh yeah-there was a side of berries, too. There was so much I almost forgot them!
The meringue cookies definitely didn't get lost in the shuffle.
They are a delicious and delicate treat that can be enjoyed as a snack, dessert, or paired with coffee or tea.
Made primarily of egg whites, meringue cookies are light, airy, and melt in your mouth.
This meringue cookie recipe is easy to make and I'm not sure why these cookies are not more popular.
They can be flavored with just about anything including cocoa, vanilla, lemon, orange and peppermint, and I could go on.
This meringue cookie recipe can be adapted for any flavor and you do not need cream of tartar.
Meringue cookies often contain cream of tartar which is not something that everyone has in their cupboard.
Rest assured that these meringue cookies turned out perfect even without the cream of tartar.
No cream of tartar needed in this meringue cookie!
Cream of tartar helps stabilize the egg whites and makes them shiny and glossy.
However, this recipe requires no cream of tartar, which does last almost foreverin the pantry, in case you want to keep some on hand.
A substitution equally as good is lemon juice. Feel free to add about 3/4 t of fresh lemon juice if you want pretty egg whites.
I did not pipe my cookies so perhaps if I had added the lemon juice they would have held their shape a bit better, but frankly I thought they still looked quite pretty!
It's the powdered sugar in this meringue cookie that helped stabilize the egg white mixture.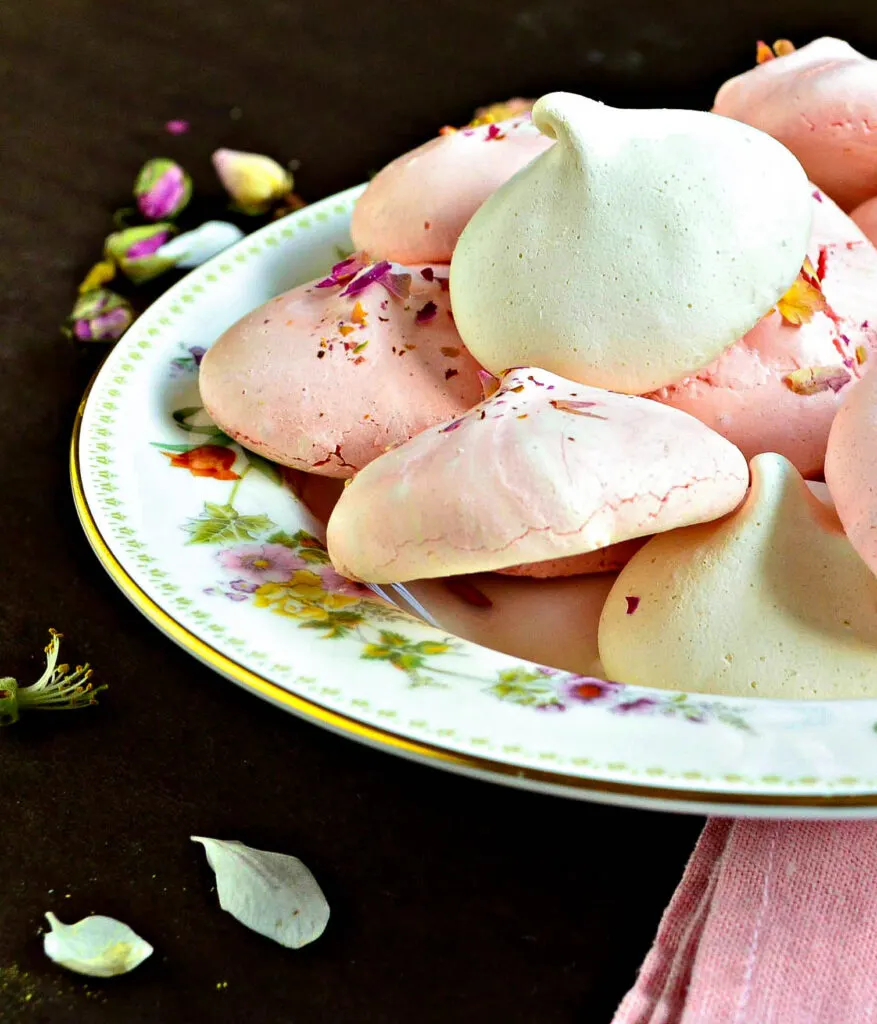 Ingredients for Meringue Cookies Without Cream of Tartar:
Egg whites
Lemon juice (optional)
Granulated sugar
Powdered Sugar
Rosewater, or other flavoirngs, food coloring and a pinch of salt
How to Make Meringue Cookies:
Preheat your oven to 225°F.
Separate the egg whites from the yolks and add them to a mixing bowl. Be careful not to get any yolks in the egg whites, as this can prevent the egg whites from forming stiff peaks.
In a stand mixer using the whisk attachment on medium-high speed, whip the egg whites until slightly frothy. At that point start adding both sugars 1 T at a time until the sugar is fully incorporated. (I often cover the mixer with a clean dish towel so that it doesn't look like it snowed in my kitchen.)
It is essential to add the sugar gradually, or the meringue mixture will become too heavy and collapse.
After both sugars have been added, add the food coloring, flavoring and a pinch of salt. Now turn the mixer to high speed and continue to beat the egg whites until they reach stiff peaks and are very glossy and shiny. You can test this by lifting the whisk out of the mixture; if the peaks stay upright, they are ready.
Using 2 spoons dollop the meringues, about 1 T at a time, onto a baking sheet lined with parchment paper. You could also put these into a pastry bag, if you prefer.
Bake the cookies about 60 to 75 minutes or until they are hollow sounding when tapped, dry to the touch and easily peel off the parchment paper.
Once the cookies are done, let them cool completely on the baking sheet before transferring them to an airtight container.
Tips for Making Perfect Meringue Cookies:
Use room temperature egg whites. This helps them to beat more easily and reach stiff peaks faster.
Make sure your mixing bowl and whisk attachment are clean and free of any grease or residue. Any dirt can prevent the egg whites from reaching stiff peaks.
Gradually add the sugar to the egg whites. If you add it all at once, it will be challenging to get the egg whites stiff.
My brother Mark joined us this year, Zoe and the boyfriend came, and a few extra visitors.
We were 10-which was a nice size- and we all managed to fit on the deck while it was still glorious outside.
Our menu was delectable and there were a few small changes from last year.
To tell you the truth-I am exhausted. I spent the week cooking before everyone got here and then it went way too fast.
Believe it or not, I actually hired someone to help do the dishes. That did not go so well.
After picking him up from the bus stop and carefully going through what he should do-he said he was experienced- I sent him home after 4 hours of nothing.
It drove me crazy just knowing he was in my kitchen doing nothing.
He did not know how to keep a surface clean, or wash a dish.
He did not know how to drop matzoh balls into the soup.
He was slicing strawberries with a chef's knife on my good china plate.
Every time I came in the kitchen to see how things were going, he was in the bathroom.
After 4 hours of this I asked him if he was OK, where upon he mentioned that he was having bad gas. True story, folks!
I then said I didn't feel things were going so good and said enough was enough.
He then went to sit on our front stoop until the taxi came and didn't.
Manservant ended up driving him home which took an hour back and forth.
Zoe helped with the dishes. In spite of this we had a lovely Seder-and all was good!
I have been sending these cookies off to all parts of Denver and of course, Philly.
I can't have them in my house any more.
The cakes are almost gone, but they were almost gone when everyone departed.
In three days, we made 6 trips to the airport.
That was a lot, but if my other brother came I'd be happy to make it six, and if Alex came, I'd be happy to make it eight. Just sayin'.
And one more thing, before this week escapes.
Look who has been in our life for a year now. Geordie is all grown up in size, but he's still a puppy at heart.
I think he stole everyone's heart, too!
He had a special treat of Jewish brisket and chopped liver in honor of the occasion!
Every Passover I think I am celebrating the egg, instead of celebrating freedom.
I believe I used about 4 dozen eggs in this menu!
I do have a few yolks left and the dogs are quite happy about that!
These meringue cookies are pretty, easy to make and quite delicious.
I guess one can say that pink was the color of the day!
Other Delicious Meringue Desserts:
Raspberry and Chocolate Ganache Meringue Cake
Print
How to Make Rosewater Meringues
Author:

Abbe Odenwalder

Prep Time:

15 Minutes

Cook Time:

60 Minutes

Total Time:

75 Minutes

Yield:

2

4

1

x

Category:

Cookies

Method:

Oven

Cuisine:

American
---
Description
These exquisite meringue cookies are so easy to make! Make them whatever color you want, but do make them!
---
4

egg whites

1/2

sugar

1

c powdered sugar

1

t rosewater

4

drops red food coloring
Pinch of salt
Organic Rose Petals for Garnish (I used rose tea petals)
---
Instructions
Preheat oven to 225. Line a baking sheet with parchment.
Using an electric mixer fitted with the whisk attachment, whisk the egg whites at high speed until slightly frothy. Continue to whisk at medium high speed, adding the sugar 1 T at a time.
Add the powdered sugar in the same manner, but you may want to drape a clean dish towel over the top of the mixer, to keep your counters from looking like it snowed.
After all sugars have been added, add the rosewater, food coloring and salt and turn the mixer to high. Whisk on high until the mixture is glossy and stiff peaks have formed.
Using 2 spoons- one to scoop and the other to shape the meringues-form 1 T sized mounds. The cookies do not need much room between them, as they don't expand. Dust each meringue with a few rose petals.
Bake for about 1 hour to 1 hour and 15 minutes or until hollow sounding when tapped. Cool on a wire rack. Keep in a dry place. These did last several days as Colorado is quite dry.
(As you can see I only added the rosewater to half the mixture. The white meringue cookies were made with vanilla.)
---
Notes
Adapted from Food with Friends.
Keywords: meringue cookies recipe, meringue cookies,
Berries with Balsamic Vinegar and Pepper
Roast Chicken with Saffron, Hazelnuts and Rosewater